Spotify Vs. Apple: Invading The 'Walled Garden', And How The Garden Will Continue To Flourish
Summary
Spotify's and the European Commission's claims of anticompetitive behavior by Apple have major flaws, political undercurrents, and a novel definition and application of the economic concept of monopoly, in my opinion.
A worst-case short-term impact to the business would likely be painful: a one-time fine of up to 50% of yearly EPS in 2024 or 2025.
A worst-case long-term impact may be a ruling that forces the company to lower its App Store fees to 0% or to allow competitor App Stores on the iPhone.
Even in the worst case, Apple will likely be able to innovate and adjust its business model to continue monetizing and growing Services revenue.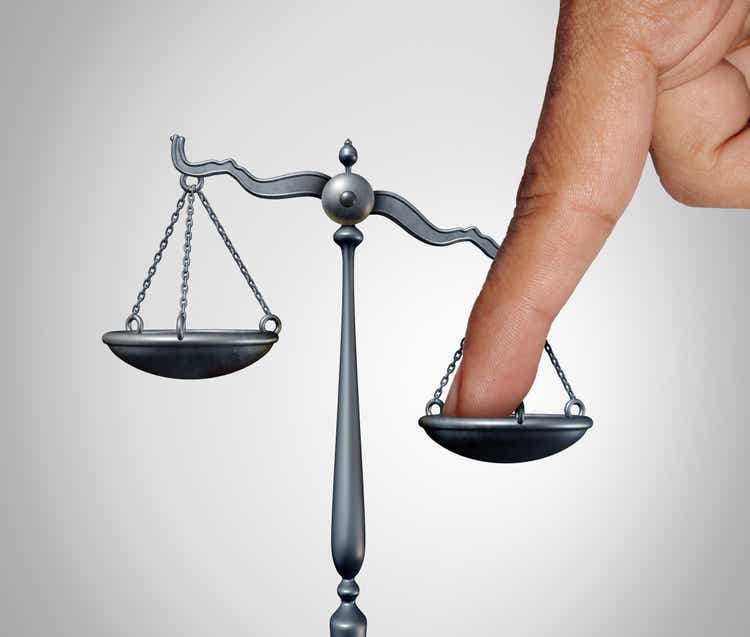 Introduction
Apple (NASDAQ:AAPL) is under fire from Spotify (NYSE:SPOT) and under scrutiny by the European Commission for claimed anticompetitive and monopolistic behavior via the App Store, in stark contrast to established economic definitions and concepts as to what constitutes a monopoly and why monopolies are bad.
The European Commission's targeting of US big tech and interest in passing the Digital Markets Act appears in part to be in response to the US passing the Music Modernization Act, which appears to have impacted EU companies such as Spotify. Apple's App Store business model faces Spotify's claims of anticompetitive behavior, and the European Commission's Statement of Objections is on the frontier of antitrust law in its definition of the music streaming market, whereby the focus is on defining Apple's App Store as a market in-of-itself.
Investors should ready themselves for a potential ruling against Apple by the European Commission in relation to Spotify vs. Apple and understand the potential impact to Apple's Services business and competitive advantage #1 - the Ecosystem.
Spotify Is In Trouble
Spotify was founded in Sweden in 2006. The company IPO'd in 2018, and is still not profitable. In fact, Spotify's profitability has suffered from 2018 to 2020, registering EPS of -0.58, -1.14, and -3.77 in 2018, 2019, and 2020, respectively. Q1 2021 GAAP EPS is still negative. Competition is fierce.
While Spotify remains popular with consumers, and has a NPS of 46, it has at best maintained a contentious relationship with music publishers, which has weighed on the company's financial performance.
In 2018, Spotify settled the $1.6B copyright lawsuit filed by music publisher Wixen (for less than the initially sought amount). A new law introduced by the US expedited the settlement. One can't help but sympathize with Spotify in the way the company was seemingly targeted with the Music Modernization Act. Spotify also settled with two other songwriters for $112M.
In 2019, Eminem publisher sued Spotify for copyright infringement for the reproduction of over 250 songs. One can find publicly available articles as far back as 2015 over copyright infringement or unpaid royalties, and the above listed examples are only a subset of these types of legal challenges faced by the company over the past few years.
As of 26-Oct-2020, at least 18,000+ musicians are unhappy with Spotify's practices and legal battles over royalty rates. Royalties being paid out on a pro-rata basis disadvantages most artists, with the top 10 percent of streaming artists claiming 99.4% of streaming payouts. In March 2021, musicians organized a global protest in 31 countries around the world against Spotify for its treatment of music workers.
Spotify has historically also faced lawsuits over alleged mistreatment of employees. In 2018, Spotify was sued over gender discrimination and equal pay violations. In March 2020, Spotify was sued in a class action lawsuit over employee mistreatment, however it does not appear this case gained much traction. In April 2020, cleaners protested at Spotify headquarters over mistreatment during COVID.
To say that the company is in precarious straits would not be an understatement - you cannot sustain long-term business growth if you have negative worsening YoY EPS, if you are mired in lawsuits, and if your relationship with content creators - a key aspect of your business model - is worsening. Ultimately, if these inherent challenges remain unaddressed, content creators can and will abandon Spotify for alternative music streaming platforms.
Apple is a Perfect Target
As Spotify continued facing criticism from artists over its business model and faced worsening YoY EPS losses, in part due to the new US Music Modernization Act, management appears to have decided that one of their best courses of action would to be to launch an all out-war against Apple over its App Store practices. As smaller start-ups and small-cap companies have complained about Apple's App Store for years, intuitively this may have seemed like a great plan to cash in on low hanging fruit.
Spotify also enlisted the help of EU regulatory watchdogs, in particular the European Commission, which was already actively targeting big-tech US firms since the inauguration of EU's competition chief Margrethe Vestager in late 2014. In August 2016, after a two-year investigation, the European Commission claimed Apple received illegal tax benefits from the Irish government. Claims of Apple antitrust or monopoly behavior by existing EU entrepreneur darlings would be melodious music to the Commission, as it would further provide a pretext to continue targeting US big tech.
Furthermore, Spotify's CEO is notoriously anti-Silicon Valley and is on a war-path against American companies, pledging $1B to European start-ups to fight against Silicon Valley selfishness in September 2020.
One might almost frame the Apple vs. Spotify antitrust claims as a battle with political undercurrents between a company primarily seen as American versus one that is near and dear to the hearts of EU entrepreneurs, and evidently, regulators.
Spotify's Claims
Spotify's claims amount to anticompetitive behavior by Apple because Apple controls the "gateway" to iPhone users. By charging Spotify a 15% fee for generating revenue via Apple's App Store, Spotify believes it is disadvantaged against Apple's own Apple Music app.
Spotify further claims that consumers are worse-off presumably because they need to pay higher prices as a result of Apple charging the 15% fee. As I explained in a previous article, as revealed by Spotify, this simply isn't true. Spotify chose to charge Apple consumers more in an effort to drive traffic to their website, whereby they can avoid paying 15% to Apple when consumers purchase content directly via their storefront. In effect, this amounts to price discrimination by Spotify against iPhone versus non-iPhone users, a fact the European Commission seems for now to be ignoring as there has been no mention of it to date nor investigations into Spotify's own practices with music content creators.
What is most baffling is that Apple had already reduced App Store fees for companies earning less than $1M in 2018. Spotify's claim was filed in March 2019. Spotify, Match Group, and Epic were enraged by Apple's App Store fee cut for smaller developers - a revealing reaction considering these same companies purport they are trying to aid consumers and developers alike.
As one dives deeper into the facts surrounding the Apple vs. Spotify antitrust claims, the quandary about claimed monopolistic behavior by Apple intensifies. As it was revealed in 2019 by Apple's response to Spotify:
Spotify does not pay Apple any commission on over 99 per cent of their subscribers, and only pays a 15 per cent commission on those remaining subscribers that they acquired through the App Store.
Now, here's the part that in my honest opinion completely unravels Spotify's claims against Apple: you can buy Spotify's services directly on the iPhone through any browser and you can listen to Spotify Music with just your web browser. Yes - you read that correctly.
The situation becomes even more ludicrous since Spotify and in particular the European Commission - from my perspective - are attempting to redefine what it means to be a monopoly and how antitrust laws should be applied simply to be able to buttress their rather spurious case against Apple.
The potential political implications of EU vs. US became difficult to ignore in the timing of the European Commission's Statement of Objections 1 day after Apple's outstanding quarterly report, perhaps effectively serving as a scare tactic on Apple's management to further lower App Store fees:
"App stores play a central role in today's digital economy. We can now do our shopping, access news, music or movies via apps instead of visiting websites. Our preliminary finding is that Apple is a gatekeeper to users of iPhones and iPads via the App Store. With Apple Music, Apple also competes with music streaming providers. By setting strict rules on the App store that disadvantage competing music streaming services, Apple deprives users of cheaper music streaming choices and distorts competition. This is done by charging high commission fees on each transaction in the App store for rivals and by forbidding them from informing their customers of alternative subscription options," says EC Executive Vice President Margrethe Vestager.
To summarize my interpretation of the above:
1. The European Commission contends that simply because one can purchase music via Apple's App Store instead of via a website, this makes Apple's App Store a monopoly and subject to antitrust regulation. This is despite the fact that one can indeed purchase and enjoy Spotify's products directly via browsers on the iPhone, not only through the App Store.
2. According to the Commission, Apple's App Store is now defined as the market for music transactions, despite the existence of Google's Android store. Spotify's larger industry market-share in the music streaming market and the presence of dozens of other competitors within the music streaming industry outside of both the Apple App Store and Google's Android platform appears to be ignored and skirted aside.
3. Apple owning intellectual property rights to the iPhone, iOS, and App Store and thus being a "gatekeeper to users of iPhones and iPads via the App Site" is objectionable to the European Commission.
There is growing sentiment from companies suing Apple that all start-up and smaller companies such as Spotify should be able to use Apple's platform and App Store for free. From my personal perspective, such sentiments are in direct opposition to the principles of a "Free Market," whereby patent law protects intellectual property and therefore encourages innovation as new technological advancements can enjoy 15 - 20 years of profitability prior to patent expiry. It amounts to "piggybacking" on Apple's iOS and App Store success, and if laws permitting this are passed, they may stifle future innovation not just at Apple but at other tech-companies as well.
The counter-argument that Apple is so scarily monolithic that it can stifle competition is a flawed one. Apple does not hold the majority market-share in most of the markets it competes in. In many cases, the companies suing Apple have designed at least a part of their business model as dependent on Apple's ecosystem. If your business model is inherently dependent on one major supplier or technology to which you do not hold intellectual property rights, that is on you for failing to be more innovative and disruptive and for poor business planning, in my view.
Investment Implications
This isn't the first time the EU Commission chief gunned for Apple, as alluded to earlier with the Irish tax law scrutiny.
The EU General Court had ruled in favor of Apple in July 2020 with respect to the EU Commission's previous case brought against the company in the matter of the Irish government giving Apple preferential tax treatment. Despite their best attempts, the European Commission's arguments did not hold in court and the facts presented did not buttress their agenda.
EU's competition chief Margrethe Vestager is appealing the decision in the European Court of Justice (the highest court in Europe).
In the case of Spotify vs. Apple and the European Commission's Statement of Objections, the matter will most definitely go to the EU General Court and potentially even to the European Court of Justice. Apple denies wrongdoing, and I would argue that similar to the tax treatment case, the facts and the amount of pontification and hand-waving needed to redefine the concepts of monopoly to include platforms such as the App Store instead of the broader industry market leave the European Commission on flimsy footing.
Similar to the tax treatment case, Apple will likely battle the European Commission for years until any final judgment is reached and will likely appeal whenever it can.
If, however, the European Commission proves successful in its redefining of the concept of monopoly and anticompetitive behavior, there are both short-term and long-term implications for the business and the ecosystem:
1. In the short-term, Apple may be fined a worst case one-time fee of up to 10% of annual revenue (per the European Commission's Statement of Objections). In 2024 or 2025 when this matter might be settled, this would be ~$38 to $43 billion. This would shave off $2.67 in EPS in 2024 (50% of EPS) or $3.01 in EPS in 2025 (50% of EPS). Such a fee seems astronomically large, especially in light of the $12M fine by the Russian government for alleged App Store monopoly and antitrust practices in April 2021.
2. The more significant long-term worst-case implication would be that Apple would need to change its App Store practices to allow competitors to piggy-back off its iOS and App Store offering so that competitors can enjoy the lucrative benefits of Apple's ideal iPhone consumer audience for free. Alternatively, Apple may need to allow competitor App Stores on the iPhone, which will result in less control over the ecosystem and a potential increase in glitches, bugs, malware, and scams experienced by iPhone users. Such a change would ultimately put at risk much of the Services revenue generated by Apple ($54B in 2020), and it would effectively eliminate a hefty portion of the Services growth for the company from 2024 / 2025 (or respective date on which the regulation and judgment against Apple takes effect) onward - if Apple does not adjust its business model.
The chances of Apple simply sitting back and allowing governments and competitors to disrupt and steal its ecosystem or revenue are slim to none. Apple's management and employees are some of the most hard-working and brilliant strategists, and they are undoubtedly already defining risk mitigation and contingency plans to deal with the increased regulatory challenges. If the App Store fee is lowered to 0%, Apple will find new and continued ways to monetize services. A few scenarios proposed by yours truly include:
Innovate more aggressively to offer Apple's own proprietary apps and introduce more services that consumers will pay for: digital passport, preventative healthcare, internet anonymity, and so forth.
Begin charging consumers or all developers for using the Apple App Store instead of competitor App Stores (if they are allowed on the iPhone) due to "privacy," "security," programming language or other advantages provided by the App Store. Upkeep of the App Store is an understandable expense.
Begin charging developer App Store's offered on the iPhone a "marketing" fee for use of Apple's opulent and targeted iPhone audience.
Conclusion
While there may be broader implications of the European Commission's pursuit of Apple's war-chest, the move seems aimed at providing advantages for European start-ups and entrepreneurs. While Apple will absolutely not go down without a fight, as the European Commission continues targeting American big tech with new regulations, such as the Digital Services Act, Apple may be forced to yield ownership of the App Store to any competitor or start-up wishing to piggyback off the company's success.
Despite this, as demonstrated by recent Q1 2021 earnings, Apple remains an immensely profitable business, and will likely amend its business model in response to any final regulatory rulings to continue driving Services revenue growth via its powerful ecosystem.
Barring the realization of numerous early warning signs of mentioned or unexpected major risks, investors are advised to consider accumulating shares of Apple on any market corrections until Tim Cook's retirement from the position of CEO. For those looking to initiate a position in Apple - you're in luck. Historically, Apple tends to run up into earnings and to sell off afterward. This will likely present an attractive entry opportunity in the coming weeks. Investors should observe carefully the Epic vs. Apple trial.
Investors are dutifully reminded to conduct their own research prior to the investment of hard-earned money into any investment vehicle, AAPL included.
My sincere thank you to all readers and investors. In order to promote a high-quality discussion, I ask that you please fact-check any of your comments prior to posting. I welcome comments, especially of a contrarian nature, and will plan to respond in the evenings. Humorous quips are always appreciated!
This article was written by
Avid long term oriented investor with an interest in value, growth, and special opportunity (spin-offs, insider trading) investing styles. Strong believer in identifying companies with competitive advantages in order to avoid stock investment losses. Self-educated.My expertise and unique investing style has arisen as a result of nearly a decade of professional experience in three highly regulated industries (aerospace and defense, medical devices, and pharmaceuticals) inclusive of work experience within the telecommunications and customer service industries. An engineer by education, a project director at work, and a writer at home, I am meticulous and apt at both the qualitative and quantitative aspects of investment. Income statements, balance sheets, and cashflow statements are for me a pleasant read.
Analyst's Disclosure: I am/we are long AAPL. I wrote this article myself, and it expresses my own opinions. I am not receiving compensation for it (other than from Seeking Alpha). I have no business relationship with any company whose stock is mentioned in this article.
Seeking Alpha's Disclosure: Past performance is no guarantee of future results. No recommendation or advice is being given as to whether any investment is suitable for a particular investor. Any views or opinions expressed above may not reflect those of Seeking Alpha as a whole. Seeking Alpha is not a licensed securities dealer, broker or US investment adviser or investment bank. Our analysts are third party authors that include both professional investors and individual investors who may not be licensed or certified by any institute or regulatory body.