Kirkland Lake Gold: Fosterville Production Fell Sharply
Summary
The company announced net earnings of $161.19 million or $0.59 per diluted share in the first quarter of 2021 compared with $202.88 million or $0.77 in 1Q'20.
Weak gold production this quarter with 302,847 Au Oz due to a sharp drop in production at Fosterville.
I recommend accumulating KL below $37. The stock is a long-term investment.
Looking for a helping hand in the market? Members of The Gold And Oil Corner get exclusive ideas and guidance to navigate any climate. Learn More »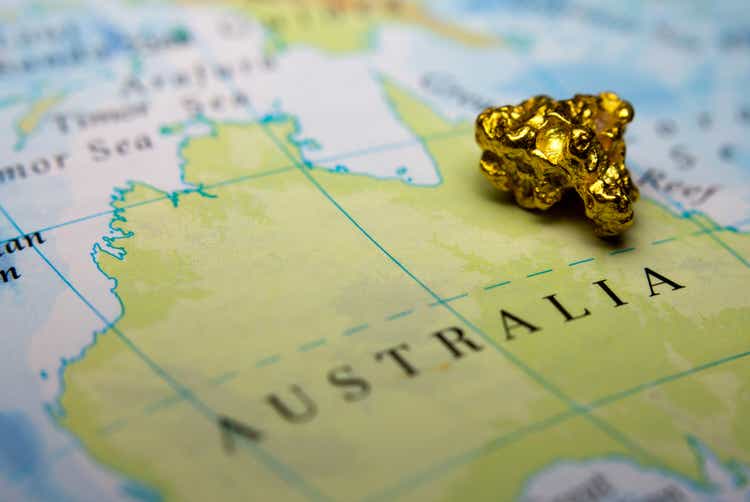 Investment Thesis
Toronto-based Kirkland Lake Gold (KL) released its first-quarter 2021 results on May 6, 2021.
The company announced net earnings of $161.19 million or $0.59 per diluted share in the first quarter of 2021 compared with $202.88 million or $0.77 in the first quarter of 2020. The adjusted earnings per share were $0.63.
Weak gold production this quarter with 302,847 Au Oz due to a sharp drop in production at Fosterville, as we can see below:

The company said in the press release:
The change from both prior periods reflected a lower average grade consistent with the Company's previously-stated plan to reduce production in the Swan Zone by increasing mining activities in other, lower-grade, areas of the mine, with the intention of creating a more sustainable operation over a longer period while the Company continues its extensive exploration program.
The grade per ton at Fosterville fell this quarter to 19.8 g/t. In 4Q'20, the grade was 28.1 g/t, and in 1Q'20, it was 42.4 g/t. It is a sharp drop, but we will have to accept that for better long-term production.

The stock has underperformed the VanEck Vectors (NYSEARCA: GDX) and two of my leading long-term gold miners. Probably due to the acquisition of Detour Lake, which was completed in January 2020.
However, I'm still puzzled by this slight underperformance when I look at the balance sheet. KL and GOLD are down about 11% and 19%, while NEM and the GDX are up nearly 5%. The first quarter is not going to help with the Fosterville production surprises.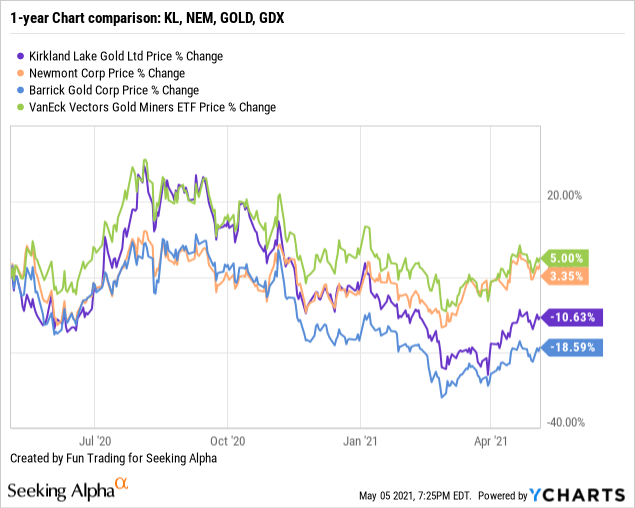 The investment thesis with Kirkland Lake Gold remains the same quarter over quarter. As I said last quarter, the stock is one of my long-term gold investments, and I recommend accumulating the stock on any weakness.
However, it's crucial to trade the gold volatility and use about 30% to 50% of your KL position to profit plainly. I call it trading your long-term position.
President and CEO Tony Makuch said:
We benefited from strong results in March, which was the key driver for higher than expected production and materially better than planned AISC in Q1 2021. We have had a solid start to 2021 and are poised for three strong quarters of operating results over the remainder of the year.
Kirkland Lake Gold: Financials and Production in 1Q 2021
Note: data are indicated in $US.
| | | | | | |
| --- | --- | --- | --- | --- | --- |
| Kirkland Lake Gold | 1Q'20 | 2Q'20 | 3Q'20 | 4Q'20 | 1Q'21 |
| Total Revenues in $ Million | 554.74 | 580.98 | 632.84 | 691.55 | 551.85 |
| Net Income in $ Million | 202.88 | 150.23 | 202.02 | 232.57 | 161.19 |
| EBITDA $ Million | 388.41 | 309.63 | 383.92 | 456.66 | 340.90 |
| EPS diluted in $/share | 0.77 | 0.54 | 0.73 | 0.85 | 0.59 |
| Cash from operating activities in $ Million | 241.51 | 222.23 | 431.12 | 420.93 | 208.17 |
| Capital Expenditure in $ Million | 110.64 | 128.16 | 155.43 | 188.51 | 165.48 |
| Free Cash Flow In $ Million | 130.87 | 94.08 | 275.69 | 232.43 | 42.70 |
| Total cash $ Million | 530.90 | 537.39 | 848.52 | 847.63 | 792.2 |
| Current and non-current LTD and capital lease in $ Million | 26.36 | 28.51 | 26.20 | 26.18 | 26.2 |
| Shares outstanding (diluted) in Million | 258.36 | 277.27 | 275.47 | 274.98 | 267.91 |
| Dividend per share $ | 0.125 | 0.125 | 0.125 | 0.1875 | 0.1875 |
| Production Au Oz | 1Q'20 | 2Q'20 | 3Q'20 | 4Q'20 | 1Q'21 |
| Total Production gold/sold | 330,864/sold 344,586 | 329,770/sold 341,390 | 339,584/sold 331,959 | 369,434/sold 371,009 | 302,847/sold 308,029 |
| AISC (co-product) from continuing operations | 776 | 751 | 886 | 790 | 846 |
| Gold Price | 1,586 | 1,716 | 1,907 | 1,875 | 1,788 |
Data Source: Company financial report
Note: Historical data from 2015 are available for subscribers only.
As a reminder, Kirkland Lake Gold also owns a stake in two gold companies as of Dec. 31, 2020:
Novo Resources Corp. (TSE: NVO) 9,225,168 shares.
Wallbridge Mining Company Ltd. (TSE: WM) 78,109,200 shares.
Analysis: Revenues, Earnings Details, Free Cash Flow, Debt, and Gold Production Details
1 - Revenues were $551.85 million for the first quarter of 2021.

Kirkland Lake Gold posted revenue of $551.846 million for the first quarter of 2021 compared to year-ago revenues of $554.74 million. The company declared net earnings of $161.193 million, or $0.59 per diluted share compared to $0.77 per share in 1Q'20. The adjusted earnings per share were $0.63.
The gold price realized this quarter was $1,788 per ounce, and the company sold 308,029 Au Oz in Q1.
2 - Free cash flow was a profit of $42.70 million in 1Q'21

Note: Generic free cash flow is calculated by subtracting CapEx from cash from operations.
Kirkland Lake Gold continues to show exceptional strength in this segment, but the free cash flow dropped significantly this quarter compared to the preceding two quarters. The quarterly free cash flow was $42.70 million, and the trailing yearly FCF was $644.9 million.
Based on the free cash flow, Kirkland Lake Gold indicated in the press release:
Contributing to the $98.2 million of net cash used in financing activities in Q1 2021 was $50.3 million used for dividends, mainly reflecting a 50% increase in the quarterly dividend, to $0.1875 per share, effective the Q4 2020 dividend payment on January 14, 2021 to shareholders of record on December 31, 2020 as well as $46.3 million used to repurchase 1,074,100 shares in early January
3 - Available capital, no debt, and ample liquidity and share buyback.

The company has no debt and excellent liquidity and cash. Total cash at the end of March 2021 was $792.2 million, slightly below Q4. Cash was down a little due to:
The change from both prior periods largely related to reduce net earnings, the impact of changes in non-cash working capital and a higher cash income taxes paid as a proportion of total income expense largely reflecting the timing of tax instalment payments.
Quick Presentation and Review of 1Q'21 Gold Production
Below are the three producing mines for Kirkland Lake Gold. The few charts below can really demonstrate the progress achieved by the company.
Macassa mine in Northeastern Ontario, Canada.
Fosterville mine is located in the State of Victoria, Australia.
Detour Lake open pit mine in northeastern Ontario, Canada.
Taylor and Holt mines, both located in Northeastern Ontario, are often described as the Holt Complex. Still idle.

The company produced 302,847 Au Oz this quarter (sold 308,029 Au Oz), and the price of gold for Q1 was $1,788 per ounce.

The amount sold was Au Oz in Q1'21. All-in sustaining costs or AISC came lower with $846 per ounce this quarter. AISC increased with the addition of Detour Lake mine but is still below the industry average.
Below is a quarter-to-quarter comparison for the three producing mines. Full production started in 2Q'20 at the Detour mine and is now surpassing Fosterville. Note: The Holt complex was placed on care and maintenance.

As we can see below, the Detour Lake and Fosterville mines are the two leading gold producers and represent 84.3% of the total output for 1Q'21.
The highlights for Detour Lake are even more significant with the production weakness at Fosterville.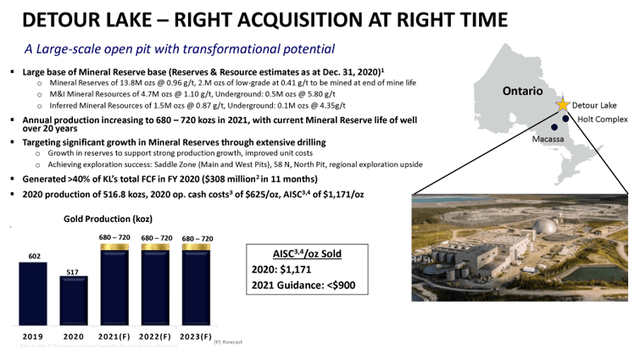 Source: Presentation
Note: The company received permits to increase from 75K T/day to 90T/day in 2020.
AISC Table below Newmont (NYSE: NEM), Barrick Gold (NYSE: GOLD), Agnico Eagle (NYSE: NYSE:AEM), and Kirkland Lake. We can see that Kirkland Lake shows the best AISC despite Detour Lake's addition in the mix and the production reduction at Fosterville, which shows an AISC in Q1'21 of $423 per ounce up from $323 per ounce in Q1'20.
| | | | | | |
| --- | --- | --- | --- | --- | --- |
| AISC $ | 1Q'20 | 2Q'20 | 3Q'20 | 4Q'20 | 1Q'21 |
| GOLD (By-product) | 954 | 1,031 | 966 | 929 | 1,018 |
| AEM (By-product) | 1,099 | 1,142 | 1,016 | 985 | 1,007 |
| NEM (By-product) | 1,030 | 1,097 | 1,020 | 957 | 1,039 |
| KL (By-product) | 776 | 751 | 886 | 790 | 846 |
| Average | 965 | 1,005 | 972 | 915 | 978 |
From Fun Trading data (more data are available to subscribers only).
2021 Guidance and Reserve 2020 issue in December (unchanged)
Reserve "proven and probable" increase 3% year over year.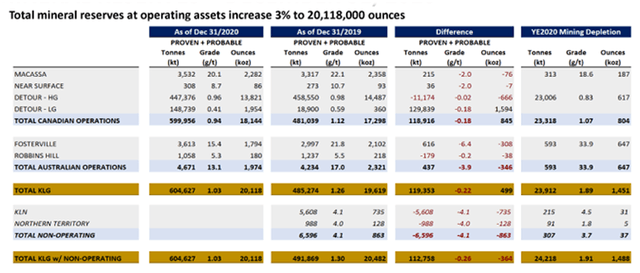 From the Presentation.
For 2021, the company expects total gold production between 1.3 Moz and 1.4 Moz.
AISC for gold is expected between $790 and 810 per ounce in 2021. Operating cash costs per ounce for gold are projected between $450 and $475.
Conclusion and Technical Analysis
Kirkland Lake Gold presents an excellent profile with a unique balance sheet and an impressive growth prospect financed internally. I see Fosterville's production drop as a necessary transition for the company with more steady long-term production, not really a setback.
Furthermore, management under CEO Tony Makuch is a plus, and I am confident in his ability to use wisely the huge pile of cash that the company is hoarding. Here is a YouTube (interview Tony Makuch in Dec 2020).
It is hard to find any negative that could shake this ideal picture. Some investors have complained about the low LOM of Fosterville, but it seems going and growing. The only uncertainty is the price of gold that has shown signs of weakness since reaching a top at $2,070 per ounce.
Technical Analysis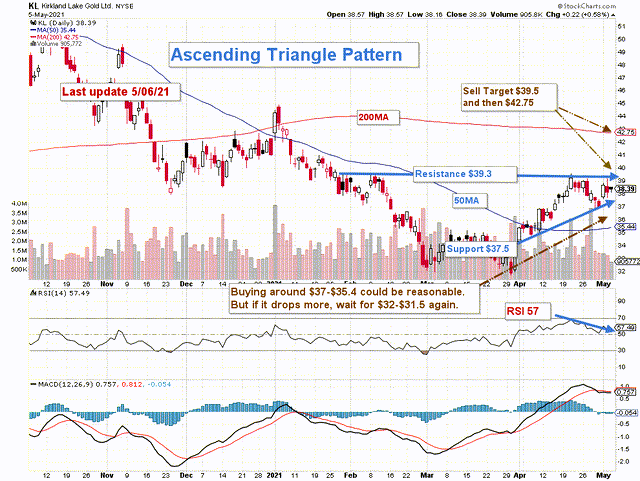 KL forms an ascending triangle pattern with resistance at $39.3 and support at $37.5. The trading strategy is to sell about 25% above $39.5 and accumulate at or below $37.5.
The gold price is a critical component for KL. Thus, watch gold like a hawk.
Note: The TA chart must be updated often to be relevant, and a few days can change the chart pattern substantially. I only update my TA chart for subscribers only.
Author's note: If you find value in this article and would like to encourage such continued efforts, please click the "Like" button below as a vote of support. Thanks!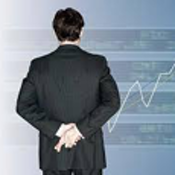 Join my "Gold and Oil Corner" today, and discuss ideas and strategies freely in my private chat room. Click here to subscribe now.
You will have access to 57+ stocks at your fingertips with my exclusive Fun Trading's stock tracker. Do not be alone and enjoy an honest exchange with a veteran trader with more than thirty years of experience.
"It's not only moving that creates new starting points. Sometimes all it takes is a subtle shift in perspective," Kristin Armstrong.
Fun Trading has been writing since 2014, and you will have total access to his 1,988 articles and counting.
This article was written by
As an experienced investor, I will help you stay on task more efficiently.
I am a former test & measurement doctor engineer (geodetic metrology). I was interested in quantum metrology for a while.
I live mostly in Sweden with my loving wife.
I have also managed an old and broad private family Portfolio successfully -- now officially retired but still active -- and trade personally a medium-size portfolio for over 40 years.
"Logic will get you from A to B. Imagination will take you everywhere." Einstein.
Note: I am not a financial advisor. All articles are my honest opinion. It is your responsibility to conduct your own due diligence before investing or trading.
Analyst's Disclosure: I am/we are long KL. I wrote this article myself, and it expresses my own opinions. I am not receiving compensation for it (other than from Seeking Alpha). I have no business relationship with any company whose stock is mentioned in this article.

I am accumulating below $37.
Seeking Alpha's Disclosure: Past performance is no guarantee of future results. No recommendation or advice is being given as to whether any investment is suitable for a particular investor. Any views or opinions expressed above may not reflect those of Seeking Alpha as a whole. Seeking Alpha is not a licensed securities dealer, broker or US investment adviser or investment bank. Our analysts are third party authors that include both professional investors and individual investors who may not be licensed or certified by any institute or regulatory body.