There Has Never Been A Better Time To Invest In BlackBerry But I'll Pass
Summary
BlackBerry has made steady progress in positioning itself as a software company.
The company is gaining market share in 2 markets that are projected to grow exponentially in the coming years.
Although I believe there has never been a better time to invest in BlackBerry, I have decided to remain on the sidelines for reasons discussed in this article.
I do much more than just articles at Leads From Gurus: Members get access to model portfolios, regular updates, a chat room, and more. Learn More »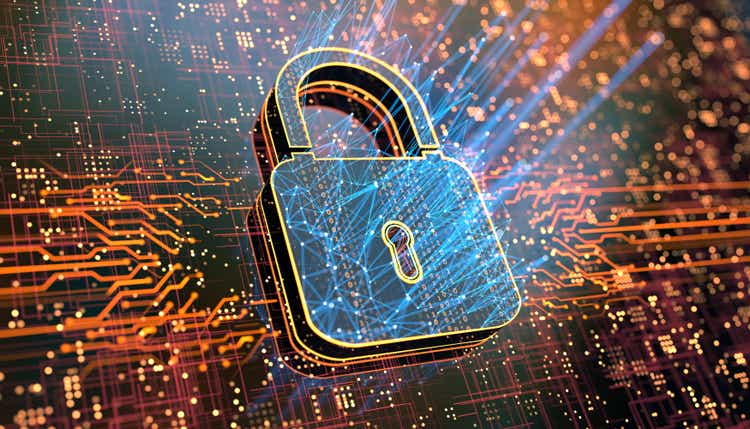 For a company to transform itself from a smartphone manufacturer to a profitable software company, it truly takes a lot. BlackBerry Limited (NYSE:BB) is on the cusp of achieving this incredible feat, and the findings of my research indicate there has never been a better time to invest in BlackBerry (these reasons will be discussed later in this analysis). Although that statement might give you something to be excited about (especially if you have been considering an investment in BlackBerry), I have come to the conclusion that investors need to be a bit more patient before jumping on board. While this strategy could result in lower expected returns than if we bought the stock today, this strategy is likely to tilt the risk-reward profile in our favor.
Why I believe there has never
been a better time to invest in BlackBerry
The decline in smartphone sales threatened the mere existence of the company not so long ago. However, over the last few years, the company has made some notable progress in positioning itself as a software company with a focus on enterprise software products, primarily in the fields of cybersecurity and automotive systems.
BlackBerry's QNX software is its top automotive software solution, and it helps automakers design high-performance, reliable software for traditional as well as next-generation engine control units. QNX software is widely used by many automakers including Daimler AG (DDAIF) and Hyundai Motor Company (OTCPK:HYMLF) to power infotainment systems and driver-assistance systems. The expected growth of the electric vehicle industry and the invention of autonomous cars will create a strong platform for QNX software to thrive in the future as these technologically advanced vehicles will require high-performance software solutions. QNX software, because of its versatility, will be used in more ways than one in the future.
Exhibit 1: QNX software use cases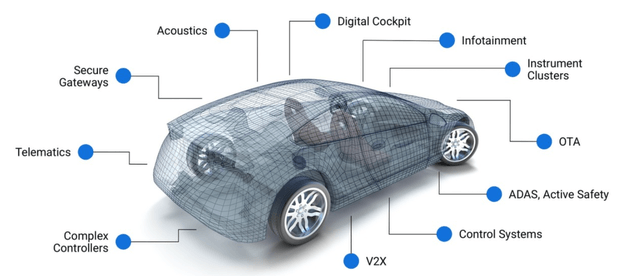 Source: BlackBerry
BlackBerry recently partnered with Amazon Web Services (AMZN) to develop and market BlackBerry IVY, an intelligent vehicle data platform. This cloud-connected platform is expected to help automakers use vehicle data to create actionable insights, which would be a game-changer for the global transportation services industry. The below excerpt from the BlackBerry announcement is all you need to read to get an idea of how this platform can be used to improve driving safety.
BlackBerry IVY could leverage vehicle data to recognize driver behavior and hazardous conditions such as icy roads or heavy traffic and then recommend that a driver enable relevant vehicle safety features such as traction control, lane-keeping assist, or adaptive cruise control. IVY could then provide automakers with feedback on how and when those safety features are used, allowing them to make targeted investments to improve vehicle performance. Additionally, drivers of electric vehicles could choose to share their car's battery information with third-party charging networks to proactively reserve a charging connector and tailor charging time according to the driver's current location and travel plans. BlackBerry IVY could also provide insights to parents of teenage drivers who may choose to receive customized notifications based on insights from vehicle sensors when the number of passengers in the vehicle changes, when the driver appears to be texting, distracted, or not observing speed limits, or when the vehicle occupancy level rises above the parents' desired safety threshold. Similarly, parents of infants could receive a reminder to engage the child safety lock when the vehicle detects a child in the rear seat.
Connected driver assistance systems, in my opinion, will play an integral role in transforming the automotive industry in the coming years. According to data from Global Market Insights, the automotive OS industry will grow at a CAGR of above 20% through 2026. With more than 175 million vehicles already using QNX software, BlackBerry has emerged as one of the go-to systems solutions providers and is in a strong position to convert the favorable macroeconomic conditions into earnings growth. The demand for vehicles should recover sharply in the second half of this year once the vaccination program achieves the desired success, which is a near-term catalyst that I'm monitoring closely.
Next, let's look at the prospects from the cybersecurity front.
BlackBerry completed a couple of noteworthy acquisitions, one in 2015 and the other in 2018, and these deals have helped the company gain market share in 2 fast-growing industries related to cybersecurity.
The acquisition of Cylance Inc. for $1.4 billion in 2018.
The acquisition of Good Technology for $425 million in 2015.
Cylance develops antivirus programs and other computer software to prevent viruses and malware, and the addition of Cylance's portfolio enabled BlackBerry to penetrate the endpoint protection industry at a faster rate than initially thought of. The acquisition of Good Technology, on the other hand, helped BlackBerry gain market share in the unified endpoint management industry as Good Technology serves more than 5,000 organizations across the world in helping these companies strengthen their mobile security solutions.
BlackBerry primarily serves 2 different markets through its cybersecurity solutions.
Cybersecurity solutions for enterprise clients such as governments, financial services companies, and health care providers.
Embedded technology to provide endpoint security solutions (protection for networks that are remotely connected to devices such as laptops, driver-assistance systems, mobile phones, and tablets).
QNX software's installed base of more than 175 million vehicles creates a strong platform for BlackBerry to promote its endpoint security solutions to automakers, and its ties with government entities paint a very promising picture of what the future holds for the company from this segment. Quince Market Insights projects the global cybersecurity industry to grow at a compounded annual rate of 12.5% through 2028 as cyberattacks are increasing in every corner of the world. BlackBerry, therefore, seems well-positioned to grow.
Proving that the company management has steered BlackBerry in the right direction, BlackBerry reported YoY revenue growth in fiscal 2020, which was the first time revenue grew in more than a decade. The production shutdowns of auto manufacturing plants to comply with mobility restrictions last year led to disappointing numbers for fiscal 2021, but I'm confident the company will recover strongly in the next couple of quarters.
I prefer to invest in companies that are well-positioned to benefit from favorable macroeconomic conditions, and BlackBerry meets this requirement. Over the last few years, there were many concerns regarding the company's ability to successfully transition itself to a software company, but I believe it's safe to conclude that BlackBerry has successfully achieved this feat thanks to value accretive acquisitions and bold management decisions. For this reason, I believe there has never been a better time to bet on BlackBerry if an investor believes the expected return justifies the risks associated with investing in BlackBerry.
Here's what's keeping me from investing
If investing was about betting on every company that is on the correct track to transform itself from a loss-making business to a profitable one, our lives would have been much easier and it would have been very difficult to lose money in the market. Investing, as it turns out, is much more complex than that.
BlackBerry has done an incredible job to get to where it is today, but now, we are getting to the business end of things. So far, acquisitions have helped the company venture into the software industry aggressively, but going forward, the growth (or not) of the company will primarily depend on its ability to execute the carefully laid out plans. This, on the other hand, will come down to how BlackBerry mitigates the threat from competitors such as Microsoft Corporation (MSFT).
I'm patiently waiting for 2 signs before investing in the company.
Strong revenue and earnings growth following the reopening of the economy, which would confirm BlackBerry's ability to thrive with its new business model. In other words, I'm looking for signs of acceptable organic growth.
A notable improvement in return on invested capital, which would signal BlackBerry is coping up with the challenging competitive landscape in an acceptable manner.
BlackBerry once was well-positioned to benefit from the exponential growth of the smartphone industry as well, but as it turned out, the company fell too far behind the competition. Does it mean that I believe the same will happen this time around as well? That would be very amateurish, so I certainly am not drawing conclusions from its past. But then again, it would be amateurish to believe BlackBerry will thrive in an entirely different industry well before it has proven its ability to deal with the competitive landscape of that industry.
Takeaway
There is no doubt, at least in my mind, that BlackBerry is in better shape than ever to grow earnings in the future. That being said, simply being on top of its game is not sufficient to deliver alpha returns to investors. The company has to massively improve its operating efficiency and invest billions of dollars back into the business to compete with well-established cybersecurity companies to prove its credibility. This, in my opinion, will be an uphill battle. On the other hand, for QNX software to gain market share, BlackBerry will have to prove that Android, which is freely available, is not the ideal OS for driver-assistance systems. Once again, the company will have to up the ante by consistently introducing novel features. To achieve both these objectives, BlackBerry will be forced to follow a capital-intensive business model. I am patiently waiting for BlackBerry to prove its ability to thrive in these challenging conditions before prematurely investing in the company in the hopes of realizing eye-popping returns.
So, in conclusion, I believe there has never been a better time to invest in BlackBerry because of the significant improvements to its business model in the recent past, but that has failed to convince me that BlackBerry is the right fit for my portfolio just yet.

Go to bed a little smarter every day
-Warren Buffett
At Leads From Gurus, our approach to becoming smarter involves analyzing hundreds of portfolios of the most successful investors to find stocks that are poised to beat earnings estimates.
Your subscription includes access to:
Actionable ideas based on market commentary and real-time investments of gurus
In-depth research reports on stocks that are well-positioned to beat earnings estimates.
Three model portfolios designed to help you beat the market.

Educational articles discussing the strategies followed by gurus.
An active community of like-minded investors to share your findings.
Act now to secure the launch discount!
This article was written by
I am Dilantha De Silva, an investment analyst with 8+ years in the investment management industry. Before becoming an independent publisher, I worked as a buy-side analyst in a leading boutique wealth management firm in Dubai where I dedicated my time to identifying U.S. small-cap stocks for the funds managed by the firm. I am the founder of Beat Billions, a premium Investing Group on Seeking Alpha focused on identifying alpha-generating thinly followed stocks in the market. 
I am a CFA Level III candidate and an Associate Member of the Chartered Institute for Securities and Investment (UK).
Analyst's Disclosure: I/we have no positions in any stocks mentioned, and no plans to initiate any positions within the next 72 hours. I wrote this article myself, and it expresses my own opinions. I am not receiving compensation for it (other than from Seeking Alpha). I have no business relationship with any company whose stock is mentioned in this article.
Seeking Alpha's Disclosure: Past performance is no guarantee of future results. No recommendation or advice is being given as to whether any investment is suitable for a particular investor. Any views or opinions expressed above may not reflect those of Seeking Alpha as a whole. Seeking Alpha is not a licensed securities dealer, broker or US investment adviser or investment bank. Our analysts are third party authors that include both professional investors and individual investors who may not be licensed or certified by any institute or regulatory body.