Virgin Galactic: Set To Crash Down To Earth
Summary
Virgin Galactic's space tourism is likely to face further delays, in line with the company's history, and offers a weaker product than peers.
Fortunately for Virgin Galactic, the market for space tourism is expected to be in a supply constraint so they will still be able to find customers.
Virgin Galactic is working to develop a vehicle capable of supersonic travel but is, again, behind peers and is likely to struggle in the market.
The company's shareholder base paints an incredibly poor picture no matter how you frame it, supporting the story of emotion-driven retail investors overpowering concerned professionals.
Looking for a portfolio of ideas like this one? Members of The EV Supply Chain get exclusive access to our model portfolio. Learn More »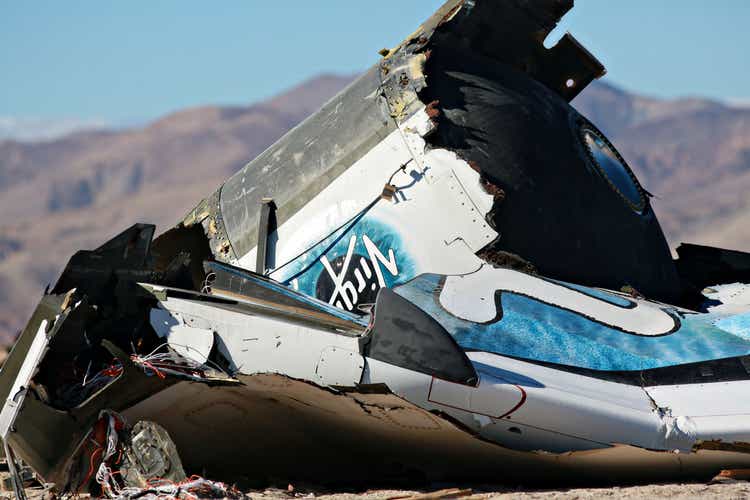 Virgin Galactic (NYSE: NYSE:SPCE) has seen an incredibly impressive run since it announced plans to go public, climbing around 100% since then. However, this impressive performance has been wildly unjustified and largely ignores the weak fundamentals of the company. Instead, I believe that the stock's performance has been largely emotion-driven, therefore not reflecting much of the intrinsic value of the company itself. This article will investigate the company's many struggles and planned operations in order to determine the most likely future for the pioneering firm.
Space Tourism
At the time of their IPO, Virgin Galactic l targeted space tourism as their first business to begin generating a profit for them. In fact, commercial flights were supposed to begin around this time last year. Additionally, the company expected to have another flight vessel done by the end of last year, capable of bringing passengers along the journey to the edge of space. Neither goal was met.
After the recent unveiling of the company's new-generation launch vehicle, SpaceShip III, it seems that the company prioritizes bringing the improved architecture rather than rushing another vehicle of the same, older design. This is a decision that I can respect, especially given the fact that the company still isn't providing flights to customers. The sleek redesign is more than just a cosmetic shift, it is meant to improve operations by minimizing flight turnaround with a more modular design. This will be the base for future production models.
Hold your applause though because Virgin Galactic now doesn't expect to begin launching their first passengers until 2022. But should we even believe this estimate? It's not uncommon for goals to be missed in the space business, in fact rather the opposite is true, but when the product has allegedly been just a few months, or just over a year, away since 2004, there's a problem. Such is the case with Virgin Galactic's Spaceship. While I don't think that this record of pushing the goalposts will result in the company never actually launching a commercial flight, it is a noteworthy ding to their credibility. I also think it should mean, don't count on 2022 finally being the year they get it done.
Virgin Galactic hasn't reached space since February 2019, following a recent failed attempt in late 2020. Achieving the thing your company is based upon only twice in over a decade and a half of operations is not great. With testing seeming still an integral part of the company's operations at the moment, I think it is more than fair to cast reasonable doubt that the company flies their first paying customer by the end of 2022. I think there is even reason to doubt a 2023 launch, though a bit less. Nonetheless, delays have been prevalent and are showing no signs of slowing. The SpaceShip is just not there yet.
For $250,000, passengers can share a ride with five other passengers and two pilots on a two and a half hour trip to the edge of space. The vessel hopes to reach at least 100km but struggles to break past 90km. Fortunately, this is enough to reach what the Airforce considers to be "space" and therefore award passengers their astronaut wings, but does fall short of the generally accepted line of space, the Karman Line, at the 100km mark. Once passengers reach the threshold of gravity, they have six minutes of weightlessness where they can release their harnesses to experience the full effects of space.
If you haven't seen it before, their launch vehicle is not the typical rocket you might be picturing in your head. Instead, it is more akin to a small, futuristic, private jet that attaches to the underbody of a dual-bodied cargo ship -- the White Knight Two. The whole assembly, pictured below, looks pretty insane and is certainly a unique take on human spaceflight.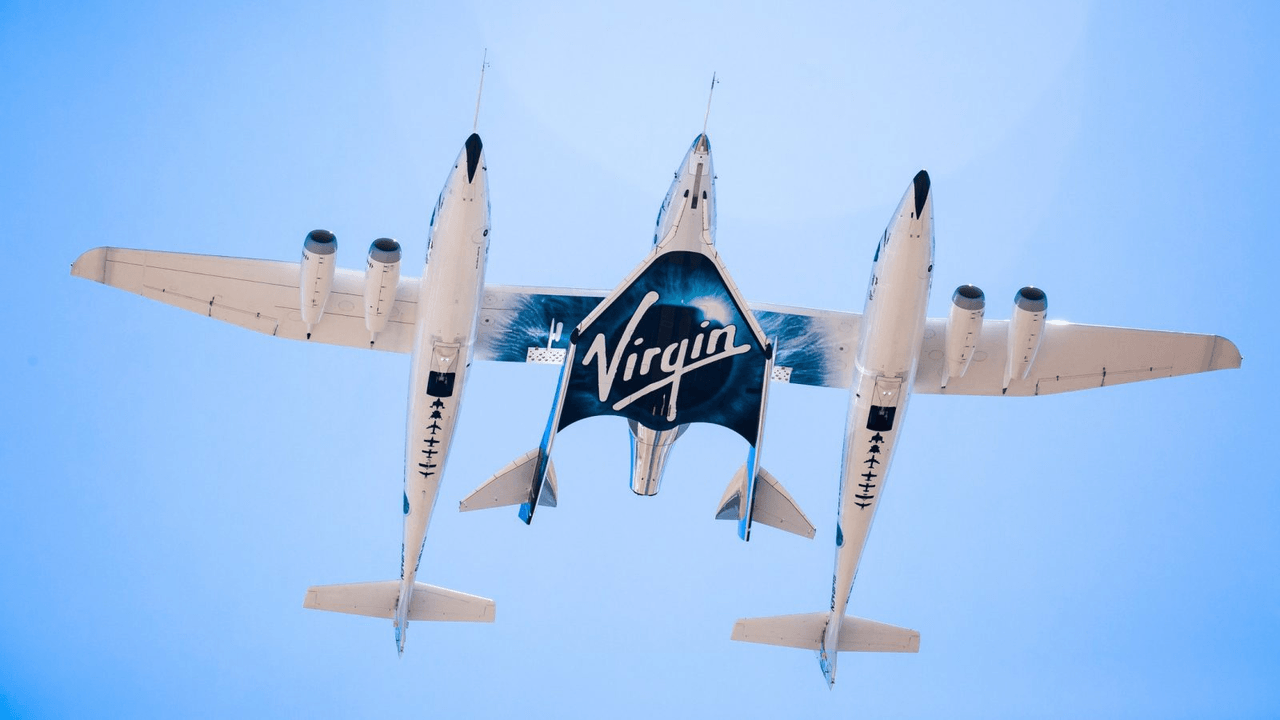 Source: Virgin Galactic
Unfortunately, different doesn't always mean good. In this instance, I am firmly of the belief that 'different' is worse. I can see why they went this route, designing something that seemingly has more in common with a jet than it does a rocket was likely the path of least resistance. However, in practice, it may not be the best offering on the market.
Competition
Competition from the likes of Blue Origin (BORGN) and SpaceX (SPACE) will likely dominate the market for space tourism. Blue Origin plans to launch humans to space onboard their New Shepard rocket starting July 20. The reusable rocket, similar to Virgin Galactic's proposal, will seat six passengers on an eleven-minute trip 110km above the Earth's surface and back down. Note, this is above the all-important Karman line. In the eleven-minute journey, passengers will experience the same amount of time in microgravity as they would in Virgin Galactic's SpaceShip, also allowed to release their harnesses to get the full effect. Furthering the similarity between the two companies, tickets are rumored to be priced right in line with Virgin Galactic, charging customers $250,000 per seat. The first ticket on the vessel will be awarded via an online auction with proceeds going to the company's space foundation.
Personally, I feel that this is the better experience. Realistically, the Karman line doesn't mean a whole lot. Getting your wings is what matters and, when you're already high enough to see the curve of the earth, the view isn't going to be much more spectacular. However, what I do feel is more important is the authenticity of the trip. For someone spending $250,000 to go to space, I don't think it's speculation to say they're doing it for the emotional payoff. But if every young girl and boy's dream is to get launched from a rocket, Virgin Galactic just doesn't offer that.
I would want to feel the rocket accelerate up to Mach 3, feel the extreme g-forces of what that entails, and sit atop a sixty-foot-tall rocket. That's the dream that you should be selling. While Virgin Galactic will reach these speeds, I feel like this is more in line with the fighter jet experience. If you want that too, it'll cost you anywhere from a few hundred dollars to a few thousand. Chump change compared to a trip to space. And that's what the experience really is -- feeling the power of weightlessness, coupled by an unmatched view of the world. I don't want to be stuck on a two and a half hour flight where the overwhelming majority is spent strapped down in a chair when it could be condensed to eleven minutes for the same core experience. Virgin Galactic's three-day training program is also condensed into just one by Blue Origin, another step taken towards greater convenience. These standards, not including training days (no details regarding this are known), apply to SpaceX too.
Currently, SpaceX hasn't detailed its tourism plans beyond offering trips to the International Space Station ("ISS") and around the moon, but more is likely to come. Starship, not the Dragon capsule atop a Falcon 9 rocket, is likely to be the vessel of choice, however. The cost of each launch is expected to eventually drop to just $2 million. This is still pretty expensive and, if Virgin Galactic charges their six passengers $250,000, is more expensive than a trip in SpaceShip III. However, with room for 100 passengers, SpaceX could theoretically charge just $20,000 per seat. While the company would likely charge more, this still undercuts Virgin Galactic by a country mile. Additionally, more recently, Musk has said that they could easily triple this number at the sacrifice of some comfort. As the 100 passenger cabin is a figure intended for interplanetary trips, it could very well be the case that this sacrifice is made for the far more mundane tourist trips. It goes without saying that this would drop prices even further, bringing it below the $10,000 mark.
The experience offered by SpaceX would also likely go unrivaled by Virgin Galactic. The highly-capable launch vehicle is expected to reach the moon relatively soon and, at the very least, would almost certainly offer more than just several minutes in space. The interior would also offer ample room to move around when in space and looks to offer a far more enjoyable experience. The total available space for passengers is even larger than the cabin of an Airbus A380, which can hold up to 600 people. With all this available space, it's clear to see how SpaceX can afford all of these amenities. I find it hard to believe that Virgin Galactic will be able to compete with this in any capacity.
"The crew configuration of Starship includes private cabins, large common areas, centralized storage, solar storm shelters and a viewing gallery." "There will be a common area in the forward section with a big window like this. It will be a lot heavier than steel, but not dangerous. Consider astronauts on the moon with a very thin windowed helmet. They were fine."
If you're skeptical of SpaceX's Starship, I don't blame you, but perhaps it's time to reconsider. NASA recently awarded SpaceX a $2.9 billion contract to develop a lunar lander, which will be a version of the company's Starship. This is an incredible vote of confidence, especially considering that the Agency was expected to select at least one of the other finalist proposals. Their decision to award SpaceX the only winner demonstrates the faith that NASA has in the vehicle's capabilities. NASA is perhaps the most well-equipped entity to make a judgment of this caliber and the importance of this should not be understated.
Now, the contract aims for a lunar landing by 2024. However, most pundits have scoffed at this goal, doubting that it was ever really a target to begin with. Though lunar landings aren't really of much concern for Virgin Galactic, it's the tourism aspect of the Starship that investors should be wary of. SpaceX plans its maiden voyage around the moon no later than 2023, but this too seems likely to be delayed. However, the company will begin to be able to offer these tourist-oriented flights before conducting their lunar landings for NASA. By 2025 at the latest, SpaceX will likely be able to begin launching tourists to space on board their Starship rocket. Their NASA contract also offers another layer of appeal as wealthy space fanatics, the clear target for this business, would likely jump at the possibility to fly aboard the same rocket as NASA astronauts before them. This level of authenticity surpasses Blue Origin's offering as well.
Other companies, such as Rocket Lab, are also planning to bring launch vehicles to market that are capable of human transportation, but Blue Origin and SpaceX are furthest along in this process and demonstrate the great threat that dedicated launch companies pose. I believe that, especially with the discussion of SpaceX, the point has been made and further analysis would only offer redundancy. The takeaway here is, by the time 2025 rolls around, Virgin Galactic may not have very much of a space tourism business anymore.
I would attribute Virgin Galactic's inherently weaker product to the archaic principles behind the company's design. Envisioned in 2004, the platform for Richard Branson's dream is long outdated at this point. No one could have expected the extreme success of SpaceX and rapid emergence of others, but Branson said it best when he acknowledged that, if he knew in 2004 what he knows now, he wouldn't have started the venture.
The Market
To be fair to the eccentric businessman, Branson was right about the mass appeal his idea would have. The market for space tourism targets the ultra-rich, specifically multi-millionaires and billionaires. Currently, there are an estimated 19.6 million millionaires in the world, all of which are potential customers for Virgin Galactic. Cowen estimates that 2.4 million of these millionaires would shill out the $250,000 needed for a flight on board one of Virgin Galactic's or Blue Origin's trips. Former Virgin Galactic CEO, George Whiteside, predicted a similar level of demand, projecting around two million available customers, back in 2019.
Some simple math shows that, with six people per flight, 400,00 launches would need to be completed to work through the demand. All this means is that, even with their sub-optimal product, Virgin Galactic may benefit from a supply-constrained market. With, allegedly, so much demand for the service, Virgin Galactic could exist in the market as an inferior offering simply due to the fact that it is an offering.
However, I have some level of skepticism in the two million available customer base. By Virgin Galactic's own admission, their target customer base is those with a net worth over $10 million. By the company's estimates, this provides a target market of only 1.78 million people. Following the same level of interest leveraged in the previous survey, the amount interested people drops to just under 700,000. This would drop the required number of six-person flights to ~115,000. Realistically, any expectations for the market size will continue to be pure speculation though, as of now, it seems that Virgin Galactic will be able to be a viable choice in a supply-constrained market. If this doesn't end up proving to be the case, however, Virgin Galactic is in serious trouble. Customers may also simply choose to be placed on a waiting list on offerings from others as opposed to taking a flight from Virgin Galactic. However, continued delays minimize the company's ability to create a substantial return on investment.
Future Operations
The longer Virgin Galactic delays, the more time they give their competition to begin eating into their backlog. While companies like Blue Origin, and even Rocket Lab, will take smaller bites out of the available market, SpaceX will be able to capture massive levels with their high-capacity Starship rocket. However, with a long way to go, Virgin Galactic will be left with the scraps of its two big brothers.
Virgin Galactic aims to launch each vehicle around 55 times per year. I think the feasibility of this is laughable. Firstly, this is contingent upon Virgin Galactic reaching a greater scale overall, meaning this will take years to accomplish. Secondly, there is a far greater degree of certainty that spacecraft must pass when flying passengers than a typical airplane. As Elon Musk explains it, "Ironically, we need to take it apart to confirm that it does not need to be taken apart." Such in-depth inspections are necessary to ensure the safety of those on board and are likely to hinder Virgin Galactic's goal of such a rapid turnaround. Finally, net every day is ideal for sub-orbital flight. Missions must be postponed constantly due to adverse weather and Virgin Galactic isn't immune to this. As a result, I expect that each of Virgin Galactic's SpaceShips, instead of making 55 flights per year, will make around thirty at its peak. Again, this "peak" figure will require a few years to reach.
Best-case scenario, I believe that SpaceShipTwo will see three commercial flights in 2023. If this is completed, I believe that Virgin Galactic can get their SpaceShipThree validated for flight the following year. However, flights will be limited to four passengers per trip for the first year of operations, increased to five after a year or a few. Full-capacity flights are not expected until at least the third full year of operations but, with Virgin Galactic's track record, who knows when these milestones will truly be achieved.
The company plans to introduce a new SpaceShip every year for the first few years of operation. The company estimates that each vessel will have a build time of 24 months, with none currently being assembled. SpaceShip 3 hopes to begin test flights this summer, beginning the human safety validation process. So far, the company has burned through $484 million in the last two years alone and is showing little signs of slowing. To match this cash burn with revenues, Virgin Galactic would need to launch 1,000 people into space per year.
I'm getting a bit ahead of myself though. The company plans to operate at a profit margin of 74% per flight, essentially making $165,000 per ticket, once they achieve more regular flights. With lower volumes comes a lower margin, as expected, but this will be the basis for Virgin Galactic's future margins. Margins for the first few years of operations will be taken in line with Virgin Galactic's original projections relative to the number of launches per year. The chart below demonstrates the profit I expect Virgin Galactic's tourism business to generate for the next five years, in a supply-constrained market.

Source: Author's Calculations note: Number of vehicles represents number of vehicles approved for manned flights by the year's end.
Supersonic Travel
The market for supersonic travel is one that I believe will be rather lucrative but, yet again, Virgin Galactic falls short relative to its peers. Since the company made their IPO, there has been very little noise made about the company's development plans. The most recent update was provided in August, where the company unveiled the design of their vehicle. To the credit of Virgin Galactic, this is an incredibly important early step for the company as poor aerodynamics were largely responsible for the major faults of the Concorde.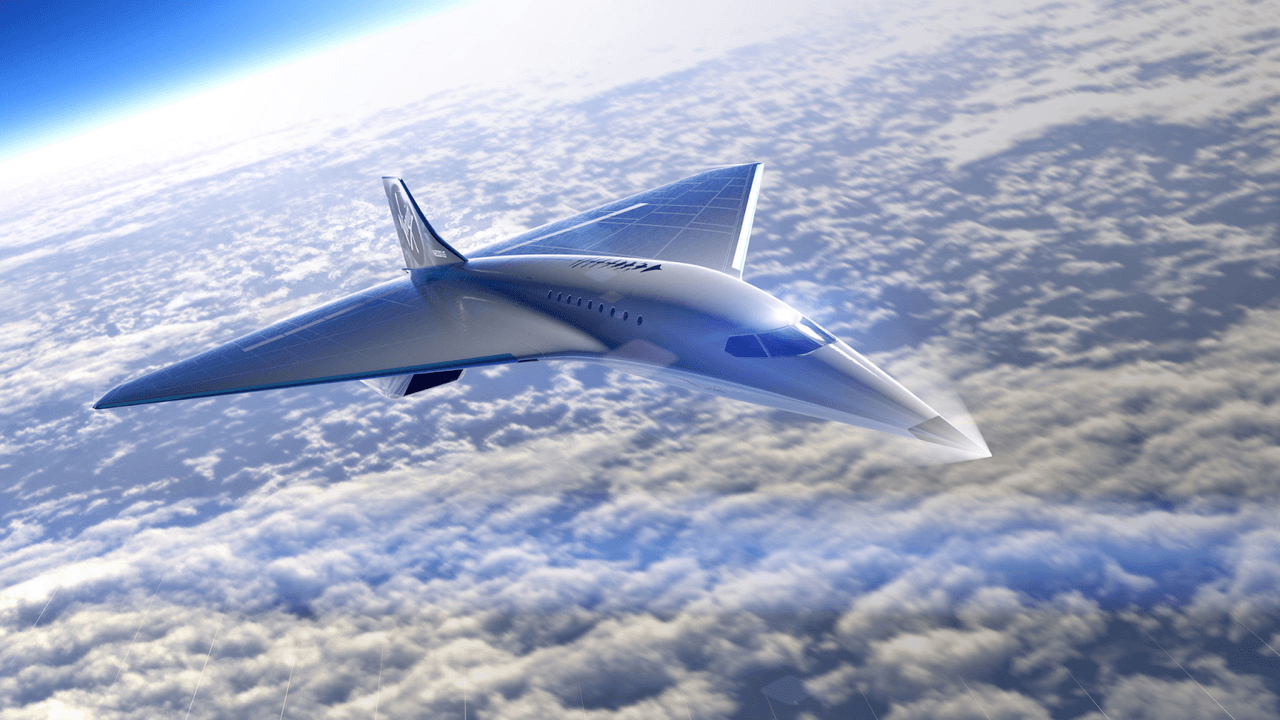 Source: Virgin Galactic
The company also disclosed, in the same announcement, that they would be partnering with Rolls-Royce (OTCPK:RYCEF) through a non-binding Memorandum of Understanding to assist in engine development. The plane is expected to travel at a top speed of Mach 3, carrying a maximum of 9 to 19 people at altitudes of above 60,000 feet. Capacity can be reduced to meet clients' needs in order to compensate for more luxurious amenities if desired.
All of this doesn't sound half bad, though the plane is not making its debut in the coming years. As per Chamath Palihapitiya, CEO of Social Capital Hedosophia, the plane could take another ten years. Granted, this was a year and a half ago, but the sentiment remains. Projecting a decade into the future is a bit too speculative for my liking, but Virgin Galactic is incredibly unlikely to get a commercial product ready within the decade. Another of Richard Branson's ventures, Virgin Atlantic, seems to lack faith in its sister company as well, investing $2 billion to purchase the first ten jets made by Boom Technology.
Boom Technology is developing its supersonic jet, dubbed Overture, by first bringing a ⅓ scale model, the XB-1 to the skies. The prototype was unveiled in October of last year, complete with all of the equipment theoretically required for its maiden flight. The prototype is set to fly this year, sometime in the "near future." The bigger brother of the test vessel, Overture, won't make its way out of the factory, fully assembled, until 2025.
Cruising at a similar elevation to Virgin Galactic's jet, 60,000 feet above the ground, Overture will have a capacity of between 65 and 88 passengers, depending on the specification, and will be carbon neutral. Again, like Virgin Galactic, the company is working with Rolls-Royce on propulsion, though Boom's partnership with the company is far more developed at this stage. The ability for Overture to be carbon neutral is not just important on the environmental side, but the operational side as well. It indicates low levels of fuel usage that will enable tickets on the jet to cost no more than a typical business-class flight today.
The company aims to break ground on their production facility for the jet next year, which is where the first 2025 production version will come from. From there, the company expects it to take until 2029 until they can begin completing commercial flights on the vehicle. Similar to Virgin Galactic, Boom isn't going to start its own airline, rather it will sell its jets to existing airlines as is the standard practice of manufacturers today. Seeing as they don't expect commercial flights until at least 2029, it seems highly improbable that Virgin Galactic will beat them to market, or just be a mere few years behind, following the large investment by Virgin Atlantic.
Boom isn't the only startup looking to challenge Virgin Galactic. Aerion is developing supersonic vehicles of its own that aim to add another challenger to the market. The AS2 hopes to achieve speeds up to Mach 1.4 but, more importantly, doesn't have a supersonic boom audible to those on the ground. The company is partnered with GE for its engines which, similar to Overture, are hoping to make the plane carbon-neutral.
The Boeing-backed startup aims to demonstrate the craft's capabilities on a maiden flight in 2024, beginning public sales of the jet in 2027. This would make the vehicle the first supersonic jet to market, a significant advantage as customers will be keen to be among the first to travel at supersonic speeds with this new age of commercial jets. With an order backlog of $6.5 billion so far, it seems that this hunch is well-founded.
The company is now also starting development on a vehicle capable of speeds upwards of Mach 4, the AS3, but about as much is known about it as Virgin Galactic's jet. The vehicle will supposedly be able to hold around 50 passengers. This is a fairly substantial jump, on all fronts, from Aerion's 8-12 person capacity AS2.
There are a host of other companies in the field, but Aerion and Boom are the two most promising and demonstrate the technological disadvantage that Virgin Galactic is currently at. Both the AS2 and Virgin Galactic's jet seem more tailored towards a private jet rather than a commercial airliner, meaning the draw will be far more niche, though the AS3 will be quite the beast. Unfortunately, one of Virgin Galactic's tourism rivals also plans to get involved in the business of super-fast human travel.
While the inclusion of "point-to-point" travel under the "Cargo Configuration" section of SpaceX's Starship Users Guide indicates that the company may have abandoned plans to carry humans on short flights around Earth, the idea hasn't been scrapped altogether. Late last year, SpaceX signed a contract with the Department of Defence to transport weapons or large cargo loads using the company's Starship. It is possible that this is eventually used for human travel as well, though I see the supersonic jets as the far better option here, as it's significantly cheaper. Starship being cheap for space transportation doesn't translate to being cheap in general. Though if flights also took customers to the edge of space, perhaps riders could knock out two birds with one stone, traveling to their desired destination and experiencing space for the first time. Regardless, this contract furthers the display of faith the government has in Starship. However, I mainly included this to highlight that I actually don't really see point-to-point travel posing a real threat to supersonic jets.
Market Sentiment
The market couldn't have been more excited to accept Virgin Galactic into its ranks. It was the first publicly-traded company with the goal to bring humans to space and Virgin Galactic made sure everyone knew. Their announcement of the merger was titled "Virgin Galactic Completed Merger With Social Capital Hedosophia, Creating The World's First And Only Publicly Traded Commercial Human Spaceflight Company" and it seemed to be all anyone reporting on it was talking about. It was impossible to ignore and it was incredibly powerful. I don't fault the company for taking advantage of the inherent appeal this title created, it would've been wrong not to, but this is where I believe the bubble was created.
About 47.4% of the company is held by retail investors and just 24.7% is held by institutional investors and mutual funds. To me, this supports the notion that the company has a highly emotion-driven shareholder base that was excited by Virgin Galactic's promises and bought into its mission. What makes this high level of small-investor ownership even more significant is that another 28% of the company is held by insiders. To those of you that completed some quick math earlier, this shouldn't come as a surprise but that, too, is an extraordinarily high level and, unlike a high retail investor or low institutional investor shareholder base, is usually a good sign. However, when, on October 28, 2019, 59% of shares were held by owners as per the de-SPAC merger agreement, that's a pretty sharp sell-off within the year and a half shares have been available on public markets.
So why should we have faith in the company when it seems that Branson himself has none? The founder, and face, of the brand recently sold a combined $650 million of his shares in mid-2020 and just about a month ago. This second sale came just a month after SPAC leader Chamath Palihapitiya closed his position in the company. Of course, both men denied any lack of faith in the company as motivation for the decision, Palihapitiya citing new investment opportunities and Branson citing the need to inject cash to Virgin group's other ventures hit hard by COVID. While these are fine excuses, one can't help questioning if there isn't more behind either man's decision to sell.
There are only so many times Richard Branson can get in front of a camera, announce a delay, and promptly resell the idea of space tourism before investors start to grow frustrated with the company. Hell, it's been almost a full year since the first commercial flights were supposed to start and we likely still won't get one for at least another two years. I believe that the upbeat sentiment is finally starting to wane and, with the all but inevitable announcement of further delays, will subsequently plummet.
Valuation Discussion
Let's take a quick look back to Virgin Galactic's investor presentation, released at the time they announced the SPAC merger. The basis of the company's value was a strong space tourism business that would capture the eye of millionaires all around the world. And it did. 600 people signed up and flights were just over half a year away from sending their first customers up to be among the stars. Of course, as we now know, this didn't happen.
What is now even more apparent than at the time of this merger, is that Virgin Galactic is not offering the cutting-edge product some thought they were. Undeniably behind their competition in both business ventures, Virgin Galactic's story is becoming harder to sell. One cannot discuss the value of Virgin Galactic without first discussing the sentiment around the company and, as I've discussed, that's finally beginning to fade.
I believe that the next delay the company announces will be the catalyst of a strong negative trend. The arrival of a host of new space companies making their public debut, such as Rocket Lab and Astra, no longer makes Virgin Galactic as special. As excitement dissipates, Virgin Galactic will begin to lose its strong grip on retail investors. Once that happens, Virgin Galactic has no choice but to be valued more like a "regular" company. So all this begs the question, how far must Virgin Galactic fall to be treated like a "regular" company?
With supersonic jets a long way to go in the development pipeline, space tourism is going to be the company's sole form of generating revenues for a while. With limited flights in the first few years of operation, profits will be minimal. Perhaps I should value the company like Rocket Lab did itself in its investor presentation, giving them a 24.3x value multiple to its estimated 2025 EBITDA. Using my above projections, this would earn them a $1.522 billion valuation. That's 3x below what the company's valued at today. This is an incredibly crude metric and, honestly, might not account for the full scope of how much further the company has to fall but introduces the idea rather well.
The company burned through nearly $500 million in the last two years alone and shows no signs of slowing. With $666 million in cash & cash equivalents currently, they're not in immediate danger but another capital raise is almost inevitable in their future. While capital spending will decrease as the company gets more commercial launches under their belt, supersonic jet development will take on a lot of the slack. The operating profits that the company will be generating off of space tourism will not be substantial enough to stop the company from running out of cash without another capital raise. That means, most likely, more dilution for shareholders down the line.
Investor Takeaway
I wish I could've published this article a month ago when I began my research for the piece. It definitely would've made me look a whole lot smarter. But the fact that I'm still releasing this now, even after the stock has retreated by over 35% over the course of that last month (at the time of submission), should demonstrate the conviction I have in this thesis. In my view, Virgin Galactic is a fundamentally weak company with very limited success in its future.
Currently, about 15% of the company's shares on float are shorted. With fairly high volume, Virgin Galactic's days to cover currently reside at 1.4, minimizing the risk of failing to quickly close a short position if need be. Borrowing fees aren't tremendously high, at just 1.27%, meaning that, overall, the company doesn't represent too bad of a short position if you believe strongly enough in the thesis.
There is some upside risk here, stemming from the unpredictability of market sentiment. While I made my case for why I believe market sentiment will wane, there really is no telling whether or not investors will act as expected. However, I feel strongly that the initial pull of Virgin Galactic as the first publicly traded space company has all but worn off by now, especially as it no longer is the only one. Regardless, be mindful that this risk is present and shares could always rebound.
Finding the overlooked companies in a market on the rise is what I specialize in at The EV Supply Chain. EVs are positioning themselves as the vehicles of the future, with huge sales growth expected in the coming years. My service provides a guide on how to maximize the return of this industry change, providing a model portfolio, consistent in-depth research, and direct access to myself. Personally achieving a 300%+ return since 2017 in a profile tracking the sector, I hope to share those gains with you. Consider signing up for a two-week free trial to see how the service can best serve you. 
This article was written by
I tend to focus on long-term stock ideas, oftentimes rooted in tech or EVs. I have been a casual investor for years with solid returns and want to share what I have learned with others who may find value in my thoughts.
Analyst's Disclosure: I/we have no positions in any stocks mentioned, and no plans to initiate any positions within the next 72 hours. I wrote this article myself, and it expresses my own opinions. I am not receiving compensation for it (other than from Seeking Alpha). I have no business relationship with any company whose stock is mentioned in this article.
Seeking Alpha's Disclosure: Past performance is no guarantee of future results. No recommendation or advice is being given as to whether any investment is suitable for a particular investor. Any views or opinions expressed above may not reflect those of Seeking Alpha as a whole. Seeking Alpha is not a licensed securities dealer, broker or US investment adviser or investment bank. Our analysts are third party authors that include both professional investors and individual investors who may not be licensed or certified by any institute or regulatory body.