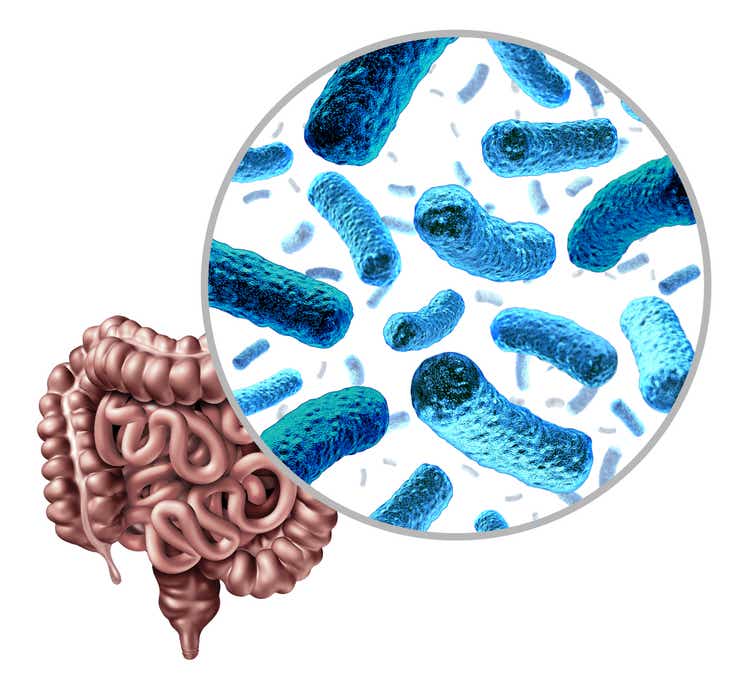 There's no need to talk about it, because the truth of what one says lies in what one does." - Bernhard Schlink
Today we take an in-depth look at a 'Tier 4' biotech concern that has hit some challenges recently thanks to a FDA action. The stock has seen some insider buying and the company has a couple of 'shots on goal'. A full analysis follows below.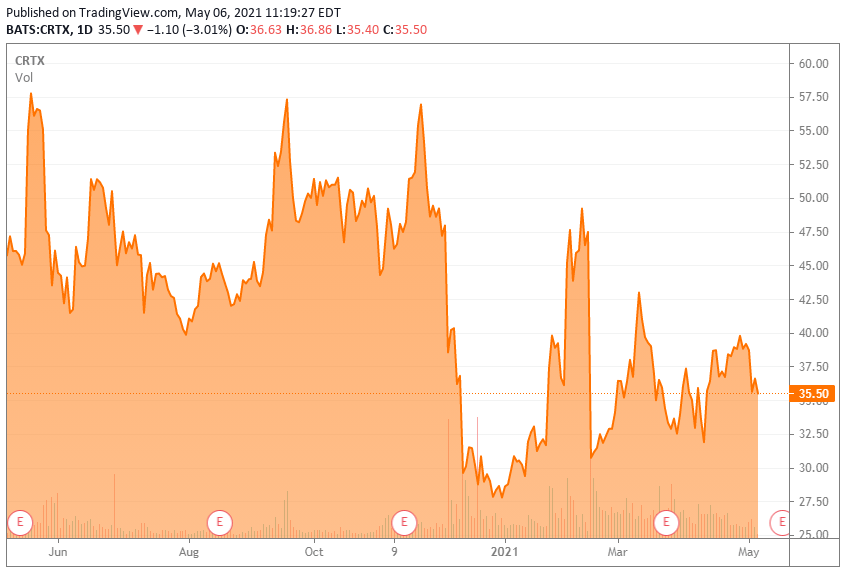 Company Overview:
Cortexyme, Inc. (CRTX) is a South San Francisco, California based clinical-stage biopharmaceutical concern focused on the treatment of diseases where the bacteria Porphyromonas gingivalis is postulated to be the underlying cause. The company has one asset (atuzaginstat) in the clinic undergoing evaluation for the treatment of three diseases and a second asset that is expected to enter the clinic in 3Q21. Cortexyme was formed in 2012 and went public in May 2019, raising net proceeds of $77.8 million at $17 per share. Its stock currently trades just above $35 a share equating to an approximate market capitalization of $1 billion.
Pipeline - Atuzaginstat (COR388)
Alzheimer's disease has been a graveyard for drug candidates for more than two decades as drug companies are lured by the 30 million patients worldwide who have no meaningful treatment options. Since 1998, over 160 compounds have entered the clinic; none have exited with an approval. Most of the ineffectual focus has been on the amyloid plaques and tau tangles in the brain, which have also been found in healthy (non-Alzheimer's) subjects. A lead that Cortexyme is pursuing comes from research that suggests Alzheimer's patients tend to have poor oral hygiene, with the risk of the disease loosely correlated with fewer teeth. The connection between the two seemingly disparate presentations appears to be P. gingivalis, a bacteria prevalent in both brain plaque and periodontal disease.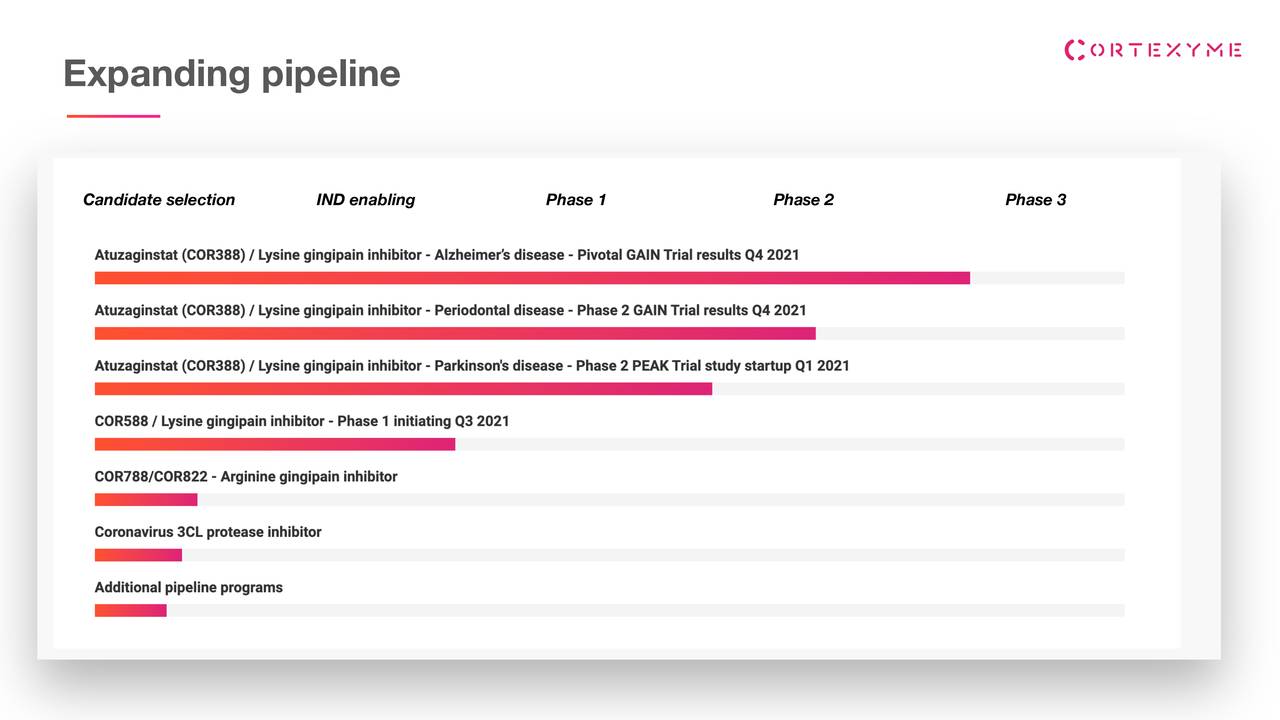 Source: March Company Presentation
The company's clinical candidate, atuzaginstat (COR388), is an oral protease inhibitor that targets the toxic virulence factor proteases called gingipains that are secreted by P. gingivalis. Gingipains are believed to be upstream drivers of amyloid beta production, inflammation, and neurodegeneration. It is being assessed for the treatment of Alzheimer's, Parkinson's, and periodontal diseases. COR388 crosses the blood brain barrier, is highly selective, and was found to be well tolerated in three Phase 1 trials.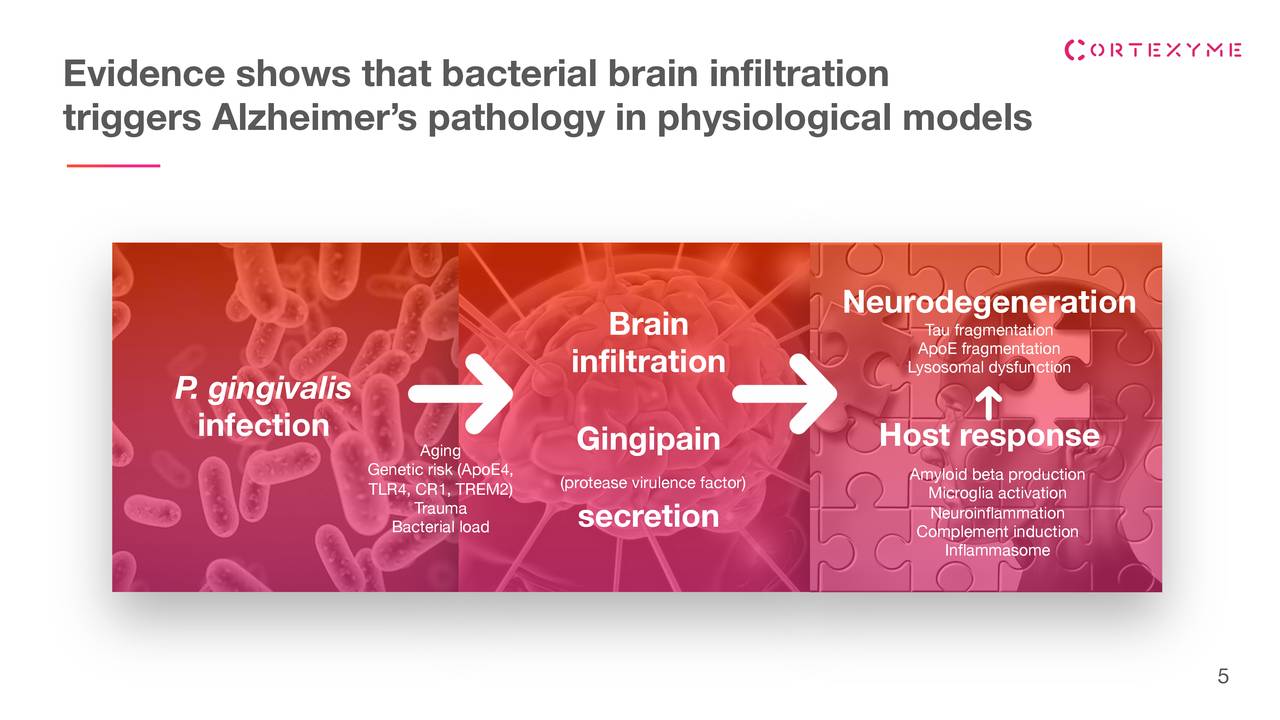 Source: March Company Presentation
In those studies, 65 healthy subjects and nine mild-to-moderate Alzheimer's patients were enrolled with COR388 demonstrating effects on biomarkers of Alzheimer's, including serum levels of the signaling protein RANTES (regulated on activation, normal T-cell expressed and secreted), and apolipoprotein E fragment presence in the cerebrospinal fluid. Also, all nine unscreened Alzheimer's patients presented P. gingivalis infection.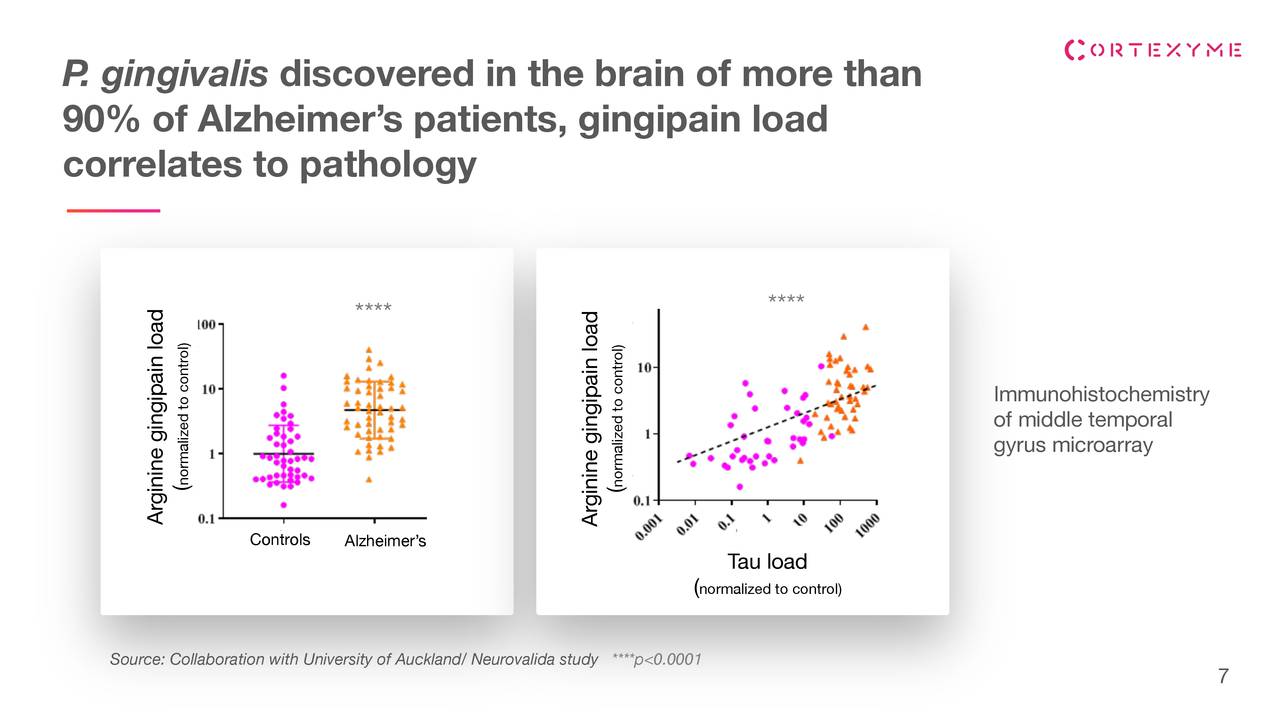 Source: March Company Presentation
On the back of these results, Cortexyme initiated a Phase 2/3 trial 'GAIN' evaluating two dose levels of COR388 in the treatment of 643 patients (between the ages of 55 and 80) with mild-to-moderate Alzheimer's disease and dementia (Mini-Mental State Exam (MMSE) scores between 12 and 24 points) in April 2019. The trial consists of a treatment period of 48 weeks and a safety follow-up period of six weeks. The co-primary endpoints are the mean change in ADAS-Cog11 (Alzheimer's Disease Assessment Scale - Cognitive 11-item progression model) and change in ADCS-ADL (Alzheimer's Disease Cooperative Study Group - Activities of Daily Living) both from baseline at week 48 versus placebo. Secondary endpoints include change in CDR-SB (Clinical Dementia Rating - Sum of Boxes).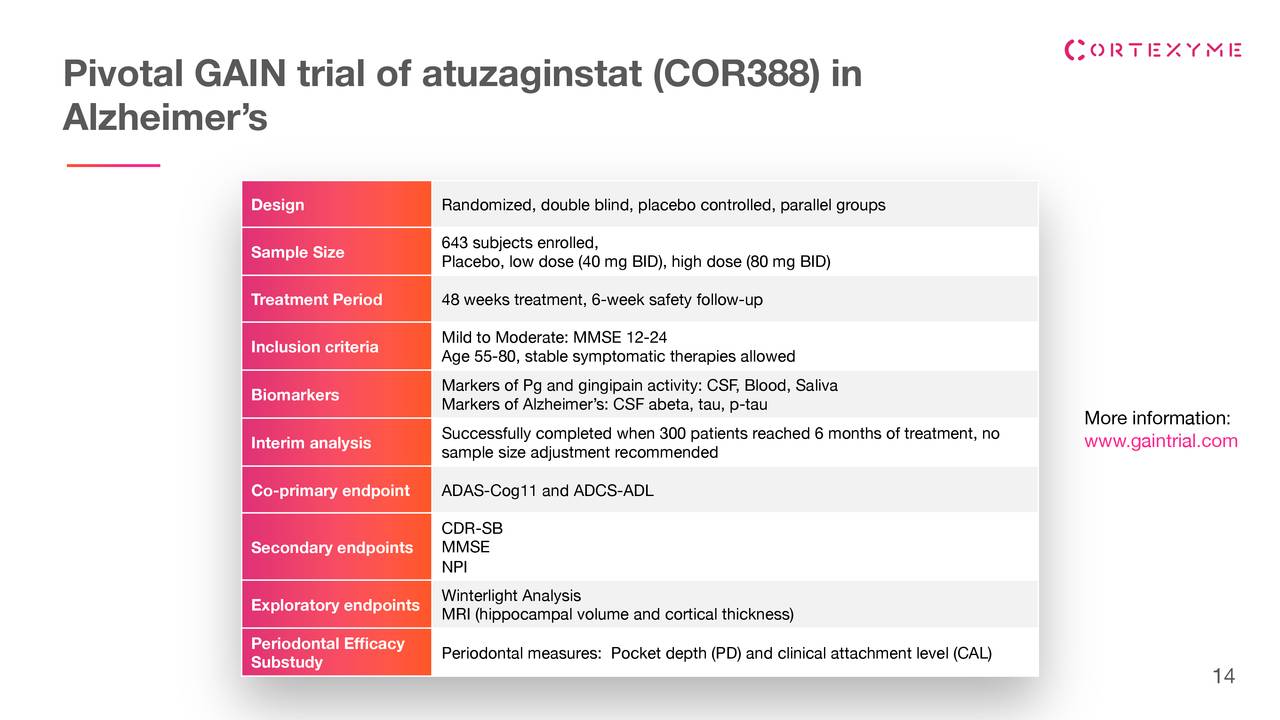 Source: March Company Presentation
When the trial reached ~300 patients who had received six months of treatment (December 2020), an interim analysis was conducted by the independent Data Monitoring Committee (DMC), through which COR388 successfully advanced. The DMC checked for futility, overwhelming efficacy, and safety and saw fit to let the trial continue as scheduled with the final enrollees expected to be evaluated by December 2021.
However, in February 2021, the FDA announced that it had put a hold on the open-label extension part of the trial due to concerns over liver issues. This news caused the stock to fall 35% to $30.72 a share on February 16, 2021. It should be noted that the randomized clinical trial [RCL] - the data from which the FDA will likely make an approval decision - has been allowed to continue as is. The company stated that the liver adverse events were early, infrequent, reversible, and without any long-term effects. This partial hold can be interpreted several ways.
The positive perspective is that this appears to be out of an abundance of caution considering that the higher dosage level (80 mg) in GAIN is 60% greater than the dosage used for the nine Alzheimer's patients in the Phase 1 study (50 mg). Also, the liver issues could be a function of COR388 working, where it is binding to gingipains and then being processed by the liver. And open-label extension studies are generally not considered critical to the approval process.
The negative take is that with the discontinuation of the open-label study, Cortexyme will have no long-term safety data, which may compel the FDA to require the company to conduct another more comprehensive Phase 3 trial.
Either way, it appears as if all the data from the RCL will be read out in 4Q21. Part of that data should also include an efficacy sub-study of 233 patients with periodontal disease.
It should be noted that Cortexyme is the only biotech pursuing this gingipain bacterial approach against Alzheimer's. This uniqueness attracted the attention of Pfizer (PFE), which made an investment - now 2.1 million shares, or a 7% ownership interest - in the company back in 2016.
COR388 is also set to be evaluated in a Phase 2 trial 'PEAK' for the treatment of Parkinson's disease, with its first patient set to enroll in 3Q21. Parkinson's afflicts more than 1 million in the U.S. and ~10 million globally. Similar to Alzheimer's, there are no therapies to reverse the condition, only to manage symptoms.
The company also has a compound (COR588), which is a second-generation lysine gingipain inhibitor that should enter the clinic in 3Q21 for the treatment of periodontal disease.
Balance Sheet & Analyst Commentary:
Cortexyme held cash and long-term investments of $184.3 million and no debt as of YE20, providing it a cash runway through at least 2023. A meaningful amount of this liquidity came via a February 2020 private placement in which it raised net proceeds of $117.6 million at $50 per share.
The company, with its novel approach to treating Alzheimer's, has cultivated a spectrum of opinions from the Street. Analysts harbor three buy, one outperform, one hold, and one sell rating. Jeffreys downgraded shares of CRTX from buy to hold on the back of the partial clinical hold news, lowering its price objective from $59 to $34. H.C. Wainwright took a different approach and reiterated its buy rating and $76 price target, making the plunge back into the 30s a substantial buying opportunity.
CEO Casey Lynch has been a recent seller of Cortexyme stock, raising ~$2.6 million through the disposition of 70,000 shares in multiple transactions since February 1, 2021. It should be noted that he still owns north of 1.1 million shares. By contrast, board member David Lamond used the recent weakness as a buying opportunity, adding 50,000 shares to his position on March 24, 2021. Through his various trusts, he owns ~3.7 million shares, or 12% of the shares outstanding.
Verdict:
With a novel approach to treating a disease that has seen the pharmaceutical industry throw untold billions into a black hole, Cortexyme's approach has more merit than most. With backup indications of Parkinson's and periodontal disease, COR388 is not as much a binary outcome as other Alzheimer's therapies. However, it is too risky until Alzheimer's results come out for a large position.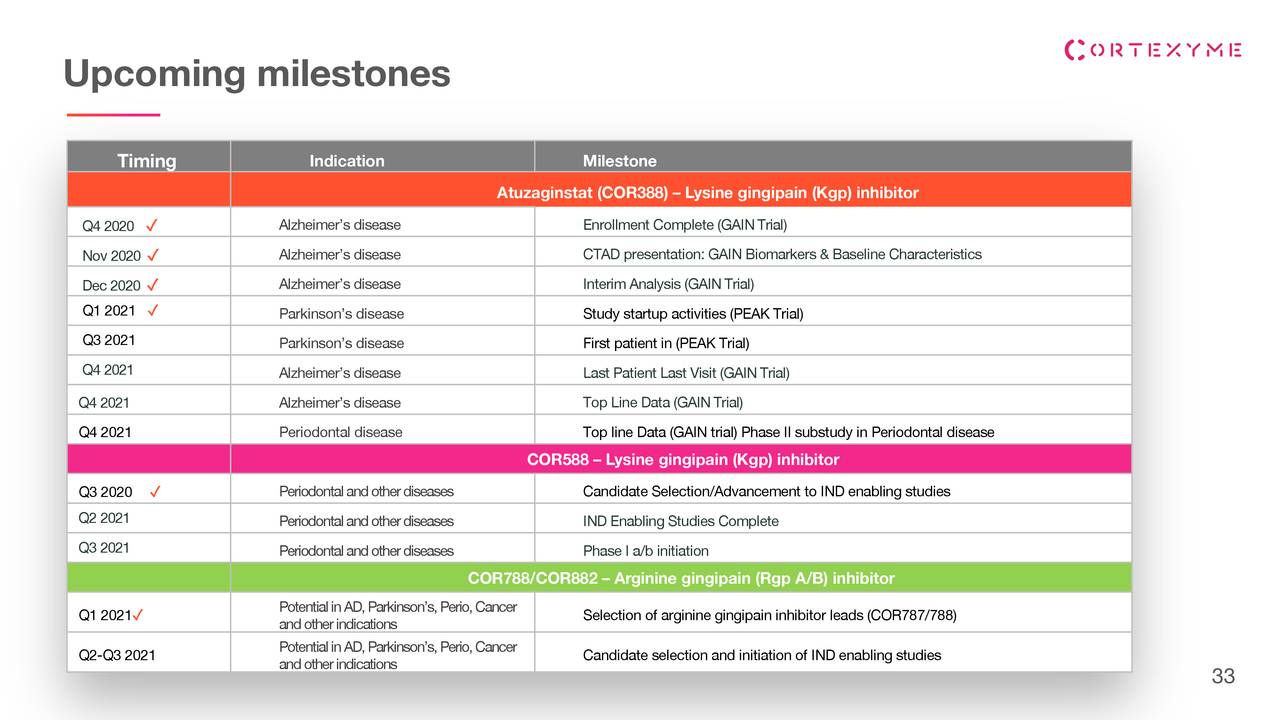 Source: March Company Presentation
With the recent volatility and pivotal news not forthcoming until 4Q21, Cortexyme could be a decent covered call candidate. If one can get a net debit (stock price - option premium) of $27.00 to $27.50 a share via covered call orders utilizing the October $35 call strikes, I think this is good strategy as nothing significant should happen until months past the option duration. I plan to 'roll' those options just before expiration if the stock stays near these levels, which would enable me to pick up an additional option premium. This is what I have done within my own personal portfolios.
Most rich people have a gangster in their ancestry somewhere."― Ken Follett, Winter of the World
Bret Jensen is the Founder of and authors articles for the Biotech Forum, Busted IPO Forum, and Insiders Forum
Live Chat on The Biotech Forum has been dominated by discussion of these types of buy-write opportunities over the past several months. To see what I and the other season biotech investors are targeting as trading ideas real-time, just join our community at The Biotech Forum by clicking HERE.