Editor's note: Seeking Alpha is proud to welcome Jay Wu as a new contributor. It's easy to become a Seeking Alpha contributor and earn money for your best investment ideas. Active contributors also get free access to SA Premium. Click here to find out more »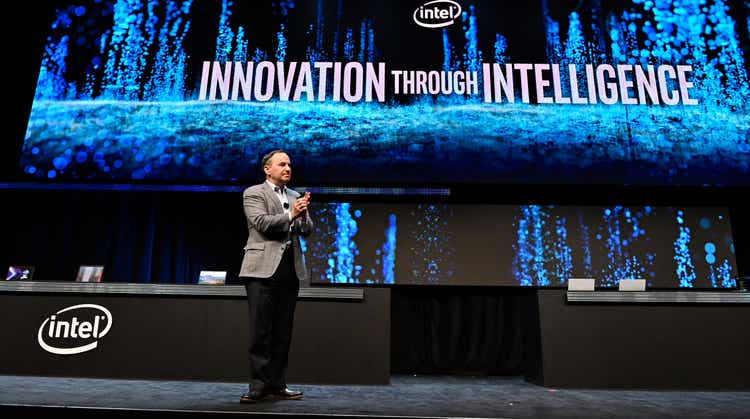 On April 22nd, 2021, Intel Corp. (NASDAQ:INTC) reported earnings of $1.39 per share on $19.7 billion in revenue, comfortably beating analyst expectations of $1.15 EPS and $19.9 billion revenue. The stock is now down 13.5% from its 52-week high on April 12th, 2021.
The core reason for the sell-off was the decrease in sales of Intel's high-margin data center chips, which dropped 20% year-on-year. Intel's CEO Pat Gelsinger attributed the decline to digestion – where cloud providers had already bought enough chips and were waiting to buy more. Many investors, as well as myself, are unconvinced – preferring to believe that competitive forces from Advanced Micro Devices Inc. (AMD), Micron Technology Inc. (MU), and Nvidia Corp. (NVDA) was at play.
It is without a doubt that in the short term, Intel will concede market share in the data center space causing investors to feel pain in its stock price for a while to come. Yet, I am firmly believed in Intel's turnaround, pointing to evidence of its newly-released Ice Lake chips, recent investment in its foundries, and the hard decisions CEO Gelsinger has taken to stage a comeback.
As a rough valuation technique, Intel's P/E of 12.00 compared to the industry's 69.18 means that it is trading at a steep discount to its peers. This offers investors a margin of safety and yields an impressive return. Below, I will detail the reasons for the revival of Intel's leadership position.
Intel Fixes Its Chip Problems
There are 2 main issues that affect the competitiveness of Intel's silicon chips: they are either released late or are overpriced. Previously, Intel got its 10nm chips after years of delay and had to rely heavily on its 14nm lineup. To add pain to its problem, Intel's lower-performing chips had been more expensive than its competitor AMD's Ryzen chips, prompting many PC enthusiasts to shift over. But looking at the current situation, Intel has addressed these mishaps and started to claw back its market share.
Fixing its Timeline
After the April 6 release of its new Ice Lake chips, the first server processors manufactured on the 10nm process, Intel has now shifted to its next goal of the 7nm node. According to its CEO, The first 7nm chip, Meteor Lake, will have its design finalized in 2Q 2021 and launched in 2023 – a year behind schedule. CEO Gelsinger has addressed investor's worries of Intel further lagging behind its competitors, shared the struggles Intel is currently facing with producing 7nm processors, and how it plans to address them. Besides a redesigned manufacturing process involving the use of extreme ultraviolet lithography (EUV), Intel has gone the unconventional, collaborative route and seeks to outsource some manufacturing to Taiwan Semiconductor Manufacturing Company (TSM). This surprise strategy by the management to utilize current leading foundries as gap fillers gives Intel time to regain technological superiority, whilst releasing high-performance CPU tiles in the meantime.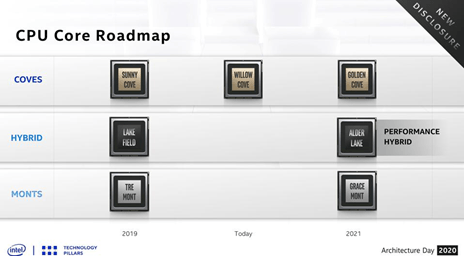 Intel's Alder Lake comprises of Gracemont and Golden Cove cores, Intel
This year, Intel is also poised to release its promising chip - the Alder Lake CPU - on target. The new 10nm hybrid processor, featuring 8 Gracemont+ 8 Golden Cove cores, packs in plenty of next-gen technology, such as support for PCI Express 5.0 and DDR5 RAM. An online leak by the popular YouTube channel, Moore's Law is Dead, points out that this Alder Lake chip will finally beat AMD's Ryzen 9 5900X models. Intel is on track to deliver this sophisticated chip well ahead of its scheduled late 2021 launch as developers had just added preliminary support for Alder Lake. In fact, it might set to be released later this summer.
Fixing Its Price
A few months ago, Intel has significantly cut the prices across its entire lineup of chips. Take the leading Intel Core i7-10700F processor, which has fallen from $315 to $229 at Amazon. This has struck AMD hard as it is currently grappling with limited capacity at its chip manufacturer, TSMC. Not only is stock for AMD's flagship Ryzen 9 processor series extremely low, but its Ryzen 5 and 7 CPUs are now priced uncompetitively compared to Intel. Since Intel manufactures its chips in-house, it is not affected by the global chip shortage and its chips are readily available.
This targeting of the lower-end high volume consumer chips has allowed Intel to regain market share from AMD for the first time in 4 years. Whereas in the server market, besides price, the availability of the chip always plays a big part. The lead time for Intel's Ice Lake server chips is 1 week, significantly shorter than AMD's lead time of 3 months or more. All in all, Intel is now closing up on its competitor in the CPU space just as AMD faces a shortage of chips, and boy, this could be an interesting opportunity that overturns Intel's fortunes.
Intel's Transition Into A Data-Centric Business
Beyond the company's investments in CPU, Intel is also focused on memory, connectivity, software, and security as part of its integrated platform strategy. Its latest products feature the Optane memory modules, Altera field programmable gate arrays (FPGA), and Nervana neural network processors. Truth be told, Intel has transitioned from a PC-centric company to one that is centered around higher growth data-centric services. If investors look beyond Intel's short-term disruption in its PC supply chain, they will realize that Intel's transformation into the data-centric market is growth driver too.
New Drivers In The Data-Centric Market: IoT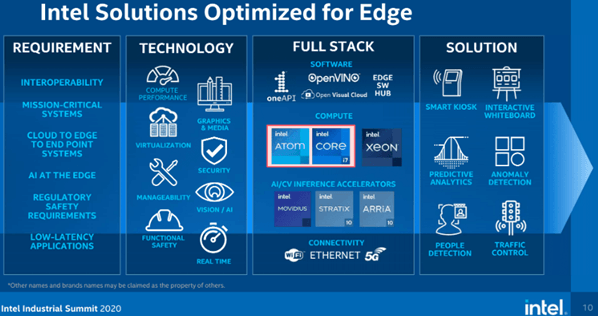 Intel's IoT portfolio, Intel
After missing out on the mobile revolution, Intel has readied itself for the imminent disruption by Internet of Things (IoT) and Edge Computing. Under its compute offerings, Intel has launched 2 high-performance processors: the 11th Gen Intel Core and Intel Atom x6000E Series, both offering integrated AI and real-time capabilities. Intel has also introduced the Edge Software Hub, a one-stop platform containing specific use-case reference templates, customizable tools, and deployment-ready software packages for retail, industrial, predictive analytics, and computer vision. Already, Intel has partnered with Siemens (OTCPK:SIEGY), a German juggernaut in the industrial IoT space (more partnerships are underway). Moving forward, I expect revenue from Intel's IOTG division to make up a bigger slice of its total revenues from 4% currently to 10% in 2023, due to favorable tailwinds in industrial IoT growth.
Mobileye
Mobileye, an Israeli autonomous vehicle (AV) technology company that Intel acquired in 2017, has been one of Intel's best acquisitions yet. Despite being the smallest business unit with $377 million in revenue for Q1 2021, it has been one of Intel's fastest-growing segments, up an astonishing 48% compared to last year. Recently, at the Consumer Electronics Showcase (CES) 2021, Intel outlined its strategy for scalable global AV adoption. It focuses on 3 aspects, namely: Road Experience Management mapping technology, advanced driver assistance systems (ADAS) development, and bringing down the cost of AV sensor systems.

Intel's Mobileye Roadmap, Mobileye
Currently, Mobileye is the market leader in the mobility-as-a-service (MaaS) market, offering the full suite of services from self-driving system; to route optimization; to fleet management; that other small rivals are unable to. Moreover, its MaaS solutions have the biggest footprint, from Israel to France, the United Arab Emirates, South Korea, and Japan (with more countries soon to follow). It is forecasted that in the end, only a few MaaS providers will survive due to strong platform externalities, and Mobileye is well ahead in the lead.
Additionally, Mobileye can tap on the manufacturing expertise of Intel, to optimize the production of the lidar SoC. Many of the technologies developed by Intel in the data center transceiver segment can be applied to sensing chips, for example, silicon photonics. Simply speaking, this method allows the discrete components of the lidar system to be integrated into a small form factor, thereby reducing cost. And of course, unlike its competitors, Intel also has the specialized fabs to manufacture these lidar SoC.
Overall, these 2 domains (IoT and AV technology) showcase the investments Intel has undertaken to diversify into new markets that leverage Intel's strengths. These new business lines will soon become major growth drivers for Intel.
Intel's Geopolitical Play: Subsidized Foundries

Intel's current 4 fabs at Arizona, Intel
Following the global semiconductor shortage, worries of disruption to the silicon chip shortage fanned into national security concerns. With a great majority of the world's chip manufacturing and know-how concentrated in Taiwan, whose sovereignty is in dispute, the US is taking measures to reduce its dependence on foreign-sourced chips. Intel Foundry Services is one of the answers to this problem. CEO Pat Gelsinger had announced plans to build a standalone foundry business that will meet US and European demand. To begin, Intel will be spending $20 billion on 2 new fabs at its Ocotillo campus in Arizona.
Doubling down on its manufacturing facilities offers key competitive advantages. Firstly, profits in third-party chip manufacturing are particularly lucrative, evidenced by TSMC's gross margin of 53.4%. Whilst it faces problems in manufacturing 7nm chips and below, attracting customers would not be a problem. Intel is offering its leading-edge Foveros 3D packaging technology and SuperFin process technology, as well as its crown-jewel: customizable x86 cores, to its clients. It has already secured support from top companies such as Amazon (AMZN), Microsoft (MSFT), Google (GOOG) (GOOGL), and Qualcomm (QCOM) for its model. This could be another of Intel's profit makers once it is up and running.
Secondly, by manufacturing chips for other companies, it increases the volume of chips that Intel produces. This will ensure there is sufficient volume of chips going through its foundries to support the massive R&D costs. Furthermore, the more chips there are produced, the more will be learnt – such as where defects occur, what new material or equipment is suitable, and etc. This will allow Intel to regain its manufacturing edge.
Lastly, Intel is set to benefit from government incentives in building its foundries. In the U.S., Intel is working with the state of Arizona and the Biden administration to seek subsidies. In Europe, it is looking for incentives to the tune of $9.7 billion and is considering Germany as a potential candidate, given the many automakers there. This will help Intel offset the tremendous costs of setting up a leading foundry and achieve economies of scale faster.
Intel Brings Back Innovation And Talents
Besides the innovative Integrated Device Manufacturing (IDM) 2.0 roadmap, Intel has announced research collaboration with IBM (IBM). Previously long-time competitors, the 2 are now working together to co-create next-gen logic and packing technologies. Intel Foundry Services will also benefit from IBM's expertise in foundries before it was sold off to GlobalFoundries.
Intel's CEO aims to rekindle the innovation spirit back in its heyday and is launching Intel Vision (commercial) and Intel Innovation (engineering) events near the end of the year, showcasing new products with partners and engineers. It is also reviving the Tick-Tock manufacturing philosophy that has served it well before troubles with the 10nm process.
Lastly, Intel has been making concerted efforts to get back on track with the hiring of industry executives like former AMD executive Raja Koduri; Sunil Shenoy who left Intel in 2014 as head of its platform engineering group; and many more. Additionally, according to LinkedIn, Intel is one of the world's top 25 companies to work for in 2021. It has actively invested in the skills and growth of its employees, and such employees typically contribute the most back to the company. I genuinely believe that this company will only become more innovative and successful.
Insider Ownership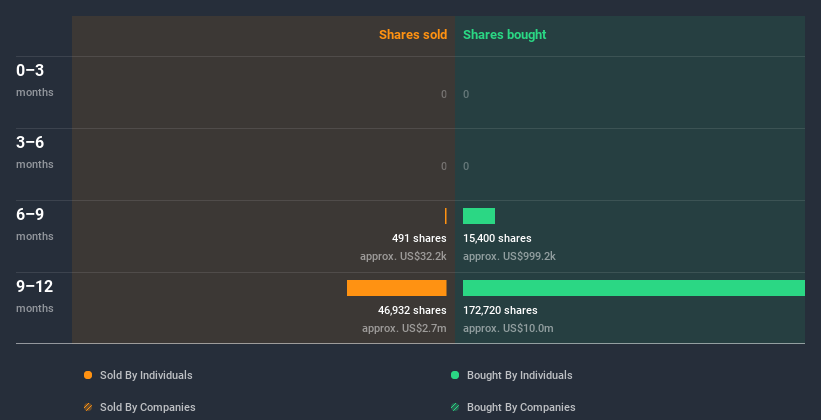 Intel Insider Trading Volume, NasdaqGS
As we can see on the chart (Oct 2020) above, insiders are purchasing more shares in the company than selling it. They might sell shares for many reasons but they buy shares only for one purpose: a rising share price. This gives confidence to me that there is an alignment of purposes between company leaders and shareholders.
The Eye-Watering Valuation
Perhaps the most attractive component to Intel is the price of its stock. At 59.24, it trades at a P/E ratio of 12 - dirt cheap compared to AMD's multiple of 49x. Historically, Intel has traded largely in line with the S&P 500 index's price to earnings multiple based on forecasted 12 months earnings, but now it is 50% of that. Investors are overly pessimistic of its manufacturing problems, overestimating rival's grab of market share from Intel, and discounting its other growth segments.
This negative sentiment presents an opportunity. Not much has to go right for Intel to overturn its fortunes, and it still has many levers that it can pull to bring back its business. If one of its segments post spectacular profits, the tide of investor sentiment will shift, prompting a reevaluation of its undervalued share price.
I have considered the risks pertaining to the downsides as well. What factors typically bring down a top-tier blue-chip company? Leadership failure, poor management, underinvestment in technology, failure to keep up with underlying trends, poor finances, and low workers' motivation. Many of these issues have been addressed and corrected by Intel's new CEO, who's been a veteran at Intel for 30 years. Under him, I expect a decade of innovation and profits out ahead.
To me, the math works out: low risk for further declines in its stock price and a big opportunity for upside gains.