Ethereum Is The Horse I'm Riding Right Now
Summary
ETH is seeing faster active wallet growth and more on-chain usage than BTC.
Bitcoin's short-term bullishness looks exhausted while ETH looks strong.
We have a breakout in the ETH/BTC ratio.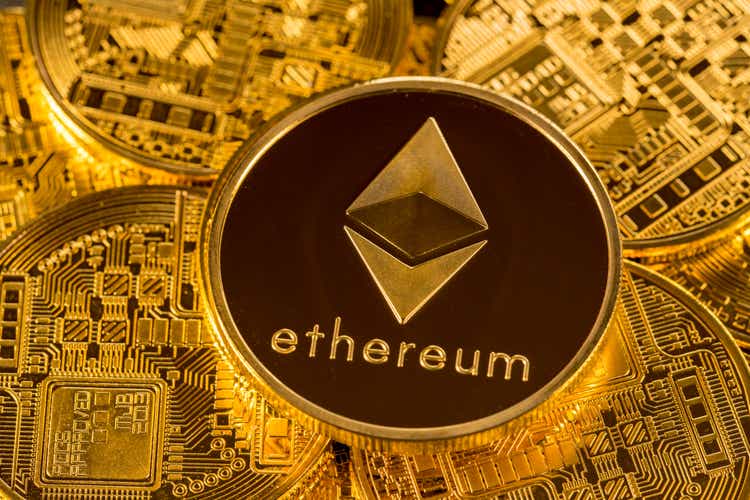 Like it or not, we're still at a point in time where most of the mainstream financial attitudes around digital currencies and tokens are going to be framed with bitcoin as the primary backdrop. It's what people have heard of and seem to understand the most. Such is life. While I definitely don't want to make this article a Bitcoin (BTC-USD) vs. Ethereum (ETH-USD) argument fundamentally speaking, I will say going overweight ETH as a trade is probably going to be a winning strategy should the crypto bull run continue.
Do we finally have the "alt season" so many have been waiting for? I don't know and I'm not going to make that claim. What I will say is there are cryptocurrencies and tokens making new all-time highs while Bitcoin struggles to get over $60,000 and hold it. ETH is one of the digital assets making new highs and it deserves a look.
User Adoption
A year ago, Bitcoin had about double the active wallet addresses of Ethereum. Not only has the active wallet edge for BTC tightened up considerably, but at times last month, it was actually ETH that had more daily blockchain users.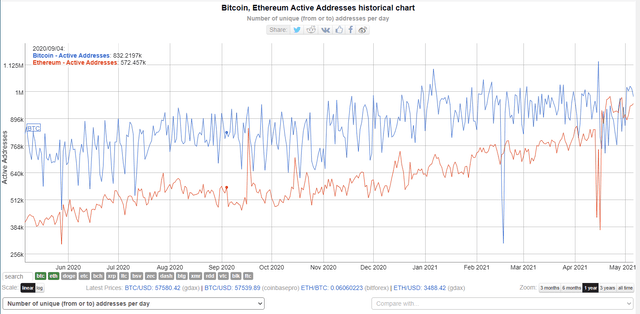 Source: bitinfocharts.com
Things get really interesting when we look at the on-chain transactions per day between the two assets. Despite a similar cost to transact on the network, ETH has far more on-chain activity.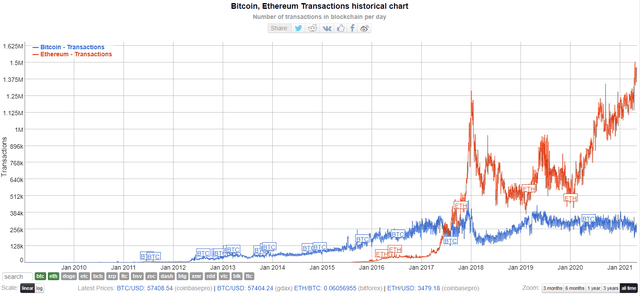 Source: bitinfocharts.com
While the average monetary value of each of these transactions is far lower in ETH, I think the growth in aggregate on-chain ETH transactions is notable. I take the view that ETH is serving a different kind of utility than BTC is serving. Where Bitcoin can be looked at as the "digital gold" store of value type asset, ETH is actually used as an instrument to facilitate token investment and staking in all sorts of projects. This is not a small deal.
Just thinking about my own adoption of both of these assets and it's obvious which one I need more as a speculator in the digital space. I've needed ETH to pay the gas for investment in several tokens that I currently hold. This is not the case with Bitcoin. I honestly can't remember the last time I made an on-chain transaction with BTC. This may not seem relevant to crypto investors who just use KYC on-ramp custodians like Coinbase (COIN). But if like me you believe tokenization is going to greatly disrupt the traditional equity market, you're probably going to want exposure to assets that you have to self-custody. That means you need ETH and you need it on the network.
Technical View
For full disclosure, I have closed what I consider to be my swing trade positions in Bitcoin. This includes the Grayscale Bitcoin Trust (OTC:GBTC) where I've been a net seller the last two weeks. I now have more swing trade capital in Grayscale's Ethereum Trust (OTCQX:ETHE). Here's what I see in the charts of the underlying assets.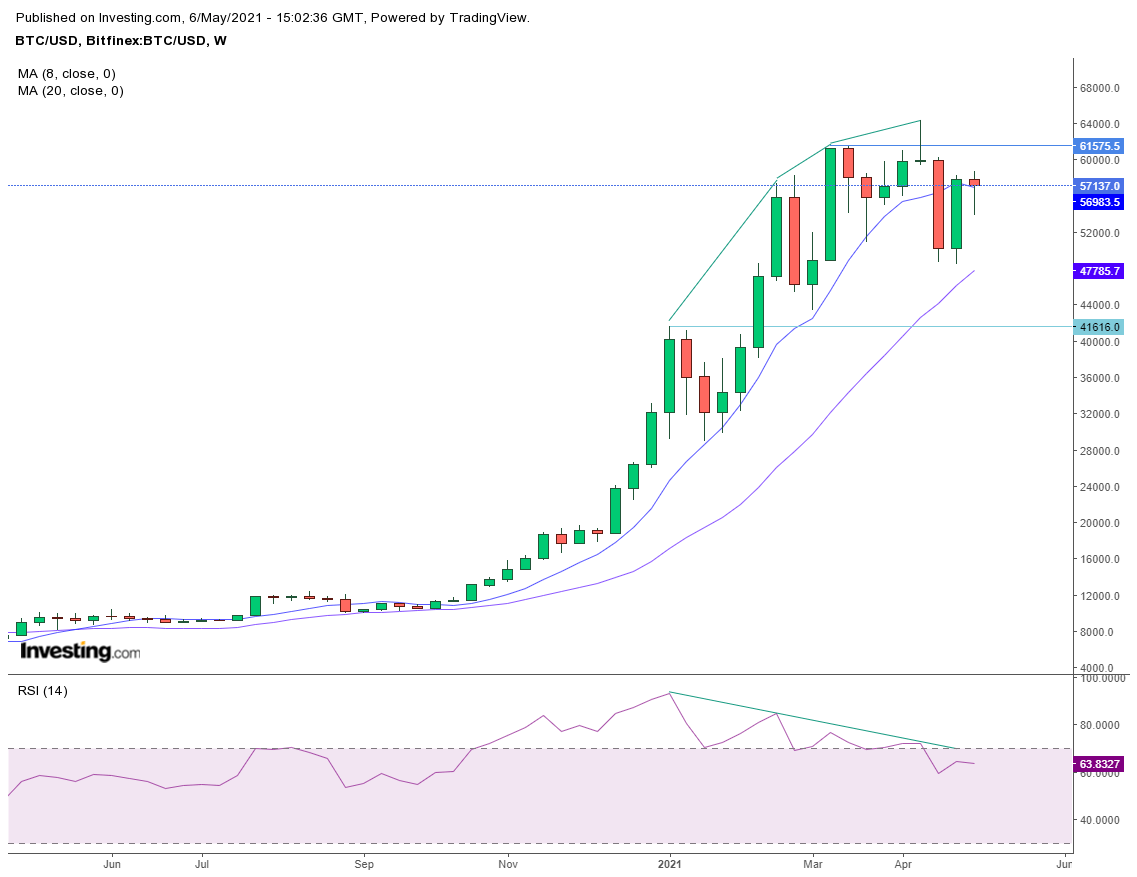 As of writing, I'm entirely unconvinced by Bitcoin's rally from sub-$50k last week. I've been sharing this chart with my premium members for months. Aside from the fact that there are several bearish divergences on the weekly chart, Bitcoin is struggling to hold the 8-week moving average at time of submission. That average is also turning lower. I take the view that a test of Bitcoin's 20-week moving average would be healthy.
Meanwhile, ETH is showing no signs of slowing down. While a test of the 8-week moving average will certainly be necessary at some point, that MA is still clearly rising.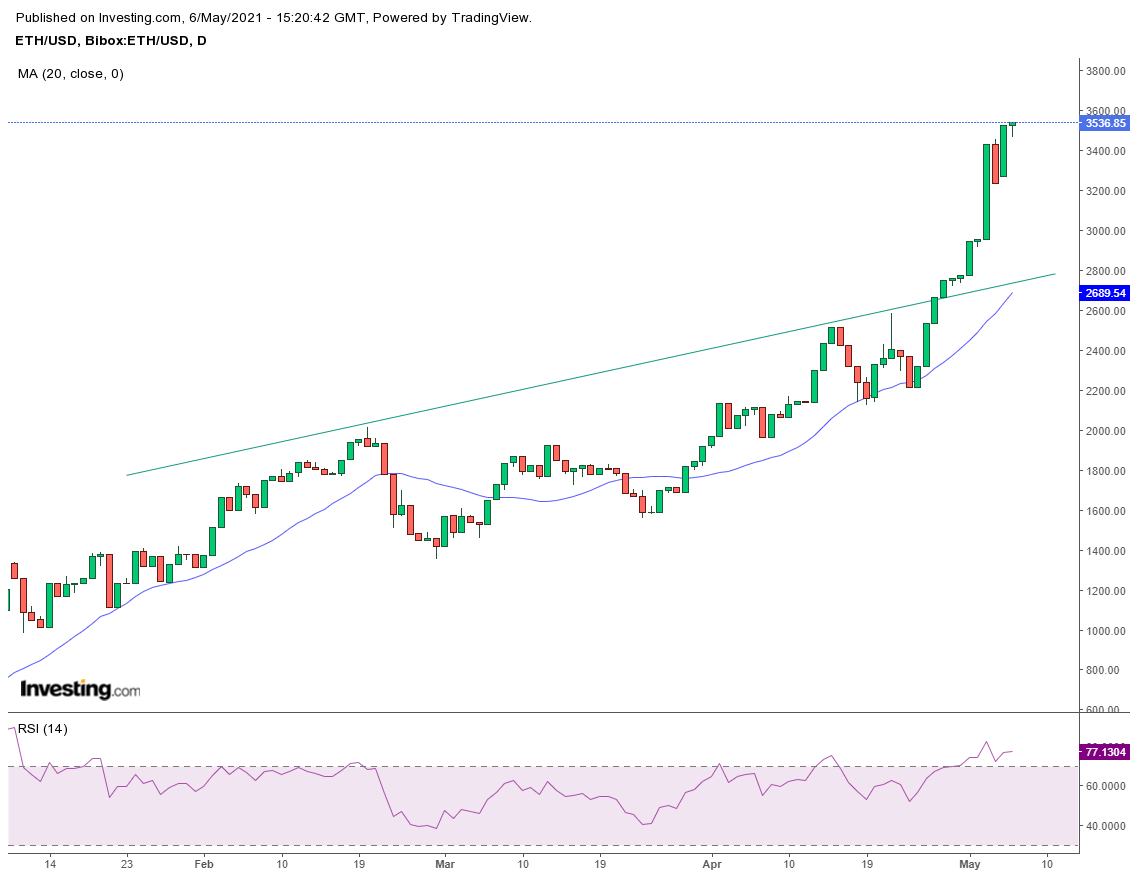 On a daily chart, I see any pullback to the 20-day moving average as a dip worth buying. If ETH retests the $2,800 to $2,900 area, I will gladly take that opportunity to add to my swing position.
The Ratios
There are two different ratios we can use to try to gauge potential outperformance between Bitcoin and Ethereum. First, the BTC/ETH ratio. This ratio shows a potential reversal could be looming soon. That would actually indicate outperformance in BTC.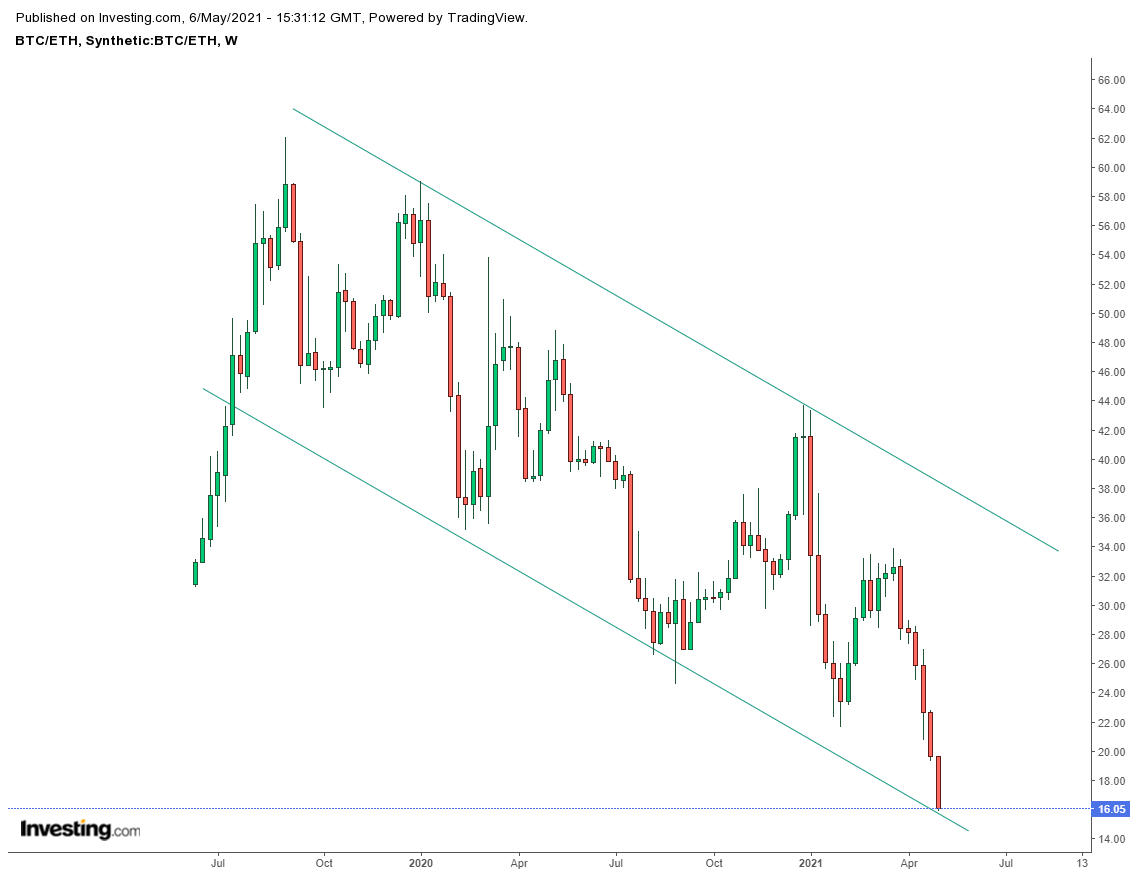 To check our work, let's also analyze the ETH/BTC ratio and see if anything looks different. Here, we get a completely different takeaway.
Risks
As with all investments, there are risks to consider before taking a position. This is even more important when thinking about cryptocurrencies and tokens. I could simply be wrong about which ratio to read. It could be Bitcoin that is about to outperform. Also, movement in the ratios doesn't actually mean underlying asset price has to increase. For instance, the ETH/BTC ratio could continue higher even if Ethereum falls. This is a situation that could play out if both assets decline at the same time.
Beyond all that, ETH is currently going through a large network transition from proof of work (PoW) to proof of stake (PoS). This update has been described by some as changing an engine in a vehicle while operating it. That sounds like a risky thing to do, so I feel obligated to mention it. If successful, the stated goal of the change to a PoS consensus is to improve scalability and sustainability of the network. Judging from what has already been staked in the ETH2 contract, I see a successful transition being the more likely outcome.
Conclusion
If you don't like crypto and digital asset investing, it is likely that none of this is going to change your mind. If you are interested in this space, ETH looks good to me. Bitcoin is still the market cap behemoth and there's no debating that. But if we're looking for an edge as investors, I think the utility, activity, and technical setup looks more favorable for Ethereum at this time.
This article was written by
Fundamental analysis for serious cryptocurrency investors.
5 years as a media research analyst. Mainly covering crypto, metal, and media equities. I share deep dives on under the radar digital assets through my Seeking Alpha investor group BlockChain Reaction - my approach to crypto coverage leans far more fundamental than technical. I believe the overwhelming majority of crypto coins will go to zero. However, I think there are many that will actually perform very well long term. Those are the assets I aim to help other investors find. 
Outside of Seeking Alpha, I write the Heretic Speculator newsletter where I share additional thoughts on finance with more of a social backdrop.
Analyst's Disclosure: I am/we are long ETHE, GBTC, ETH-USD, BTC-USD. I wrote this article myself, and it expresses my own opinions. I am not receiving compensation for it (other than from Seeking Alpha). I have no business relationship with any company whose stock is mentioned in this article.

I am not an investment professional. Please do your own research.
Seeking Alpha's Disclosure: Past performance is no guarantee of future results. No recommendation or advice is being given as to whether any investment is suitable for a particular investor. Any views or opinions expressed above may not reflect those of Seeking Alpha as a whole. Seeking Alpha is not a licensed securities dealer, broker or US investment adviser or investment bank. Our analysts are third party authors that include both professional investors and individual investors who may not be licensed or certified by any institute or regulatory body.