Digital Turbine Becomes A Mobile Ad Juggernaut
Summary
Having amassed a fast and still rapidly growing footprint of 570M mobile phones from 40+ OEMs and operators, the company is acquiring three mobile ad tech companies.
The mobile ad market is fast growing, and the biggest acquisition of the three, Fyber, is growing at a triple-digit rate.
The acquisitions were surprisingly cheap at less than 2x sales.
Digital Turbine also increased its guidance.
Looking for a portfolio of ideas like this one? Members of SHU Growth Portfolio get exclusive access to our model portfolio. Learn More »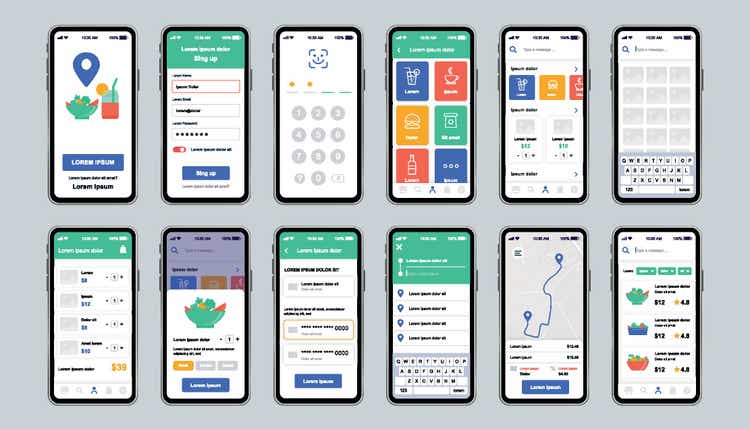 Digital Turbine (NASDAQ:APPS) is one of the top-rated stocks in the SHU Growth Portfolio and we think that the present weakness provides an excellent opportunity to add to your position or open a position if you don't have any.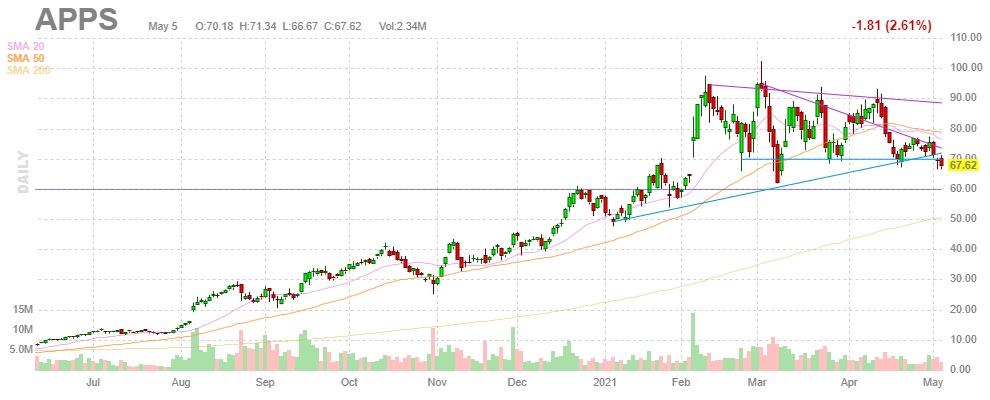 Source: FinViz
Keep in mind in the short term, sentiment rules, and that's quite negative for tech stocks at the moment (more particularly small tech stocks), so it's difficult to see where the bottom lies for Digital Turbine as well as for many of our portfolio stocks.
However, what we do know is that Digital Turbine has an enormous and growing footprint of some 40+ OEMs and mobile operators covering 570M+ mobile phones.
This footprint is still increasing at a rapid pace (+65M in Q4) and they keep on adding operators and OEMs like Verizon (VZ) and AT&T (T) to its content business.
But the company recently acquired three mobile advertising tech companies in quick succession, opening up more ways to monetize its enormous and growing footprint.
We are actually amazed how cheap some of these acquisitions were and the biggest of these is experiencing triple-digit growth. We'll have to hear from management exactly how this fits together and what kind of cost and revenue synergies we can expect, but the emerging picture is very promising.
We think that the company is a mobile ad platform juggernaut in the making and they also increased the guidance, so let's start with that.
New Guidance
Preliminary Q4 figures suggest $95.1M in revenue, an increase of 142% y/y or 101% pro forma (including Mobile Posse revenue from Q4 2020). FY2021 revenue will therefore be $313.6M, an increase of 126% (+64% pro forma). Q1 2022 revenue is guided at $135M-$140M, with EBITDA at $25M-$27M.
There will be quite a lot of revenue added from the following acquisitions:
Appreciate
This was by far the smallest acquisition of the three and it closed on March 2. Appreciate is an Israeli programmatic DSP running 60B auctions daily. Digital Turbine paid $22.5M in cash + $6M in performance/retention bonuses for the company. management argues that it's highly synergistic with AdColony and Single Tap.
AdColony
The acquisition closed on April 29 this year with the company paying a $400M acquisition price consisting of (linked PR):
$100M in cash each to be paid at closing and six months following the closing, and on-target earn-out of $200M, based on AdColony achieving net revenue objectives in 2021.
So this is an all-cash deal. Unaudited and preliminary Q1 2021 revenue for AdColony was $58.3M (+37%), so the company was acquired for less than 2x revenue, and "very solid EBITDA margins" (PR) which we take as being profitable, or at least not cash bleeding.
AdColony is one of the largest mobile advertising platforms in the world with a reach of 1.5B monthly users. It features:
In-app marketplace, in-game ads in multiple formats like InstantPlay mobile video serving full-screen video ads instantly in HD across its network of iOS and Android apps
It offers yet another monetization avenue for Digital Turbine's ever growing base (40+ OEMs and operators, 570M+ mobile phones). From the PR:
The ability for Digital Turbine to utilize AdColony's unique mobile advertising solutions across our vast device distribution footprint unlocks significant new monetization opportunities for the combined company's platform offerings.
Fyber
Fyber supplies a monetization platform for app developers, mostly geared to mobile games with offices around the world. They have solutions for publishers like:
For buyers they also have solutions: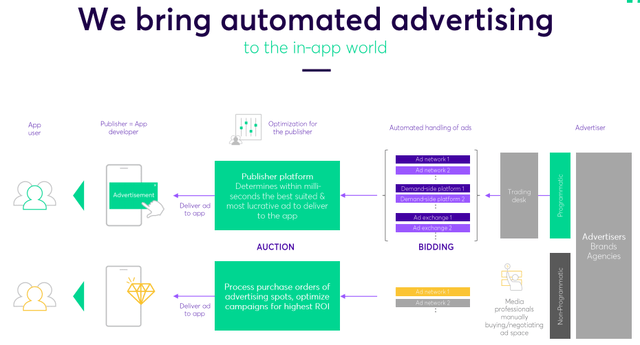 Source: Fyber earnings deck
Digital Turbine is paying $600M, of which $150M in cash to be paid at closing, and $400M in newly issued shares to be issued at closing and an earn-out payment of $50M.
Here are the 2020 results from Fyber: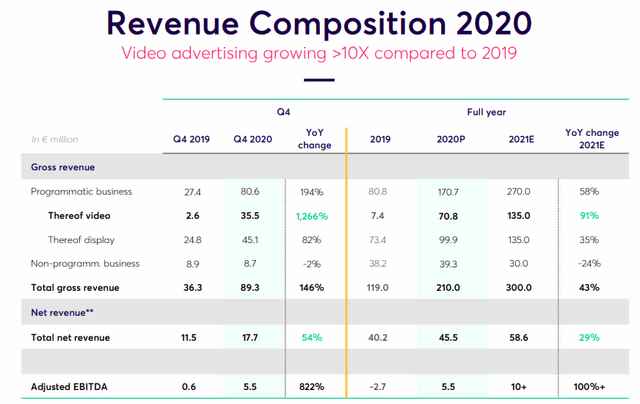 Source: Fyber earnings deck
Preliminary results for Fyber's Q1 indicated €85M+ in revenue (+179%), which led management to increase its guidance for the year to a range of €300M to €350M (up from €275M to €300M).
So basically Fyber is being acquired for less than 2x sales, which we think is really quite cheap as the company is growing extremely fast: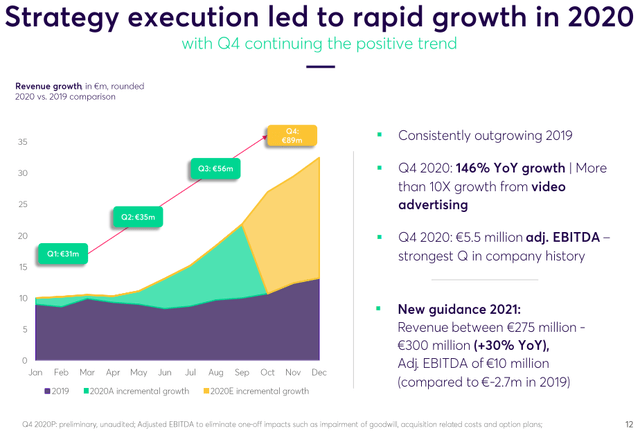 Source: Fyber earnings deck
The €85M in Q1 2021 looks like a breather in the growth acceleration but this is seasonal, as the company upped its outlook for the year significantly.
Mobile advertising juggernaut
With these acquisitions, Digital Turbine is becoming a mobile advertising juggernaut, a one-stop-shop for publishers, app developers, and brands.
They have a tremendous tailwind from mobile advertising industry growth: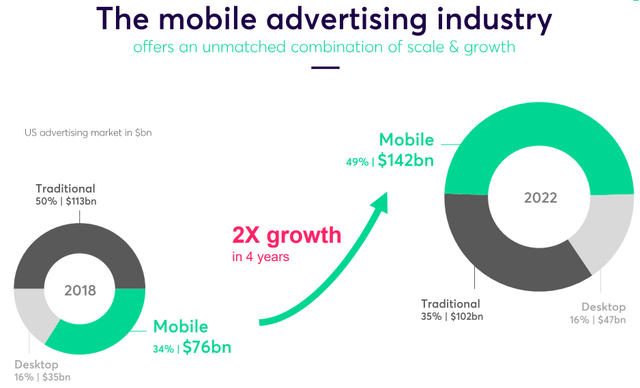 Source: Fyber earnings deck
We await a take from management on how the pieces will fit together and what the cost and revenue synergies are, but here is Zacks:
These acquisitions in early 2021 are expected to aid Digital Turbine to develop a competitive ad monetization platform, thereby driving revenues in the rapidly growing $200 billion mobile advertising and connected TV marketplace.

Moreover, improving advertiser rates due to a rebound in digital ad spending by high profile multinational advertising companies across brands, games and mobile-first applications are expected to aid Digital Turbine's top line.
We await management communication on how this all fits together and what the expected synergies are, but Greenhaven Road Capital argued about the Fyber acquisition:
The acquisition should be accretive, but the real "potential" lies in plugging the technology into the existing base of app owners and marketers using Digital Turbine's various offerings... Digital Turbine is a toll collector on the most valuable per-square-inch real estate in the world - cell phones. They sit between consumers and the companies desperate to reach them and have an increasing arsenal of monetization tools.
We can only agree with that. The company has a base of 40 operators and OEMs. Apart from growing that base (which they are), they are adding additional monetization tools through their own innovations (like Single Tap) and through acquisition (the content business from Mobile Posse), and now they have gone on an acquisition spree in mobile advertising technology companies.
And then let's not forget that Digital Turbine's existing business is still going gangbusters as well. They have signed up AT&T (T) and Verizon (VZ) for their content business (from an earlier acquisition of Mobile Posse) and they will start contributing later in the year.
Conclusion
We don't yet know how all the parts fit together and what management thinks it can achieve in terms of cost and especially revenue synergies from the new acquisitions.
What we do know is that the company has a thriving base business with 40+ mobile phone OEMs and operators on board. That base itself is still expanding rapidly with 65M new phones added in Q4 last year.
The company has added new monetization tools with Single Tap and the content business of Mobile Posse, which is an excellent fit and is still in the early innings of generating revenue synergies.
Now they have acquired three mobile ad businesses in short order, each pretty impressive in their own right and operating in a market that is benefiting from strong tailwinds.
These open up whole new monetization avenues on their existing base as well as growing rapidly in their own right with Fyber's triple-digit growth rate especially impressive, even more so when taking the acquisition price into consideration.
While there is some headwind blowing on the markets for tech growth stocks, and the company has issued quite a few shares to pay for the acquisition, given what they have and what they bought, if this works out only half as well as the Mobile Posse acquisition (which had a fair number of skeptics at the time), we're in for a treat.

If you are interested in similarly small, high-growth potential stocks you could join us at our marketplace service SHU Growth Portfolio, where we maintain a portfolio and a watchlist of similar stocks. 
We add real-time buy and sell signals on these, as well as other trading opportunities which we provide in our active chat community. We look at companies with a defensible competitive advantage and the opportunity and/or business models which have the potential to generate considerable operational leverage.
This article was written by
I'm a retired academic with three decades of experience in the financial markets.
Providing a marketplace service Shareholdersunite Portfolio
Finding the next Roku while navigating the high-risk, high reward landscape.
Looking to find small companies with multi-bagger potential whilst mitigating the risks through a portfolio approach.
Analyst's Disclosure: I am/we are long APPS. I wrote this article myself, and it expresses my own opinions. I am not receiving compensation for it (other than from Seeking Alpha). I have no business relationship with any company whose stock is mentioned in this article.
Seeking Alpha's Disclosure: Past performance is no guarantee of future results. No recommendation or advice is being given as to whether any investment is suitable for a particular investor. Any views or opinions expressed above may not reflect those of Seeking Alpha as a whole. Seeking Alpha is not a licensed securities dealer, broker or US investment adviser or investment bank. Our analysts are third party authors that include both professional investors and individual investors who may not be licensed or certified by any institute or regulatory body.