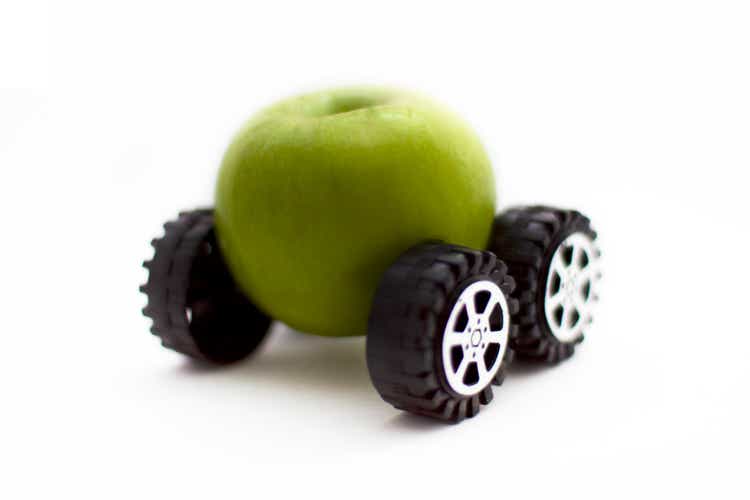 Article motivation
Apple Inc. (NASDAQ:AAPL) and Tesla Inc. (NASDAQ:TSLA) seem as contrasting as treacle and water whether we are comparing their business models or the stock. However, after Apple confirmed that it was indeed working to launch a car in three to six years, market players have begun to speak about the two tech titans in the same breath.
In this article, I will compare the valuations of Apple and Tesla as well as discuss their respective stock performance. I will also discuss the suitability of AAPL and TSLA to different types of long-term investors.
Valuation comparison of Apple and Tesla
From the trough in March 2020 following the market panic over the COVID-19 outbreak, Tesla stock climbed more than 1000 percent higher by January this year. After the swoon in March, TSLA is still up over 800 percent, far outperforming Apple stock which had merely doubled in the same period.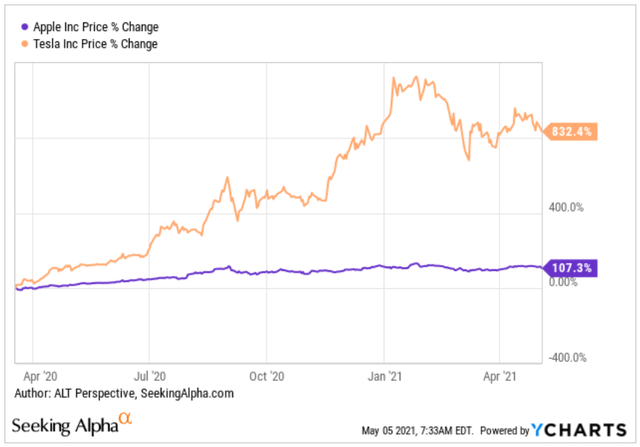 Judging by the percentage returns, TSLA is the undisputed champion over AAPL. However, it's important to note that more than $1 trillion in market capitalization was added to Apple since mid-March of last year, while Tesla scored a smaller increase of $582 million.
At its current market cap of $648.9 billion, Tesla, Inc. is less than one-third the size of Apple, Inc. Despite the massive media attention it receives and the outsized influence its chief executive officer Elon Musk has on the investing community, Tesla only has 72 percent of the market cap of social media giant Facebook (FB).
In other words, while Apple stock has broken the psychological market cap of both one trillion and two trillion dollars, Tesla stock is still some distance from being "obstructed" by the first trillion-barrier. Considering that TSLA had in January surpassed FB stock in terms of market cap, should that happen again, we could see it potentially breaching the one trillion dollars level for the first time.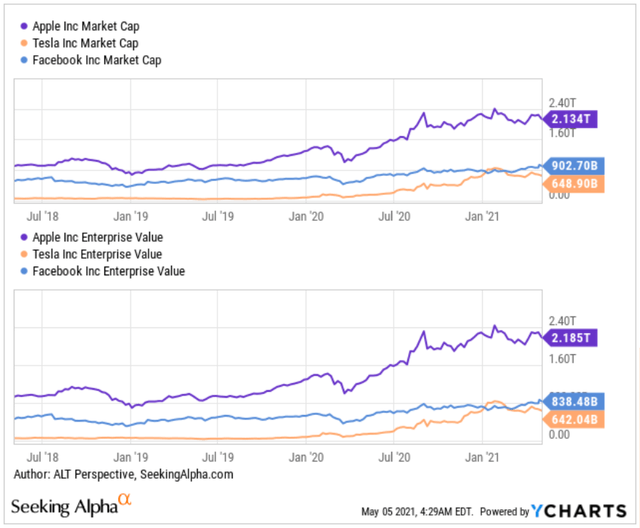 Critics could argue that would bring Tesla's price-to-earnings (P/E) ratio to above a thousand times, a mind-boggling number in itself. In contrast, Apple's P/E ratio is currently at 28.7 times, a paltry number in comparison. However, for much of TSLA's trading history, the stock didn't even have a P/E ratio to speak of, as the company was not profitable for many years. Yet, the lack of a P/E ratio did not deter investors from piling in.
Based on the price-to-sales ratio, if Tesla Inc. reclaims the 30 times record achieved in January, its market cap would indeed be within reach of the one trillion dollar mark, coming at around $930 million. At the same time, comparing Apple with Tesla, the former certainly looks "cheap" and could be described as a "screaming buy". I have made the description in quotations as that can be said of many stocks when compared with Tesla.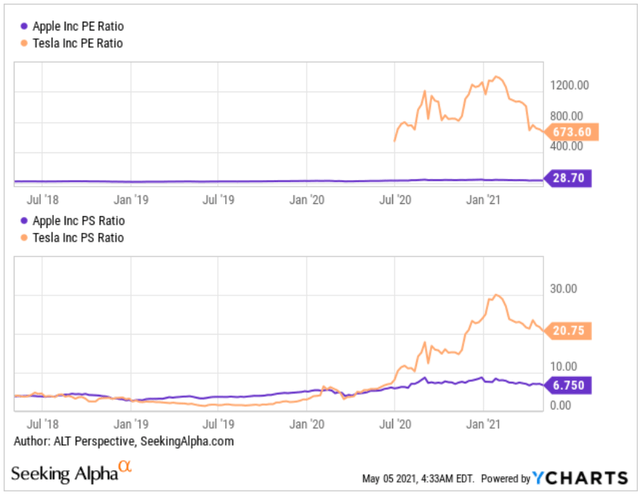 Hence, it's more instructive to compare Apple Inc. with itself. In the past 10 years, its P/E ratio is an average of 17 times. The current P/E of 29 times is, thus, a leap over the historical average, even though it has come off the recent peaks of over 40 times in the past year.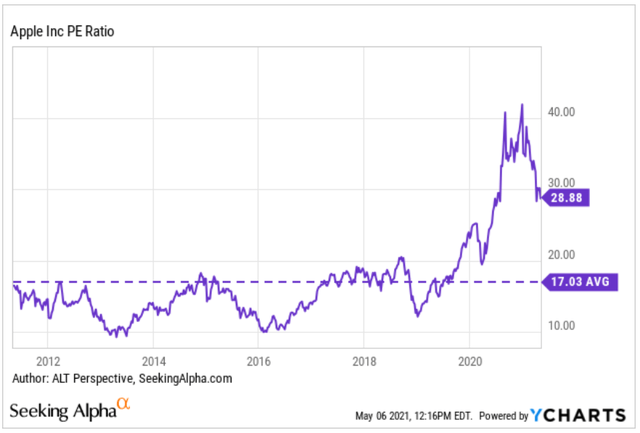 For those who look beyond the income statements and into the cash flows, Apple's $90.5 billion free cash flow [FCF] outshines Tesla's $2.4 billion by an extremely wide margin. Putting the chasm in perspective, AAPL's price-to-FCF ratio at 24 times is ultra-low relative to TSLA's 310 times.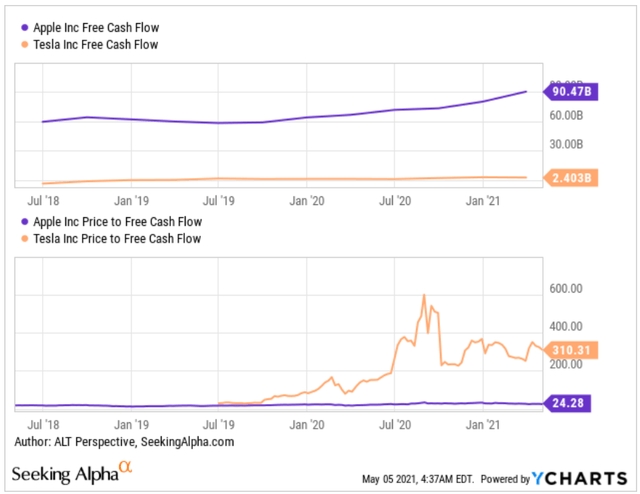 Should long-term investors go for AAPL or TSLA?
At first glance, it looks to me that Apple stock is a good value buy. However, looking at the quant grade for value, AAPL's score of D+ is not that much better than TSLA's F. Why is this so? The primary reason is that quant ratings are based on the individual stock's metrics relative to its industry. Apple, Inc. belongs to the Information Technology sector, while Tesla, Inc. falls under Consumer Discretionary.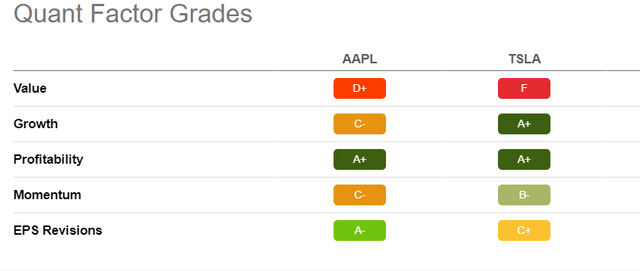 Source: Seeking Alpha Premium
For growth, AAPL scored a poor grade of C- while TSLA has a stellar A+. While this is also judged according to their respective sectors, readers can see in the following table that TSLA's growth metrics are significantly superior to AAPL and consistently so.
For instance, Tesla's revenue on a 5-year CAGR basis is 53.2 percent, several times that of Apple's 7.4 percent. If Tesla's 50.8 percent EBITDA year-on-year growth is impressive, the 63.5 percent EBITDA growth on a forward basis would be incredible. In contrast, analysts are forecasting Apple's EBITDA growth on a forward basis to be more than halved. TSLA grew its tangible book value by 77.2 percent CAGR in the past three years while AAPL saw a contraction of 18.3 percent in the same period.
| Growth Metrics | AAPL | TSLA |
| --- | --- | --- |
| Revenue Growth (YoY) | 21.43% | 38.11% |
| Revenue Growth (FWD) | 12.19% | 39.54% |
| Revenue 3 Year [CAGR] | 9.56% | 42.31% |
| Revenue 5 Year [CAGR] | 7.42% | 53.24% |
| EBITDA Growth (YoY) | 29.12% | 50.80% |
| EBITDA Growth (FWD) | 12.96% | 63.49% |
| Tang Book Value 3 Year [CAGR] | -18.31% | 77.24% |
| Total Assets 3 Year [CAGR] | -2.83% | 24.77% |
The saving grace for Apple Inc., or its attraction, is its superior profitability metrics. Its gross profit margin is nearly double that of Tesla. Further down the income statement, Apple's net income margin at 23.5 percent is more than 7 times higher than Tesla's.
AAPL's Return on Equity is a staggering 103.4 percent as compared to TSLA's 7.2 percent. The disparity is expected to widen as Apple continues to execute its share buyback program, shrinking its equity, while Tesla issues new shares to fund its growth. Its Return on Assets at 16.9 percent is several times that of Tesla's 3.0 percent. Its Return on Total Capital at 28.6 percent is 6.7 times that of Tesla's 4.3 percent.
| Profitability Metrics | AAPL | TSLA |
| --- | --- | --- |
| Gross Profit Margin | 39.88% | 21.18% |
| EBIT Margin | 27.32% | 6.01% |
| EBITDA Margin | 30.68% | 12.66% |
| Net Income Margin | 23.45% | 3.18% |
| Levered FCF Margin | 24.62% | 9.84% |
| Return on Equity | 103.40% | 7.16% |
| Return on Assets | 16.90% | 2.99% |
| Return on Total Capital | 28.64% | 4.30% |
With this underperformance, should long-term investors ignore Tesla? The answer depends on one's holding power and the ability to stay calm amid the volatility that TSLA stock has been known for. According to Wall Street analysts, Tesla's 2020's earnings per share [EPS] of $2.24 was just a small fraction of what the EV-maker could deliver in the next ten years.
By 2030, Tesla, Inc. is projected to mint $34.48 in EPS on a consensus basis, giving it a forward P/E ratio of 19.5 times. This will be a dramatic reduction from the current P/E ratio of over 300 times. Quarter-on-quarter, however, the picture might not be as clear as production hiccups from possible mishaps, shortage of components such as semiconductor chips, ramp-up challenges, etc. could obfuscate its true potential and make investors lose track of its long-term story.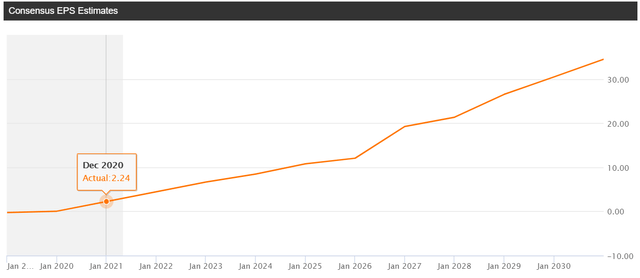 Source: Seeking Alpha Premium
Of course, if you are looking for dividends, TSLA is one stock you can forget about investing in. On the contrary, AAPL offers dividend investors a fairly consistent dividend and an excellent "dividend safety", even if the dividend growth is barely a passing grade and the dividend yield is a disappointing D+ grade. A conservative investor wouldn't complain about Apple's dividend.

How might Apple's introduction of an electric car affect Tesla?
There are more similarities between Apple and Tesla than the duo being in the electric car business three-to-five years down the road. Both American firms are already entrenched in China for the manufacturing of products as well as an important market. That makes the two companies subjected to the geopolitical tensions brewing intensely between the U.S. and China.
Perhaps cognizant of the risk of over-reliance on China, Apple's rumored partners were Koreans. Hyundai Motor (OTC:HYMLF)(OTCPK:HYMTF)(OTCPK:HYMPY) and its subsidiary Kia Motors (OTCPK:KIMTF) were first touted as prime candidates. Subsequently, Apple was reported to be on the verge of signing an agreement with a joint venture of South Korea's LG and Magna, a Canadian auto supplier.
If true, one of Apple's strengths over Tesla in the EV business would be its avoidance of China as a manufacturing base. I have argued previously that Tesla would double down on producing cars in China following its favorable Shanghai experience.
On the mechanics of EVs as a product, however, Tesla is expected to maintain its clear lead. Tesla has produced its cars in-house for more than a decade and accumulated a wealth of manufacturing techniques and experience along the way. Although critics charged that its profitability was largely derived from the sale of high-margin regulatory credits, the richness of data collected without charge from drivers who paid for the privilege to own Tesla cars is often brushed off.
It is this Big Data pool Tesla possesses that enables it to accelerate its autonomous ride-hailing ambitions. On the other hand, even though there are many more Apple users than owners of Tesla cars, Apple's self-driving project only has its own trials to guide its development. This hampers the progress of a rollout of ride-hailing services and diminishes its threat to Tesla.
Nevertheless, Apple can bank on its ecosystem where different products and accessories connect in a seamless fashion. On the other hand, however pleasant a driving experience it is for Tesla car owners, its in-car offerings are limited and mostly outsourced.
Apple vs Tesla stock: final thoughts
Both Apple and Tesla stocks are well covered by analysts. The consensus Wall Street rating is "bullish" for Apple and "neutral" for Tesla. What's telling is that AAPL has an upside of around 23.5 percent to its price target. In contrast, TSLA has a paltry upside of only 2.6 percent at the moment.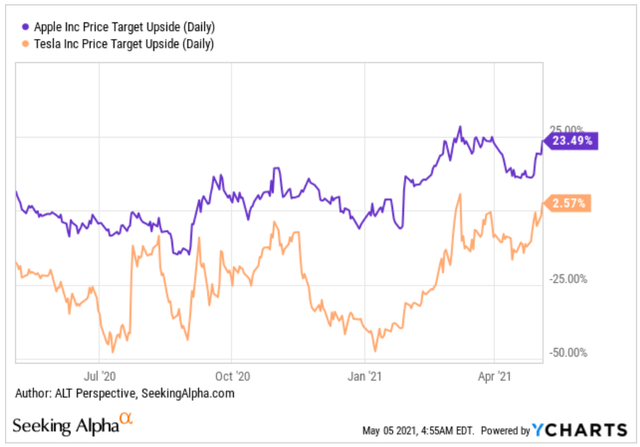 As presented in this article, Apple's valuation multiples are well deserved given the good profitability it enjoys. Nevertheless, I wish to reiterate that Apple stock seems good as a value buy based only on the comparison to Tesla. AAPL, as illustrated earlier, is trading at higher valuation metrics than in the past.
As the company releases some highly anticipated progress in its Apple Car project, investors could become excited and accord it with EV-like multiples. Meanwhile, its existing offerings continue to keep users within its ecosystem.
In contrast, Tesla's valuation is rather rich, especially so if the so-called rotation trade is indeed in full swing. Yet, its earnings potential over the next 10 years seems to suggest TSLA is in the early innings, provided it can overcome the gradual loss of its EV credit buyers, as we have realized from the announcement of Stellantis (STLA) this week. Thus, it is hard to pick a winner here but readers can decide based on their risk profile and invest accordingly.