Here we are … March Madness has arrived once again! How does a collegiate basketball tournament that captures the majority of America tie into the investment world? Well, aside from the massive amounts of money and time that gets allocated to this event, there are some connections worth looking at. Last year I posted my inaugural "Final Four Investing Bracket" to pontificate which asset classes as well as what specific stocks may outperform their respective benchmarks. As an avid hoops fan and an admitted investment nerd (financial advisor), I wanted to tie the two passions and connect some dots.
You may be asking what does it have to do with managing your portfolio or the investment world? At first glance it may not, but I thought I would have a little fun and couple it with some asset allocation parallels. After all, there are many folks who have simply thrown their hands in the air at one time or simply succumb to the notion that investing is like educated gambling. There could be some truth to that depending on your approach …
For those of you that are not familiar with the NCAA and its annual basketball tournament there are 68 teams selected and seeded based on their season results and perceived quality. Every March the NCAA holds a single elimination tournament to crown the number one team. Part of the appeal of such a tournament is that theoretically any team that makes the "big dance" has a shot at winning it all. Each and every year there is a proverbial "Cinderella" team that surprises everyone including all the experts. Prior to the tournament there is always plenty of banter and opinion on who wasn't invited or further arguments around the seeding of the teams that did make it. That's where I see a sort of parallel or analogy to investing and having to make decisions among the multitudes of investment choices. As many investment choices as there are, there are also about as many differing opinions…
President Obama gets his bracket done every year and shows his passion for the game. It seems like all of America gets into March Madness. Speaking of the President and his picks, he likes North Carolina to beat the odds on favorite of Kentucky in the championship game. Kentucky is slotted to be a "slam dunk" of sorts just as Apple (NASDAQ:AAPL) appears to be driving the investment headlines and looks like a can't miss pick. In my Final Four Investment Bracket I've given Apple the #1 seed for obvious reasons. I should also mention that a #16 seed has never upset a #1 seed but when it comes to investing ... this happens much more frequently.
If you have ever looked at a chart of all the different asset classes and how they perform year to year…there is rarely a pattern or consistent way to determine next years "winner."
For the purposes of this years investing bracket, I've "seeded" or ranked four major asset classes (like the regions) and several of their components. I was lightly scientific in this process as I basically focused the results on just the past year. In some cases I gave a lower performing investment a higher seed if it was trending well with recent strength or was more consistent over a longer period of time.
Each asset class (Large Cap, Small Cap & Mid Cap, Bonds, International) was ranked and seeded and then corresponding seeds were given to "picks" that I am either adding to the portfolio or opening brand new positions in. Note that I'm not highlighting 68 new investments and will only discuss investments we are actively involved in or looking to add to most portfolios.
I will now comment on some of the key match-ups and explain why my Final Four going into Q2 2012 looks the way it does:
Click to enlarge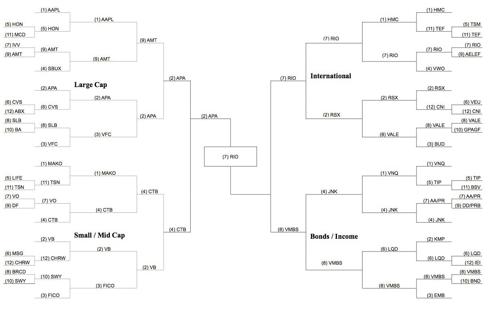 Large Cap -
What I've done in this asset class is break it down and focus on my favorite predicted companies within the 10 major economic sectors. For the sectors that I favor right now I have selected a few individual companies to consider. I'll do the same thing for a few Small and Mid Cap companies in the opposing regions.
Key match-ups and seeds:
Let me begin by saying that obviously "past performance can't predict future performance" but the bracket highlights stocks that have either shown tremendous performance or ones that could be very undervalued in the year to come. I've also segmented a number of companies in sectors I see continued strength in over others that may lag in the near-term. Of the 10 major economic sectors, especially within Large Cap, the ones I currently favor/over-weight are Consumer Discretionary, Consumer Staples, and Industrials. We currently have average market weightings in the Energy, Health Care, Materials, and Technology sectors. Let's get into our brackets:
#5 Honeywell (NYSE:HON) vs #11 McDonald's (NYSE:MCD)
McDonald's has enjoyed a tremendous and steady run over the past three years after being a rather stodgy performer in years past. From a YTD standpoint Honeywell has the upper hand in this matchup. MCD will likely continue to benefit from consumers making small discretionary purchases coupled with their upgraded menu and continued growth overseas. Both companies offer a healthy yield north of 2% but in my opinion HON has more upside in the coming year and MCD is much closer to its top end potential looking out two to three quarters. HON has risks more tied to a global economic slowdown but also boasts much better margins with restructuring efforts and increased operating efficiencies.
#7 S&P 500 Index (NYSEARCA:IVV) vs #9 American Tower (NYSE:AMT)
American Tower is the market leader in the wireless tower industry. This stock has been on a consistent climb over the past three years and has returned about 115% over that stretch. AMT is often a big favorite with hedge funds and influential investment communities like the Motley Fool. Will an unmanaged Large Cap index outperform this company that has massive growth opportunity? In my opinion the answer is a resounding YES. With continued expansion into Mexico, Chile, Peru, Ghana, Columbia, South Africa, Brazil, and India … their economies of scale will propel the stock. AMT has converted to a REIT as of this past January and this could bode well for them as well. I'm a huge proponent of using Exchange Traded Funds (ETF's) as they typically outperform actively managed mutual funds and most advisors trying to pick the next great stock. In this case, however, my money is that AMT enjoys their lower beta of 0.60% and continues to be a solid growth story that outperforms the S&P 500. It's impossible to predict how stocks will perform or the broad market for that matter, but on years like this where there are so many unknowns seemingly coming to a head, I believe that selecting the right stock is paramount. While I typically favor "owning" the broad market as opposed to scouring stocks to see which will outperform, I believe this is one of those times where being in the best boat will benefit the investor better regardless if the overall tide is rising or falling.
#6 CVS Caremark (NYSE:CVS) vs #12 Barrick Gold Corp. (NYSE:ABX)
This is a true dogfight in the early rounds of our bracket. I could truly add both of these to any portfolio but if I'm forced to choose one, CVS is the stock I hold. Barrick Gold could be a nice pick in a portfolio that is not in favor of a pure play on gold. If you're not a true "gold bug" but want exposure to the commodity or alternative assets, here's one solution. That being said, I think there is upside but more volatility than is warranted. CVS, on the other hand, offers the investor a significant demographic push along with upside via their generic drug offerings. CVS has had some lulls in performance but is still undervalued at this point even amidst a strong start to 2012. This $45 stock has several price targets on it projecting it to be in the $54 range by year-end.
#8 Schlumberger (NYSE:SLB) vs #10 Boeing (NYSE:BA)
If your portfolio needs an oil stock and you believe that oil prices are going higher, SLB could be your stock. I've long been a fan of others like Occidental Petroleum (NYSE:OXY) or Conoco Philips (NYSE:COP), but I see more value in SLB right now. Exploration budgets for crude oil are on the rise in 2012 and SLB should be positioned better than most especially as it relates to overseas endeavors. What's perhaps held the stock down more than some of its peers is the North American shale activity but going forward SLB should lead when taking into account wider international operating margins. SLB may not beat Boeing when it comes to their dividend (1.45% compared to 2.4% respectively), but the overall performance of the stock gives SLB the nod. I won't beat up BA as it's difficult to do so. I just see the company meandering in a $75 range for quite some time and it simply lacks enough near-term upside. Boeing has also weathered a few operational challenges but some of those remain as a near-term anchor in my opinion.
#1 Apple vs #5 Honeywell
Now we move on to briefly highlight how some of our favorites compare to higher seeded stocks. I have admittedly made several premature decisions in the attempt to protect clients from what I view as a market continuing to climb on rather slim fundamentals. Are we climbing a "wall of worry" and seeing the markets essentially ignore some very real land mines? I think so but that said, I had sold AAPL for some clients and actually don't regret it. (Well…maybe a little bit!). Seriously though, this market darling has set the pace for the surprise that our young 2012-year has brought us. AAPL is no surprise however. Did the masses predict it would soar 73% over the past year? No … most did not, but what frightens me is how every Joe and Jane wants a piece of it now. They see everyone on iPhones, enjoy the slick commercials, and hearing the media reports of people camping on sidewalks for days in advance of the newest gadget or innovation and that furthers their need to join the party. I'll dig into the numbers and risks of this stock later but for now you don't step in front of this train and as a stock in our bracket … Honeywell gets beat soundly. At least in the near-term it does … (more to come on that)
#9 American Tower vs #4 Starbucks (NASDAQ:SBUX)
I've touched on AMT but let's glance at how that stock stacks up to Starbucks . To think that after the market meltdown in 2008 you could have picked up a share of SBUX for almost what a cup of coffee costs now, speaks to their impressive recovery. In November of 2008 SBUX traded at $7.06 and recently it just made a new all time high of $53.37. It's up over 53% in 12 months so is that "too much too soon"? In my opinion, it is. Don't count SBUX out in that their world-class management has continuously proven itself. What I'm saying is that you should likely buy this stock on any meaningful market dip. The stock itself is a bit frothy here, pun intended, and seeing it trade at about 31 times earnings, I believe it's due for a break. My rationale has nothing to do with common discussions around their risks such as increased pricing in coffee or not much more margin to be benefited from their past revitalization efforts. American Tower upsets a perennial favorite in Starbucks and moves on to the next round.
#9 CVS Caremark vs #2 Apache Corp. (NYSE:APA)
When a collegiate basketball team upsets a few favorites and makes some noise in the NCAA Tournament they get dubbed as a "Cinderella". CVS is not an unknown by any means but its luck comes to a stop when squaring off against a stock from last years bracket, Apache Corp . Again, I actually would own both in most portfolios but being forced to pick one my money is on APA, and especially so at these valuation levels. APA is up 16% YTD but had a rough 2011 after the market sell off in August and September. Here is a stock that trades at single digit earnings (P/E of ~9.3) and is a far better value than any of its oil & gas exploration peers. Many firms in growth mode have chosen the acquisition route but what sets APA apart is how they continuously have proven how to maximize value from acquired assets. Apache's success will undoubtedly continue with increased presence in Egypt and also via their most recent $2.85 billion acquisition of Cordillera Energy Partners.
#8 Schlumberger vs #3 VF Corp. (NYSE:VFC)
Here's another match-up where it's tough to say good-bye to either stock but the higher seeded VF Corp. wins this one. Consider owning both in your portfolio but it's difficult to ignore the steady performance of VFC. For a company who is the largest apparel manufacturer in the world, many investors couldn't tell you what they do or brands that they own. Ironically everyone seems to have heard of Wrangler or Lee Jeans but aren't aware who VFC is. Those type of household domestic names have been the foundation of VFC's success but with a recent acquisition of Timberland, VFC will continue to expand internationally and while portfolio owners enjoy this growth, they can also capture almost 2% in dividends each quarter.
Large Cap Summary:
At this stage of our Large Cap "region", any of these stocks are proven winners and deserve a place in your portfolio. I noted a few "upsets" but also promised more on Apple . Why would anyone sell AAPL in 2012 like I did? Here is a company that has virtually carried the market on its back and sits on gobs of cash and investments ($100 billion and counting), so why jump off the train? Eventually the music stops and while this amazing company continues to defy odds, it will eventually slow and correct. Speaking of corrections, it has not seen even the slightest meaningful sell-off and everyone and their mother wants in on it. What I fear most is the herd mentality that is beginning to play out. I'm typing on a beautiful Mac right now and can basically run my entire investment management practice from my slick little iPhone. Without question, AAPL continues to innovate and produce spectacular devices even without Steve Jobs at the helm. I'm not implying that AAPL will get crushed like a dot-com that had no business plan in place back in the late 1990's. I just see a company that has rocketed almost 54% in three months after an already massive run. Any one of the million articles on AAPL will draw instant criticism if there is ever a negative slant given by the author. AAPL shareholders as well as product users are almost cultish in their infatuation. This stock could likely see $750 or even $1,000/share before I'm declared "smart" for taking profits on it, but in the meantime I will let the rest of the long year ahead of us prove me right or wrong. Lastly, any one of these Large Cap stocks is on my radar for a reason. I have American Tower and Apache Corp. listed as my favorites for the next year. Each of these companies makes a solid case for growth this year in their respective industries and I also would predict that each outperforms the broader index. Although the nod goes to APA on a one year basis, if you're looking for a dominant company leading their industry and want a fantastic stock over the next five plus years … don't leave AMT out of your portfolio.
Small Cap & Mid Cap-
I've done the same thing with this "region" as for Large Cap but also added Mid Cap to this portion of the bracket. One could argue that Mid Cap should have its own bracket, as it is a very distinct asset class. Some firms and investment advisors incorrectly lump the two asset classes (small and mid) together but for the sake of this illustration I will join them!
Key match-ups and seeds:
#5 Life Technologies (NASDAQ:LIFE) vs #11 Tyson Foods (NYSE:TSN)
What a tough battle to kick off this bracket. Right off the bat I'll say that most people should own both of these stocks. The question though is when should you buy them and which one looks better for 2012? Before I paint my broad brush over too much I'll just say LIFE is a fantastic company but you don't buy it right now. It's had a strong 17.7% YTD start but I don't suggest buying a full position in it unless it corrects to the lower $40 or less range. This level won't likely happen without a little help from the market cooling off. LIFE develops and manufactures research products and instruments biotech and biopharmaceutical companies. This can be a volatile industry and I believe there is more short-term risk than is warranted right now. Tyson Foods , on the other hand, is obviously a bit more boring but you're looking at a much lower valuation of around 12 times earnings, and a little bit of a dividend too (only 0.81% but that's about .80% better than your bank gives you!). TSN is one of the world's largest suppliers of chicken, beef, and pork. Ironically enough this stock can be volatile too due to cyclical operations and obvious exposure to agricultural commodities (grain/feed prices etc.). This company appears to be topped out a bit towards the higher end of its trading range so I would wait to buy it on a decent market dip. TSN has had a sluggish start to 2012 so again its stocks like this that you can hope to pick up if we ever get a meaningful correction. What makes TSN a bit more attractive is that it hasn't fully participated in 2012's early rally and this could be a decent entry point in $19 range.
#9 Dean Foods (NYSE:DF) vs Mid Cap Index (NYSEARCA:VO)
Dean Foods , the leading US dairy processor and distributor, has made some operating improvements and strategic shifts but has struggled with some recent goodwill impairment charges and that has held the stock down. Over the longer-term DF should be on the radar as a good candidate for a portfolio but relative to the unmanaged Mid Cap Index it is likely to underperform for the foreseeable future. DF is making good moves with regard to cost reductions and strategy in their Fresh Dairy Direct business but I wouldn't expect to see any substantial stock appreciation until 2013. Pass on DF and get diversified Mid Cap exposure with VO.
#6 The Madison Square Garden Co. (NASDAQ:MSG) vs #12 C.H. Robinson Worldwide Inc. (NASDAQ:CHRW)
In this match-up we have two companies going in two completely opposite directions. Are you ready for some "Lin-sanity"? I'm referring to the gem of a point guard that the New York Knicks have found in Jeremy Lin. Even if you don't follow pro basketball this formerly overlooked star from Harvard has created a media and social frenzy, which catapulted MSG stock to a 52 week high. Lin's jerseys are flying off the shelves and Knick TV ratings have also spiked. Ticket sales have soared and that has trickled into all areas of their operations. All that being said, my money is on a global provider of multimodal transportation and logistics solutions, C.H Robinson Worldwide . Transportation stocks can be a tricky proposition in this economic environment but in CHRW you have a company with no long-term debt and high quality earnings. I do have near-term concerns over their valuation but relative to their peers in the transportation industry this company sports quality earnings and weathers the storm far better than most in declining economic environments. This company could easily trade $20 higher by 2013 from its current level ($65) and also gives shareholders a 1.99% yield while they hold the stock.
#8 Brocade Communication Systems Inc. (NASDAQ:BRCD) vs #10 Safeway Inc. (NYSE:SWY)
Here we have two stocks with divergent analyst ratings but are amongst the leaders in their respective industries. BRCD provides switches and software for the networked storage industry. Even though BRCD has underperformed the broad market during the first quarter of 2012 the past six months have been tremendous with an almost 37% return. This stock has a higher beta than I'm comfortable with now (1.46) but given the growing chances of a broader market correction, it could be a wonderful candidate for the "growthier" part of your portfolio. Quite simply, this stock needs a haircut and could also be handcuffed with slower spend in the financial and government services areas. I like Safeway here even though it has plenty going against it. The grocery and drug retailers are always in a highly competitive environment but I see SWY has a lower risk stock that has a healthy dividend of 2.62%. This is one of those companies where a lot of analysts have a "sell" rating on the stock but once it performs the upgrades will come and smart investors will have already built positions in it. In "bracket speak" this is a bit of a "sleeper" pick and as I mentioned … once they get upgraded you can "sell it on the news" for a profit.
#1 MAKO Surgical Corp. (NASDAQ:MAKO) vs #11 Tyson Foods
If you missed the boat on buying Intuitive Surgical Inc. (NASDAQ:ISRG) back when it was in the $40 range (2005), take a look at MAKO Surgical . ISRG now trades at around $529/share and while MAKO has a long road ahead before it even becomes profitable, you shouldn't ignore the potential. For some background, ISRG developed the da Vinci Surgical System, which uses advanced robotics and computerized visualization technology for minimally invasive surgeries. MAKO is often called the "next ISRG" and while MAKO is a very small fish in a growing pond, there are sizeable demographics that bode extremely well for this young company. If you're an active retiree or baby boomer, are obese, or simply have too much mileage on your hips and knees, take note. Over the next 10 to 20 years there will be a massive amount of people battling osteoarthritis and many will opt for hip and knee replacements. MAKO has strong management and their approach to selling their RIO system is truly unique. Instead of replacing the entire joint this system allows surgeons and patients a much less invasive procedure to repair the joint. MAKO is not selling product like many of their competitors [Stryker: (NYSE:SYK), Zimmer Holding: (ZMH), Smith & Nephew: (NYSE:SNN), but rather a solution to hospitals. Buying a position in this company could be a phenomenal ground floor investment. It's certainly a more volatile proposition than Tyson Foods but here is a major upset in our investing bracket. In 2012 I'm buying MAKO in small positions on any dips the market presents.
#7 Mid Cap Index vs #4 Cooper Tire & Rubber (NYSE:CTB)
Less than one year ago Cooper Tire & Rubber was climbing steadily and hit a 52-week high around $27/share. A little over four months later you could have picked up those same shares for under $10. CTB is the fourth largest U.S. tire maker supplying tires exclusively for the replacement market. Without question, they face stiff competition from lower cost Asian producers and also must manage very volatile material and energy costs. There are sexier stocks out there but I'm pounding the table on this company with regard to valuation. I suggest buying stocks like this that have been beat up but can climb back steadily and for your investing patience, you will be rewarded with a 2.55% yield from the quarterly dividend.
#2 Small Cap Index (NYSEARCA:VB) vs #12 C.H. Robinson Worldwide Inc.
Here's another match-up with an individual stock going against a broader index. C.H. Robinson Worldwide Inc. has had its way versus the Small Cap Index over the last two years until just this past January. I think the market punished CHRW too much for a softer fourth quarter and several analysts are too skeptical on their growth prospects. Speaking of the market, Small Caps in general have been on an absolute tear. They typically are the first asset class to lead a recovery and also the first to fall. That being said, this market is running so hot lately and although I think it's now to the point of almost being irrational, "the trend is your friend". I will want to buy CHRW on any correction but in the meantime I suggest owning the broader index. As a side note, my clients are very underweight this area now and even if we are to add to the asset class (mid and small) we would still stay in a more conservative position due to market concerns/risks that I don't think have been fully played out or truly exposed...
#2 Small Cap Index vs #3 Fair Isaac Corp. (NYSE:FICO)
Following up on the theme of a broader index beating the investor trying to pick certain stocks in this environment…I think this match-up is a perfect example of that. In my opinion this applies more to the Small and Mid Cap asset classes than it does for Large Cap. Normally, my research has found the opposite to be true. I.e. The Large Cap asset class is a more efficient slice of the market and it's often best to own a diversified index. I have VB performing better than Fair Isaac Corp. even though both are off to a hot start this year. FICO provides software and data management products to aid consumers and businesses make informed decisions on credit risk. FICO has focused more on its core offering and also made substantial moves to reduce costs. One would think there is plenty more upside for a company offering this analysis in a debt heavy country. I do find the company to be fairly valued right now but after about a 47% run over the past year, I again give the nod to the overall index.
Small & Mid Cap Summary:
Just like in the Large Cap asset class (bracket) the stocks covered in the Small & Mid Cap "region" are more of a shopping list. These companies have landed on my radar for a number of reasons. Being that many of my clients have been in much more of a defensive mode I have posted this lengthy article for the purposes of having a ready made list of companies to choose from that show better than average potential. Consider each as a way to add a new position or build on with market dips if we should ever get one. As I've alluded to in prior articles I believe the correction the market "needs" is overdue and once that does happen, and it will, these companies are strong candidates and most are in industries or sectors that I favor when considering our macro economic environment.
International -
The majority of investors ignore international investing or simply don't allocate enough towards it. More than half the world's opportunities are overseas (58%) so for one to not have exposure here is a major mistake. Last year (2011), however, proved to be one where International exposure greatly damaged most balanced portfolios. I don't think this theme is over though but as mentioned previously the markets have pretty much ignored the massive risks that apparently are all accounted for and tidied up. (Cough…really?) Again, this article is mainly to illustrate specific investments I like in each asset class so I'll leave my warnings, thus far premature and yet to fully materialize, to another day. While investing in foreign funds and companies presents unique risks such as currency fluctuations and economic/political uncertainties, you can actually lower your portfolio's volatility over time by being exposed to this asset class. Another wrinkle in this region, however, is the balance between developed countries and emerging markets. Emerging markets trounced all asset classes from 2003 to 2007 and then lost -53.18% in 2008. Should we run away from that volatility? Let's see if 2012 will be different than last year…
Key match-ups and seeds:
Your eyes are probably bleary by now so I will summarize the two brackets in a more condensed and theme based manner. I still like Canada but purposely am introducing a new player (Russia) that investors should consider more exposure to. In order for my main Canadian stock, #12 Canadian National Railway (NYSE:CNI) to meet up against #2 Russia Index (NYSEARCA:RSX), it had to get by #6 (NYSEARCA:VEU) which has a more than healthy dose of Europe in its holdings. (Roughly 25% eurozone exposure and 45% total European exposure) I won't expand on why I'm still bearish on much of Europe right now. Canadian National Railway is a much less risky option, although clearly not as diversified as an index. CNI will benefit from any continued recovery and is fairly valued. The stock also yields just under 2% and shareholders should expect a strong improvement compared to Q1 last year, which was impacted negatively due to severe weather.
In my opinion Russia is one of the best single countries you can allocate some of your international portfolio exposure to. It's trading at only eight times earnings compared to about 15 times here. This country is very oil dependent and with rising oil prices they should thrive with their exports relative to so many other nations.
#10 GRUMA (OTC:GPAGF) is a producer and distributor of corn flour, wheat flour and tortillas in the United States, Mexico and Venezuela. This is a strongly rated Mexican company but a recent and sharp increase in share price leads me to shy away from chasing it until I see more stability. #8 Vale SA (NYSE:VALE) is a Brazilian metals and mining company and is a screaming value trading at only about five times earnings. That's about half of their peers' price to earnings and they also have little to no debt which sets them apart even more.
#2 Russia fends off a Belgium company you may have heard of. I still can't get my arms around that good 'ol #3 Budweiser (NYSE:BUD) is now a Belgium based company. BUD is still a fantastic global brand and will likely continue to do well but I find it overvalued at over 23 times earnings and basically running with the pack. RSX is a far better growth play.
Moving to the upper half of the International bracket, you have three bowls of oatmeal; one is way too hot, one is far too cold, and the last is just right. Some could justifiably point out that it's time to sell China and buy Taiwan. #5 Taiwan Semiconductor (NYSE:TSM) is a fantastic growth story that even offers a 3.50% yield but I find it too rich at these levels. On the other spectrum, if you've got nerves of steel or are a true long-term value type of investor, try your patience on a beaten down telecom in #11 Telefonica (NYSE:TEF). I actually like this Spanish company and it's not because of the massive 12.61% yield! Assuming things eventually do stabilize in Europe, TEF is truly an outstanding value for the long-term investor. It's trading in the single digit P/E range but what holds me back from adding too large a position in it is their debt woes. Our bowl of oatmeal that offers a better near-term investing experience is #1 Honda Motor Co. (NYSE:HMC). There are lots of opinions on natural gas and its future potential but HMC's position and strategy in natural gas vehicles (NGV's) is noteworthy. HMC is the only company selling NGV's in the U.S. via its Civic model. Currently they only sell them in California, New York, Utah, and Oklahoma but plan to expand their network into 35 more states. Domestically, I love Ford (NYSE:F) and how they've bounced back from tough roads. Internationally … you have to take a good look at Honda this year, as I believe this company will bounce back and lead all automakers in 2012 and I should mention it also pays the best dividend in the industry.
How did the brutal market of 2008 treat you and your portfolio? If you owned #7 Rio Tinto (NYSE:RIO) at that time, you saw the stock crater from about $140/share down to around $14/share in only five months. Ouch. Now that the dust has settled consider buying this stock that is deeply undervalued and offers a solid 3.20% dividend yield. RIO only trades at about seven times earnings which is easily half the industry average. They also do a superior job of converting sales to cash compared to anyone of their metals and mining peers. RIO at around $56/share is also significantly under most analysts' price targets. The median target on RIO is $88 and its technical indicators look like its ready for another strong leg upwards. I love #4 Emerging Markets' (NYSEARCA:VWO) long-term prospects but believe one has to be ultra selective as to how much and where those allocations are chosen. Most of my portfolios will typically hold 5% in VWO but in the year ahead I will likely inch that higher by adding undervalued stocks like RIO.
International Summary:
In my opinion emerging markets will garner more attention from major portfolios but people are clearly gun shy right now after they were one of the worst performing asset classes in 2011. The valuations in this asset class are near 10-year lows and present considerable value relative to the domestic S&P 500. This trend will take some time to play out but positioning your portfolio for growth and a changing world will require ample exposure to emerging markets.
Bonds -
Now … it is I who is getting bleary eyed as I try to round out the last region of this investing bracket! I will streamline this portion of the bracket because it deserves an entire chapter all to itself. Bonds and the "fixed-income" markets are more and more bantered about as being the next major bubble that is about to burst. We finished 2010 with stories of rates only having one way to go and that was up. All the experts whiffed on this asset class and over the past year the U.S. Aggregate Bond market turned in over 8% in returns. Rising rates would certainly cause major issues in an almost 30-year bull market. That has yet to happen and yet investors still have massive amounts of money on the sidelines in "safe" money or sitting in cash making next to nothing.
Key match-ups and seeds:
First off, notice that I've added some positions and "picks" that are not purely fixed income or necessarily "bond" type holdings. For example, I include #2 Kinder Morgan Energy Partners LP (NYSE:KMP) which is a pipeline transportation and energy storage company. KMP yields 5.62% although I favor a solid diversified #6 Corporate Bond Index (NYSEARCA:LQD) for most of my clients. This area has garnered more interest from financial advisors in the hunt for yield in a dismally low rate environment. I also favor REIT exposure in that of an ETF with #1 REIT Index (NYSEARCA:VNQ). Also included are two preferred stocks with #7 and #9 [Alcoa (NYSE:AA) and DuPont (DD)]. The bottom line here is that for the year to come I believe it not only pays to have proper bond exposure but one needs to position this piece of the portfolio in areas that offer value as well as quality yield. Nobody needs to tell you that the risks of going too far out on the yield curve is likely not worth the reward and neither would it be prudent to flirt with lesser rated credit as opposed to years past. I am adding reasonable weightings to mortgage backed securities (MBS) but will lean on specialists in this area and above all else maintain proper diversification. Most investors don't want any part of part of mortgage backed securities but chosen carefully by experts who specialize in this area there is actually a great deal of value. I'm not suggesting one should be a yield hound by taking on 15% MBS positions but the experts are inching into selected holdings and will likely see some appreciation over other choices. My final two picks in the Bond asset class have #8 MBS Index squaring off against #4 High Yield Index (NYSEARCA:JNK). With regard to high yield or "junk" as the ETF symbol subtly implies, I purposely trade JNK over HYG for two reasons. First, I don't want to camouflage to clients that this instrument does indeed invest in lesser-rated instruments and secondly my custodial platform at TD Ameritrade Institutional allows me to purchase these with no commission costs passed on to the client. Lastly, with regard to JNK, investors can enjoy yields north of 7% and defaults in this sector are actually expected to remain rather low for the balance of the year.
Final Four Summary:
As I alluded to earlier, the advantage and distinction an investor has in choosing their "Final Four" over that of a basketball bracket is that you need, and should ... choose more than one winner. It's almost too cliché to state that one "shouldn't have all their eggs in one basket" but I can't stress this enough. All too many investors get caught up in chasing the most recent winners. If I were to overweight my investments each year based on last years winning asset class I would be consistently wrong, frustrated, and eventually broke. Why do so many investors do this? If you're ever in line at the grocery store it doesn't take long to see a financial magazine touting the "10 Must Own Stocks of the Year" or "Hottest Mutual Funds you Need to Buy Now!". How many of those are actually in the top 10 the next year? Very few ... One recent study showed that of all Large Cap funds that beat the S&P 500 Index one year, only 41.6% managed to do it again the following year. After three years that same group had only 9.7% still beating the index. What a fund, index, or advisor did one year (or five) tells you nothing about how the performance will look going forward.
My Final Four is based on the premise that this market will eventually correct and once it does it could be quite swift. The risk of that happening in any market cycle is always there but the case for it happening soon is mounting. I have been forced to look at new companies that could weather the storm but won't miss much more of this manic market and the rally that came out of nowhere.
In summation, enjoy the game and don't get hung up on just one team. This year will continue to bring us some upsets and also highlight some of the storied programs. The real winner every year in the "Investing Final Four" is the one who typically has a solid Sweet 16 showing. Take a look at your investment mix now and make sure you have a healthy dose of some of these "teams". The beauty of the tournament is that every year you'll find a new face like the VCU Rams and an odds-on favorite like Apple … or I mean the Kentucky Wildcats.
Disclosure: I have no positions in any stocks mentioned, but may initiate a long position in AAPL, BA, CNI, DF, HON, KMP, MCD, RSX, ABX, BRCD, F, LIFE, MSG, TSM, AMT, BUD, CTB, FICO, SLB, TSN, VFC, APA, CHRW, CVS, HMC, MAKO, RIO, SWY, VALE over the next 72 hours.