I'm not interested in presenting both sides of the story, that's your job as the reader to arrive at a conclusion based upon your own due diligence. I'm not here pitching a product, my only job as an author is to make my point.

- Cameron Kaine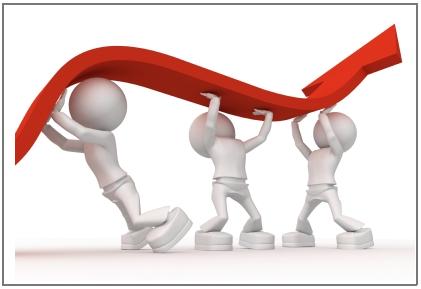 I find it completely hilarious that even in the face of some dark realities that the barrage of articles pumping Sirius XM (NASDAQ:SIRI) continues. It is remarkable how many investors stubbornly ignore the obvious signs of trouble in favor of prolonging the idea that betting on hope is indeed anything but a recipe for disaster. Readers and authors alike have fallen prey to the company's idea that standard fundamental corporate performance metrics should be ignored in favor of what only the company wishes to be evaluated upon, its free cash flow. In my opinion, it is one of the most overrated metrics that exists today as it often says nothing about how a company's product or service is received in the market and by consumers. But I'll get back to this in a moment.
Conjecture Over Facts
It is now March 19, with 10 trading days left in the month and investors are still talking about how the stock is going to go up and offering up reasons why the company should raise guidance. The humor that these comments bring can be overstated. It seems we are still making predictions despite facing nothing but absolute humiliation for making ridiculous claims that Liberty Media (LMCA) was going to buy the company this month upon the expiration of its restrictions causing shares soaring toward $3.00. It seems we have not learned anything. What is even more remarkable is that we have chosen to ignore what is known in favor of trading on what the company might do. In other words, let's make our investment decisions on conjecture and forget the facts.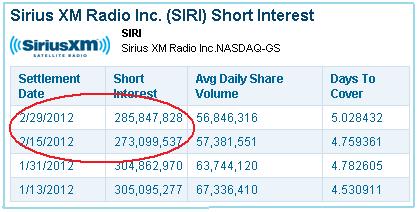 In the process, here is what you have chosen to ignore while clinging onto illusions of grandeur. As noted, there are 10 trading days left in the month before April 1. I'm going to ignore the temptation for the April fools reference because I have too much respect for my readers. And instead, I'm going to remind you that this is the month when CEO Mel Karmazin will start selling 60 million of his shares as I reported to you in the middle of February. If you recall, I also made this exact same point as justification for my establishing a short position at $2.35. You hated the article and in so doing, you missed a very important piece to why short interest will continue to rise and apply more selling pressure to the stock. While long investors sought to only make excuses for why Mel was selling his shares, the professional shorts used that information to further their hedge by increasing short interest by almost 5%.
Heading to $2.10
Here's what investors know as fact, (at the very least), sales of the stock is on the horizon - at least 60 million worth of shares starting this month. But investors are unable to guarantee where the buys are going to come from and (if any) to what degree? 60 million shares sold from the CEO on a stock whose daily volume is only 50 million - I have to say that is pretty significant. In the article we also pointed out that as Mel's transactions start he will first exercise 60 million options which he will then sell to cover the price options themselves. And at that point he will sell the remaining shares at market prices for profit. Now I don't imagine (one iota) that the sales will occur all at one time, but we know it is coming.
So absent some significant buys over the course of the next quarter, what are the catalysts to propel the stock beyond its obvious level of resistance at $2.35? In fact, where I once said I will cover my short below $2.20 I am now inclined to revise that target lower and to cover below $2.10. So do you suppose the rest of the market is also ignoring this bit of information? The fact of the matter is, no stock is immune from a normal correction much less one where the CEO has announced plans to sell. So even from a technical standpoint, with the stock now trading at $2.26 from last Friday's close, this represents a minor correction of only 4%. I expect further downward pressure toward $2.10 to not only complete the standard 10% correction, but bring the stock back to its fair market value and in its 50-day average range.
When it comes to Sirius, I think everyone's mind has already been made up one way or another as seen in my recent article. But very rarely does anyone agree on what it needs to do to be successful. Investors have to realize that there is no such thing on the market as a free lunch and need to accept the fact that they are not looking at the company from a realistic lens. For the company to succeed and return value to shareholders, it needs to put its eye back on the ball and realize that unless it adapts, there will be no such thing as subscriber growth and its over-hyped "free-cash-flow" will no longer be sustainable. How long can it continue to hang its hat on such a metric that can easily be manipulated? The answer is, as long as investors continue to buy it.
Summary
Absent some significant changes to its model, I see Sirius eventually flattening out and the idea of "radio" will assume the same fate as newspapers and magazines. As a reader recently noted, if the company believes in the product and respected consumers why have they not developed a marketing plan to address the needs of entertainment and consumers as a way to capture a broader spectrum of subscribers? And now we can look forward to 60 million shares hitting the market starting in a couple of weeks. There is no way to spin this, ladies and gentlemen. And for this reason, I also expect Sirius short interest to climb again in its next report as shorts take advantage of this information to capitalize on the downside. And for this reason, the stock remains a prime short toward $2.10.
Disclosure: I am short SIRI.