PepsiCo, Inc (NYSE:PEP) is one of the most widely followed stocks. It would undermine the brand if we write about what the company does; the name speaks for itself. This article presents three reasons why Pepsi is a good buy right now.
Upcoming Dividend Increase: Pepsi has paid a dividend of 51 cents per share the past four quarters. (Most recent Ex-div date of Feb 29, 2012). And with Pepsi's history of raising dividend consistently, that means we have an increase coming our way in June 2012. Using the average of the last three dividend increases, we should be looking at a new dividend payment of about 54/55 cents per share. And at the recent trading level of $64, that would be a yield of 3.5% if investors get on board now. Given Pepsi's current payout ratio of 50%, we believe Pepsi can easily up the dividend per share to 55 cents. We own Pepsi's main rival Coke (NYSE:KO) in our portfolio and as a comparison, Coke's current yield (after the dividend increase of the 50th year) is 2.9%.
Undervalued: Pepsi is currently trading at a PE of 15.9. As the chart below shows, that is very close to its lowest valuation of 15.5 in the past 5 years. We acknowledge that the company made some mistakes on the beverage side of the business in the 2009/2010 period. But as we keep stressing in our articles, temporary bad news for a good company is good news for long-term investors. In fact, Pepsi has already started making changes to make sure its business is fully integrated going forward.
(Click charts to enlarge)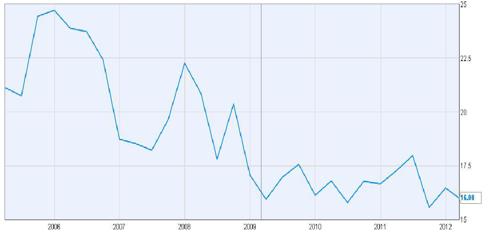 Significant Growth Prospects: Remember, Pepsi is not a beverage-only company. But when one looks at companies like Pepsi or Coke, an image of a boring company that has no growth comes up. However, that would be a mistake. Pepsi has been investing aggressively in developing countries like Brazil and India. About a week ago, Pepsi announced its entry into the U.S. dairy market, in partnership with a German firm.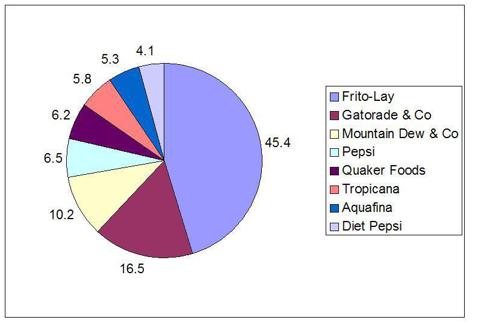 (Sourced from Trefis.com)
Conclusion: Warren Buffett's mantra of "be greedy when others are fearful" applies to the current state of Pepsi. A great company with a steady business and a trustworthy dividend history, the recent trouble at Pepsi is nothing more than a passing cloud. In other words, a great time to buy an under-appreciated stock.
Disclosure: I am long KO. We may initiate a long position in PEP over the next 72 hours. A "Good Till Cancelled" limit order is in place for PEP at $64.