Exchange traded funds exist primarily for one reason, the ability to execute a view on the market, a sector or a subsector. ETFs allow investors to replace credit risk with market risk, which is an invaluable investment and/or risk management tool. One such ETF that was designed to substitute market risk for credit risk is the Market Vectors Mortgage REIT Income ETF (NYSEARCA:MORT).
Overview:
As described in its fact sheet, the MV mREIT ETF seeks to replicate as closely as possible the price and yield performance of the Market Vectors Global Mortgage REITs Index. The Index is a rules-based index intended to track the overall performance of publicly traded mortgage REITs.
Assets under management: $26.3 million
30 day SEC yield: 13.02%
Distribution yield: 10.84%
Expense ratio: 40bps
Holdings:
The following is the list of MORT's holdings: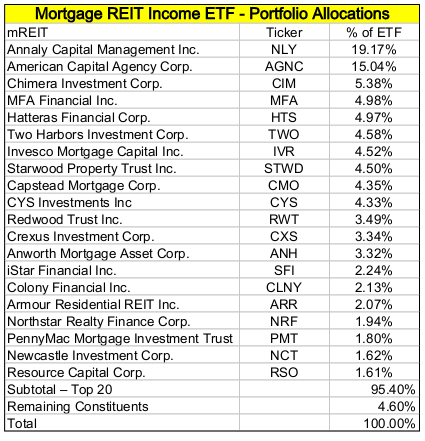 As the above portfolio allocation by issuer chart shows, MORT has exposure to the primary names in the industry, essentially allowing an investor to "buy the mREIT market." The five largest names and brief descriptions are:
Annaly Capital Management (NYSE:NLY): Annaly Capital Management, Inc. manages a portfolio of primarily agency mortgage-backed securities. Annaly's principal business objective is to generate net income for distribution to investors from its mortgage-backed securities and from dividends it receives from its subsidiaries. Annaly has a market capitalization of $15 billion and is the bug kahuna in the space, which is why it has the largest allocation in the ETF.
American Capital Agency Corp. (NASDAQ:AGNC): American Capital is a mortgage REIT that invests in agency securities for which the principal and interest payments are guaranteed by a U.S. Government agency (such as the Government National Mortgage Association, or GNMA), or a U.S. Government-sponsored entity (such as the Federal National Mortgage Association, or FNMA, and the Federal Home Loan Mortgage Corporation, or FHLMC). American Capital has a market capitalization of $6.6 billion.
Chimera Investment Corp (NYSE:CIM): Chimera manages residential mortgage credit risk. The company invests in a diversified investment portfolio of RMBS, residential mortgage loans, real estate-related securities and various other asset classes. In addition, Chimera engages in transactions with residential mortgage originators in which they identify and re-underwrite residential mortgage loans owned by such entities, and rather than purchasing and securitizing such residential mortgage loans ourselves, Chimera and the originator structure the securitization and the company purchases the resulting mezzanine and subordinate non-Agency RMBS. Chimera has and may continue to engage in similar transactions with non-Agency RMBS in which they acquire originally AAA-rated non-Agency RMBS and re-securitize those securities. Chimera has a market capitalization of $3 billion.
MFA Financial (NYSE:MFA): MFA Financial, Inc. invests in residential agency and non-agency mortgage-backed securities. Its MBS are secured by hybrid mortgages, adjustable-rate mortgages, and 15-year and longer term fixed-rate mortgages, as well as by mortgages that have interest rates that reset more frequently. MFA has a market capitalization of $2.6 billion.
Hatteras Financial Corp (NYSE:HTS): Hatteras Financial invests in adjustable-rate and hybrid adjustable-rate single-family residential mortgage pass-through securities guaranteed or issued by the United States Government agency, or by the United States Government-sponsored entity. Hatteras has a market capitalization of $2.2 billion.
Performance:
The ability to "buy the market" should allow investors to participate in the yield advantage of the mREIT sector while dampening the volatility due to any one name. How has this worked over the last six months (the timeframe is somewhat short as the ETF was only launched seven months ago):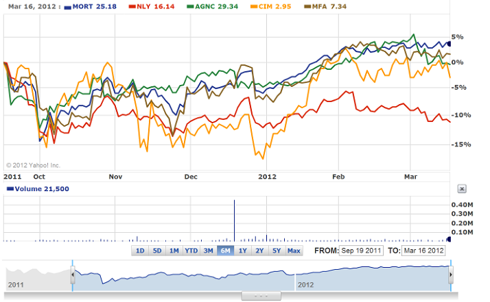 First thing: Yes, the graph is somewhat crowded, and I hope you will excuse this, as including the biggest constituents in the ETF is necessary. As the graph above shows, the market has outperformed its major constituents (with the exception of American Capital Agency) which supports the "buy the market" thesis.
Bottom line: The ability to "buy the mREIT market" allows investors to realize the attractive dividends and yields of the mREIT market without having an undue concentration in the credit risk of individual mREITs. The diversification of holdings does not significantly impact yields as Mortgage REIT Income ETF currently yields 13%, which is only slightly lower than the gorilla (and one of the best managed) mREIT: Annaly Capital. The only drawback I see with Mortgage REIT Income ETF is its size at $26 million. This is a small ETF where average daily volume averages around ten thousand shares, therefore liquidity could become an issue unless the fund grows.
Disclosure: I have no positions in any stocks mentioned, and no plans to initiate any positions within the next 72 hours.