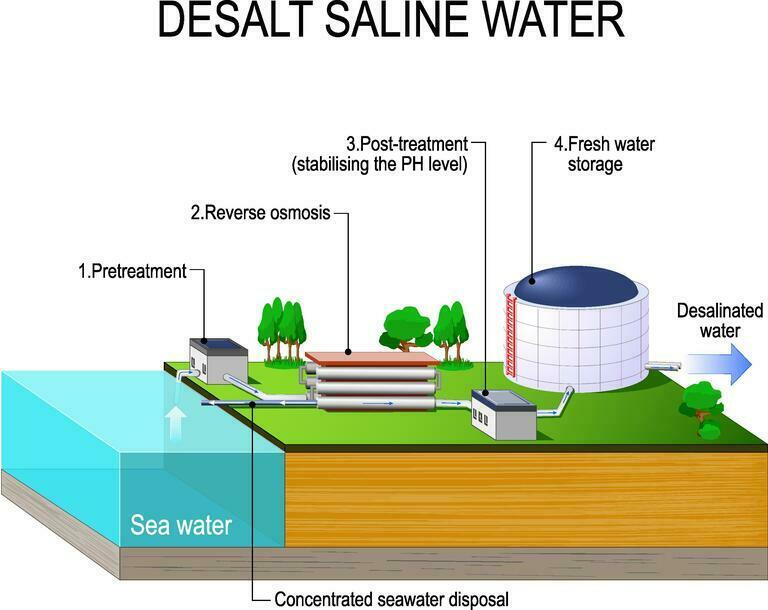 California-based Energy Recovery (NASDAQ:ERII) has built a very successful business in the salt water reverse osmosis ("SWRO") market on the back of its patent-protected PX-devices, where "PX" stands for "pressure exchanger". While the company dominates the global SWRO market, it has arguably been less successful in trying to deploy its technology into other fields - notably the well-documented multi-year effort to establish its VorTeq product line in the shale O&G industry (see my previous articles on that subject). However, two new markets have recently opened up that appear to have excellent growth potential for ERII's PX devices:
Industrial waste-water treatment.
CO2 refrigeration.
Both are ESG friendly initiatives and address long-term sustainability and emissions reduction. Let's take a look and see if they might add another growth lever for ERII going forward.
Investment Thesis
As mentioned earlier, ERII's proprietary PX-exchangers have dominated the global SWRO market. There are now over 25,000 PX devices installed worldwide working to reduce power consumption by up to 60% while simultaneously reducing emissions and delivering the potable water that so many countries depend on: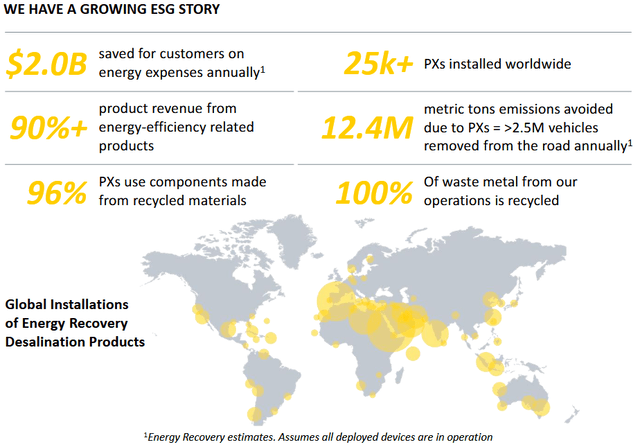 Source: March Presentation
PX-exchangers have a 25-year life span, require no maintenance, and are up to 98% efficient. This has led to rather slow but solid growth for ERII over the years. Recently, as ESG has become a more fashionable investment theme, it has led to excellent stock price appreciation. In fact, ERII is up ~160% over the past year and according to Seeking Alpha now trades at a lofty forward P/E=103x.
While that kind of valuation may not be rational based on the company's SWRO operations and demonstrated growth profile alone, and in consideration of the fact that its multi-year VorTeq product efforts have yet to catch on in the O&G industry (at least not yet ...), two new developing markets have emerged could prove to be excellent growth vehicles for the company. Let's take a look at each of these new markets.
Industrial Waste-Water Treatment
Many countries are now mandating zero-liquid discharge ("ZLD") in order to address the environmental pollution as a result of industrial wastewater. As the graphic below shows, traditional ZLD treatment has been a 100% thermal process, which is relatively inefficient and costly: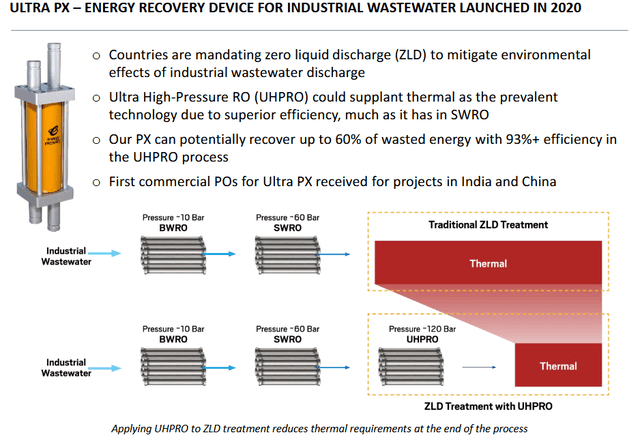 Source: March Presentation
As shown in the slide (bottom row), PX devices can be used on the front-end of the treatment process and can recover pressure (i.e. energy) in order to reduce the over-all energy required. Indeed, ERII says they can recover up to 60% of wasted energy in the treatment process using ultra high-pressure devices, very similar to the technology's demonstrated success in SWRO.
Global Market Insights predicts the global ZLD market could be a $9 billion market by 2025: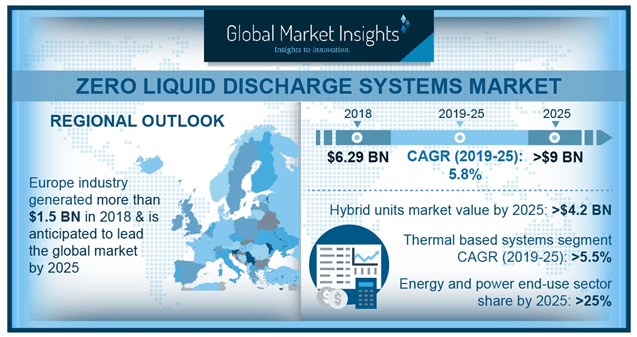 Source: gminsights.com
ERII is off to a good start - it has already received its first commercial orders from China and India. This market could easily become as big - or perhaps bigger - than the company's SWRO market. I say that because there are obviously lots of industrial processes already in operation that would be ideal for a "PX retrofit". That is very similar to the old-style thermal SWRO plants - when it comes time for maintenance or capacity upgrades, nearly all of them convert to the PX designs over 100% thermal solutions.
CO2 Refrigeration
Another opportunity for ERII is the emergence of CO2 refrigeration units. CO2 has emerged as the front-runner as the refrigerant of the future. While there are hazards associated with using CO2 as a refrigerant ("R744") - including high-pressure, toxicity at high concentrations, and dry-ice formation - finding a use for CO2 emissions is likely to win-over in my opinion. That's because the hydro-fluorocarbons ("HFC") that have been used for decades as a refrigerant are much worse greenhouse gases as compared to CO2 (more than 1000x worse).
The need to reduce greenhouse gases in refrigeration led to the Kigali Amendment to the Montreal Protocol. Kigali targets an 80% reduction in HFCs by 2047. This goal has seen wide adoption across the globe: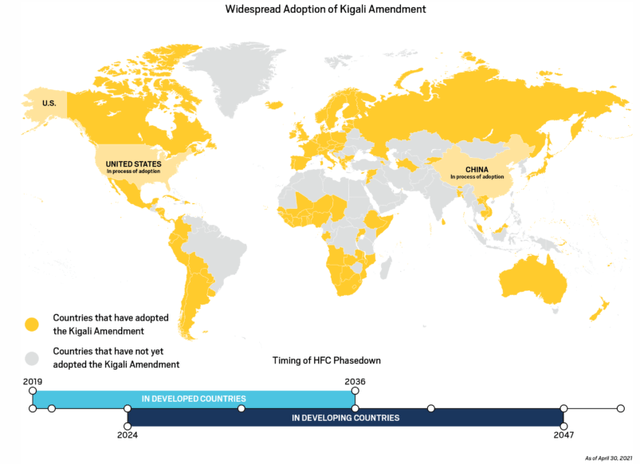 Source: ERII
Energy Recovery has developed the PX G1300 device (still in R&D) to address commercial and industrial CO2 refrigeration systems. The purpose of the device is two-fold: first, it reduces the load on the compressor (i.e. reduces emissions and power costs) and secondly, it eliminates the need for an expansion valve as the G1300 fulfills that function as well: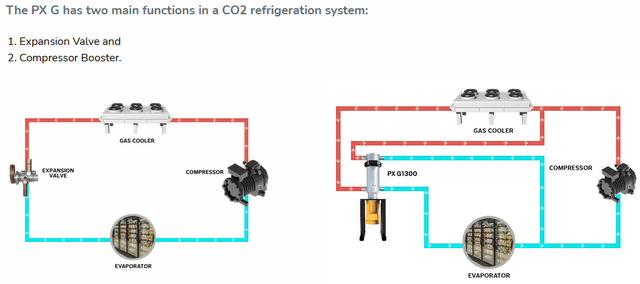 Source: ERII
The end-result is a CO2 refrigeration process that uses the PX-G1300 becomes much more efficient and lowers the economic penalty for switching away from HFC's. This is especially the case at high ambient temperatures: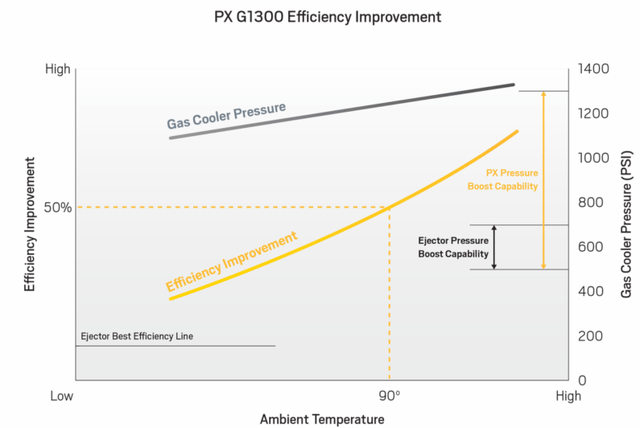 Source: ERII
On the last conference call, ERII CEO Bob Mao updated investors on recent efforts the company has taken to address this market along with its partner DuPont (DD):
We held another successful joint marketing webinar with DuPont, this time hosted in Mandarin and focused on the Chinese market. Our R&D testing has delivered compelling data on our CO2 refrigeration PX, and we are finalizing design and testing in preparation for beta testing.
Mao also discussed the CO2 refrigeration market dynamics, which are important for investors to understand:
The goal of the Kigali Amendment is an 80% reduction of HFC use by 2047. With certain countries and regions are already accelerating the pace by implementing strict targets for the 2020s in order to reach the 2047 goal. The European Union is leading the way and has banned sales of many types of HFC usage by 2022. California is seeking to reduce HFC usage by 40% by 2030. The transition away from HFCs and to CO2 refrigerant systems is accelerating. For the $55 billion refrigeration and air-conditioning industry, moving away from HFC means moving to natural refrigerants such as ammonia or CO2. Ammonia is potentially flammable and explosive; therefore it has been limited to large industrial systems away from dense populations and requires 24x7 constant on-site technical crew maintenance. CO2 is stable, more benign, and therefore the safer choice.
CO2 refrigeration obviously has huge market potential for ERII. Over 35,000 CO2 units have already been deployed - primarily in northern Europe where the ambient temperatures are mild. However, PX devices have the potential to make CO2 refrigeration units a reality in warmer climates as well.
Risks
Both the ZLD and CO2 refrigeration markets are new and rapidly evolving. That being the case, there is no sure-fire way of knowing that ERII's PX-devices will win the day. However, my bet is that they will. They are a proven way to recover and recycle energy. That reduces power consumption and emissions, which is exactly what its customers are looking to achieve.
These new ventures are right in Energy Recovery's wheel house and the R&D expenses to build on the previous success of the PX family will be minimal in my opinion. Meantime, ERII ended Q1 with $115 million in cash, zero debt, and a still thriving SWRO business.
Having DuPont as a partner on the new industrial wastewater venture reduces risks, increases market access, and likely breaks down barriers by giving ERII some "street credibility" when it comes to water solutions that DuPont has been working in for years.
Summary & Conclusions
I sold my ERII some time back (at a tidy profit) because I got tired of the never-ending promises of VorTeq that never came to fruition. After years and years of development efforts, the project seemed doomed to one set-back (excuse?) after another. However, I am much more optimistic about both the ZLD and CO2 refrigeration markets. If either one catches on, let alone both, the company could reach another level - a level in which the SWRO market alone cannot take it to. I am bullish on ERII.
The company is selling off today (Monday) and at 3:46pm is down close to 14%. This may be an opportune time to put ERII on your watch-list and take advantage of any further weakness.
While I never suggest investors buy stock in a company based on buyout potential, if both - or either - of these new markets take off, it is not out of the question that DuPont would be interesting in buying out ERII lock-stock-n-barrel. After all the company has no-debt, is cash-rich, and its market cap is only $1.2 billion. DuPont's market cap is $44 billion.
I'll end with a five-year stock price chart: