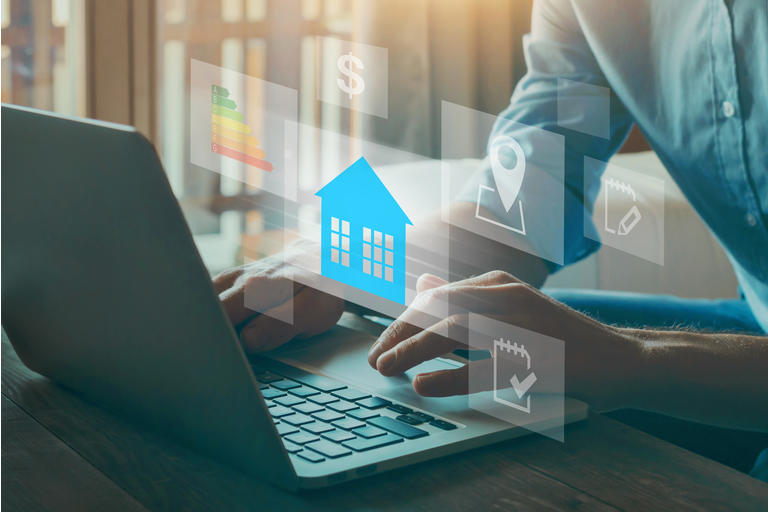 Real estate is one of the oldest, largest, and most durable industries in the economy. Let's face it, the population only continues to grow and there is a finite amount of space on our planet. Housing has had its ups and downs but has reliably increased in value over the years. However, the real estate market itself is a bit dated. The process of purchasing a home has remained relatively unchanged for a long time. When a large industry becomes outdated, the conditions become ripe for disruption.
This is where real estate technology company Redfin Corporation (NASDAQ:RDFN) comes in. Redfin is seeking to reinvent the mechanics of how consumers buy homes, creating an all-inclusive model that delivers superior unit economics, and a superior customer experience. The company is still in its early days, with many years ahead of growth. While Redfin operates in a competitive space, the sheer size and fragmented nature of the real estate market means that Redfin simply needs to execute in order to become a long-term winner for investors. We will outline our investment thesis below.
The Existing Real Estate Market: Large, Yet Inefficient
The real estate market is enormous. The cumulative value of US housing alone is worth trillions of dollars, and the commissions generated each year from the buying and selling of real estate are worth many billions of dollars. In fact, Redfin estimates that its "core" addressable market is approximately $93 billion.
Within this huge market, is a very fragmented and inefficient transaction process. There are many steps to the traditional home-buying process and a handful of parties involved. You have real estate agents on both the buyer and seller's sides, lawyers on both sides, the bank, the home inspector, and more. The process of home buying includes a long list of steps where paperwork is passed through a long chain of role players in order to get the deal funded and finalized.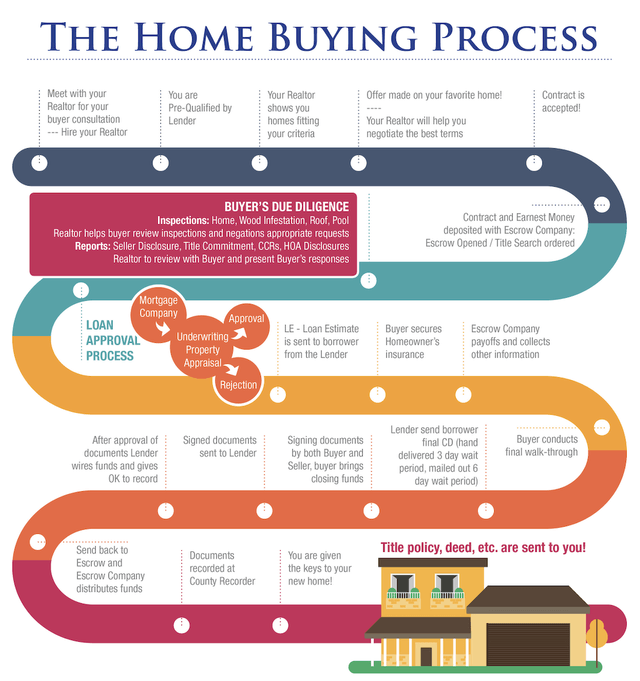 source: Mincolla Group
To make matters worse, not every party involved in the process may have the same goals and/or incentives. Real estate agents typically work off of commission alone, aligning their priorities with making a sale, and not always "the right" sale. In the US alone, there are more than 130,000 real estate brokerages. It can be difficult to find a quality agent and one that will look out for your interests as the customer.
As someone who has personally gone through the home-buying process, it can be intimidating (and often stressful) to purchase a home. However, there is change happening.
Redfin Is Building The Modern Day Brokerage
Redfin calls itself a real estate technology company and is seeking to change and improve the mechanics of the home-buying process. The traditional home-buying process is very reliant on the agent. While recent years have seen buyers gain some control over the process (via online listings and sites such as Zillow (Z)), real estate agents still play a large role in lining up listings, making recommendations, etc.
To be clear, Redfin isn't abandoning the traditional buying process, rather it is improving on it by rebuilding it around the customer.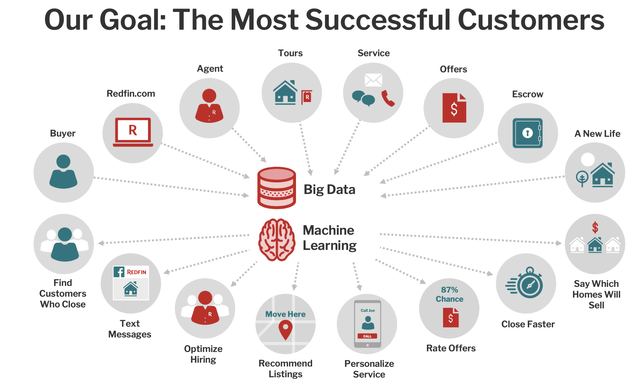 source: Redfin Corporation
There are multiple ways that Redfin is going about this. First, the company is utilizing data and machine learning to increase efficiency and effectiveness. Every transaction contributes data to Redfin that it leverages to help future buyers find the right home and the best deal.
For a home buyer, this means better listing recommendations that are driven by machine learning. Redfin estimates that its machine-driven listing recommendations have a click-through rate that is 5X higher than listings found using criteria buyers manually set in a search. Home tours can be scheduled automatically. Agents can write offers through their smartphones. Redfin Mortgage even enables mortgage origination to be taken in-house, within the Redfin model.
Sellers enjoy rapid listing, with homes often showing up on Redfin within five minutes of its MLS debut. Sellers also have a myriad of options to sell their home including:
Redfin Brokerage (traditional listing)
Redfin Concierge (renovation & listing)
RedfinNow ("I-buying" where Redfin makes a cash offer to the seller)
Depending on the services rendered, Redfin's efficiency results in lower commission rates that sellers have to pay. With Redfin's model, customers experience an end-to-end experience that is faster, more satisfactory, and strips cost out of the process in the form of lower commissions.
Secondly, Redfin hires in-house real estate agents and then compensates them with salaries and benefits (in addition to bonuses), so that agents have a financial incentive built around the customer experience versus closing deals.
While there are competitors in the way of Zillow and Opendoor (OPEN), Redfin has plenty of room to carve out meaningful market share for itself. The 130,000 traditional brokerages in the US - many of which are small businesses, lack the tools to compete effectively with Redfin. This is where I believe that Redfin will grow its market share the fastest.
Large Growth Runway
Redfin has steadily seen its revenues grow. The company did total revenues of $886 million in 2020, representing YoY growth of 14%. Growth is set to accelerate with analyst estimates of $1.67 billion for 2021 (YoY growth of 88%). What I am really interested in, however, is the company's growth prospects over the coming 3, 5, 10+ years.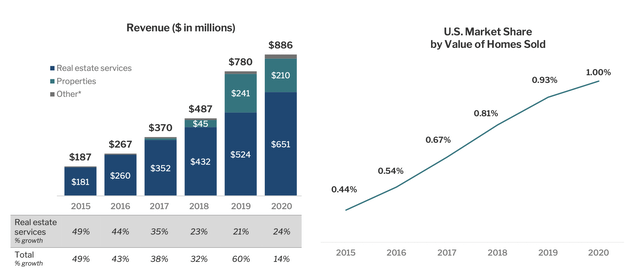 source: Redfin Corporation
Redfin has a massive growth runway ahead of it. To identify this, let's look at each of Redfin's revenue categories one at a time.
Currently, the company's largest business is its real estate services. This is the brokerage services that are handled by Redfin's in-house agent team. Redfin is growing its agent pool, and its streamlined brokerage model is steadily increasing its market share. We can see that the company's share remains "tiny" at just 1% in the United States. With such a fragmented market, this should continue to grow over time. The company currently serves just 95 markets across the US and Canada, so the expansion potential is enormous.
Next, we will touch on Redfin's "Properties" segment. This is the "I-buying" business for Redfin in addition to capital investments made via its Concierge service. This is generally for higher-end real estate, as the median transaction value in this segment is $475K. While some competitors such as Opendoor are focused on the I-buying market, I see it as a more "complimentary" business for Redfin. The core business for Redfin is in the services segment, as well as its Redfin Mortgage business (over the long term). The segment has done well, growing from revenues of $45 million in 2018 to $210 million in 2020. What I am really excited about, is the company's lending arm, Redfin Mortgage.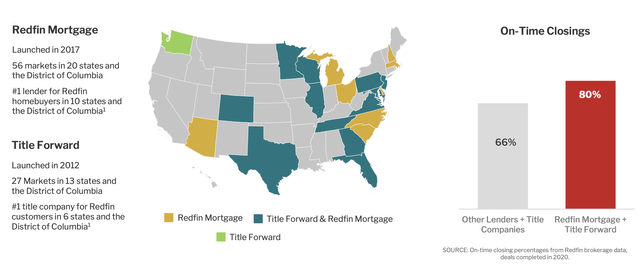 source: Redfin Corporation
This segment was launched in 2017 and remains a very small contributor to the business. However, the long-term potential is enticing. The segment gives Redfin a true end-to-end solution in the home-buying process, and the addressable market is enormous. Redfin Mortgage gives Redfin customers an integrated financing option, that can result in an easier and smoother closing process. Redfin Mortgage is the lender of choice for Redfin users in 10 states (plus DC), showing an effective ability to cross-sell within the platform. As Redfin scales larger over the years (growing market share), Redfin Mortgage could become a prominent contributor, generating billions in revenue.
An end-to-end business model is exciting in such a large TAM, and Redfin is truly in early stages still. The company has not only tons of penetration growth ahead, but its geographic footprint is still very incomplete. To help the business scale further, Redfin is buying RentPath for $608 million.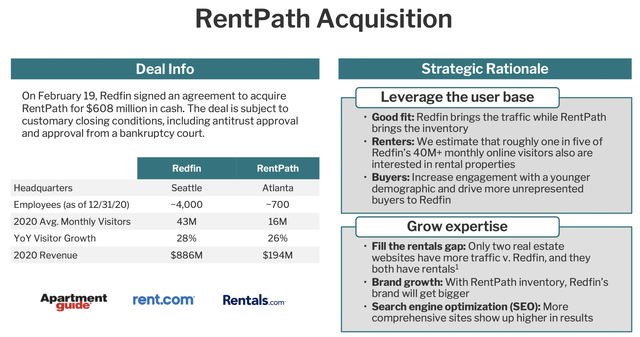 source: Redfin Corporation
It is a little soon to elaborate on this because the deal still needs to close. If the deal successfully closes, Redfin will gain exposure to the rental property markets. This will increase the scale of Redfin's brand, and continue to drive more traffic through Redfin's website and model.
Investors in Redfin should be prepared for a long journey. While I am excited about the prospects of Redfin, the company has a long path to scale and brand growth. I consider Redfin to be an investment that will take at least five years to truly evaluate the company's level of execution. Additionally, the company is operating in a very friendly real estate market. We have yet to see how a bear market in real estate impacts the company's operations and margins. Because of these risks, valuation is something that investors should keep an eye on.
Valuation Is Reasonable
Fortunately, I think that Redfin's valuation is quite reasonable at the moment. The stock has pulled back from highs and now trades at $54 per share.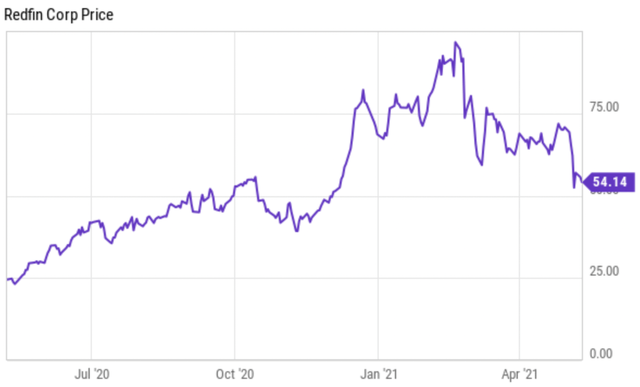 source: Ycharts
With an enterprise value of $5.7 billion, the stock trades at just 3.4X 2021 sales estimates. The reason the stock lacks a more aggressive multiple is because of the low margin nature of the business. Redfin's operating margin recently turned positive but remains at just 2.46%. Whenever you have a low-margin business, earnings growth can be driven by substantial revenues.

source: Seeking Alpha
Given the company's multi-year runway for expansion, revenues should continue to grow at a double-digit clip for the foreseeable future. With the company approaching an inflection point with EPS (estimated to go positive next year), investors should reasonably expect strong earnings growth as scale improves and revenues continue to grow. At current levels, I think there is room for the company to generate solid capital gains in the years ahead, simply from the organic growth of the business.
Wrapping Up
Real estate is a tremendous market, and while "disruption" is often a buzzword tossed around, I think that there is real opportunity in home buying. Redfin's end-to-end model is appealing because it guides the buyer through the entire home-buying process. I see this as a "stickier" model. The stock is reasonably valued and if execution is successful, Redfin has the runway to grow indefinitely in the years ahead. With an enterprise value of less than $6 billion, the upside is attractive.