I have written several articles this year that placed the current market earnings multiple in a historical context that signaled that domestic equities were cheap. Given increased corporate liquidity and high earnings yields relative to corporate borrowing rates, stocks appeared to have some downside protection despite the uncertain macroeconomic backdrop given corporations' ability to repurchase or finance the repurchase of shares at attractive levels. The market has responded with double-digit returns year to date. While earnings multiples remain attractive, it is always prudent to stop and reassess relative valuation when the market moves quickly in one direction and consider the opinions of market participants who may have an opposing view.
Barclays Capital recently published an equity strategy piece that stated that "U.S. equities appear to have a downside bias." The firm's reasoning was that it expected equity prices to drop if the Federal Reserve failed to offer further monetary accommodation, but believed that the appearance of further easing would be due to a deteriorating economic outlook. The idea behind this negatively convex return profile is encapsulated in Barclays graph below: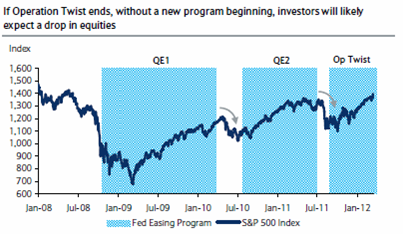 While the rally on the S&P 500 (NYSEARCA:SPY) has been dramatic since the October 3, local low, the 27.7% price return on the index is not without historical precedent. Below is a table of S&P 500 rallies over a matched time duration, and the subsequent price return one year forward. (Since a market that experienced a similar appreciation over a matched time frame could have multiple trading days that would be included in the list, for brevity, only the peak gains in a one-month calendar period are included.)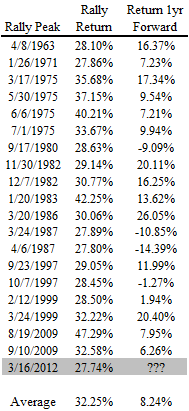 While we certainly will see a near-term deceleration of equity market gains and possibly even a pullback, history shows that market gains of equal magnitude more often than not lead to gains over the next year. With even some Federal Reserve officials questioning the efficacy of further accommodation, absence of further Fed easing may not be met with the same negative sentiment that the termination of previous programs faced. Diminishing marginal utility of Fed actions would likely signal the effects of their removal would be more muted than previous stimulus withdrawals, and could provide a counterargument to Barclays' hypothesis.
Even with the market rally, earnings multiples remain well below their historic average despite record-low interest rates. Barring some idiosyncratic exogenous shock, expect the market to register a further gain over the next one year above and beyond the 8% subsequent price increase experienced after market gains of similar size and rapidity. However, if an investor is concerned about a market correction in the near term, purchasing out-of-the money market puts as a tail risk hedge is now an inexpensive option given the collapse of implied volatility over the last quarter.
Disclosure: I am long SPY.