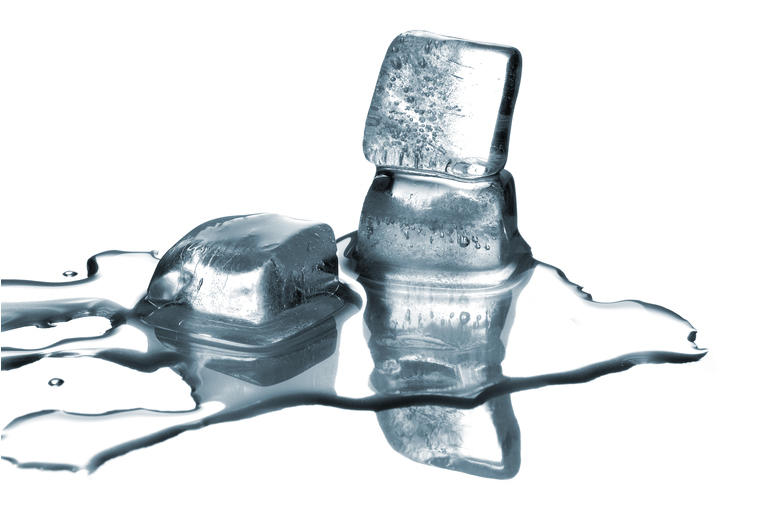 Square (NYSE:SQ) was one of the big winners of 2020, but 2021 has been a different story, with the stock down on the year. The fundamentals of the equity may finally be coming into play as the pandemic eases and the growth-oriented rally of last year rotates into the re-opening sectors.
The stock still carries a market cap of almost $95 billion and an extremely high valuation. This equity trades at 52.1 times EV/EBITDA based on 2023 estimates and 70.3 times 2023 earnings estimates. The only metric that looks reasonable is the prices to sales ratio at 3.7. But even that is not as it seems, given how bitcoin transactions are accounted for.
The Bitcoin transaction revenue rose to roughly $3.5 billion in the first quarter. Of course, approximately $3.4 billion of that revenue was deducted under the cost of goods sold category. If we remove the Bitcoin revenue entirely and instead focus on revenue ex-Bitcoin, overall, sales grew to around $1.5 billion from $1.07 billion last year, still impressive growth, nearly 44%.
Trying to predict future revenue growth based on this seems very challenging. For example, analysts see revenue growing to $20.3 billion in 2021 from $9.5 billion in 2020 and then climbing just 11.2% in 2022 to $22.6 billion. Again, very difficult to determine from these estimates how much of that revenue will actually flow to earnings.
Based on earnings estimates, not much of it. Earnings in 2021 are forecast to rise by around 78% to $1.50. But earnings growth slows after that to around 39.7% in 2022, 40.7% in 2023, and 32.6% in 2024; basically, after this, 2021 earnings are expected to grow at a compound annual growth rate of 37.9%. So for a stock trading with a PE ratio of 70 based on 2023 earnings estimates on what is likely to be an earnings growth rate in the upper 30% range. It amounts to a PEG ratio that is going to be around 2ish. The stock isn't cheap.
Additionally, this is a stock that trades well above its industry peers. More interesting is how some of these peers are actually the backbone of what makes Square possible, such as the transaction networks like Visa (V) and Mastercard (MA). So, while Square certainly will have decent earnings growth, and the stock is riding off the benefit of the buzz of Bitcoin, one really needs to wonder why the equity trades at a multiple above that of Visa and Mastercard. After all, it's their network that most of the transactions go through. Additionally, to some degree, some of the processes Square allows such as invoicing and receiving payments, can also be accomplished with products from Intuit (INTU). But all of these stocks trade with a price to earnings ratios in the 30s, not the 70s. Even PayPal (PYPL), which also has similar features to Square and has bitcoin transactions, has a PE of 33.

Technically Breaking
The chart shows a story of a stock that's literally deteriorating. The relative strength index shows how all of the momentum in the stock has literally been sucked out of it, with an RSI that has been trending lower since February. It's a sign that bearish momentum has taken over.
Even though the RSI is approaching 30, it will take some time for the bottoming process to complete and that likely means the stock is facing a further decline. The shares currently sit on a major level of support at $200, which, if broken, will signal further losses, perhaps to $150.
Worse is that the technical pattern that is forming appears to be a double top, a very bearish pattern. Once the stock breaks support at $200, it will confirm the bearish and signal further declines.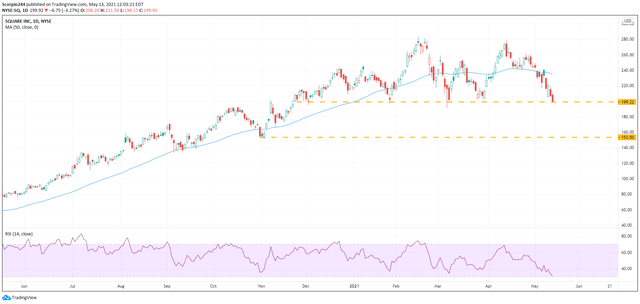 Still Hope?
Not all is bad, though, because Square has been looking to strengthen and expand its services domestically and internationally. They have released the Square Terminal in Japan along with Square Register in the UK and Austria. These are examples of how Square has moved toward product innovation in different markets to boost revenue streams. These and other innovations like the Seller/Cash App ecosystems investments are planned for the future.
Again, this isn't an argument to say that Square is a bad company or doesn't have great growth potential. It's merely an exercise understanding if Square is worth what the market thinks it's at this moment. The answer may turn out to be no.