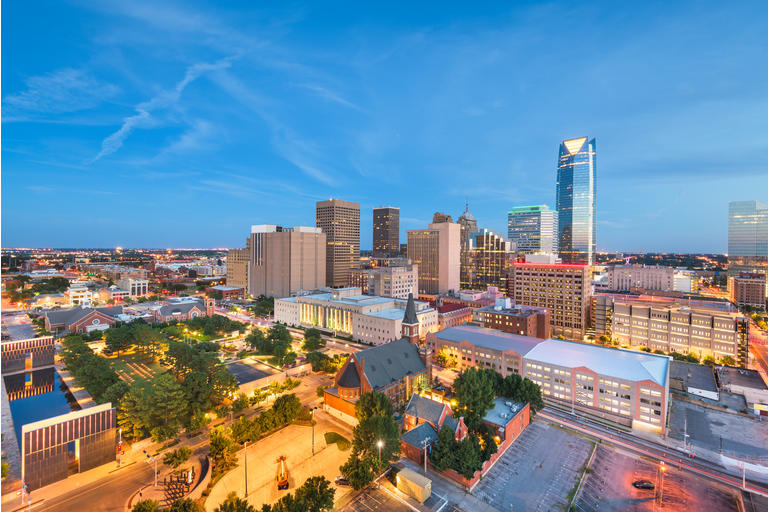 Real Estate Earnings Recap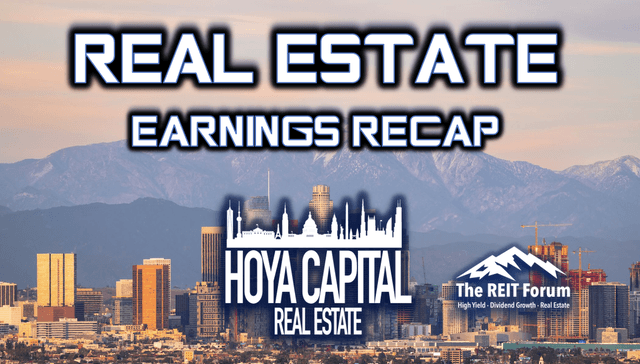 (Hoya Capital Real Estate, Co-Produced with Colorado Wealth Management)
Who Paid The Rent? A frenzy of real estate earnings reports over the last month has provided critical information on the state of the real estate industry. Results were better than expected across most major property sectors with roughly 80% of the 170 equity REITs and 40 mortgage REITs in our coverage universe beating consensus FFO estimates and nearly two-thirds of the REITs that provide forward guidance boosting their full-year outlook.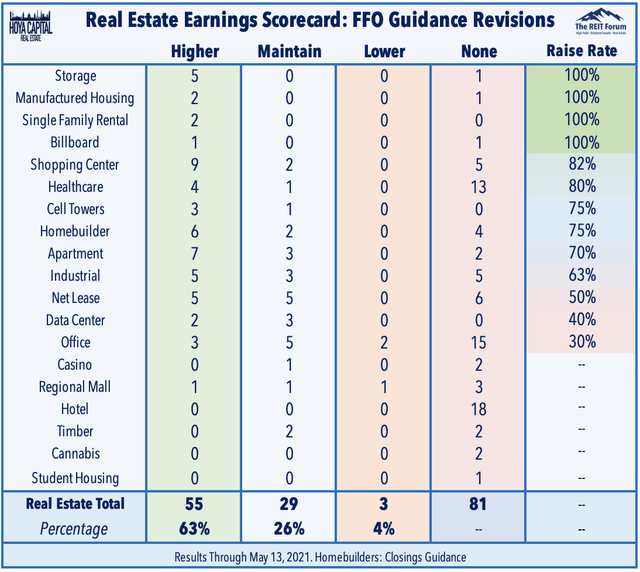 At the conclusion of Q1 earnings season, Equity REITs (VNQ) are higher by 13.0% while Mortgage REITs (REM) have gained 11.6%. This compares with the 9.7% advance on the S&P 500 (SPY) and the 16.3% gain on the S&P Mid-Cap 400 (MDY). Of the major asset classes, Commodities (DJP) are the best performing category while Bonds (AGG) have been the weakest. At 1.58%, the 10-year Treasury yield has climbed 75 basis points since the start of the year and is 116 basis points above its all-time closing low of 0.52% last August, but 157 basis points below its 2018-peak of 3.25%.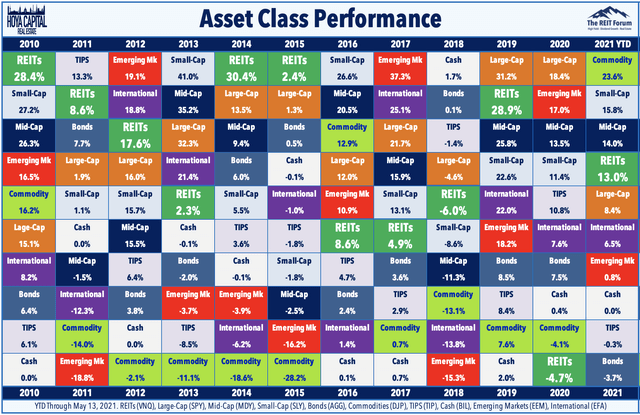 Across the equity market - and particularly within the REIT sector - two macroeconomic trends have set the course in early 2021: 1) The post-vaccine sector rotation, and 2) Concerns over rising interest rates and inflation. Together, these macro trends have seemed to overshadow the individual earnings results, as the sectors with the most upside-surprises have in some cases been among the weaker performers this year while troubled COVID-sensitive sectors have led the way despite indications of continued stress.

Historical trends indicate that REITs, as a whole, have performed quite well during periods of rising interest rates and inflation, and that commercial and residential real estate have historically exhibited moderate-to-strong inflation-hedging properties. We emphasize that nuance is required in this analysis, particularly when investing in individual securities rather than the broad-based benchmarks. A highly diverse asset class, REITs are "part equity, part bond" and some property sectors skew heavily in either direction. Based on our analysis which calculates each REITs "Beta" to different benchmarks, we present a framework for analyzing each sector based on their sensitivity to long-term interest rates (IEF) and to economic growth expectations (MDY).

With real estate earnings season now complete, we compiled the critical metrics across each real estate property sector and provide our "quick take" commentary from the first quarter.
Retail Real Estate Earnings Recap
Malls: (Final Grade: C). Beginning with the most troubled REIT sector, results indicated that occupancy rates have not yet bottomed with another 70 basis point decline in Q1 and 360 bps from last year. On the upside, rent collection has recovered to around 90%, up from around 50% in mid-2020. Simon (SPG) was the lone mall REIT that boosted its full-year guidance while Macerich (MAC) affirmed its previously-reduced guidance calling for a FFO decline of another 13.4% in 2021 following the 39% plunge last year. Washington Prime (WPG) is battling to avoid joining Pennsylvania REIT (PEI) and CBL & Associates (CBL) as the third mall REIT in the past year to declare bankruptcy.

Shopping Centers: (Final Grade: B+) In all, the sector had a strong showing in Q1 with nine of the eleven REITs that provide guidance boosting their full-year outlook. Shopping center REITs - which were not hit nearly as hard as their enclosed mall peers - reported an average FFO/share decline of 18% in 2020, and 2021 updated guidance calls for a positive inflection in 2021. Rent collection has improved but remains a few percentage points below "normal" levels at roughly 95%. As a result, same-store NOI growth has become slightly "less bad" over the last three quarters, but was still down by 5% in Q1, suggesting that it's too soon to declare victory quite yet.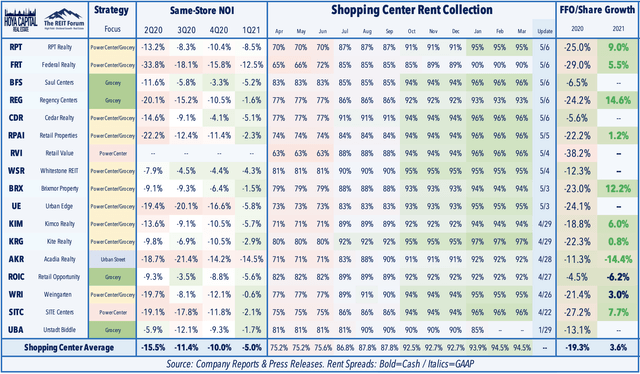 Net Lease: (Final Grade: B-) Overshadowing earnings results was news that Realty Income (O) will acquire Vereit (VER) in an all-stock deal to form a massive net lease REIT that will have a combined enterprise value of about $50B. Results confirmed that acquisition-fueled growth has fully kicked back into gear and is expected to power a rebound in AFFO growth this year after the 6% average decline in 2020. Rising rates have pressured these REITs in recent weeks, however, due to their bond-like nature and reliance on low-cost capital to fuel external growth. Five REITs boosted their full-year guidance, led by National Retail (NNN), which raised its full-year AFFO growth outlook to 16.2%, up from its prior outlook of 11.8%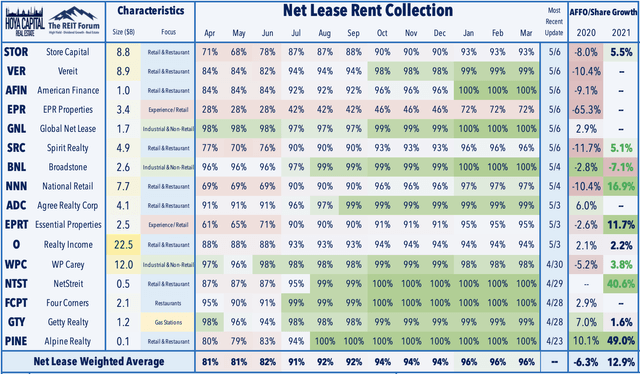 Tech & Industrial Real Estate Earnings Recap
Data Center: (Final Grade: B-) Along with the broader technology sector, data center REITs have woefully underperformed their more cyclical and value-oriented counterparts since late 2020 amid an ongoing "Reopening Rotation" and are now 10-20% below their recent highs. Fundamentals were remarkably unaffected by the pandemic, but that's precisely the issue during this recent selloff. While the average REIT reported an 18% plunge in FFO in 2020, REITs were one of the few sectors that saw positive growth last year with FFO rising 4.3% - almost exactly the same as from its pre-pandemic growth rate in 2019, and these REITs see another nearly-identical year of growth in 2021.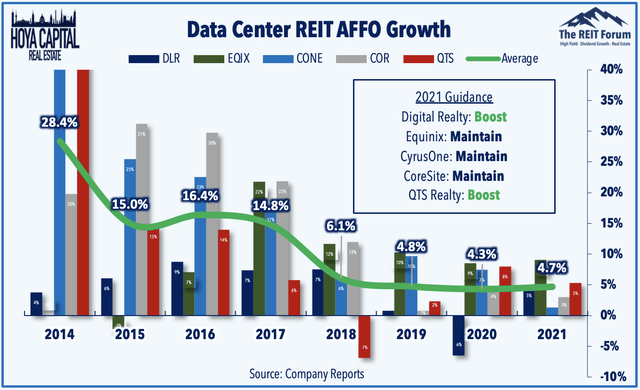 Cell Towers: (Final Grade: A-) Similar to their technology REIT peers, a trio of "beat and raises" across the cell tower sector was no match for the reopening rotation trends that have pressured these REITs in early 2021. Led by American Tower (AMT) and Crown Castle (CCI), tower REITs reported FFO growth averaging 8% in 2020 and see growth topping 10% in 2021. These REITs continue to benefit from highly favorable competitive positioning within the telecom sector and, despite the recent underperformance, little has changed over the past quarter to alter that outlook.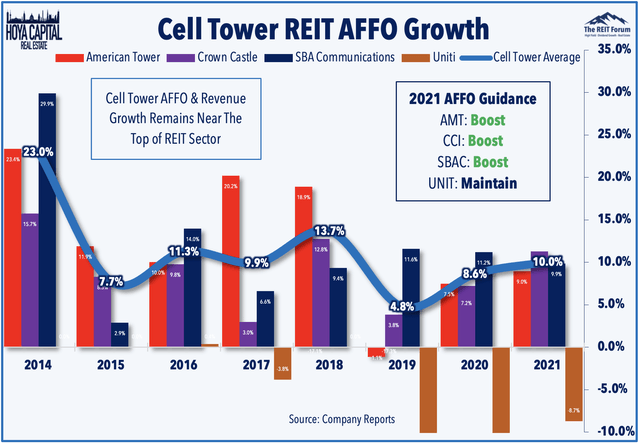 Industrial: (Final Grade: A-) The back-half of earnings season wasn't quite as strong as the first, but industrial REITs still delivered another strong quarter overall. Five of the eight REITs that provide FFO and NOI guidance raised their outlook, led by Prologis (PLD), Rexford (REXR), and Duke Realty. The "hub of e-commerce" and the hottest property sector of the last half-decade, the pandemic only added more fuel to the fire. The outlook for 2021 was similarly strong as same-store NOI growth is projected to meaningfully accelerate, and combined with the active development pipeline, another year of near-double-digit FFO growth is well within reach.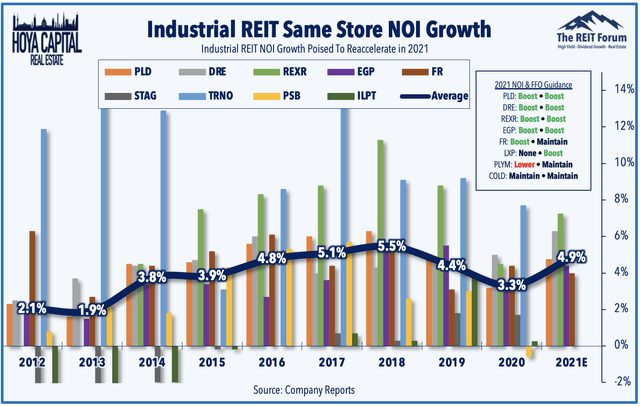 Hotel, Office & Casinos REIT Earnings Recap
Hotels: (Final Grade: C+) It was indeed a "dark winter" for hotel occupancy amid the second-wave of the pandemic in the United States, but hotel REITs saw notable improvement by the end of April. Hotel REITs focused on the lower-end of the price spectrum - notably Apple Hospitality (APLE) and CorePoint Lodging (CPLG) saw occupancy rates that are back within shouting distance of pre-pandemic levels. Upscale hotels with more focus on business travel - including Pebblebrook (PEB), Host Hotels (HST), and Park Hotels (PK) - saw muted occupancy gains in Q1.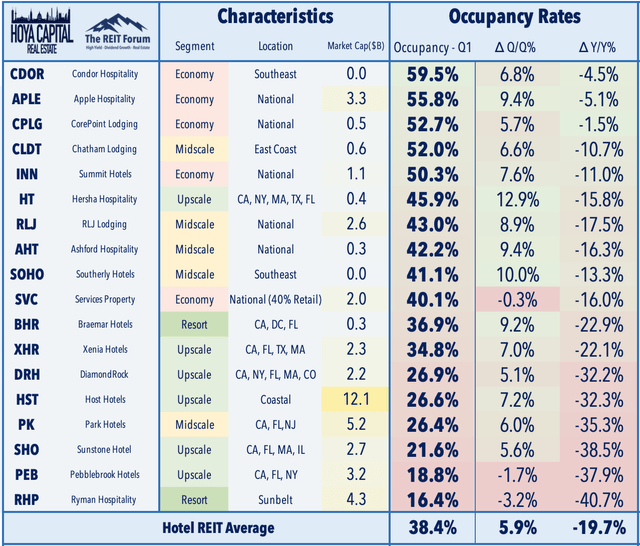 Casinos: (Final Grade: B+) Casino REITs have delivered surprisingly steady performance throughout the pandemic despite the dramatically reduced usage of casino facilities. Critically, unlike their hotel REIT peers, casino REITs utilize an ultra long-term (15-50 year) triple-net master lease structure, leaving most of the financial and operational risk – both on the upside and the downside – to their tenants. Led by VICI Properties (VICI), these REITs reported another quarter of spotless rent collection and average AFFO growth of nearly 9% in Q1 compared to last year and VICI sees growth of another 12.5% in 2021 at the midpoint of its guidance range. Much like their retail-focused net lease REIT peers, external growth through acquisitions is the modus operandi of the casino REIT sector and should continue to provide a steady source of FFO growth for the foreseeable future.

Residential Real Estate Earnings Recap
Apartments: (Final Grade: A-) Outside of the troubled urban metros, national apartment markets have been remarkably resilient throughout the pandemic as multifamily rent growth has started to "catch up" with the rapid rise in home prices. Results were strong across the board with 7 of 10 boosting full-year FFO growth guidance. Led by Independence Realty (IRT) and NexPoint Residential (NXRT), sunbelt-focused REITs saw blended rental rates rise 3.2% in Q1, accelerating to 4.6% in April. Coastal-focused REITs including Equity Residential (EQR) and Essex Property (ESS) are still seeing negative rent growth with blended rates declining -6.7% in Q1 but improving to -3.9% in April.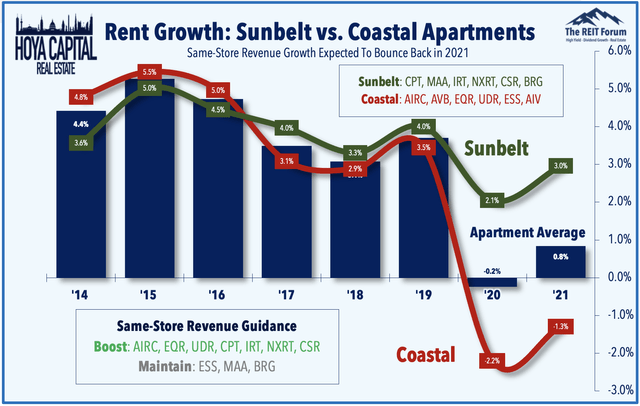 Single-Family Rentals: (Final Grade: A) Mirroring the surge in suburban home values, SFR REIT reported stellar 10.0% rental rate growth on new leases, which accelerated further in April to over 11% while occupancy rates remain near record-highs at 97%. Renewal rates rose 5.1% in Q1, combining for a blended change in rents of 6.9% - the strongest quarter on record for the REIT. Both American Homes (AMH) and Invitation Homes (INVH) boosted their full-year NOI and FFO guidance. Unlike other REIT sectors, rising interest and mortgage rates should benefit these SFR REITs as households on the margins of buying and renting may be more inclined to rent.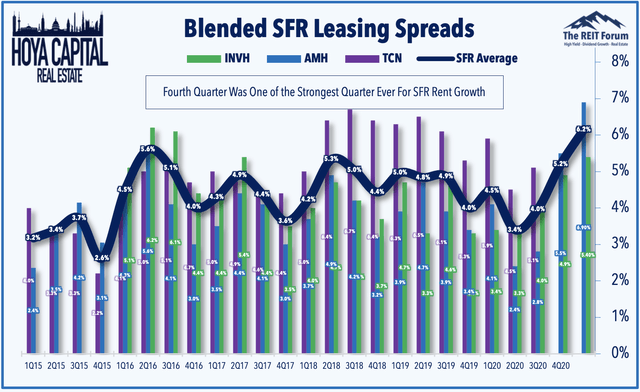 Manufactured Housing: (Final Grade: A) Both of the major MH REITs reported strong results in Q1 and significantly boosted full-year guidance across the board. Sun Communities (SUI) now sees growth of 17.9% this year - up from its prior outlook of 15.3% - which would almost surely be among the best in the REIT sector. SUI also boosted its full-year same-store NOI growth outlook to 8.0% at the midpoint, up from its prior guidance of 6.1%, driven by an uptick in occupancy rates to record-high levels of 98.8% vs. 96.9% last year. Equity LifeStyle (ELS) reported similarly stellar results and boosted its full-year guidance for FFO growth to 9.7% - up from 6.5%.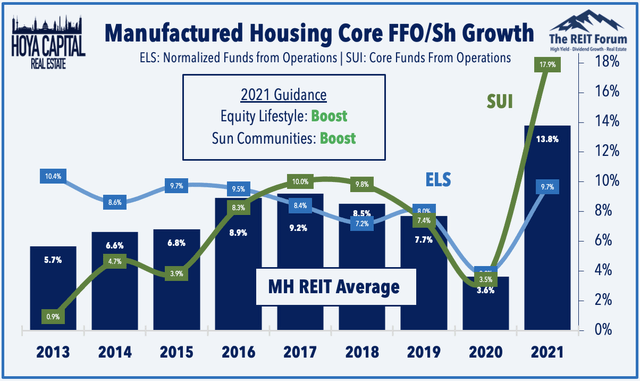 Self-Storage: (Final Grade: A+) Catalyzed by the suburban housing boom and the desire for more space, self-storage demand has rebounded sharply since mid-2020, and so too has the performance and outlook for storage REITs. An ensemble of impressive results indicated the storage sector indeed "turned the corner" by late 2020 and now projects to have one of the strongest growth rates of any property sector in 2021. The standout was Extra Space (EXR), which boosted its full-year Core FFO growth outlook to 14.1%, up from its prior outlook of 12.7%, and increased its same-store NOI growth outlook to 7.0%. We were also encouraged to see Public Storage (PSA) finally begin to offer full-year guidance, which was quite impressive.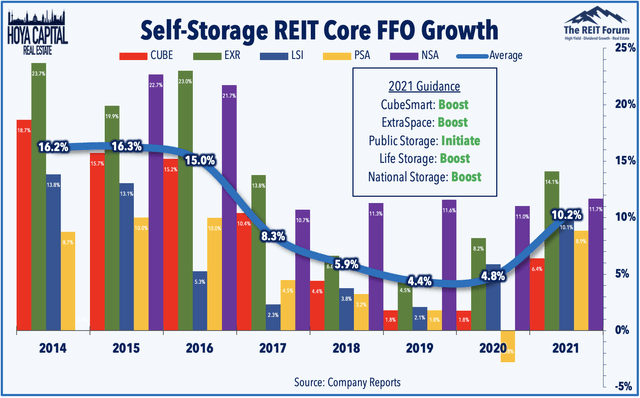 Office & Healthcare REITs
Office: (Final Grade: D+) A year into the pandemic, office utilization in major U.S. cities remains a fraction of pre-pandemic levels with coastal cities facing a particularly slow recovery. Office REIT results this quarter were disappointing with just 3 of the 25 REITs raising full-year guidance while 2 lowered their outlook. Sunbelt and suburban-focused office REITs remain the lone areas of strength in the sector. The downbeat quarter was partially overshadowed by news that Equity Commonwealth (EQC) and Monmouth Real Estate (MNR) will merge in a $3.4 billion deal as EQC looks to divest from office to focus on the faster-growing industrial real estate sector.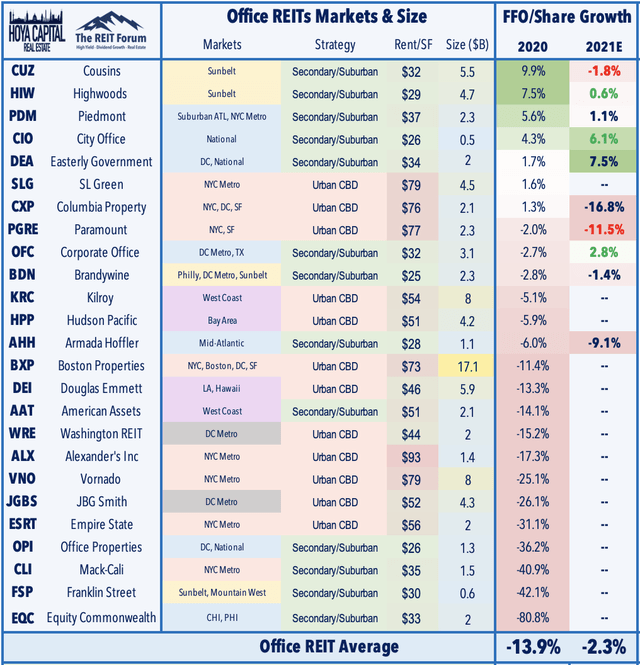 Healthcare: (Final Grade: B-) The ten healthcare REITs that provide same-store NOI growth tell the story of the healthcare sector - stable performance in the MOB, SNF, and Hospital sub-sectors and strong performance in life sciences. For senior housing, these REITs are regretting the shift last decade away from the net lease structure as the SHOP portfolios have seen a 50% plunge in NOI compared to the flat NOI in similar triple-net leased assets. Results from Diversified Healthcare (DHC) underscores this theme after reporting a 91% plunge in its senior housing operating NOI. Ventas (VTR) and Welltower (WELL) did both provide an upbeat outlook for senior housing in its commentary this week, however, noting emerging positive trends.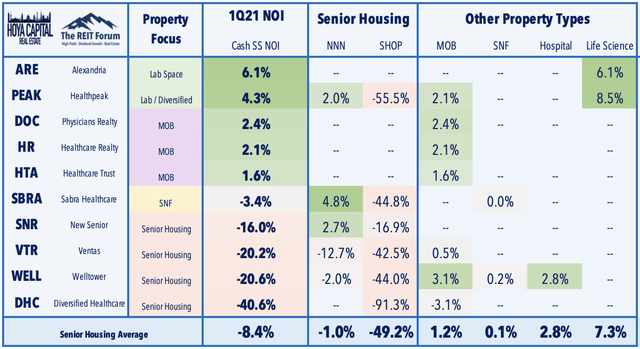 Homebuilders & Timber REITs
Homebuilders: (Final Grade: A) While not a REIT sector, the impressive results from the single-family homebuilders can't be overlooked either. The red-hot housing market has been a tide that has lifted many boats across the REIT sector as robust housing demand and surging home values have reignited rent growth. Results showed that builders continue to sell homes as fast than they can be built, underscored by the swelling backlog which reached record-highs of over 150,000 units last quarter. Six of the eight builders that provide full-year guidance for deliveries boosted their outlook.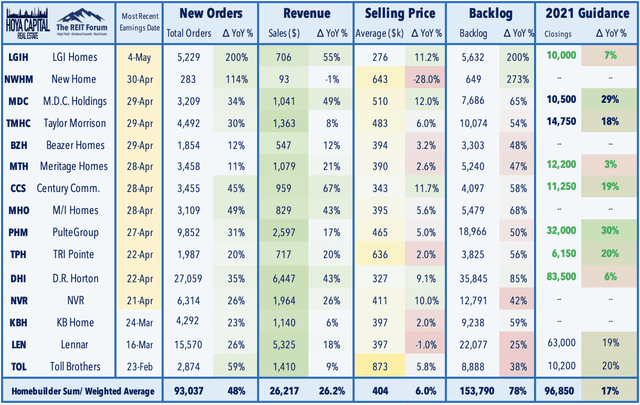 Timber: (Final Grade: B+) Reignited by the red-hot U.S. housing market, timber REITs "caught fire" in late 2020 - both literally and figuratively - as lumber prices (LB1:COM) have soared to record-highs as insatiable demand from homebuilders has clashed with reduced supply levels. PotlatchDeltic (PCH) and Weyerhaeuser (WY) both reported record-high adjusted EBITDA - the most closely watched earnings metric - was over 300% higher in Q1 for PCH and 167% higher for WY compared to last year. These two vertically integrated REITs - which also operate sawmills that are reaping the benefits of surging lumber prices - have benefited more from the surge than their more pure-play timberland peers Rayonier (RYN) and CatchMark (CTT).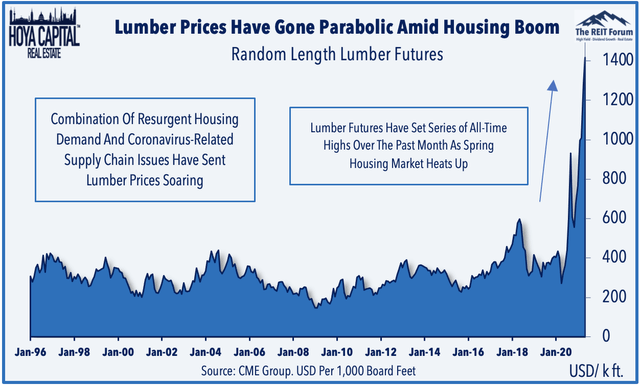 Specialty REIT Sectors
Billboard: (Final Grade: B+) Lamar Advertising (LAMR) reported improving results and boosted its full-year AFFO growth outlook to 7.7%, up from its prior outlook of 4.8%. Lamar noted that the "advertising rebound is well underway with bookings in March and April for the rest of 2021 handily exceeded bookings in the same months of 2019 for the rest of that year." Outfront (OUT) - which owns a more public-transit-heavy billboard portfolio reported results showing the continued challenges facing this segment of the Out-of-Home advertising business.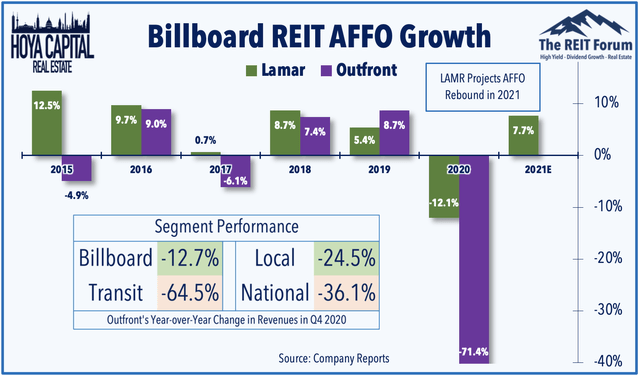 Prisons: (Final Grade: B-) GEO Group (GEO) reported decent Q1 results and boosted its 2021 earnings guidance, seeing full-year FFO between $2.23-2.31, implying a year-over-year decline of -9.6%, up from its prior outlook which called for a -19.1% plunge in FFO this year. The guidance also incorporates previously announced expirations of service contracts with the federal Bureau of Prisons and the non-renewal by the U.S. Marshal's Service of a contract for GEO's Queens Detention Center in New York. GEO's Board, which suspended its quarterly dividend on April 7, is evaluating GEO's structure as a REIT and expects to conclude its review in Q4 2021.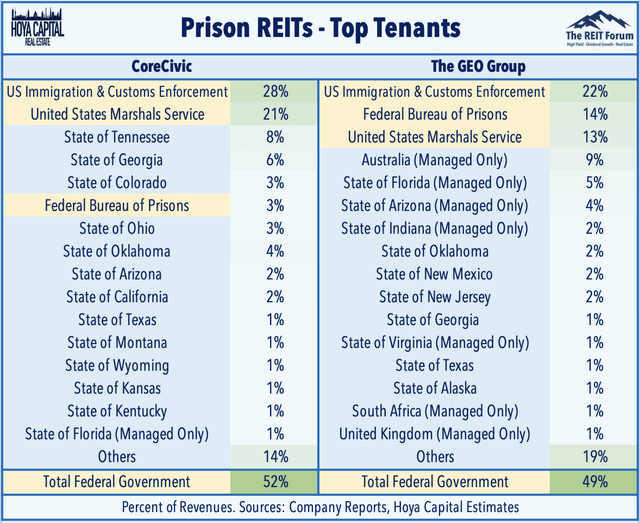 Takeaways: Inflation Overshadows Strong Quarter
Across the equity market - and particularly within the REIT sector - two macroeconomic trends have set the course in early 2021: 1) The post-vaccine sector rotation, and 2) Concerns over rising interest rates and inflation. Historical trends indicate that REITs, as a whole, have performed quite well during periods of rising interest rates and inflation, but that certain sectors are far better inflation hedges than others. On one end of the spectrum, residential real estate has historically been one of the most effective "inflation hedges" across any asset class while other commercial sectors with longer lease terms with fixed escalators are generally less effective hedges.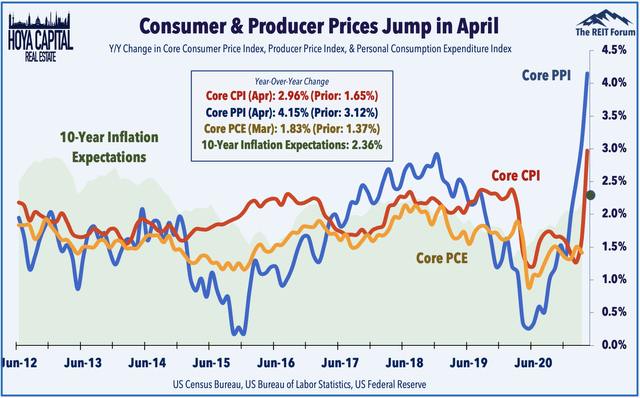 Overshadowed by these concerns about rising inflation, a frenzy of real estate earnings reports over the last month has provided critical information on the state of the real estate industry. Results were better than expected across most major property sectors with roughly 80% of the 170 equity REITs and 40 mortgage REITs in our coverage universe beating consensus FFO estimates. Positive surprises were primarily in the residential sectors where self-storage, manufactured housing, and sunbelt-focused single-family and multifamily REITs saw accelerating rent growth.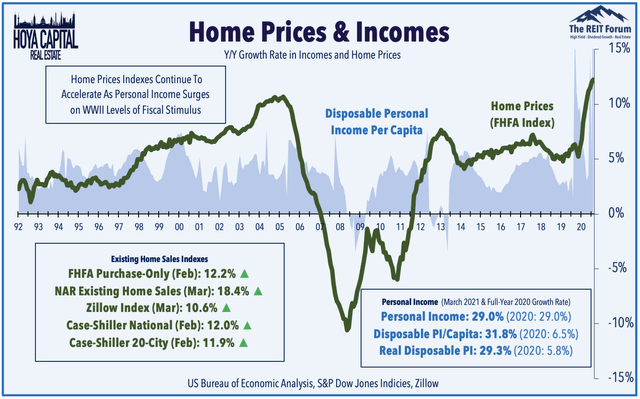 For an in-depth analysis of all real estate sectors, be sure to check out all of our quarterly reports: Apartments, Homebuilders, Manufactured Housing, Student Housing, Single-Family Rentals, Cell Towers, Casinos, Industrial, Data Center, Malls, Healthcare, Net Lease, Shopping Centers, Hotels, Billboards, Office, Storage, Timber, Prisons, Cannabis, Real Estate Crowdfunding, High-Yield ETFs & CEFs, REIT Preferreds.
Disclosure: Hoya Capital Real Estate advises an Exchange-Traded Fund listed on the NYSE. In addition to any long positions listed below, Hoya Capital is long all components in the Hoya Capital Housing 100 Index. Index definitions and a complete list of holdings are available on our website.