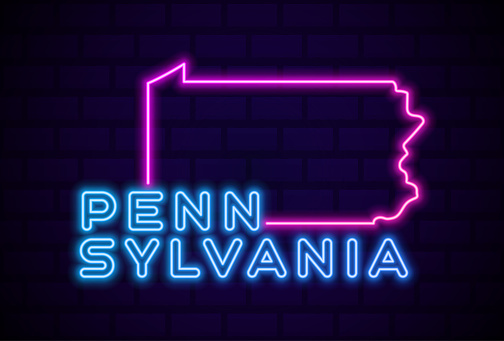 Introduction
AmeriServ Financial (NASDAQ:ASRV) is the holding company of the AmeriServ Financial Bank which operates 15 branches in Pennsylvania and one branch in Maryland. This is a very small bank with just about $1.3B in total assets and just more than $100M in equity on the balance sheet. I have been looking at a bunch of smaller regional (or in this case: local) banks and AmeriServ appears to offer an intriguing amount of value for the money.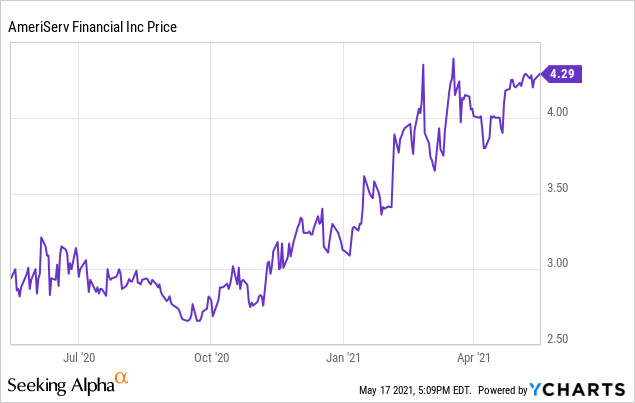 The bank is quite profitable but could benefit from additional economies of scale
While the net interest income of most banks has been under pressure due to the low interest rate climate, AmeriServ seems to be doing quite well as it was able to keep its interest income relatively stable compared to the first quarter of last year: There was a nominal decrease of just over 1%. Meanwhile, the interest expenses fell by about 30% to just $2.1M and the combination of a slightly lower interest income and a much lower interest expense boosted the net interest income by in excess of 10% to $9.7M.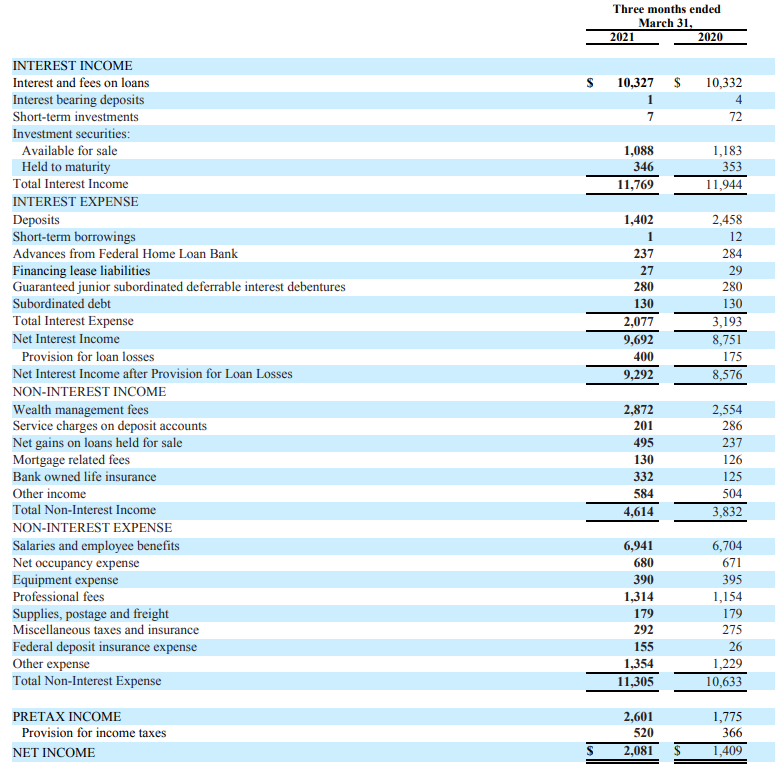 Source: quarterly report
The bank also reported a total non-interest expense of about $6.7M which is in line with the $6.8M non-interest expense in Q1 2020, and this also provided a boost to the pre-tax and pre-provision income which increased from just $1.95M in Q1 2020 to just over $3M in Q1 2021.
That's an excellent achievement, and although the amount for loan loss provisions more than doubled to $0.4M, the reported pre-tax income was still almost 50% higher while the net income of $2.08M in Q1 represented an EPS of $0.12 (rounded down from $0.122).
Although the total amount of loan loss provisions appears to be low, keep in mind the bank has already put aside $11.6M in loan loss provisions, which represents about 1.2% of the total loan book. The amount appears to be sufficient as only $3.04M of loans was classified as "past due" as of the end of March. That's good, but about $4.25M in loans was classified as part of the Troubled Debt Restructurings, so additional caution may be warranted, and that likely is the reason why AmeriServ has put aside an additional $0.4M in Q1.

Source: quarterly report
According to the AmeriServ press release, the asset quality task force is meeting at least once per month to discuss the loan book, so it looks like the bank is keeping tabs on the situation.
Repaying the 8.45% debt could immediately boost the income by 10%-12%
Although the results of the bank make a lot of sense, the lack of economies of scale continue to make every earnings report a difficult balance exercise. Although the ban only had to put aside just $0.4M for additional loan loss provisions, this reduced the pre-tax income by about 13%. Additionally, the net non-interest expenses represent almost 70% of the net interest income. A key element in those net non-interest expenses could be to further expand the wealth management division, which brought in almost $2.9M in fees in Q1.
But there's one element I'd like to see being tackled as well. As you can see on the image below, the balance sheet contains almost $13M of "guaranteed junior subordinated deferrable interest debentures."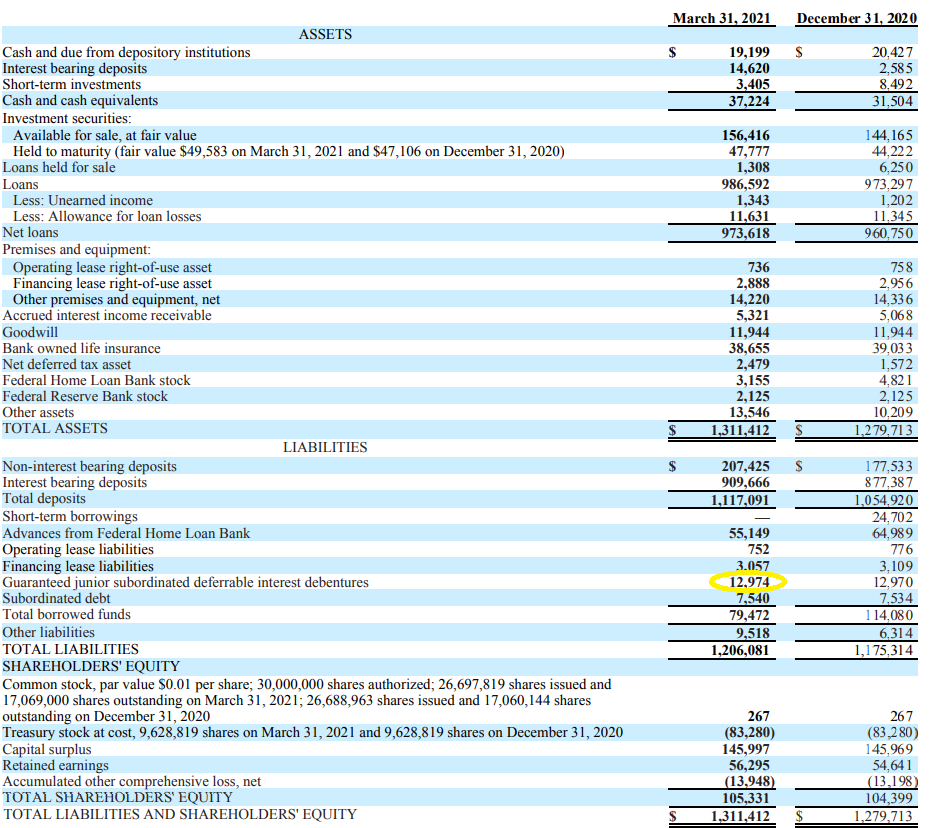 Source: quarterly report
The annual report provides more information on these securities (which are trading with (ASRVP) as ticker symbol):

Source: annual report 2020
For some reason, those securities are trading at a huge premium with a market price of in excess of $28 per unit although the par value is $25 and these securities are callable immediately. As there's about $13M outstanding, these 8.45% yielding securities are costing AmeriServ $1.1M per year in interest expenses which is almost $0.4M per quarter.
So when I read this specific element in the Q1 2021 press release, I think AmeriServ should focus on the other side: It should not just use the abundance of deposits on expanding the loan book, but perhaps it should just call the expensive junior debt.

Source: press release Q1 2021
AmeriServ should forget about "deploying this excess liquidity at the current low yields" as it could use the high amount of deposits to reduce its expenses rather than boosting the top-line interest income.
Investment thesis
AmeriServ Financial has a lot going for it, but the small footprint of this bank make it difficult for me to pull the trigger. However, the positives seem to be outweighing the negatives and repaying some of the old historical debt could make sense as this would boost the pre-tax income to about $3M per quarter, even if the loan loss provisions don't decrease again. Additionally, AmeriServ Financial is currently trading at a discount to its tangible book value of $5.47/share and this in combination with the high earnings retention (the quarterly dividend is just $0.025/share which means the company is retaining almost $0.10/share per quarter to boost its earnings) which makes the current valuation even more appealing.
However, this still is a very small local bank, and I will likely keep the position size relatively small. I like what I see, but AmeriServ's main risk is its (lack of) size.