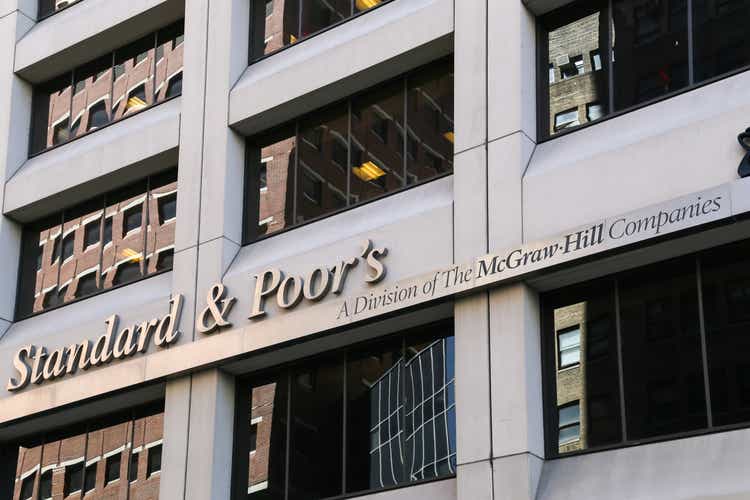 The Invesco S&P 500 Quality ETF (NYSEARCA:SPHQ) might be a fund of choice for investors who would like to own a better alternative to the S&P 500-tracking ETFs. SPHQ is laser-focused on names that possess certain quality characteristics, e.g., have high efficiency, remarkable earnings quality, and low gearing.
The net expense ratio is 0.15% (assuming a fee waiver of 6 bps), which is higher if compared to what the SPDR S&P 500 Trust ETF (SPY) charges (slightly south of 10 bps) or the iShares Core S&P 500 ETF (IVV) with its only 3 bps, but that is certainly a fair price for a carefully calibrated basket of top-quality U.S. blue-chip stocks.
The Index and Its Vulnerabilities
My dear long-term readers likely remember that I am somewhat obsessed with free cash flows and capital efficiency. I truly believe that the quality of a stock depends on how efficiently a company manages the incoming and outcoming cash flows, generating an acceptable return on its total capital. More or less, high quality always translates into meaningful returns over time, both in the form of capital gains and/or dividends. For example, a firm that can deliver sustainable cash flow surplus will be increasing DPS consistently, thus also attracting investor attention which will be bolstering the share price.
The benchmark SPHQ tracks according to its investment mandate is the S&P 500 Quality index. In short, the top 100 S&P 500 stocks with high composite quality scores are eligible for inclusion in the index. The constituents "are weighted by a product of the quality score assigned and the float-adjusted market cap."
S&P Dow Jones Indices has its own definition of quality, with cash flows ignored. When assessing eligible stocks, the index provider takes into account three metrics: Return on Equity, Accruals Ratio, and Financial Leverage Ratio. The nitty-gritty of how these metrics is computed is on page 20 of the methodology.
Is that enough to identify best-in-class stocks? Certainly not. So why did the company decide to make the quality score somewhat simplistic, driven only by three variables? Most likely, to minimize portfolio turnover and also improve risk dispersion since tighter rules will result in only a few names eligible for inclusion. Thus a fund that tracks the benchmark would be poorly diversified and prone to frenetic price swings.
So, on a side note, if at some point in the future, I will be finally capable of establishing my own investment fund and launch my very own quality ETF, I will also opt for a golden mean in terms of quality metrics in order not to make a portfolio to concentrated in few, even the most efficient, names.
In fact, I am skeptical about all three metrics selected. The major problem with ROE is that it tells nothing of how efficiently a company allocates its total capital that encompasses both shareholder and debt investor funds. The next issue is that the nominator of ROE, net income, is not always illustrative of a company's underlying profitability, thus I prefer comparing it with cash flows to assess earnings quality.
In capital-intensive industries, like chemicals, where large capex is necessary to support the top line, a high debt load is typical. So, if net worth, a denominator, is low due to high debt, ROE would be skewed to the upside. For example, The Chemours Company (CC) that I covered a few times in the past, has a gargantuan Debt/Equity of almost 460%, which makes its ROE of over 25% irrelevant. Thus, I always use Return on Total Capital (or its cash flow- and FCF-based variations), a more reliable metric, if Debt/Equity exceeds 50%.
It is nice to see that the Accruals Ratio which assesses changes in net operating assets was added to the composite factor since it helps to identify and remove players with questionable earnings quality. But unfortunately, FCF is not considered here.
At the same time, Financial Leverage defined as total debt divided by book value is also not a perfect measure of a company's indebtedness. Combining Debt/Equity with Net debt/EBITDA (EBITDAX, EBITDAR, etc.) or Total debt/EBITDA would be much better.
Sector Allocation: Being Overweight in IT is Good For the Long Term
The direct consequence of SPHQ's obsession with quality is its overweight position in the IT sector if compared to SPY and IVV. Both have only ~26% of the NAV allocated to the tech names, while in SPHQ, IT has a close to 40% weight. As I have already said in my recent note on DTD, the sensitivity of share prices of richly-valued tech players to higher interest rates might be a drag on its total returns in the short term in case inflation triggers tightening of credit conditions. However, for the long term, I remain bullish on the technology names.
Healthcare and industrials are the second and third-largest sectors with 26.5% and 9.9% weights, respectively. At the same time, SPHQ is underweight in financials that have only 5.2% weight vs. almost 12% in the case of IVV.
Total Returns: Mixed Performance, Questionable Alpha
So, a moment of truth. Does a basket of high-quality upper-echelon stocks (as defined by S&P Dow Jones Indices) capable of trouncing the S&P 500-linked ETFs? Yes and no. Much depends on the timeframe.
Sure, there were a few bright spots in the 2010s when the fund marginally outperformed SPY, namely in post-crisis 2011, 2014-2016, and 2019.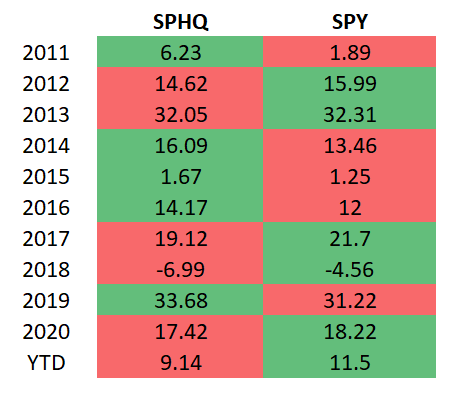 SPHQ and SPY total returns (price, not NAV). The author's creation. The data from Morningstar. Values are in %.
But 3-year, 5-year, and 10-year cumulative returns illustrate that for long-term investors, there was no reward for owning a basket of top-quality equities from the S&P 500 instead of simply investing in the U.S. upper-echelon stocks.


Quant Rating Analysis
Using the Seeking Alpha Quant data (some Excel work is needed) helps to easily and relatively quickly assess a fund's style, the momentum of its holdings, market-cap tilt, etc.
What the Quant analysis can tell us about SPHQ? First, there is no doubt that the index provider did meet its objective to select only top-quality names: the fund is overweight in highly profitable stocks, with only two players having the Profitability Grades below B-, namely Ameriprise Financial (AMP) and General Electric (GE).
Second, investors who are on the lookout for cheaper securities (due to the potential repercussions of inflation, or any other reasons) should opt for better alternatives, since only 23.5% of SPHQ's NAV is allocated to relatively attractively priced stocks (the Value Grades of B- or better). At the same time, there is no reason for fervent supporters of the growth investment style to go long SPHQ since its exposure to growth players is even smaller than to value names: Lam Research (LRCX), NRG Energy (NRG), and other heavyweights with impressive expansion prospects (the Growth Grades above B-) have a combined weight of just 12.4%.
Final thoughts
In sum, SPHQ has a portfolio of highly profitable, principally large-cap players with a remarkable IT tilt. Those investors who believe high quality can be a potent driver of excess returns in the future should put SPHQ on a watchlist. Anyway, unfortunately, historical data illustrate that SPHQ is capable of delivering alpha only on limited timeframes.