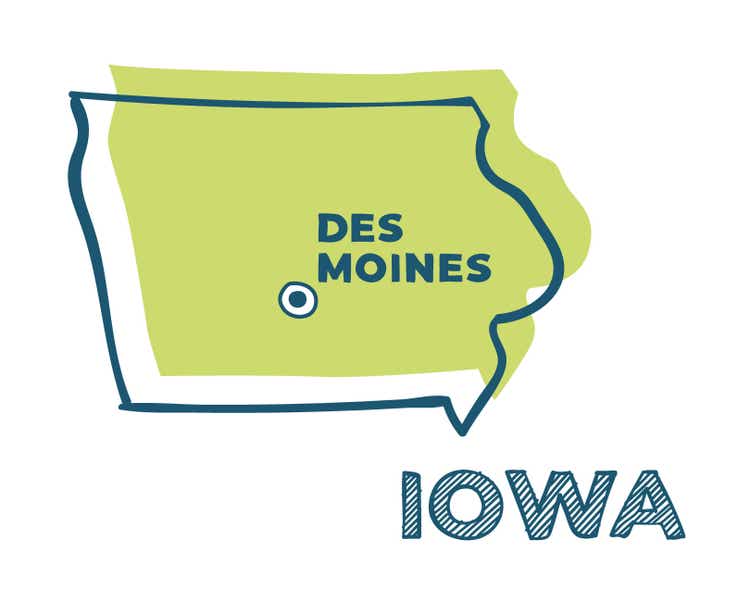 Introduction
There are dozens, if not hundreds, regional and local banks listed on a US stock exchange. Some are well respected, others are so small barely anyone notices them. Despite the relatively small size (which can act against them, as I explained in a recent article on another local bank), there sometimes is some value to be found. Ames National Corp (NASDAQ:ATLO) is a local bank holding company in Iowa where it owns six different banks. Fully focusing on Iowa, Ames has a total balance sheet size of just over $2B, with just over $200M in equity.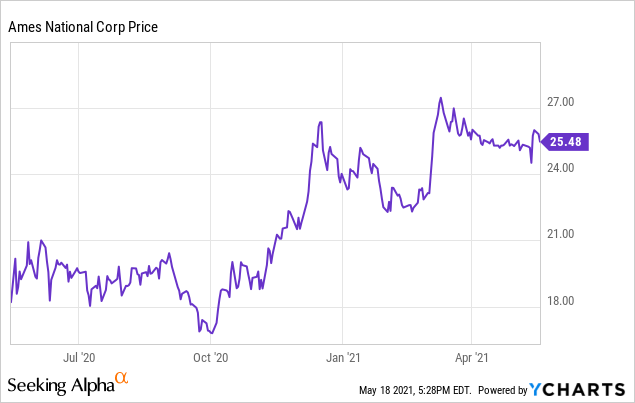 The business is recovering
Ames National saw its interest income fall by just over $0.8M to just a few thousand dollars below $15M, but as the interest expenses fell by about half, the net interest income increased by roughly 5% to just under $13.7M. On top of that, the net non-interest expenses also remained relatively stable $6.5M in Q1 2021 compared to $6.4M in Q1 2020 although in the first quarter of last year the bank recorded a non-recurring gain of about $0.4M so on an adjusted and normalized basis, Ames seems to have done a really good job in Q1 2021.
Source: quarterly report
The pre-tax and pre-loan loss provision came in at just over $7.2M, compared to $6.6M in Q1 2020. And as you can see above, the pre-tax income on a reported basis actually came in at $7.6M in Q1 2021 as Ames was able to record a credit for previously recorded provisions: The bank has been too conservative last year and now has to take back some of the provisions it registered in 2020 and that's a good sign (I'll explain later in this article why I don't think the bank is jumping the gun here).
The reported net income was just over $6M (with the caveat the net income was artificially boosted by taking back some of the older provisions), which works out to be $0.66/share. As the bank currently is paying a quarterly dividend of $0.26 per share, the payout ratio was less than 40% based on the reported net income in Q1 2021. And even on an adjusted basis, the payout ratio would still be just over 40% so I'm not worried about the dividend at all.
A closer look at the loan book indicates the situation is fully under control
To get a better understanding as to why Ames was able to take back some of its provisions, we need to have a closer look at the balance sheet structure, and more importantly, the asset side of the balance sheet.

Source: quarterly report
As you can see, about $250M (about 12%) of the assets is held in cash and deposits in financial institutions. That's quite safe. Additionally, $672M is invested in securities available for sale, which tend to be very safe as well as they consist of securities backed by the US government or states. So almost 50% of the balance sheet is invested in what we can easily consider to be safe to very safe assets.
The actual loan book (mortgages and loans issued to clients of the bank) is just $1.12B, less than 60% of the total amount of assets. And looking at the breakdown of these loans, we see it's very real estate heavy. I like that, as there's a tangible collateral in case the borrower defaults.

Source: quarterly report
The amount of commercial loans of $127M is about 11% of the loan book but that's fine as almost half of the commercial loans consist of the zero risk paycheck protection program loans. The amount of commercial real estate on the books is relatively high, but when we dig a bit deeper and see that virtually all of the loans are current, perhaps I shouldn't be too worried.

Source: quarterly report
So just over $4.2M of the $1.14B loan book has a "past due" status and surprisingly virtually none of the commercial real estate is past due (except for the $117,000 which likely is just one borrower). No LTV ratios have been shares, but I'm encouraged to see the very low amount of loans past due. And considering the total allowance for loan losses is still close to $17M, the $4.2M in loans past due don't worry me too much.
Investment thesis
Ames seems to know what it's doing and I like the high amount of securities and cash (including deposits at other financial institutions) on the balance sheet, making said balance sheet relatively safe. With a book value of $204.4M and a tangible book value of $189M or $20.71/share, Ames National Bank doesn't appear to be too expensive.
I currently don't have a position in Ames National Corporation, but I'm adding this local Iowa bank to my watch list.