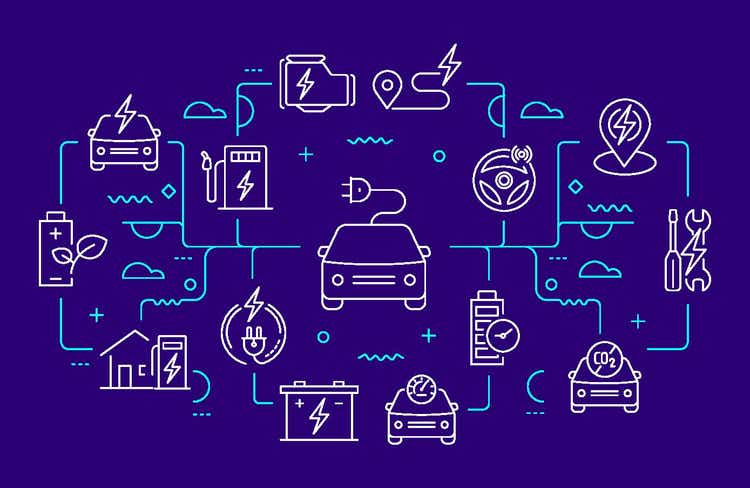 The electric vehicle ("EV") industry has undeniably become one of the most disruptive entrants to the auto-manufacturing space in recent years. Since Tesla's debut from way back in 2008, we have seen a drastic change in attitude towards the industry, including a positive shift in customer perceptions and greater government intervention. 2020 was a landmark year for EVs, with global sales representing more than 4.2% of the entire car market, slowly crawling towards internal combustion engine ("ICE") car sales. Many publicly listed EV makers have also seen record-high price performances in the past year, with some even outperforming the S&P 500.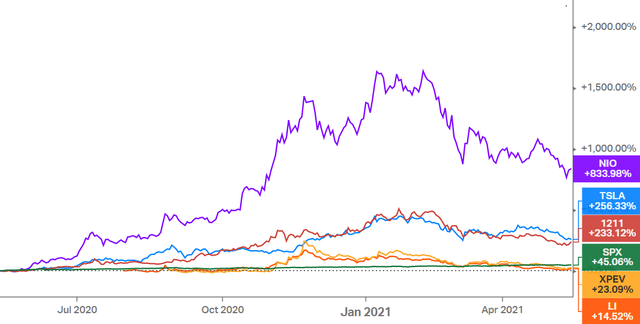 Source: Koyfin
The latest international dialogues regarding aggressive emissions reduction targets have also created an environment that is expected to supercharge demand in the EV market. Even industrialized emerging markets that rely heavily on coal-fired power plants, like China, have further tightened their pledges to fight climate change; the most populous country in the world has vowed to become carbon neutral by 2060. The Chinese market is by far the fastest growing EV market. On top of their emissions targets, the significant national and local financial incentives favouring EV and domestically produced vehicle sales have further encouraged growth of EV adoption; these financial incentives have become an effective mechanism for making EVs an attractive yet affordable option for new car owners.
With significant progress made in the EV industry comes an influx of brands trying to compete for a piece of the pie. The first name that comes to mind is none but Tesla. But aside from Tesla, Chinese EV brands NIO (NYSE: NIO) and Li Auto (NASDAQ: LI) have also started to gain prominence in the EV space.
NIO was founded in 2014 and made their first delivery in 2018. To date, the company has sold and delivered more than 95,700 vehicles. In addition to car sales, the brand also offers NIO owners with access to their developed EV charging infrastructure through various service packages catered to specific customer needs. NIO is also heavily invested in developing their autonomous driving and AI technology. Shortly after introducing NOMI, an in-vehicle AI that will be the core support of NIO's future fleet of autonomous vehicles, NIO also announced their collaboration with Mobileye to develop and commercialize driving automation that does not require human interaction (i.e. "level 4" autonomous driving). The brand has also materialized their international expansion plans through the recently confirmed opening of their first Norway store in Q3 2021, with four more on the way slated for 2022.
LI, on the other hand, was founded in 2015 and started volume production and delivery of their flagship SUV, the Li Xiang ONE, in November 2019. To date, the brand has delivered more than 51,700 of the Li Xiang ONE with speculations on the launch of another premium SUV in 2022. Different from other EV brands that offer a wide array of models for customers to choose from, LI prides itself on quality over quantity with a focus on perfecting their craft on limited core products. The Li Xiang ONE currently includes more than 40 premium features in one standard package that puts them on par with other luxury SUVs in the RMB 600,000+ price range. LI's target audience are families looking for a luxurious yet affordable SUV – their luxury SUV described above retails at a flat price of RMB 328,000. Their family centric values are embedded in their brand's vision, with "dedication to serving mobility needs of families in China". The premium electric SUV automaker has no plans on changing their pricing strategy and hopes to keep their products highly accessible, gunning at a retail price between RMB 200,000 and RMB 500,000 for all current and upcoming products.
Based on the brief overview of the two hottest EV brands in China, you might have noticed that they operate different business models. Like Microsoft, NIO strives to dominate the Chinese, and perhaps the global, EV and tech space by investing in both the hardware and software of their vehicles; NIO understands that the EV industry is a tech-play and they are equipped to compete in this arena. Meanwhile, LI imitates Apple in terms of perfecting their product and user experience, and is destined to garner a loyal fan base.
NIO Inc.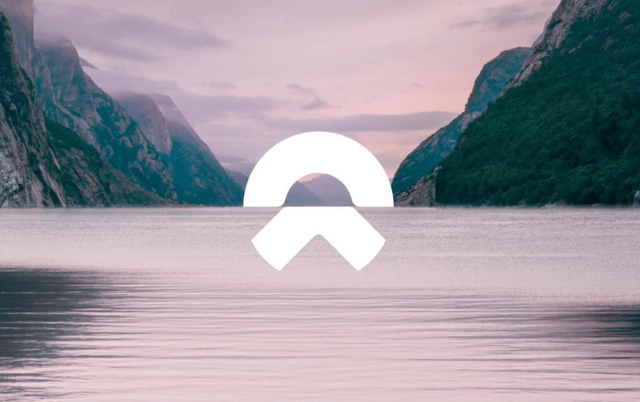 Source: nio.com
NIO Inc. was founded in 2014 with their first delivery of the flagship SUV model ES8 in 2018. The brand currently boasts a portfolio of five models, all of which are zero-emission and purely battery powered: EP9 (2-seater sports car), ES8 (7- and 6-seater SUV), ES6 (5-seater SUV), EC6 (5-seater SUV coupe) and ET7 (luxury sedan launched in 2021 with delivery commencing in Q1 2022).
Dubbed as the pioneer in China's premium EV market, NIO has shaped itself into Tesla's top competitor in China in recent years. Considering the latest backlash Tesla received from the Chinese government, NIO might have just garnered itself another point in the fierce competition for market share in the growing Chinese EV market. With their latest expansion into Norway and recent breakthroughs in the autonomous driving scene, NIO exhibits promising long-term growth potentials that will make it the Microsoft of China's, and perhaps even the world's, EV industry.
Promising Long-Term Growth
NIO encompasses the brand, customer experience, production strategy, talent and business model needed to take off as the dominating leader in the EV industry.
Brand
In China, NIO represents innovation and is regarded as the forerunner in the Chinese premium EV market. It is estimated that NIO holds approximately 23% of China's EV SUV market share, exceeding Tesla's 17%. Although the brand is already prominent on home soil, NIO's latest expansion into the European market is expected to broadcast its name to the global EV and automobile industry, which will help further secure their share of the growing global demand for EVs.
Customer service
The brand is not only focused on penetrating the EV industry with their vehicles, but also the infrastructure needed to support the sustainability of EVs as the primary source of transportation in the future. NIO's attention to building the infrastructure needed to support their fleet of EVs alleviates customers' concerns over range and convenience of operating an EV in the long-run, further enhancing customer experience and securing customer loyalty.
The brand is also known for their wide array of exclusive value-add services, including Battery as a Service ("Baas"), the NIO app, Power Express, Power Mobile, and many more. The most notable of which is BaaS, which is a monthly battery subscription service that not only reduces the overall car purchase price, but also provides NIO owners with flexible options for battery upgrades based on personal needs. The brand is also known for their developed charging infrastructure, which eases car owners' top concerns over range and charge time of EVs. Currently, NIO cars are compatible with two battery options – 70 kWh and 100 kWh – which NIO owners have convenient access to through the BaaS subscription service. Concerns over EV range are also addressed by close to 800 power charging stations covering 53 major cities in China; NIO vehicles are also compatible with XPeng's network of 1,140 charging stations across 164 cities in China, which further relieves skepticism over range. And to address consumer concerns over lengthy charging times, NIO launched "Power Swap" in 2017; similar to the typical gas or power charging stations, Power Swap is a battery swapping station that could swap your dead battery out for a fully charged one in no more than three minutes, which is a significant improvement from the 30-minute charging times required to fully charge an EV.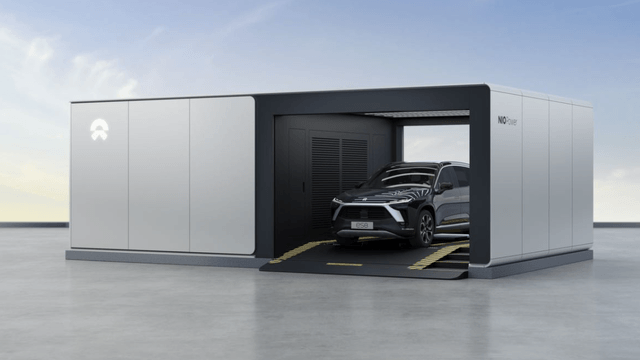 Source: nio.com
Production strategy
NIO currently outsources the production of their vehicles to Jianghuai Automobile Group ("JAC"), a state-owned automobile manufacturer in China. The strategy has previously raised investors' concerns over whether NIO can efficiently and effectively manage their production costs, and control the overall production process; as part of their original manufacturing arrangement with JAC entered into in April 2018, NIO compensated JAC for operating losses incurred for the first 36 months of their partnership, which totaled more than RMB 450 million. In order to reclaim control over the production process of their fleet, NIO has recently formed a joint venture with JAC for managing the manufacturing process of NIO vehicles; NIO contributed RMB 500 million for a 49% equity interest in the joint venture arrangement. Currently, JAC has annual production capacity of 120,000 vehicles for NIO. Given the increasing demand for NIO vehicles as well as the company's own overseas expansion plans, there have been speculations of a new production plant to be built in Beijing which will be a preemptive move to address the gap emerging between manufacturer capacity and demand from customers in the EV market.
Talent
NIO is propelled by a competent management team. Before forming NIO, the brand's founder and current CEO, William Li, was already an established entrepreneur in the auto space known for creating Bitauto Holdings (NYSE: BITA), an online platform that promotes and facilitates automobile purchase transactions in China. William Li is known to be an experienced and charismatic leader with proven strength in raising capital for growing the brand, and a track record for delivering on planned results. Wei Feng, NIO's current CFO, also holds more than 15 years of experience in analyzing the financial performance of key players across the automotive industry. In addition to the core management team stationed in Shanghai, NIO also consists of world class talent leading their R&D centers for software and advanced technology in Beijing and San Jose, global design center in Munich, and global performance and advanced concept engineering facility in Oxford.
Business model
In order to maintain their position as a competitive brand in the broader EV and tech space, NIO's vision expands beyond the horizons of just building electric cars and their supporting infrastructure. Behind the scenes, NIO is committed to perfecting their autonomous driving and AI technology. In 2018, NIO announced their launch of NOMI AI, the world's first in-vehicle artificial intelligence that goes beyond standard infotainment and navigation functions; NOMI AI is expected to streamline the future autonomous driving experience for NIO owners. The technology was also the chosen winner for the 2021 Artificial Intelligence Excellence Award conferred by the Business Intelligence Group, providing further recognition on NIO's achievements in the autonomous driving development space. NIO has also debuted EVE, their concept car for autonomous driving that encompasses everything they have envisioned – a comfortable and spacious interior cabin that can accommodate up to six passengers, offering a safe and relaxing experience powered by NOMI AI.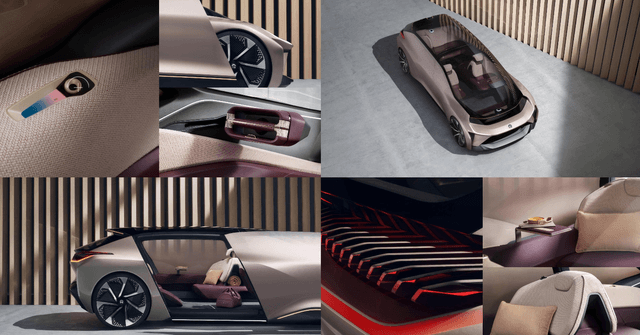 Source: nio.com
NIO has also partnered with Mobileye, an Intel-owned company based in Israel focused on developing self-driving technology and advanced driver-assistance systems ("ADAS"), to make level 4 automated driving possible and available to the public. The arrangement involves NIO's contribution of their engineering and manufacturing expertise to mass-produce Mobileye's self-driving technology, as well as integrating it into NIO's line-up of vehicles. Mobileye also has plans to transform their self-driving technology into a driverless ride-hailing service, for which NIO will supply the EVs for. The partnership is also expected to fast-track NIO's efforts in making "Autonomous Driving as a Service" ("ADaaS"), a subscription package for their autonomous driving technology "NIO Autonomous Driving" ("NAD"), available to the public by early 2022 for a monthly subscription fee of RMB 680. The deployment of this technology will be a milestone for NIO and catapult the brand to a leading position in the EV and tech scene.
NIO's investment in autonomous driving and AI technology shows the brand's understanding of what the future in tech entails. Tech giants like Amazon, Google and Facebook all have one thing in common, and that is their ability to gather data on consumer behaviour and preference which will be critical for exceling in the future tech space. NIO understands the importance of this point and is active in developing their NOMI AI technology in order to achieve progress on this spectrum and stay competitive in the tech space. What differentiates NIO from their domestic competitors like LI is that they are not only an automaker, but also a tech company. This strategic move is bound to expose NIO to future opportunities far beyond just producing and selling EVs.
Fundamentals Deep Dive

Source: Author, with data from the 2020 NIO Annual Report and our internal forecasts
Since NIO's IPO in 2018, the company has consistently reported year-on-year losses and negative cash flows from operations due to the capital-intensive nature of the business. However, the company has proven their ability to turn this around through strong car sales in the Chinese market in the last two years. In 2020, NIO's revenues more than doubled from RMB 7.8 billion in 2019 to RMB 16.3 billion in 2020 thanks to the overall increase in number of vehicles sold and incremental revenues from service subscriptions. NIO's gross margin successfully emerged from the negatives to a strong 12% in FY 2020 (17.2% in Q4 2020). For the latest quarter ended March 31, 2021, NIO achieved a gross margin of 19.5%, comparable with industry leaders like Tesla (Q1 2021 gross margin 21%).
The company has also reported positive cash flows from operating activities of RMB 1.95 billion for the first time in 2020; this number represents a 1.22x year-over-year increase, primarily attributable to their overall increase in vehicle and service package sales. In 2020, NIO sold more than 43,700 vehicles.
The Chinese EV market is expected to grow by more than 50% in 2021, and we are confident that NIO is adequately positioned to capture a large share of this growth. Their latest launch of the ET7 luxury sedan is also expected to directly compete with Tesla's Model S; the new model will commence delivery in early 2022 and has already received positive public reception thanks to its convenient battery swap compatibility, making it a more convenient option compared to Tesla's Model S. In addition, NIO's entry into the European EV market, which represents 42% of global EV sales, with their first store to open in Oslo in Q3 2021 is expected to further bolster their sales and earnings performance. Our forecasts predict deliveries of more than 84,000 vehicles in both China and Norway by the end of the year, generating total revenues of more than RMB 34 billion which represents growth of more than double of 2020's.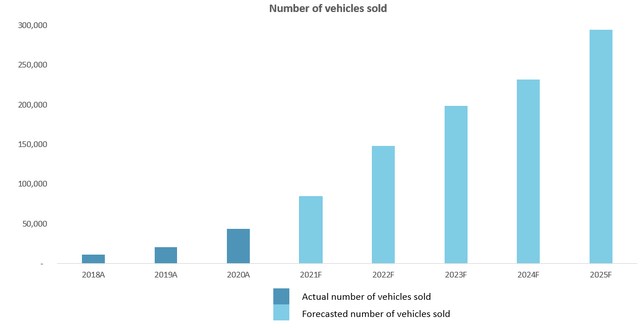 Source: Author, with data from the 2020 NIO Annual Report and our internal forecasts
We believe the anticipated growth in global demand for EVs in the next ten years will continue to benefit NIO's goals of becoming a dominant player in the industry. Considering NIO's continued expansion of their product line and global footprint outside of China, we are convinced that the company will break a profit by 2025 with close to 300,000 vehicles delivered.

Source: Author, with data from the 2020 NIO Annual Report and our internal forecasts
Valuation
Our valuation for NIO over a 10-year discrete period results in an equity value of approximately RMB 313 billion, which is equivalent to US$41.13 per share. NIO is currently traded at $33.82 (May 17th closing price). This represents an upside potential of approximately 22% based on the current share price.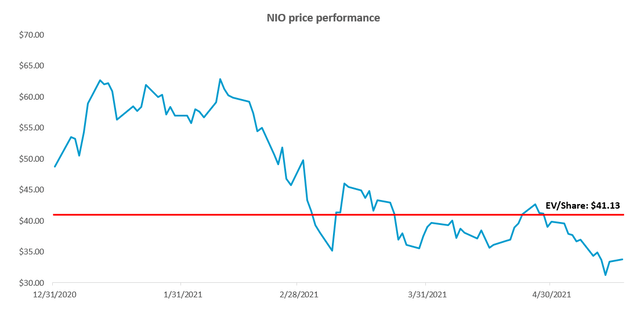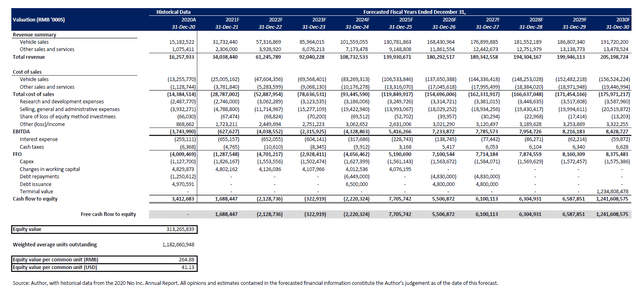 Source: Author, with data from the 2020 NIO Annual Report and our internal forecasts
There have also been speculations on the street that the stock has potential to hit the $300 mark by 2025. Considering NIO's technological advancement, global expansion, and financial performance, we believe it is possible. Currently, the EV industry's most prominent name, Tesla, has a market cap of $556.79 billion, which is a little more than 10x of NIO's market cap of $54.68 billion. With NIO expected to garner international attention and break profits by 2025, we believe it is possible for the brand to achieve a similar trading multiple, which would bring its share price to $340.
Based on the above analysis, it is evident that NIO's future is underpinned by strong financial performance propelled by their unwavering determination to disrupt the EV and autonomous driving industry, and remain competitive in the long-run.
Li Auto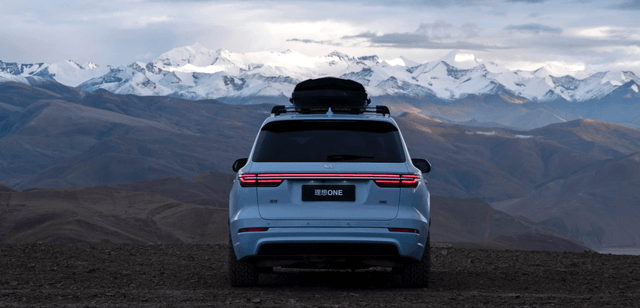 Source: lixiang.com
Li Auto was founded in 2015 with their first deliveries of the Li Xiang ONE in November 2019. As opposed to NIO's wide array of EV models for their customers to choose from, LI only offers one model: the Li Xiang ONE, a luxurious SUV with more than 40 premium features, including Napa leather interiors, interactive infotainment system, and ADAS – all for one flat price of RMB 328,000. The brand is expected to launch another premium SUV in 2022, which could be priced anywhere between RMB 200,000 and RMB 500,000 based on their pricing strategy, staying true to their vision to serve the mobility needs of families at an affordable price range.
As of December 31st, 2020, LI had 52 retail stores and 23 servicing centers across major cities in China. The brand has since expanded at an exponential rate with 73 retail stores covering 53 cities, and 143 servicing centers across 105 cities in China as of April 30th, 2021. Although LI's customers can easily complete their order with one click online or through the Li Auto App, LI believes in the importance of convenient and accessible retail stores and galleries for their customers across the country to see and feel the driving experience for themselves.
Focused on Quality over Quantity
As mentioned in earlier sections, LI is laser-focused on perfecting the product they have on hand to offer and is not interested in flooding the market with too many options. The company is committed to designing, developing, manufacturing and selling premium smart EVs, specifically SUVs for families. The brand's dedication to perfecting their art and offering it at a reasonable price range is the recipe for curating a loyal fan base in the long-run.
Business Model
LI is committed to providing families with a safe and luxurious, yet affordable experience through their refined products and services. The brand's focus on quality over quantity is working for them judging by sales results in 2020. With 2020 being their first full year of operations after commencing deliveries in November 2019, the company has already achieved gross profits of RMB 1.5 billion, which is impressive considering it took NIO more than two years after making their first deliveries to turn year-over-year gross losses into gross profits.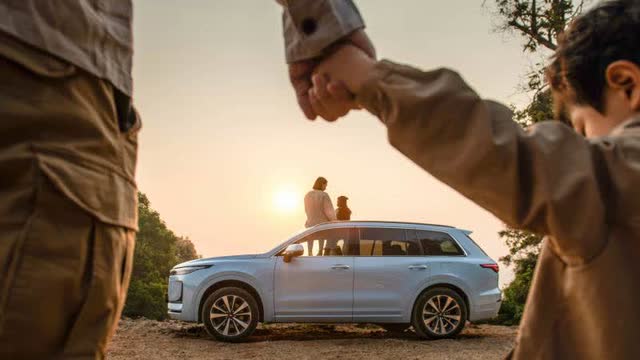 Source: lixiang.com
Technology
The Li Xiang ONE is currently equipped with level 2 autonomous driving features, which include lane-keeping assistance, automatic parking assistance, automatic emergency and traffic alert braking system, forward collision warning, and adaptive cruise control. However, in terms of progression towards level 4 autonomous driving, LI has not made as many headlines as their competitor NIO, who boasts about award-winning features like NOMI AI.
Instead, LI's R&D is focused on developing further enhanced charging and range solutions. LI is known for their extended range electric vehicle ("EREV") technology – instead of battery swaps, LI's solution to consumer concerns regarding travel range involves a powertrain that consists of 1) a front electric motor with 100 kW of power, 2) a rear electric motor with 140 kW of power, 3) a 40.5 kWh lithium-ion battery pack between the front and rear axles, and 4) a 1.2L turbo-charged engine that can deliver up to 96 kW of power to propel the generator for extended range. LI's EREV powertrain system enables a combined range of 800 km on a full charge and full fuel tank, while the NIO has an average range of 600km on a full charge. The Beijing and Shanghai R&D team is currently focused on further developing a next-generation EREV powertrain system, battery electric vehicle ("BEV") powertrain system, high-voltage platforms, high C-rate battery, and other ultra-fast charging technologies. However, this is not to say that LI is completely ignorant about developing their autonomous driving technology; according to their latest annual report, LI's R&D also looks into autonomous driving technologies, next generation intelligent cockpits, operating systems and computing platforms.

Source: lixiang.com
Circling back to LI's investments in enhancing their charging solutions, the brand's investment in BEV powertrain systems further corroborates their plans to eventually add BEV powertrain vehicles to their product mix in order to gain access to a broader market in the future. This eases a common concern amongst existing and potential LI investors regarding the sustainability and relevance of their flagship EREV powertrain technology given the inevitable shift towards BEVs.
Production strategy
Unlike NIO, LI vertically integrates their productions at their in-house manufacturing facility in Changzhou. This production strategy allows LI to exert complete cost, time and quality control management over the manufacturing process, which further increases their operational efficiency.
LI plans to double their manufacturing facility's annual production capacity from 100,000 vehicles to 200,000 vehicles by 2022. The expansion plans are in-line with LI's plans to launch a second premium SUV in 2022, and are expected to also accommodate future expansions of their product line with BEV powertrain vehicle production capacity.
Talent
Similar to NIO's founder William Li, LI's founder Li Xiang is also a veteran in the automotive space. Prior to establishing LI in 2015, Li Xiang was already the founder of Autohome Inc. (NYSE: ATHM), an online platform that offers extensive automobile listing information and transaction processing services. In addition to their founder's leadership track record, LI also maintains a production engineering and technology team of more than 1,424 employees across their facilities in Shanghai, Beijing and Changzhou.
Fundamentals Deep Dive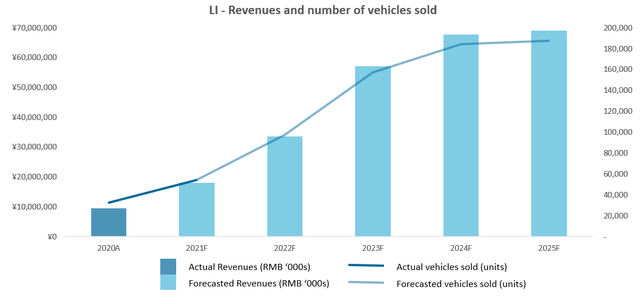 Source: Author, with data from the 2020 LI Annual Report and our internal forecasts
LI is currently the youngest and newest EV brand in the Chinese EV market. 2020 was LI's first full year of operations since making their first delivery in late 2019. The company delivered more than 32,600 Li Xiang ONEs in 2020, generating RMB 9.5 billion in revenues and RMB 1.5 billion in gross profits, representing a gross margin of approximately 16%, which shows impressive progress in cost controls considering how new LI is in the industry. In their first full year of operations, LI had already achieved positive cash flows from operating activities of RMB 3.1 billion, which is rare for a new company in an emerging industry like EV and tech. Again, we commend these achievements to LI's focus on developing a single product and their vertically integrated production line, which has helped them greatly in achieving cost efficiency.
In the current year, LI has completed more than 18,118 deliveries as of April 30th, indicating promising progress towards breaking 50,000 vehicles sold by the end of the year. At a flat retail price of RMB 328,000, we are forecasting vehicle sales revenues of RMB 17.8 billion and total revenues of RMB 18 billion inclusive of other service package sales. The automaker's impressive cost control efforts are also expected to land them with profits of close to RMB 2 billion by the end of the year, which is, again, an impressive and rare sighting for a new player in such a capital-intensive and growing industry.

Source: Author, with data from the 2020 LI Annual Report and our internal forecasts
Considering LI's plans to expand their product line and production capacity in Changzhou in 2022, we are expecting the company to keep generating profits and positive cash flows from operating activities. We believe the company is capable of generating profits of up to RMB 7.5 billion by 2025, which is more than the amount we have forecasted for NIO. Despite NIO's extensive operations, we are expecting their profits and cash flows generated from operating activities to fall short of LI's given their significant investments needed in the R&D aspects of the business, and higher cost inefficiencies caused by their diverse product line and outsourced production strategy.
Valuation
Our valuation for LI over a 10-year discrete period yields an equity value of approximately RMB 113 billion, which is equivalent to US$20.20 per share. LI is currently traded at $18.85 per share (May 17th closing price). This represents an upside potential of approximately 7% based on the current share price.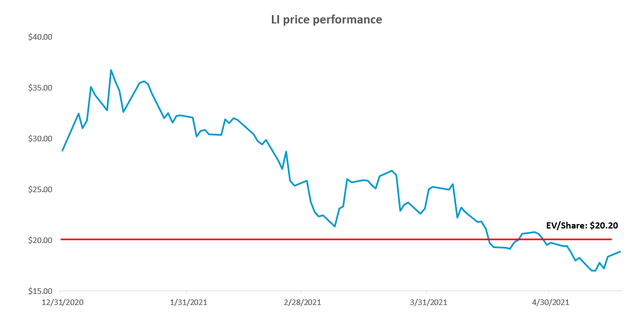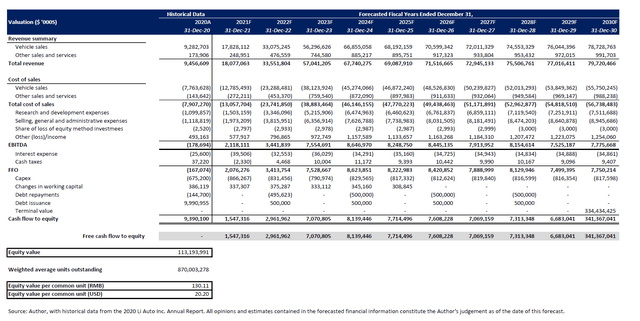 Source: Author, with data from the 2020 LI Annual Report and our internal forecasts
Industry Risks and Challenges
Global Chip Supply Shortage
In the EV space, the most notable challenge faced as of late is none but the global chip shortage. The global chip supply shortfall, caused by heightened demand made worse by global chip production plant shutdowns during the pandemic, has resulted in a frenzy across all industries. The pressing situation is expected to impact automaker revenues by more than $110 billion in 2021 alone. Despite China being home to some of the largest semiconductor manufacturers in the world, domestic EV makers like NIO and LI have not been immune to the situation.
In March 2021, NIO halted their production activity at the JAC-NIO manufacturing plant for five working days due to the global chip supply shortage. Production levels also fell below initial plans for the month of March. However, the company has shown resilience and strength in navigating through the situation as proven through their monthly delivery updates. The brand maintained their sales momentum with 20,060 vehicle deliveries made in Q1 2021, up by more than 422% compared to Q1 2020. In April, NIO continued to keep up with market demand and delivered another 7,102 vehicles, up by more than 125% year-over-year.
LI also has not reported any significant impacts to earnings due to the global chip supply shortage yet. The automaker has continued to ramp up deliveries, with more than 18,000 vehicles delivered year-to-date. In April alone, LI delivered more than 5,500 Li Xiang ONES, representing a favourable increase of more than 111% year-over-year.
Government Incentive Reduction
Chinese government subsidies for purchasers of eligible EVs have played a major role in encouraging the growth of EV adoption. More than 1.3 million EVs were sold in China in 2020, representing 41% of global EV sales; these statistics are expected to further increase by 50% in 2021. However, all good things must come to an end. The Chinese government's subsidy program for EV purchasers is reviewed and adjusted on an annual basis, and is only expected to last until 2022. As of January 1, 2021, the subsidy has already reduced by 20% compared to the year before and is now only applicable to EVs with a sale price under RMB 300,000 or EVs with compatibility with battery swapping technology.
At NIO, their products are offered at an average price between RMB 350,000 and RMB 450,000, which exceeds the government subsidy threshold. However, the NIO vehicles that are compatible with the brand's state-of-the-art battery swapping technology would still be eligible for the subsidy. In addition, NIO's BaaS battery subscription service is also seen as an effective long-term remedy to challenges caused by the reduction of government subsidies for EV purchasers. As mentioned in earlier sections, subscribers to the 70kWh battery pack under BaaS are eligible for a RMB 70,000 price reduction on their vehicle purchase.
The Li Xiang ONE, priced at RMB 328,000, is also above the government subsidy program threshold. Since LI's product is offered at a non-negotiable, single-package flat price with no compatibility to any battery swapping technology, Li Xiang ONE purchasers are not eligible for the Chinese government subsidy program. However, LI's competitive advantage is their affordable pricing. The Li Xiang ONE boasts more than 40 premium features for a price of RMB 328,000 when similar vehicles sell for RMB 600,000+. This gives families who are looking to purchase a premium electric SUV a buffer of more than 45%, which is already more economical and attractive than the Chinese government subsidy.
Global Brand Reception
Every country's roads are filled with Korean, Japanese, American and German-make cars, but Chinese-make cars have been uncommon outside of their home turf. This has caused uncertainties over global brand reception for NIO and LI. At the end of the day, both NIO and LI are Chinese home-grown brands that have been subject to the first-hand support of their very own. On a global scale, the two names are likely more known for their stocks than the technology they have to offer.
The upcoming overseas expansion for NIO into Norway will reveal whether being a Chinese-bred automaker will have any impacts to their global reception. It is also expected to pave the way for the international expansion of other Chinese EV brands, and set an example for the "to-dos" and "not-to-dos".
Holding Foreign Companies Accountable Act
Following the allegations of fraud imposed on publicly listed Chinese companies like Luckin Coffee and Orient Paper, investors and regulators have called into question the reliability of audited financial statements prepared in jurisdictions where the Public Company Accounting Oversight Board ("PCAOB") has been denied access to conduct inspections – even those signed off by renowned Big Four audit firms. The PCAOB is an independent committee appointed by the SEC to oversee the audits of public companies to ensure the financial information disclosed in public filings are accurate, and the interests of investors are protected. In 2020, registered public accounting firms in mainland China and Hong Kong have signed audit reports for 200 publicly listed companies with a combined global market cap of US$2.3 trillion, yet the PCAOB has not been able to effectively access and conduct independent inspections on these audits, which is critical to public investors' interests.
The "Holding Foreign Companies Accountable Act" ("HFCA Act") was enacted on December 18, 2020 to counter the ongoing obstacles to conducting PCAOB inspections. Under the HFCA Act, publicly listed companies that are audited by a registered public accounting firm that has not been subject to inspection by the PCAOB for three consecutive years beginning 2021 will be subject to risks of de-listing. Currently, both NIO and LI are audited by PricewaterhouseCoopers Zhong Tian LLP, which is on PCAOB's denied-access list. On this basis, NIO and LI continue to run the risk of being delisted from the NYSE and NASDAQ if Chinese authorities and the PCAOB cannot reach an agreement on conducting inspections soon, which could deter investors' confidence and directly impact the two companies' price performance.
Conclusion
Based on the above analysis, it is evident that NIO operates on a much grander scale than LI. NIO is backed by a solid infrastructure and network that will continue to support its long-term growth. By diversifying their product mix and offering flexibility to customers by offering add-on services that could be adjusted on an as-needed basis, NIO is bound to capture a larger share of the EV market. And with the continued milestones in developing their autonomous driving technology, NIO is rising in the ranks to match competitors like Tesla on a global scale.
Meanwhile, LI remains committed to perfecting the electric SUV it has built by investing in further enhancing their powertrain system to ease customer concerns over travel range and charging times. LI's priority is to keep improving their hardware and technology to provide Li Xiang ONE owners with the peace of mind that is expected to come with the premium luxury vehicle they have paid for. The premium electric SUV maker seems to care less about where their competitors like NIO, XPeng or Tesla are at on the global scale, and more focused on the job they have on hand – which is to serve the mobility needs of families who have chosen LI. This strategy has worked out for LI so far; the company has already reported positive cash flows from operations in 2020, just one year after making their first delivery. And the likelihood of breaking profits by the end of this year is high based on their increasing deliveries made to date.
At the end of the day, NIO and LI, although both competing in the EV industry, operate different business models with different long-term goals. On one hand, there is NIO who is looking to compete with globally recognized EV and tech names, and dominate the industry. On the other hand, there is LI who is committed to perfecting their art and capturing the loyalty of those who value their efforts. Based on our financial forecasts and valuation, both companies have a promising outlook and are currently reasonably priced for investors looking for a long-term hold. However, NIO's developed EV infrastructure and established technology achievements creates a network that is no match for LI; this makes us believe that the former has a much higher growth potential than the latter. If I were a looking to purchase a premium electric SUV, the Li Xiang ONE has definitely captured my interests; however, as an investor, my long-term bets are on NIO.