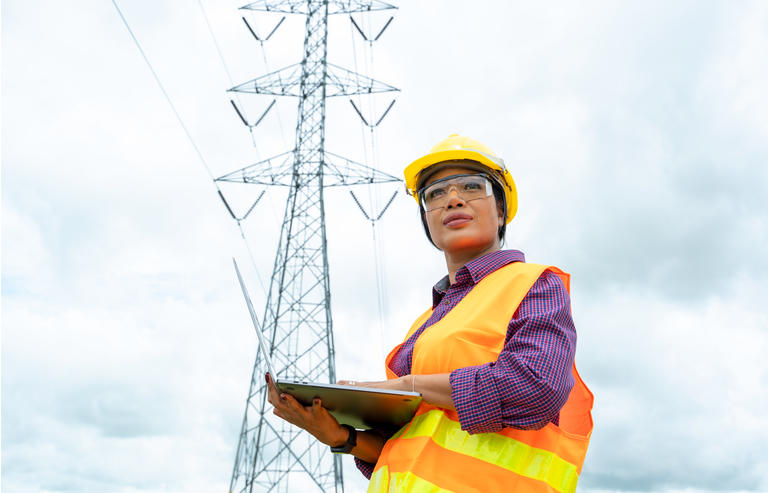 Genie Energy (NYSE:GNE) had a record first quarter in revenue, despite setbacks from the Texas winter storm. On an adjusted basis, the company would have income from operations and Adjusted EBITDA. The company has an attractive value chart with limited downside risk and much upside potential, as it is trading well below its 5-year highs of $11.80. We think that this company can easily recover to that level.
The company has net cash of 25% over the current market cap, with no debt. It also has FCF yield of 7% on our FY2021e and 9.4% on our more steady-state FY2022e. Furthermore, the company has a 11.9x P/E on FY2021e and 9.9x P/E on FY2022e. The company has strong valuations. It has also been growing rapidly over the past few years. The company's revenue CAGR of 12% over the last 5-year period is attractive. EPS has been more volatile, but lately in the last few fiscal years, it has found its footing and has been gradually increasing at a steady and encouraging pace.
We firmly believe that Genie's domestic business will be a strong growth driver to push this stock forward for the remainder of the fiscal year and beyond. They have had strong top-line growth, with the international business really spiking as well. Just look at their growth for each of their operational segments, both domestic and international [explained in further detail in the next section] below:

Source: Press Release [Domestic – Right, International – Left]
4 Operational Segments; US Domestic Business Segment is 81% of Revenues
Genie Energy is a global provider of energy services that, through various subsidiaries and other ventures, supplies electricity, and natural gas to residential and small business customers in certain portions of the United States, Europe and Asia.
The company owns 99.3% of its subsidiary, Genie Energy International Corporation (GEIC), which owns 100% of their domestic business Genie Retail Energy (GRE) in the US, 100% of Genie Retail Energy International (GREI), 100% of Genie Energy Services (GES) and 97% of Genie Oil and Gas, Inc. (GOGAS). Given below, are the descriptions of each of these business segments [in the same order], including the type of customers and geographic locations they serve –
1] GRE owns and operates Retail Energy Providers (REPs). GRE's REP businesses resell electricity and natural gas to residential and small business customers. The majority of GRE's customers are located in the Eastern and Midwestern United States and Texas. GRE contributes approximately 81% of total revenues that Genie Energy makes [see business segmentation in next section], which shows that US markets are the strongest contributor towards company's top-line. That is why the Texas storm had a more negatively skewed and pronounced impact on the company's financial because they have more residential and small business customers here in the US than they do elsewhere.
2] GREI holds the company's REPs that serves retail customers in the United Kingdom under the name Orbit Energy and in Japan (Genie Japan). Japan was also hit by a cold snap, which affected top line, but the overall impact was minorly felt due to the volume of retail customers and business being relatively slim in the region. Furthermore, GREI holds a 92.5% controlling interest in Lumo Energia Oyj (Lumo Finland), a REP serving residential customers in Finland and 100.0% of Lumo Energi AB (Lumo Sweden), which serves retail customers in Sweden. GREI contributes 13% towards total revenues.
3] GES subsidiary is the solar energy vertical of the company. The company has taken significant strides to invest and further explore this space in the last couple of years. It has a 60% controlling interest in Prism Solar Technologies (Prism), which is a solar solutions company that is engaged in solar project marketing, solar solutions consultation, installation design and project management services. GES contributes 6% towards total revenues.
4] GOGAS subsidiary has concluded its oil and gas exploration operations and is winding down its remaining operations. Its latest exploration project in December 2020 yielded no traces of oil for commercial development, and therefore this business is ramping down its operations.
Business Disaggregation: United States 87%, International 13%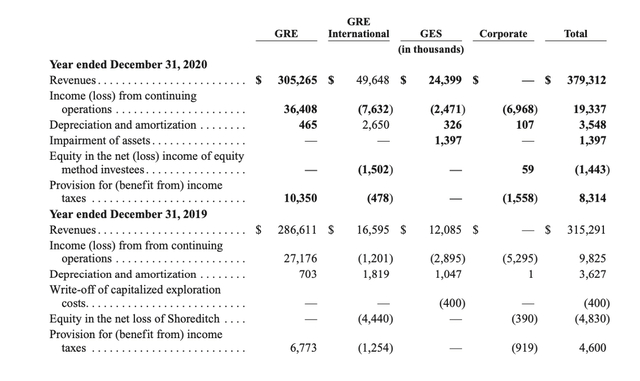 Source: 10-K
These can be further combined into revenue by region:

Source: 10-K
First Quarter Results: Record Revenue Despite Winter Storms
Genie reported very weak first quarter loss that was in-line with what was expected by company management in the previous fourth quarter. They reported record revenue of $135 million which was strong, there was nonetheless a loss per diluted share of $0.09 for the first quarter 2021. This quarter was impacted by severe one-time weather events, namely the Winter Storm Uri that occurred in Texas and a similar cold snap event that took place in international locations in Japan. These separate incidents that occurred in both regions had an aggregate negative effect on income of ~$15.5 million. The Winter Storm Uri in Texas had the most impact of $13 million. The company remains hopeful that prospective legislation, regulatory changes, and/or litigation will provide material relief and compensate for the losses made this quarter.
Adjusting for this quarter's losses the company would have broken even more records for their financials. Their meter and RCE [residential customer equivalents] counts continued to climb, and adjusting for the Texas storm's impact, their domestic [GRE] business would likely have achieved record income from operations and Adjusted EBITDA.

Source: Bloomberg Terminal [Sequential Data]
Genie Energy achieved record first quarter revenue. Our meter and RCE counts continued to climb, and absent the Texas storm's impact, our domestic business would likely have achieved record income from operations and Adjusted EBITDA. Additionally, Genie Renewables, formerly Genie Energy Services, continued to expand into higher margin solar solutions offerings and delivered its highest level of income from operations to date.

After overcoming the challenges of the first quarter, we are well positioned for strong cash generation and continued growth as we look ahead to the balance of the year and beyond. Across our business, the best is yet to come.
Strong Net Cash: 25% of the Market Cap
Genie Energy has a strong net cash position of $1.60 per share [including marketable securities], which over the stock price, represents a very healthy 25% net cash position. Importantly the company has no debt, and this cash position of $42 million can easily cover the damages caused by the winter storms of $15.5 million. We are highly hopeful given Genie's robust net cash position, that the attractive dividend that the company has temporarily suspended will be issued once again shortly.
Suspension of Dividend: Likely to be renewed on strong cash balance
In light of the Winter Storm Uri and slight impacts in Japan caused by cold snaps, the company has decided to put a pause to their 5.4% dividend.
The company has a strong net cash position of $1.60 per share, as aforementioned, which represents 25% of the stock price as of 1QFY2021. This shows that the company still has a robust cash on the B/S, and is in handsome position to renew its dividend once again by FY22.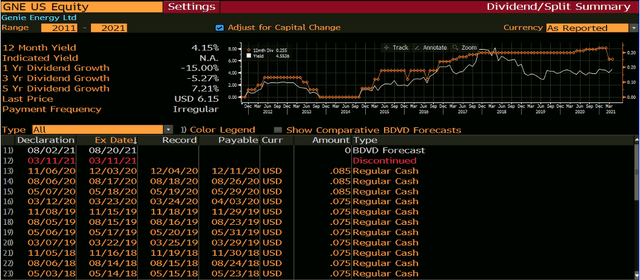 Source: Bloomberg Terminal
Covid-19 Impact
Covid-19 came to benefit the company in some ways, and disadvantage it in others. Genie Energy's customers are predominantly residential, so the company benefitted from increased demand for electricity as many customers are working from and spending more time in their homes.
Price Target and Valuation
At today's price of $6.52, on FY22 estimates, we have a P/E of 9.9x and FCF yield of 9.4%.
Genie Energy has not reached its 5-year highs seen in mid 2019 of ~ $11.80 [currently it is only trading at $6.52]. This is one reason why Genie Energy is an attractive investment – because it is trading well below previous highs which creates potential for more upside. Genie Energy is currently trading at -45% below its 5-year high, and this is an attractive quantitative data point to take into consideration.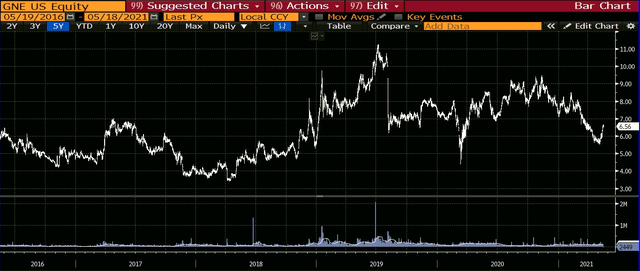 Source: Bloomberg Terminal [GNE 5-year chart]
Our price target is $9.90, based on our FY06/2022 estimates, representing 52% upside. At a price target of $9.90, we value Genie based on a P/E of 15.1x and FCF yield of 8.9% on our FY22 estimates.
To arrive at our price target of $9.90, we used a P/E of 15x for the FY22 based on our estimates. We are pretty conservative and accurate in our approach as the P/E has been around that level in the past 3-years, discounting the aberrations seen early on when Covid-19 hit [see Bloomberg data below]. For the FY22, we have an EPS estimate of $0.66. Now comes the calculations part.

Source: Bloomberg Terminal
Multiplying both P/E of 15x to our FY22 estimated EPS of $0.66, we were able to arrive at a price of $9.90 which is 52% upside.
Conclusion
We think Genie has strong and growing fundamentals, with a business that would have had a record-breaking first quarter had it not been for the winter storms. The temporary suspension of dividends came to the dismay of investors who could have picked a decent return on the attractive yield that Genie was offering. However, we are optimistic that the dividend will return soon, and this will lead to a spike in the stock price. The company easily has the financial clout to return capital to shareholders in an appealing way, with 25% net cash and ~9% FCF yield estimates. This, with 5-year revenue CAGRs of 12%, along with a low P/E, makes Genie worth the investment and a stock that could reach its prior 5-year highs. If the company does receive some favorable compensation from the Texas government, the stock would likely see an immediate upside bounce. We see upside of 52% and favorable risk-reward.