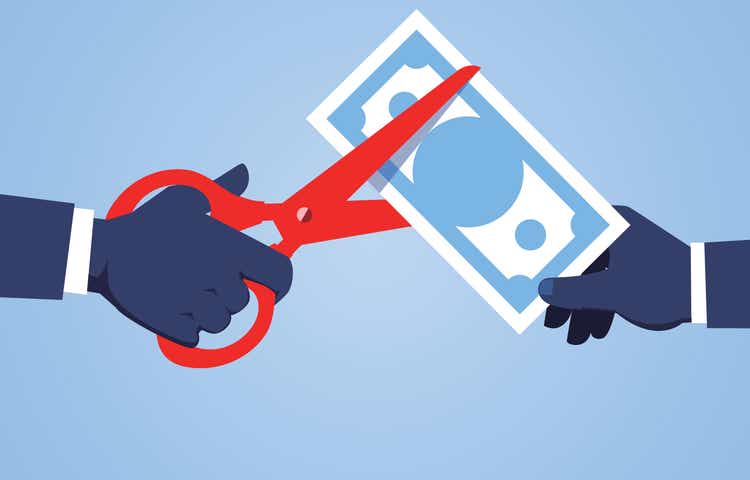 For quite a while, market insiders have made the joke that AT&T (NYSE: T) works as one of the "best bond trades" that are available in the market for income investors. Of course, these facetious comments would usually be made when describing the fact that shares of AT&T would offer great yield opportunities - but very little to speak of in the way of appreciation in share prices. Of course, this is why many income investors were content and willing to wait (for literally decades) for a favorable long-term outcome for their positions.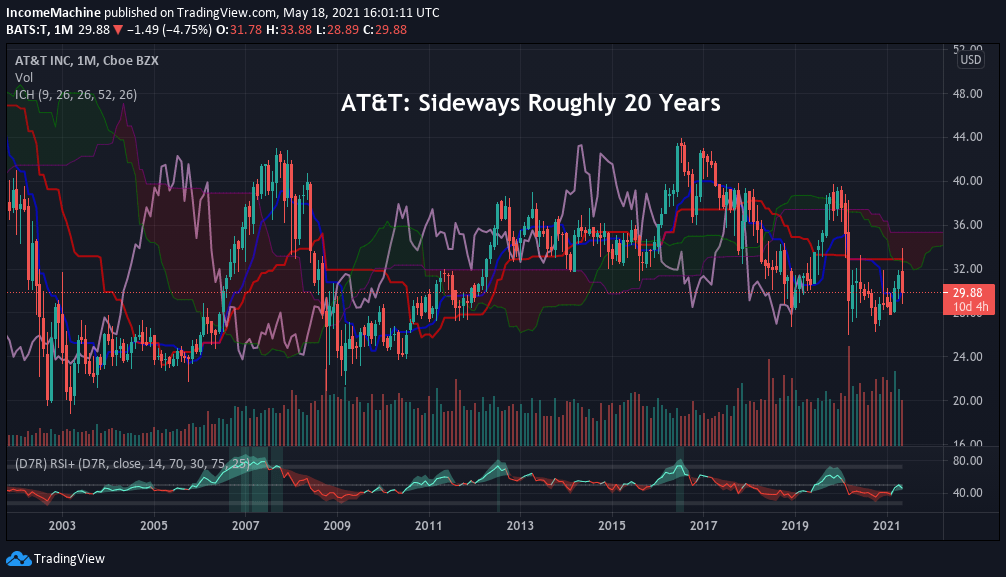 Chart Analysis: The Income Machine
In our previous article commentary on AT&T, we highlighted some of the risks income investors could encounter while holding long positions in the stock. Since then, we have received the bombshell news that the company will now reverse course in its efforts to rebuild the Time Warner media brand and design a spin-off for AT&T's WarnerMedia division that will include a merger with the Discovery media brand. Almost inevitably, this move will lead to a certain level of consternation from analysts arguing that this is a decision that will take income investors off-guard and lead to unexpected volatility in the stock.
Essentially, investors must understand that this is a move that will create a new media juggernaut that will join entities like CNN and HBO with Animal Planet, TLC, HGTV, and the Food Network under the same platform. In many ways, this relationship does seem as though it could become a natural partnership that generates many positives for both sides. However, the market reaction to these events hasn't been one that most income investors would characterize as "sanguine."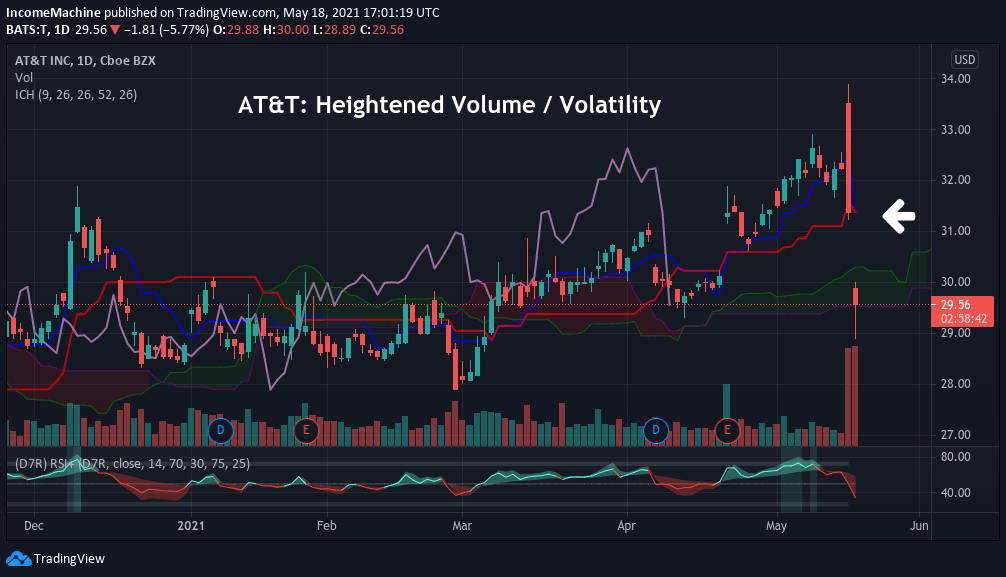 Chart Analysis: The Income Machine
As we can see in the above chart, share prices have already gapped lower and the stock has dropped -14.7% after reaching its post-announcement highs on May 17th. Looking at the way the story has been covered by the financial news outlets, perhaps it's not surprising to see that investors have made an impulsive reaction to sell the stock and this added selling pressure that already sent the stock to new lows below the $28.90 level.
Of course, what all of this does to the generalized concentration of news outlets currently available for consumers could be another story entirely. What might be most striking about the long-term prospects for this deal is that it works in line with the mega-merger mentality that has become quite prevalent over the last few years.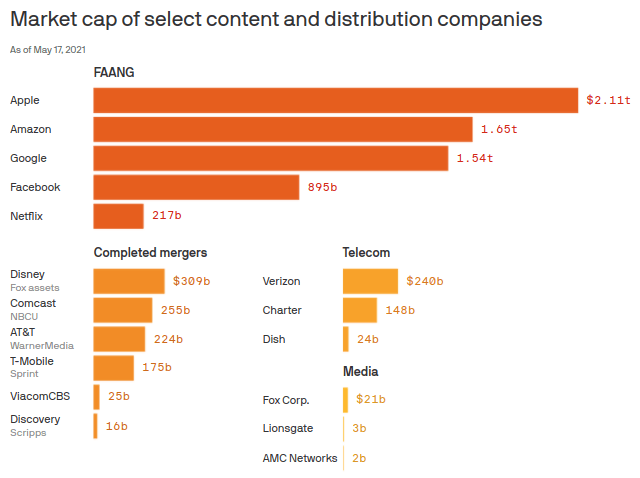 Source: AXIOS
As an indicator of "big media getting bigger," we can see that the total market cap of the world's top companies has swelled to levels that might have seemed impossible just a few years ago. Is that, alone, a reason to sell? Some activist investors might think so.
However, it appears unlikely that a widespread political objection to AT&T stock based on these grounds is likely to overcome the dominant trends facing income investors in the current market environment. Consensus expectations for interest rate levels in the United States suggest that opportunities for yield are likely to remain challenging for an extended period of time.
Overall, the bad news is that we can no longer expect to lazily ride the income "gravy train" to excessive yields of +6-7% by enacting a simple buy-and-hold strategy for shares of AT&T. But the good news is that there might now be some actual volatility in share prices that will allow income investors to properly manage their positions and exit at the right levels.
Ultimately, this means investors should not impulsively sell AT&T stock based on the temporary market reactions currently influencing sentiment in the market. If we look more closely at the short-term charts, we can actually see that the initial market reaction was favorable for AT&T share prices.
Of course, those moves did reverse later and the total market reaction should be viewed as negative overall. However, the main idea is that we have already seen two-way investor activities and this erratic behavior has not yet fully resolved itself with respect to the stock's dominant price trend.
For all of these reasons, we think that AT&T should now be viewed as a different type of stock that is catered to meet the needs of a different type of investor. In other words, AT&T is no longer a stock that should be placed into the "hold forever" category. Rather, this is now a stock that will be expected to produce gains in share prices that can match what is found in the broader market.
When this does not occur, income investors will be forced to look elsewhere and, given the limited competition that we can see throughout the U.S. telecommunications industry, the stock alternatives tend to make themselves glaringly obvious. However, income investors who are looking to maintain long positions in AT&T will need to set clear price targets and spend more time with a focus on actively managing the position.
Remember, share price appreciation will now be an absolute requirement in order to maintain a positive stance on the stock because the possibility of an upcoming dividend cut will almost certainly bring new volatility in share prices.
In our view, recent events are not negative enough to warrant a complete exit from the AT&T position in our fortress dividend portfolio. Restructuring of the company should bring a more competitive focus back to the company's efforts in 5G and the reduction of debt could improve the balance sheet enough to free the stock from its multi-decade sideways/negative trading range.
Overall, we will remain long the stock until we see better evidence that this largely unexpected merger deal is actually causing a problematic impact on AT&T's upcoming earnings prospects during the second half of 2021.
Community Announcement
We are proud to announce the upcoming launch of our new Seeking Alpha marketplace: The Income Machine.
Our community will provide tactical strategies that generate high levels of retirement income in addition to a specialized selection of high-probability technical trading ideas that are backed by solid fundamental analysis.
At its core, this combined portfolio approach gives investors an option to manage investment portfolios in ways that can be passive or active in nature (depending on each investor's unique investment goals). Click here to read more and get involved in our community!