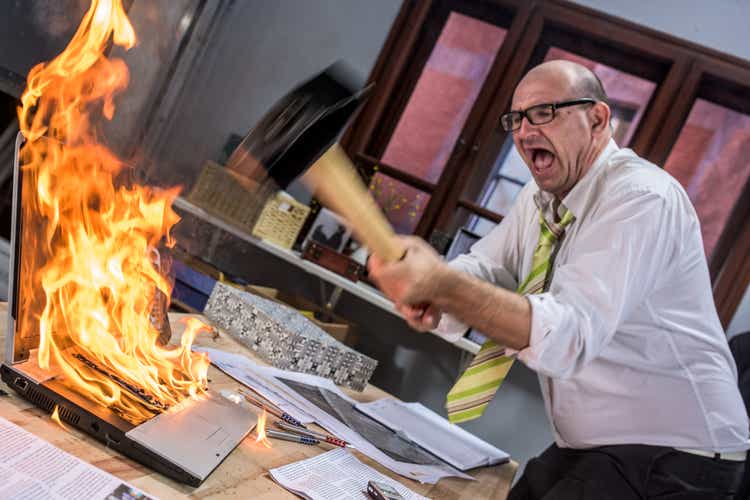 A dividend cut as a sign of hope
Dividend cuts often present massive opportunities for value investors. A rather unsophisticated shareholder base which only looks at its quarterly payouts frequently ignores the long-term benefits of a smaller payout and sells the stock in anger, taking the valuation down to rather unreasonable levels.
Following the WarnerMedia divestiture announcement by AT&T (NYSE:T) and Discovery (DISCA) (DISCB) (DISCK), it actually took a while until dividend hunters understood that the deal implied a dividend cut of about 44%. In fact, at first, the stock traded higher upon the announcement and managed to close roughly flat a few hours later. But as the news spread, it was hard to find any positive comments on the deal by an AT&T shareholder.
As a note aside, reading those comments by AT&T shareholders, I wonder why they were holding the stock in the first place: If everything your company does is a bad deal, you should expect not only a dividend cut, but another decade of massive underperformance.
Finally, Jim Cramer outright told the crowd to sell the stock:
Cramer said it's time to sell AT&T stock because they are cutting their dividend in half. Cramer also said "the Discovery-WarnerMedia combination should never have been made in the first place."

"AT&T is up which gives you a chance to reposition if you want yield," he added.

Cramer also said, "I think Discovery is too low given the fact that they have this great asset.
There are a few notes to make on this statement:
First, if buying WarnerMedia was such a bad deal, the stock was a sell before the Discovery transaction - not afterwards, since the transaction implies sizeable benefits for AT&T.
Second, if Discovery is trading too low, AT&T should benefit from a revaluation, too, since it will own 71% of the future business combination.
But these considerations are probably much too subtle for the desperate DGI crowd, hence yesterday, the stock crashed almost 8% at the open to just under $29, for a market cap of $210B and an EV of $370B. Since AT&T guides to at least $20B of free cash flow after the transaction from the sole legacy business, this implies a valuation of just 10x FCF. The spin-off will come on top of that.
Implications of the transaction
Following the deal, fundamentals have actually improved:
AT&T becomes a pure-play bet on 5G and its many positive implications for the telecom sector.
WarnerMedia gains much larger scale, stellar management, and becomes a valid Netflix (NFLX) and Disney (DIS) competitor.
Other suitors for WarnerMedia might emerge and AT&T could get an even higher price for the asset (which is why buying Discovery here carries some risks).
Leverage at AT&T will shrink massively.
AT&T will be able to grow the dividend thanks to greater financial flexibility. Through buybacks and growth investments, the company targets EPS and dividend growth in the mid-single-digits, which should lead to a higher trading multiple for the stock.
Since AT&T basically sells 29% of WarnerMedia for $43B in this transaction, the entire WarnerMedia business is valued at ~$148B, of which ~$65B will be debt, so the equity should be worth around $83B.
Hence, buying T today for ~$29 gets you
a stake in the legacy telecom business with a future yield of ~$1.16.
a stake in the future WarnerMedia - Discovery business with an implied valuation of ~$8/share (71% of $83B divided by 7.2B shares outstanding).
dividends totaling ~$2 until the transaction closes.
Fast forward two years from now, the new media company should have the wind in its back, given its much improved competitive position, massive $3B synergy and growth potential, stellar management, and the sudden simplification of its corporate structure (no trackers anymore, no super-voting stock). So, I would expect it to trade at least for $8/share.
In the meantime, AT&T will finally have moved beyond being a zero-growth business. Since it will have very sustainable leverage and about $12B of free cash to spend every year beyond dividend payouts on growth initiatives or buybacks, the market will expect it to embark on a GDP+ growth trajectory. This is very likely, given the huge 5G potential and the rather rational competitive environment.
Hence, AT&T is likely to trade for a ~4% yield, i.e. for ~$29.
Overall, within two years, I expect a return of $29 (legacy T stock) + $3 (two years of dividends) + $8 (WarnerMedia - Discovery value) = $40.
This represents a 38% return on today's price.
In other words: Buy AT&T, get WarnerMedia for free. Plus decent dividends.