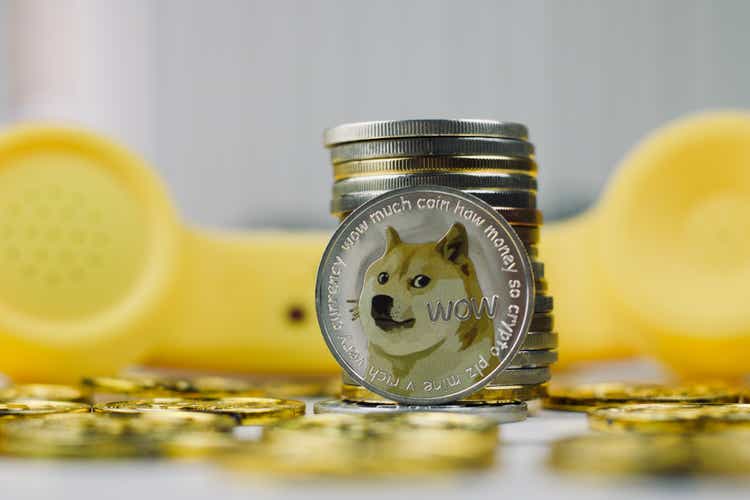 Dogecoin (DOGE-USD) is a meme cryptocurrency with no inherent value, and the market capitalization is not sustainable.
Once the hype and euphoria surrounding the cryptocurrency fizzle out, a lot of people will end up holding a worthless coin and lose a lot of money.
Meme cryptocurrency
Social media is powerful.
It is so powerful that the right posts and Tweets at the right time can move markets and get large amounts of people to believe that something utterly worthless is valuable. And that is where Dogecoin must be introduced.
Dogecoin was started as a "joke" in 2013 by software engineers Billy Markus and Jackson Palmer who put the image of a Shiba Inu dog on the coin. The cryptocurrency didn't go anywhere for years and traded at a fraction of a cent for much of its existence.
However, as cryptocurrencies became more popular, Dogecoin started to attract a passionate following. Crypto fans created a community around the dog-memed Dogecoin, and this community has driven up Dogecoin's price significantly this year. Parallels to the Reddit-driven GameStop (GME) hype earlier this year are undeniable.
In 2021, Dogecoin continued to surge to new highs based on supportive Tweets of billionaire Elon Musk who named himself the "Dogefather". Occasional Tweets from Elon Musk, who heavily supported the Dogecoin meme, introduced the cryptocurrency to millions of people. This created more and more interest in the cryptocurrency.
Dogecoin's price soared more than 12,000% in 2021, and the meme cryptocurrency eventually hit a market capitalization of more than $90b. That is $90 billion!… Or twice the market capitalization of Ford (F) which produces cars and writes quarterly reports that investors can analyze.
Dogecoin buying frenzy even caused the Robinhood app, which is very popular with millennial investors, to crash.
Elon Musk's appearance on Saturday Night Live earlier this month was expected to bring another boost to Dogecoin by introducing the cryptocurrency to a larger, more mainstream audience. Dogecoin's price surged before Elon Musk's debut on SNL, and the meme cryptocurrency reached a market valuation of almost $100b right before the show.
This put Dogecoin in the top five cryptocurrencies based on market capitalization.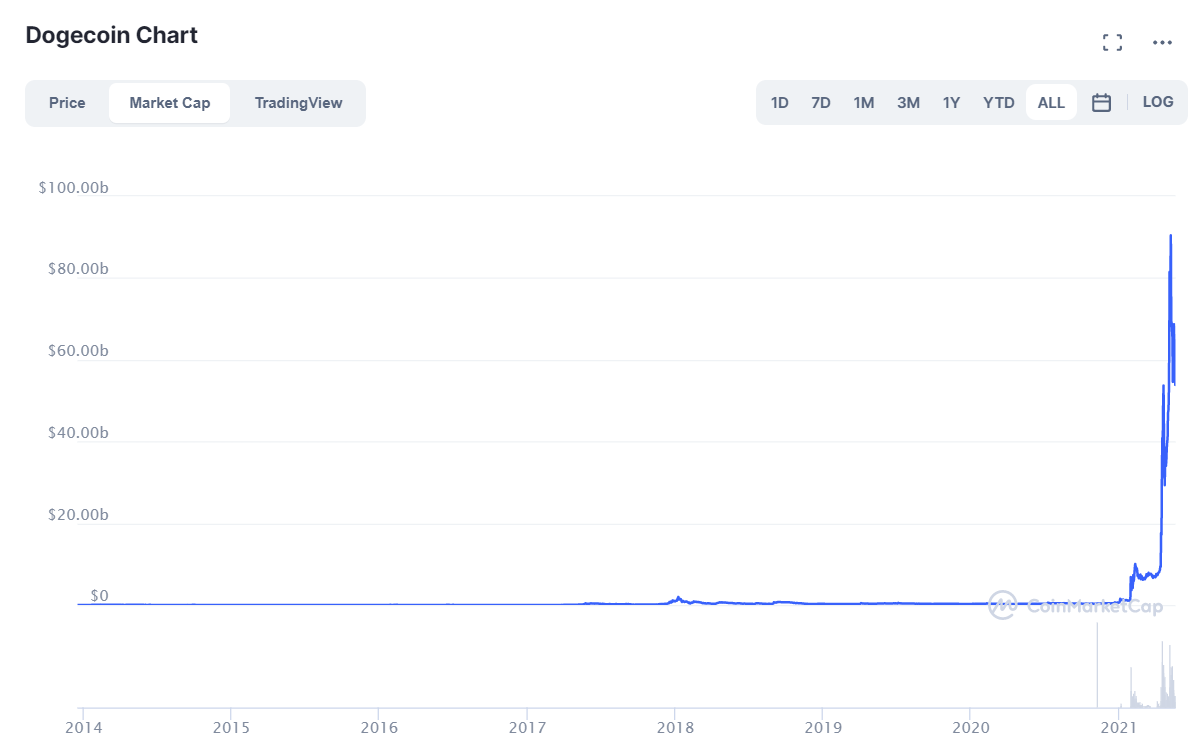 (Source: Coinmarketcap)
Dogecoin's price soared to $0.7442 before the show, marking an all-time high, but the rug was soon pulled from under the currency as Elon Musk made his appearance.
Instead of surging further, Dogecoin immediately plummeted 30% after Elon Musk called the cryptocurrency a "hustle" instead of giving a more serious endorsement of the cryptocurrency.
Dogecoin now trades at $0.42 and has a market capitalization of $54.3b. It is ranked as the 6th largest cryptocurrency by this standard.
Five stages of a bubble
All bubbles progress in stages.
The first stage usually involves something like a paradigm shift. A new technology emerges (like blockchain) that is seen as revolutionary.
In the second stage, niche interest slowly goes mainstream. Prices increase slowly and spike occasionally. More and more people get in on it. Search volume goes up, and so does buying volume.
In the third stage, the niche fully explodes into the mainstream. It is no longer just an "asset" that only die-hard fans want to buy. Euphoria and frenzied buying take place. Singular events, like Elon Musk's SNL performance, make worldwide headlines. Prices spike to all-time highs.
In the fourth stage, euphoria wears off, and the bubble deflates. People that bought early take profits and offload their holdings to the next person. Prices are subject to extreme volatility. Trading may be halted. Once the bubble deflates, it cannot inflate again.
In the fifth and final stage, panic selling and fear set it. Prices decline rapidly as everybody heads for the exit at the same time. People begin to realize that their holdings are not much worth anymore. Denial and sadness follow.
What stage are we in?
After the price of Dogecoin has surged more than 12,000% this year and the cryptocurrency meme has gone mainstream, we are possibly nearing the end of stage three of this bubble.
Dogecoin is now trading 44% below its high.
Opportunities and risks
Elon Musk and other celebrity endorsements have a big influence on Dogecoin's price. The passion of the online community should also not be underestimated. Together, these factors can drive Dogecoin's price a lot higher in the short term. So can additional Dogecoin listings on other cryptocurrency exchanges.
Longer term, the value of Dogecoin will, more likely than not, go to zero as the cryptocurrency is not producing or creating anything, and hypes eventually just fizzle out.
Dogecoin and other cryptocurrencies also face serious regulatory crackdowns, worldwide. China is cracking down on cryptocurrencies again and warning financial institutions to not offer crypto-related services.
It is also questionable if a cryptocurrency with 20-30% daily volatility is a good place to "store value". If that is the requirement, then an "asset" with less price volatility may be a better place to store money.
Closing thoughts
Dogecoin is a meme and a meme only.
Dogecoin has no inherent value, and it is not backed by any assets or production of any kind. Prices are only driven by social media hype and the hope that these dog-memed coins can be sold at a higher price to someone else tomorrow.
All hypes end. When this hype is over, people will look back on Dogecoin and wonder how wealth could have ever been created out of nothing.