This article was first released to Systematic Income subscribers and free trials on 30-Apr. - any pricing is as of that date.
PIMCO announced a proposed merger of Dynamic Credit and Mortgage Income Fund (PCI) and Income Opportunity Fund (PKO) into Dynamic Income Fund (NYSE:PDI) late on the 29-April and the vote is expected to take place on 28-July. The merger of PKO into PDI is contingent on the PCI merging with PDI. This makes sense as PKO is a much smaller fund so PIMCO don't want to go through the trouble if they can't get PCI merged first.
CEF mergers have been coming left and right from managers like BlackRock, Nuveen, Guggenheim, Apollo, and others. So on the one hand we shouldn't be very surprised to see an announcement from PIMCO.
The three funds have roughly comparable holdings. The biggest differentiator in taxable credit PIMCO fund allocations is the amount of the portfolio allocated to non-agency RMBS securities. Apart from PCM, which is heavily overweight the sector, the 3 funds have relatively high allocations - more than the rest of the suite so from a pure allocation perspective a merger is not a crazy idea.

Source: Systematic Income CEF Tool
Another reason to merge these three funds is due to their lack of preferreds which would otherwise complicate the merger process. It's true that a number of other funds also have no preferreds (PCM, PDO, RCS, PGP) but it would make less sense to merge with these funds. PCM is a USD-focused fund with a much higher non-agency allocation. PDO was just recently launched so it would be odd to merge it right off the bat. And RCS and PGP have much more idiosyncratic allocations in agencies and equities, respectively.

Source: Systematic Income CEF Tool
Finally, our "Closest CEF" metric in the subscriber CEF Tool, which is calculated using the trailing NAV return correlation, shows that PKO actually behaves the closest to PCI and PDI within the entire CEF space.

Source: Systematic Income CEF Tool
On the other hand, the merger is a bit unexpected for the following reasons.
First, you tend to see mergers between funds that are much smaller in size than funds like PCI ($3.4bn on net assets), PDI ($2bn), and PKO ($560m) as well as smaller funds into larger funds. The merger into PDI is likely due to the stronger historic returns of the fund which will remain with the fund post-merger.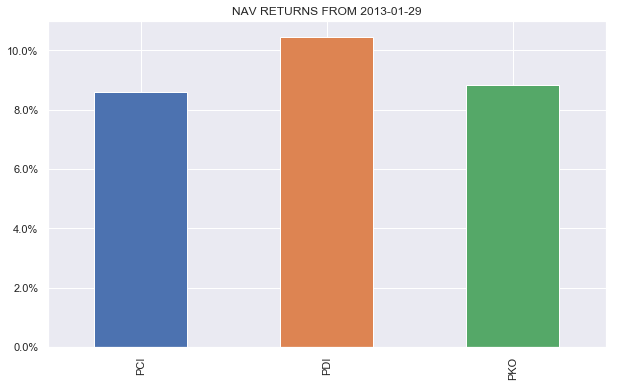 Source: Systematic Income CEF Tool
Secondly, PCI, itself, has almost become a brand name in itself, given its strong historic returns and large size so it's odd for PIMCO to throw it overboard. It's true that the fund stumbled (relative to the broader taxable PIMCO suite) over the last couple of years, primarily, due to the COVID crash and its deleveraging which we discussed in detail but surely, that's not a reason to have it walk the plank and, in any case, PDI is not exactly killing it either in the suite over the same timeframe.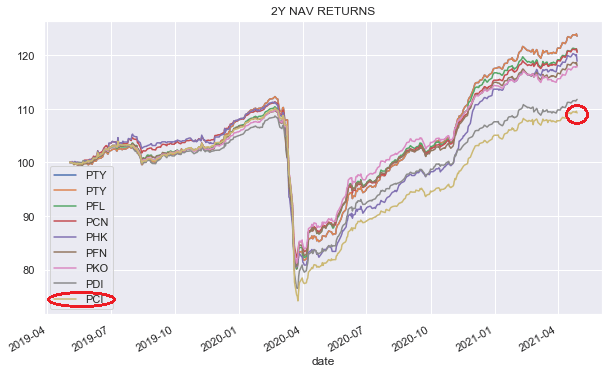 Source: Systematic Income
Thirdly, a merged fund will be around $6bn in net assets (around $10bn in total assets). Given that it plays in the less liquid non-agency RMBS space, is it possible for it to become simply too big? It's hard to say - the merged fund's larger size may make it difficult for it to be nimble in markets and/or allow it to find small/niche opportunities. On the other hand, its larger size may allow it to be a price maker rather than a price taker, in effect, allowing it to behave like a bank trading desk, providing liquidity to smaller investors and capturing the bid/offer spread. It's not obvious how strong this effect will be since the taxable suite likely allocates as a larger entity anyway rather than as standalone funds given that it shares fund managers.
A major concern is a situation of a forced deleveraging which may be tougher to manage for a larger fund as it would have a greater amount of assets to sell. PCI did have a particularly bad deleveraging in 2020 relative to other PIMCO funds, which explains its NAV underperformance over the last one and two years but a lot of that was likely due to its highest leverage in the suite entering the COVID crash. One way for the merged fund to address its larger size is simply to run at a lower leverage, however, this would also have a dampening effect on the amount of income it would be able to generate for investors.
The Pros and Cons
So the key question is - is the merger good for shareholders? There are a couple of factors worth considering. First, the merged PDI will enjoy a slightly lower management fee - a discount of 0.05%. PCI and PDI have the highest fees in the suite at 1.15% (fees range from 0.65% to 1.15%) which makes it a good deal for PCI shareholders. It's less an obviously good deal for PKO shareholders whose management fee will rise by 0.04%. To manage this, PIMCO will wave 75% of the PKO management fee for two months. This is equivalent to 20 months of the step-up in the fee of the merged PDO. In other words, after 20 months, PKO shareholder management fees will cumulatively exceed the pre-merger level.
Secondly, we may expect smaller fixed cost fund expenses in the merged fund though this isn't guaranteed.
Thirdly, it may enjoy the price taker benefit discussed above.
Fourthly, PDI has historically traded at an elevated premium which may be due to its stronger historic return.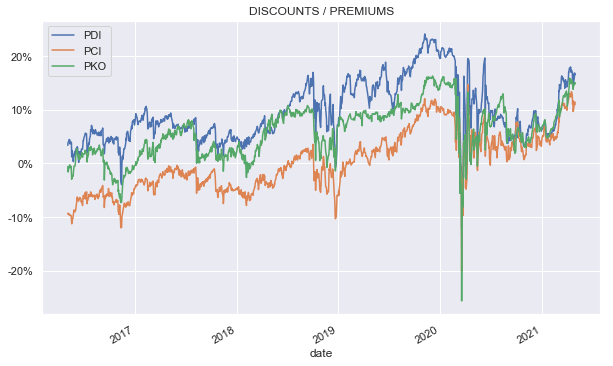 Source: Systematic Income CEF Tool
This suggests that PKO shareholders, in particular, may benefit from this "stronger brand" in the form of a higher premium going forward. To be fair, the premium differential between PDI and the other two funds has compressed so it's less of a slam dunk today.
Fifthly, investors who allocate to both PCI and PDI (and possibly PKO) for the benefit of "diversification" would no longer have the illusion that they are diversified as they would only hold PDI. Of course, they could move out into other PIMCO funds but the diversification argument is slightly stronger if you are holding, say, RCS and PDI, than if you are holding PCI and PDI.
That said, it's possible to make an argument that some PKO shareholders won't like the merger. PKO currently trades at a larger premium than the net asset-weighted merged PDI (due to the large weight of PCI and its lower premium) so its premium may even underperform into the merger i.e. it won't benefit from any PDI halo effect.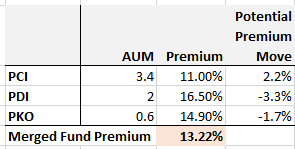 Source: Systematic Income CEF Tool
Secondly, PKO has a higher leverage and a lower management fee of the three funds. All else equal, this means the fund is able to generate a higher income than the two other funds.
Thirdly, some investors may not want to overweight non-agency RMBS. The merged fund will have a 12% higher non-agency RMBS allocation than PKO has currently and so will behave less as a broad multi-sector credit fund and, possibly, offer less diversification.
Fourthly, PKO has the lowest NAV distribution rate which means its distribution rate is less vulnerable to a cut than either PCI or PDI. A scenario where PDI is forced to cut earlier than PKO would have had to is certainly feasible. Such a scenario would disappoint PKO investors who would have "gotten into" PDI at an elevated premium only to see it move lower after a cut. We're not forecasting a PDI cut but this scenario is not a crazy one.
One option for PKO shareholders to consider is to vote for the merger, take advantage of the two months of subsidized fees and then jump into a fund like PDO, which trades at a much cheaper valuation and has a comparable allocation to non-agency RMBS.
Finally, and this affects both PCI (in particular) and PKO shareholders but fewer funds do certainly rationalize the allocation process for investors who have to spend less time thinking which fund to allocate to. As we have discussed many times, figuring out which fund's discount valuation is "the best" is actually quite hard and requires investors to know the management fees, leverage levels, and leverage costs not only of the fund itself but its comps also. Picking funds with the widest discount or lowest premium may not always make sense, particularly not in the PIMCO suite which boasts very different fee and leverage cost structures.
On the other hand, having fewer funds means fewer opportunities for relative value trading. A number of investors we know have historically added at least a few percentage points in annual returns on average by rotating among the PIMCO funds and having fewer funds at their disposal will, no doubt, hamper their future returns.
Takeaways
PIMCO has joined the fray and proposed a merger of PCI and PKO into PDI. Overall, the merger is, on balance, positive for buy-and-hold PCI shareholders. However, PKO shareholders may want to consider the pros and cons carefully. Tactical investors are also likely to find the merger very unappealing as it will decrease the potential to generate alpha through relative value rotations.