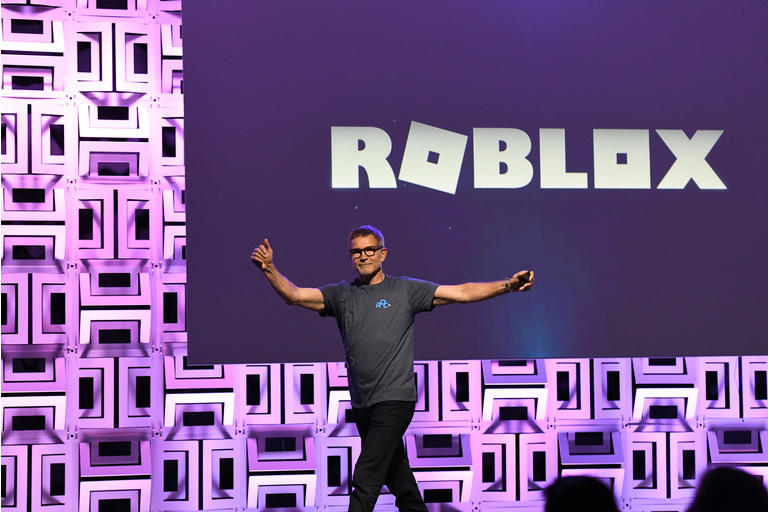 Investment Thesis
Roblox (NYSE:RBLX) is a social gaming marketplace platform that connects gamers and developers. Through its global community of 8 million-plus developers, Roblox provides immersive gaming experiences that are shared by millions of gamers. In 2020, mobile gaming platforms like Roblox saw explosive growth in revenue as users flocked to these platforms during coronavirus-enforced lockdowns. A year of bookings stagnation awaits Roblox as demand for mobile gaming normalizes. However, AR/VR is just getting started, and the company has a long growth runway due to the large size of its TAM. Roblox is a free cash flow generation machine, as we will learn in this article, but the current valuation is a little too steep considering the weak guidance for 2021.
Here's our investment thesis for Roblox:
Roblox is a platform that enables users to enjoy millions of immersive 3D experiences (primarily games). Like YouTube, Roblox's content is user generated. Today, Roblox has more than 32M daily active users and 8M+ developers on its platform.

Right from its inception in 2006, Roblox has been led by its visionary founder - David Baszucki. His vision for social gaming and shared virtual experiences is the driving force behind the company's admirable success.

Roblox is a highly profitable business that's growing like a weed at scale. In 2020, Roblox's business was boosted by the coronavirus pandemic as mobile gaming saw exponential growth. However, the rise in mobile gaming is a secular growth trend. Furthermore, AR/VR technology is set to go mainstream over the coming years, which will likely help Roblox drive future revenue growth.

The Roblox platform is powered by advanced proprietary technology. Developers create content using Roblox Studio, and consumers (gamers) access this content through Roblox Client (interface to 3D digital worlds). Money is made through the sale of Roblox's virtual currency - Robux, which players use to make in-game purchases.

For 2021, Roblox is expecting revenue to grow from $923M to ~$1450M. However, the bookings are projected to rise by just 10% year-over-year (near-stagnation), and free cash flow is set to decline too. The company is well capitalized, and it's already free cash flow generative, so I do not foresee any significant dilutionary events for Roblox.

During the recent correction in high-growth tech stocks, Roblox has surprisingly held on to its IPO bounce. There are many great deals out there in the market right now. However, Roblox is not one of them. The stock is trading at a premium of 20% to its fair value. Since the expected returns for Roblox is less than BTM's investment hurdle rate, I rate it hold at $70.

Roblox is a great company, which I would buy on dips. At BTM, we will initiate a starter position below $60 (if we get such an opportunity). For now, Roblox is being added to our primary portfolio as a hold.
In today's article, we will study Roblox's business in detail, analyze its financials, and determine its fair value.
Introducing Roblox
Roblox is a social gaming platform where an average of 37.1 million people from around the world come to play games with friends on a daily basis. While on Roblox, users can play, learn, explore, and communicate in user-generated virtual realities (games with 3D digital worlds) created by Roblox's community of 8M+ game developers. Roblox terms this emerging category as "human co-experience", which it considers to be the new form of social interaction (and this idea was envisioned by Roblox way back in 2004).
The Roblox platform is powered by user-generated content (like YouTube (GOOG) (GOOGL)) and draws inspiration from gaming, entertainment, social media, and even toys. This emerging category is also referred to as the metaverse - a term often used to describe the concept of persistent, shared, 3D virtual spaces in a virtual universe. I discussed this concept in a note entitled, "Introducing President Mark Zuckerberg."
The idea of a metaverse has been written about by futurists and science fiction authors for over 30 years. With the advent of increasingly powerful consumer computing devices, cloud computing, and high bandwidth internet connections, the concept of the metaverse is materializing.
The Roblox human co-experience platform serves as the underlying technology and infrastructure that supports shared experiences for millions of users, and it consists of the Roblox Client, the Roblox Studio, and the Roblox Cloud.
Roblox Client - The application that allows users to explore 3D digital worlds.

Roblox Studio - The toolset that allows developers and creators to build, publish, and operate 3D experiences and other content accessed with the Roblox Client.

Roblox Cloud - The services and infrastructure that power the human co-experience platform.
Roblox's mission is to build a human co-experience platform that enables shared experiences among billions of users. Since its inception, Roblox has invested heavily in building the Roblox platform, and ~80% of Roblox's employees are dedicated to maintaining, improving, and expanding the platform. The company is constantly improving the ways in which the Roblox platform supports shared experiences, ranging from how these experiences are built by an engaged community of developers to how they are enjoyed and safely accessed by users across the globe.
According to Roblox's S-1 filing, the Roblox platform is differentiated through a number of key characteristics, which are mentioned below (the following are quoted from the company's S-1 linked just a moment ago):
Identity: All users have unique identities in the form of avatars that allow them to express themselves as whoever or whatever they want to be. These avatars are portable across experiences.

Friends: Users interact with friends, some of whom they know in the real world, and others who they meet on Roblox.

Immersive: The experiences on Roblox are 3D and immersive. As we continue to improve the Roblox Platform, these experiences will become increasingly engaging and indistinguishable from the real world.

Anywhere: Users, developers, and creators on Roblox are from all over the world, including North America, Europe, South America, Asia, Australia, and Africa. In 2019, we entered into a joint venture agreement with Songhua River Investment Limited, or Songhua, an affiliate of Tencent, to operate a Chinese version of the Roblox Platform that will be operated and published in China by Tencent under the name "Luobulesi." Further, as of December 31, 2020, the Roblox Client operates on iOS, Android, PC, Mac, and Xbox, and supports VR experiences on PC using Oculus Rift and HTC Vive headsets.

Low Friction: It is simple to set up an account on Roblox and free for users to enjoy experiences on the platform. Users can quickly traverse between and within experiences either on their own or with their friends. It is also easy for developers to build experiences and then publish them to the Roblox Cloud so that they are then accessible to users on the Roblox Client across all platforms. On behalf of the developers and creators, Roblox also provides critical services such as user acquisition, billing, collections, content moderation, translation, safety, regulatory compliance, and customer support. This makes it easier and simpler for even individual developers and creators and small studios to be successful developers and creators.

Variety of Content: Roblox is a vast and expanding universe of developer and creator-built content. As of Dec. 31, 2020, there were over 20 million experiences on Roblox, and in the year ended Dec. 31, 2020, over 13 million of these were experienced by our community. These ranged from experiences that simulate building and operating a theme park to adopting a pet, scuba diving, creating and playing your own superhero, and more. There also are millions of creator-built virtual items, such as hats, shirts, and pants, with which users can personalize their avatars and 3D virtual items, assets, and sounds that creators can incorporate into experiences. Historically, Roblox has also created virtual items with which users can personalize their avatars. Our focus today and going forward, however, is on user-generated content.

Economy: Roblox has a vibrant economy built on a currency called Robux. Users who choose to purchase Robux can spend the currency on experiences and on items for their avatar. Developers and creators earn Robux by building engaging experiences and compelling items that users want to purchase. Roblox enables developers and creators to convert Robux back into real-world currency.

Safety: Multiple systems are integrated into the Roblox Platform to promote civility and ensure the safety of our users. These systems are designed to enforce real-world laws and are designed to extend beyond minimum regulatory requirements.
The revenue growth at Roblox has been driven primarily by significant investments in technology and two mutually reinforcing network effects: content and social.

Source: Roblox S-1
Roblox's platform is powered by user-generated content that's built by an engaged community of developers and creators. As Roblox's developers and creators build increasingly high-quality content, more users are attracted to their platform. The more users on the platform, the higher the engagement and the more attractive Roblox becomes to developers and creators. With more users, more Robux (Roblox's virtual currency) is spent on the platform, which in turn incentivizes developers to build more engaging content for users and attracts new developers and content creators to the Roblox developer community.
The social nature of Roblox's platform makes it special. Roblox's users typically play with friends, and this inspires them to invite more friends to the platform, who, in turn, invite their friends, driving organic growth. A higher number of friends on the platform leads to increased long-term user engagement. Therefore, more and more users join Roblox's platform through word-of-mouth marketing from their existing friends using the platform.
Now that we have an understanding of Roblox's platform, let's see how Roblox's economy functions, in other words, how Roblox makes money:
Roblox is powered by exclusive user-generated games that include personalized avatars. Upon joining Roblox, gamers can personalize their avatars by choosing body types, clothes, and other accessories. To do so, the gamers purchase a virtual currency (Robux) from within Roblox's platform. Game developers and content creators earn Robux through microtransactions in their games, such as selling in-game virtual items and engagement-based rewards. Through Roblox's Developer Exchange Program, developers can exchange Robux for real-world currency. This is how money flows from gamers to developers on Roblox's platform.
The income generated through Roblox empowers game developers (individuals and game studios) to invest in higher-quality content, which attracts more gamers to Roblox. Having enjoyed Roblox, users tend to invite more friends to play on the platform, and this helps game developers attract larger audiences. According to Roblox, many users eventually become developers on the platform, and nearly all Roblox developers started as users. Therefore, Roblox has a robust community and a vibrant economy.
Roblox supports its developer community by providing tools to create, publish, operate, and monetize content (games and experiences). In 2020, more than 1.25M developers earned Robux, and ~4,300 developers qualified for Roblox's Developer Exchange Program, making them eligible to exchange their earned Robux for real-world currency. To qualify for the Developer Exchange Program, the developers need to meet certain conditions, such as:
Earn at least 100,000 Robux,

Verified developer account, and

Account must be in good standing.
In 2020, more than 3300 developers exchanged Robux for real-world currency. According to Roblox's disclosures, 1,250-plus developers earned more than $10K in 2020, whereas 300-plus developers made more than $100K in the same period.
Generally, Roblox users can create an avatar and explore experiences for free after joining the platform. However, the business model for any given game is decided by its developer. Within these free games, users can spend Robux to purchase in-game enhancements and items such as clothing, gear and emotes, from Roblox's Avatar Marketplace. As you may already know, Roblox retains a portion of every Robux transaction and distributes the rest to developers.
Important Note: Robux can only be purchased from Roblox at a price set by Roblox and can only be spent within its platform.
Key Disclosure from Roblox in relation to Robux:
Other than daily and monthly limitations to prevent fraud, there's no cap on the number of Robux that any user or users in the aggregate can purchase. Robux has no monetary or intrinsic value outside of our platform and can only be converted to US dollars through our Developer Exchange Program. We're aware that some users seek to use unauthorized third-party websites to exchange Robux for real-world currency, which is not permitted under our terms of use. We regularly monitor and screen usage of our platform with the aim of identifying and preventing these activities, as well as regularly send cease-and-desist letters to operators of third-party websites offering fraudulent Robux or digital goods offers.

Source: Roblox S-1
Gamers primarily purchase Robux in two ways: 1. One-time purchases or 2. Roblox Premium subscription service. Roblox accepts payments through (Apple's and Google's) app stores, credit cards, and debit cards. In 2020, the average price for a Robux was $0.01. Roblox Premium is billed monthly, and this subscription service includes discounts on Robux purchases, exclusive access to certain in-experience benefits, some exclusive and discounted marketplace items, and the ability to buy, sell and trade certain Avatar items. In 2020, Roblox's bookings (sale of Robux) came in at $1.8B, which means that Roblox's ~140M users spent an average of $12.85 on the platform (the average revenue per daily active users is much higher at about $60).
For developers, Robux is considered "earned" if and when a developer receives them as payments for a bonafide third-party transaction for virtual goods through the Roblox Platform. Currently, developers can earn Robux via the following mechanisms:
Sale of access to experiences (games) and in-game enhancements,

Engagement-based payouts for the amount of time that Roblox Premium subscribers spend in their experiences,

Sale of content and tools within the developer community, and

Sale of virtual items to gamers through the Avatar Marketplace.
As Roblox users' purchase and spend Robux on the platform, developers receive 70% of the Robux spent within their games and 70% of the Robux spent on Roblox's Studio Marketplace items. Content creators receive only 30% of the Robux spent for their Avatar Marketplace items. The earned Robux are deposited into the virtual accounts of the developers and creators, who (if qualified) can convert Robux into U.S. dollars at an exchange rate which is (again) set by Roblox (in its sole discretion) at 1 Robux to $0.0035 (conversion price as of Dec. 31, 2020).
As you may remember, the average purchase price of a Robux was $0.01 in 2020, and now we know that developers can exchange a Robux for $0.0035 (35% of Robux's purchase price). Therefore, the unit economics are undoubtedly tilted in favor of Roblox, and the virtual economy built within Roblox's ecosystem gives the company massive controlling power.
In 2020, Roblox's qualified developers (Developer Exchange Program) earned $328.7M, up from $112M in 2019. The growth in developer earnings resulted from a growth in qualified developers, a rise in DAUs, and higher engagement with consumers. As an aside, Roblox's developers do not always cash out their Robux into real-world currency as they can reinvest their Robux into developer tools available in the Studio Marketplace, promote their games through Roblox's internal ad network, or spend the Robux as any other Roblox gamer would (on experiences and in-game purchases).
The Roblox platform combines significant bookings (sale of Robux) (and, by extension, revenue) with strong unit economics to generate massive amounts of free cash flow.
Roblox Had A Great 2020, But What Next?
In 2020, the coronavirus pandemic boosted the mobile gaming industry as people (kids, to be precise) stayed home during lockdowns. Roblox's social gaming platform saw an influx of new users, and bookings shot up to over $2B. As you can see, Roblox's revenues grew by 81% y/y to $923M last year.

Source: Roblox S-1
The rapid revenue growth is attributable to an increase in numbers of active users and higher user engagement (and spending). Roblox's DAUs went up from 19M to 37M within a year, while average bookings per DAU shot up to $17.30 from $12.37. For Q4, total hours engaged came in at 8.4B hours, a figure that represented substantial growth on a y/y basis; however, it also represented a q/q decline.

Source: Roblox S-1
Although Roblox's operations continue to lose money, the company is actually generating massive amounts of free cash flow. The bookings made on Roblox's platform convert to revenue over time as in-game virtual goods are consumed or amortized (in accordance with the average life of the consumer).

Source: Roblox S-1
On the back of ultra-strong numbers in 2020, Roblox's public listing seems to be timed to perfection. From a reference price of $45, the stock rallied higher on the direct listing day and has continued to trade up at ~$65-80 range. Here's what Roblox's CEO had to say on the listing:
Source: Roblox CEO David Baszucki on the company's Wall Street debut
Roblox's growth numbers for 2020 were mind boggling. However, the expectations for 2021 are lukewarm (and rightly so). With the pandemic fading away, people are returning towards normality, and a reduction in hours spent on gaming is a certainty.
For 2021, Roblox is expecting DAU growth of just 6%, with flat numbers for hours engaged. Although the company expects revenue to grow by 60% y/y, bookings (closer estimation of Roblox's actual growth) are expected to grow at just 10% y/y.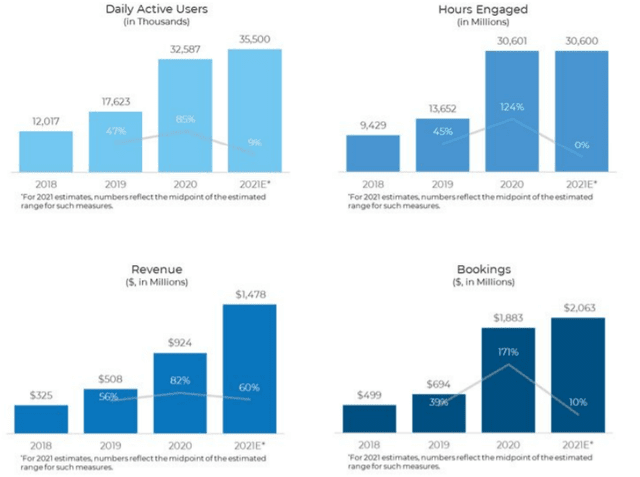 Source: Roblox S-1
As bookings growth moderates and the company spends more on R&D to drive future growth, the company's free cash flow is set to decline in 2021. Therefore, I would not expect fireworks to continue for Roblox's stock over the coming year as it faces tough comps.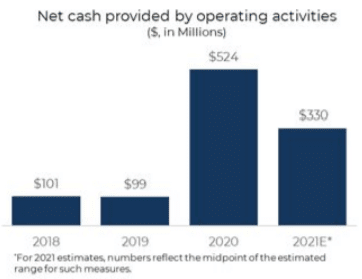 Source: Roblox S-1
With that being said, Roblox's growth story is far from over. In fact, I can envision a very long growth runway for Roblox (similar to Unity). The growth of interactive, real-time 3D content across numerous industries (like Gaming, Architecture, 3D printing/Intelligent Manufacturing, AR/VR, and many more) will drive the demand for Roblox's platform higher over the coming years.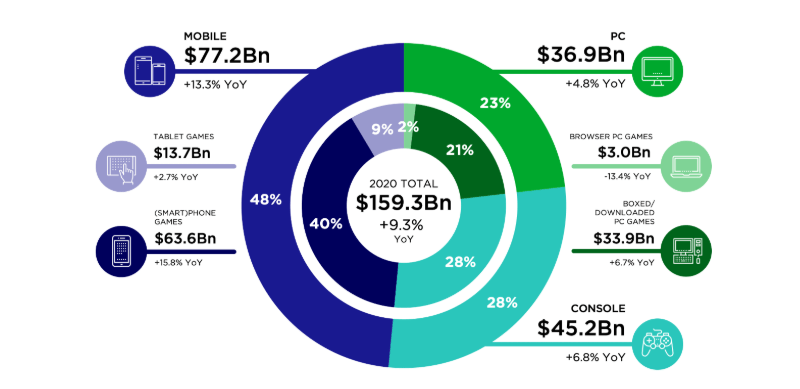 Source: Newzoo
In 2020, mobile gaming was the fastest-growing industry among all forms of gaming, and it's now believed to be worth $77.2B. And by 2025, it's expected to be worth $150B per annum. Naturally, Roblox will benefit from the rapid growth in mobile gaming. Therefore, Roblox is supported by a very powerful secular growth trend, i.e., the rise of mobile gaming.
However, the real upside for Roblox's platform will come from the mainstream adoption of AR/VR technology. These markets are set to see explosive growth over upcoming years: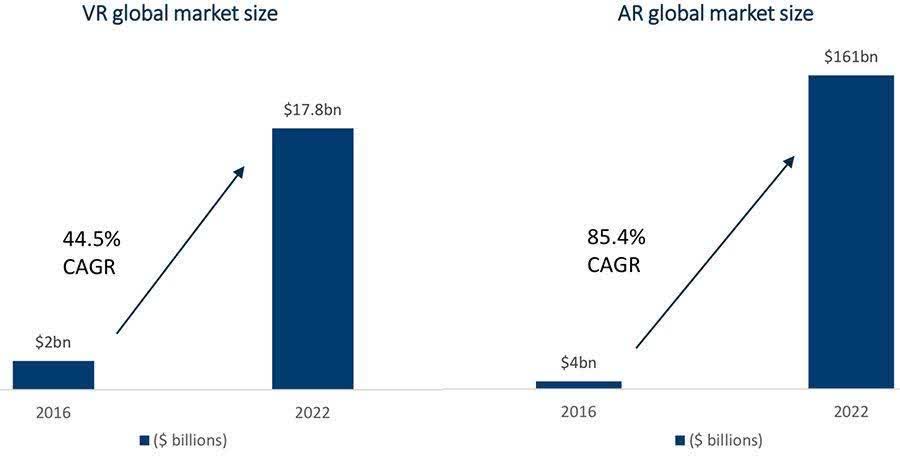 Source: DevTeam
Economically viable virtual realities are already all around us in that games are massively profitable and are pseudo-virtual realities. I believe that this market will actually accelerate as wide-scale adopted virtual realities begin popping up over the next decade or two, many of which will likely be built atop platforms such as Roblox and Unity.
Although I like Unity, I believe that Roblox's platform has greater potential due to the democratization of content generation. Roblox is transforming the world of interactive gaming by changing how people express themselves, play, socialize, learn, and transact together. According to the management, Roblox is currently focused on the following growth initiatives:
Platform Extension: Roblox is continually investing to extend its platform. These investments include high fidelity avatars, 3D spatial audio technology, and additional social features. In the future, Roblox can expand into other areas like entertainment, e-learning (education), and enterprise work communications. For example, developers will be able to create and host virtual meetings, classrooms, concerts, and conferences on the Roblox platform.

Age Demographics Expansion: Today, a large chunk of Roblox's users are kids below the age of 13. However, platform extension will enable developers to build higher quality experiences (games and other content) that are curated to meet the needs of an older age demographic. If Roblox can successfully increase its penetration among other older age categories, then it can easily grow at swashbuckling rates for years to come.

International Reach: Roblox already is a global platform. However, there's still significant potential for the company to grow in international markets. Today, almost all of Roblox's revenue comes from the United States, Canada, and United Kingdom. Hence, there are big markets for Roblox to expand its presence. Roblox is expecting the same organic, word-of-mouth user and developer growth in international markets that the platform has experienced in its primary markets. Additionally, Roblox is making massive investments in technology to enhance growth across the globe. For example, features such as built-in regional compliance and automated language translation can enable Roblox to scale operations in global markets, allowing developers to publish games (or content) in multiple languages and allowing users (speaking different languages) to communicate effectively. Roblox's greatest international opportunity today is China, and the company is addressing this opportunity through a joint venture with Songhua (an affiliate of Tencent, which is one of the leading internet companies in China).

Monetization: Roblox believes that its platform has massive monetization potential. To improve monetization, Roblox is actively working with the developer community. Furthermore, Roblox is taking up new strategic initiatives such as the Roblox Premium subscription service to enhance retention of paying users and conversion of free users to paying users. Finally, Roblox is working with leading brands (like Warner Bros, NFL, Netflix, Marvel, WWE, and FC Barcelona) to build unique marketing opportunities on the Roblox Platform through branded content.
Hence, Roblox will likely resume robust bookings growth after the projected slowdown in 2021. As you may know, Roblox competes for both users, developers, and creators. Roblox competes to attract and retain its users' attention on the basis of content and user experiences. Therefore, Roblox competes for users and their engagement hours with global technology leaders such as Amazon, Apple, Google, Microsoft, Facebook, and Tencent, global entertainment companies such as Disney, Comcast, and ViacomCBS, global gaming companies such as Electronic Arts, Activision Blizzard, Take-Two, Unity, Valve, and Zynga, online content platforms including Spotify, Netflix, and YouTube, as well as social platforms such as Facebook, Snap, and Pinterest.
For now, Roblox is out-competing its rivals due to many factors such as personalization of user experience, content variety, and social features. However, Roblox is heavily reliant on developers for the content that leads to the creation and maintenance of user engagement on its platform. Hence, Roblox has to compete with other platforms like Unity to attract and retain developers. Therefore, Roblox has to provide advanced tools needed to build, publish, operate, and monetize content (more efficiently and more lucratively than its rivals).
Hence, Roblox directly competes for developers, creators, and engineering talent with gaming platforms (such as Epic Games, Unity, and Valve Corporation) that provide developers and creators the ability to create or distribute interactive content. I believe Roblox's comprehensive offering to build, publish, and operate experiences on its platform, free and easy-to-use technology, broad user reach, economic rewards system, brand, reputation for innovation, developer-centric culture, and Roblox's vision differentiates the company from its rivals.
Now, let's find the fair value and expected returns for Roblox.
Fair Value and Expected Return
Roblox's bookings are the true reflection of its business, and so we will be analyzing the company using its bookings and not its revenue. In this case, the potential free cash flow margin is also based on bookings.
Assumptions:
| | |
| --- | --- |
| Forward 12-month bookings [A] | $2000 million |
| Potential Free Cash Flow Margin [B] | 30% |
| Average fully-diluted shares outstanding [C] | ~650 million |
| Free cash flow per share [ D = (A * B) / C ] | $0.923 |
| Free cash flow per share growth rate (conservative estimate) | 25% |
| Terminal growth rate | 3% |
| Years of elevated growth | 10 |
| Total years to stimulate | 100 |
| Discount Rate (Our "Next Best Alternative") | 9.8% |
Results: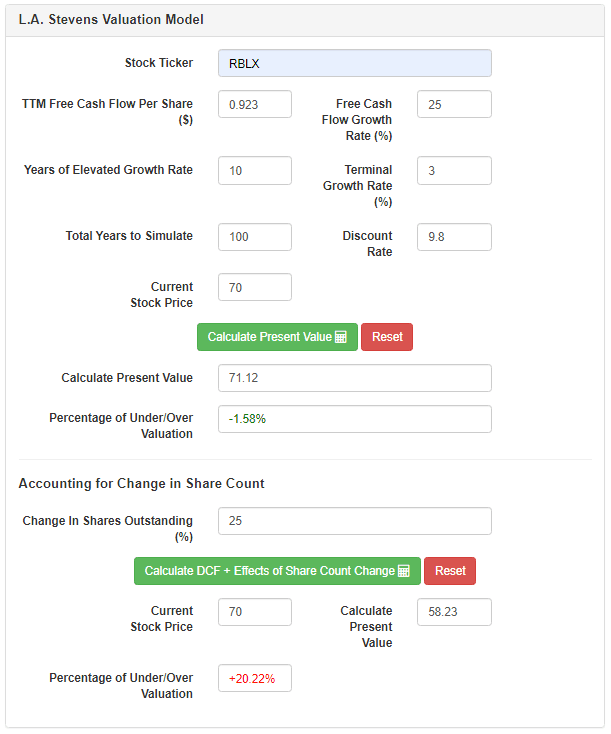 Source: L.A. Stevens Valuation Model
According to my estimation, Roblox's fair value is ~$58, i.e., it's trading at a premium of ~20%. In this market, high-growth tech stocks have been hammered, and there are great deals out there. And so buying Roblox at a premium doesn't make a lot of sense.
To determine the expected returns, our model calculates a projected FCF per share value (year-10) and multiplies it with an assumed Price to FCF multiple (35x here), thereby generating a 2031 price target. Using this price target, the model generates an expected CAGR return for a ten-year investment.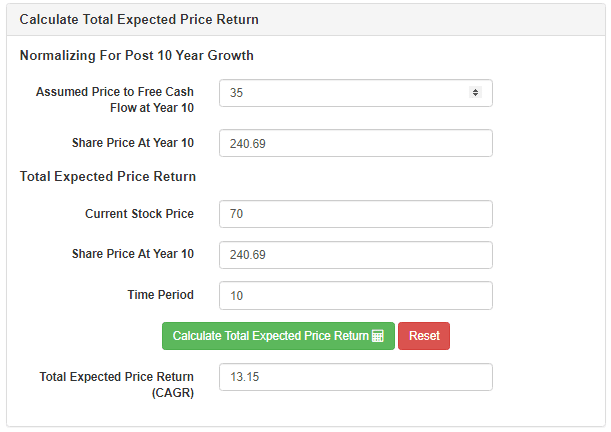 Source: L.A. Stevens Valuation Model
As you can see above, Roblox's share price could grow from ~$70 to ~$240 (~3.5x) at a CAGR of ~13.15% over the next decade. Since the expected return is lower than BTM's investment hurdle rate of 15%, I rate Roblox a modest buy to hold at $70.
At such a large market cap, the company will require a few years for growth to catch up with its current valuation.
Concluding Thoughts
Let's conclude our discussion with a BTM Crucial Characteristics Check for Roblox:
Crucial Characteristic

Notes

Visionary Founder/CEO

David Baszucki (co-founder of Roblox) is a visionary technologist who has led Roblox as its CEO since its launch in 2006. Over the last five years, Roblox's popularity has exploded. However, David and his team are aggressively reinvesting in the Roblox platform (especially in engineering) to drive the next leg of growth for the company. Roblox's vision is to become a platform where billions of people share experiences (not just gaming) on a daily basis.

David is now 58, so we might have his leadership only for a few more years. Furthermore, all other C-suite executives (barring one or two) at Roblox are also well into their 50s. Therefore, I expect significant management changes at Roblox over the next decade. With that being said, I believe the Roblox platform is incredibly powerful, and the company's business model is so robust that even a chimp can run it successfully.

Proprietary Tech

Roblox's platform (Client, Studio, and Cloud) is powered by highly proprietary technology built over the last three decades. On any given day, more than 32M people use Roblox (DAUs) to connect via play.

Network Effects

The social component built into Roblox allows users to invite their friends and family to play with them and share experiences on the platform. A higher number of users attracts more developers to Roblox, which leads to more games (better content by variety and quality). These network effects remain the primary driver of Roblox's tremendous growth.

Powerful Secular Growth Trend

The growth of interactive, real-time 3D content across numerous industries (like Gaming, AR/VR, Architecture, 3D printing/Intelligent Manufacturing, etc.) is a powerful secular growth driver for Roblox.

Sounds Financials

In 2020, Roblox reported mind-boggling numbers in terms of revenue (~$923M, up ~82% y/y), bookings (~$1.8B, up ~181% y/y), and free cash flow (~$411M). However, the company expects stagnation in bookings in 2021 as the pandemic boost to gaming disappears. Roblox is already a free cash flow generative business, and the company has $800M+ on its balance sheet. Therefore, a direct listing made sense.

With 650M fully-diluted shares outstanding, Roblox's numbers fall short relative to its market cap. The stock is currently trading at a premium of 20% to its fair value, and its expected CAGR return of 13% falls below our investment hurdle rate.

Branding

Roblox is a global platform that has 130M Users (32.6M Daily Active Users). The Roblox platform gives individuals a strong sense of community and belonging through the rich, immersive co-experiences it provides. Roblox's growth is entirely organic (word-of-mouth), and this shows how the brand is truly loved by its customers.

International Expansion

Roblox is available globally; however, it has significant room to expand in underpenetrated geographies such as Europe, Latin America, Africa, and Asia. The joint venture with Tencent to bring Roblox to China will probably be the biggest growth driver for the company within the next few years.
Roblox satisfies almost all of BTM's investment criteria, but at a market cap of $45B+, the valuation looks stretched. We do not shy away from paying a premium for a high-quality business if the expected return exceeds our hurdle rate; however, the expected return for Roblox is only 13% after the massive bounce in its price after going public.
In recent years, direct listings (like Spotify (SPOT) and Slack (WORK)) have failed to generate massive performance in their first year as public companies and I expect Roblox to follow suit. The company's guidance for 2021 points to stagnation in bookings as the mobile gaming frenzy of 2020 fades away along with the pandemic. Therefore, I think we can wait for a better entry point on Roblox, which would be around its direct listing price of $45.
Key Takeaway: I rate Roblox a hold to modest buy at $70.
Thanks for reading. Please share your thoughts, questions, and/or concerns in the comments section.