Real Estate Weekly Outlook
U.S. equity markets retreated on another turbulent week as investors backed away from speculative assets amid signs that supply shortages and surging prices have started to impair aggregate demand. Cryptocurrencies, in particular, were slammed with Bitcoin (BTC-USD) plunging as much as 30% at the lows after U.S. and Chinese authorities each pushed ahead with increased regulatory scrutiny while investors have begun to question the inherent value - if any - of many "digital assets" that have emerged over the past several years.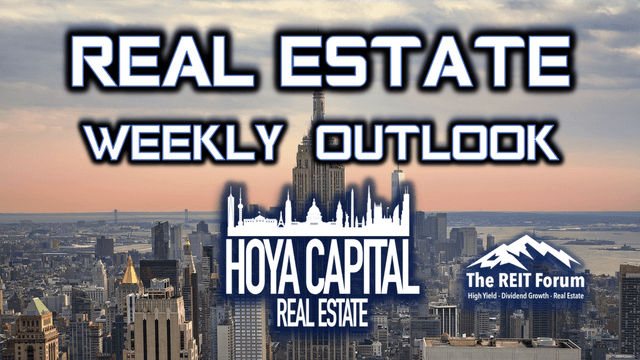 (Hoya Capital Real Estate, Co-Produced with Colorado Wealth Management)
Declining in four-of-five sessions this week, the S&P 500 (SPY) finished lower by 0.4% on the week while Mid-Caps (MDY) declined by 1.2% and Small-Caps (SLY) fell 0.7%. The tech-heavy Nasdaq 100 (QQQ) snapped a two-week losing streak with gains of 0.2%. Investors rotated into real assets this week with real estate and gold (GLD) leading the way as the Equity REIT Index (VNQ) gained 0.8% this week with 13 of 19 property sectors in positive territory while the Mortgage REIT Index (REM) gained 0.9%.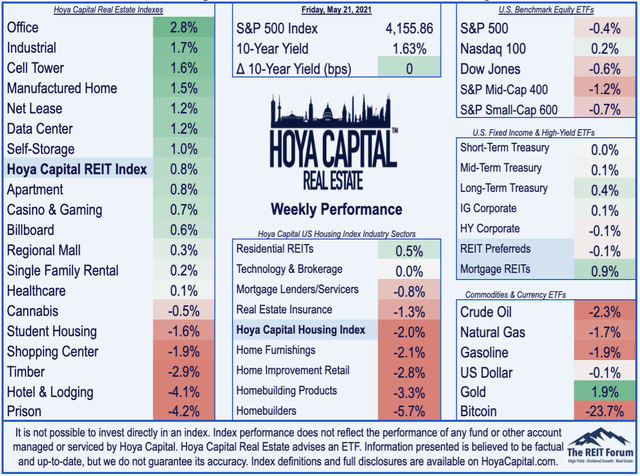 Defensive and yield-oriented sectors led the way this week as inflation expectations eased from seven-year highs on calming tensions in the Middle East and following lukewarm economic data as the Economic Surprise Index briefly fell into negative territory for the first time since the start of the pandemic. Six of the eleven GICS equity sectors finished lower on the week with Energy (XLE), Industrials (XLI) and Materials (XLB) dragging on the downside amid ongoing shortages of goods and workers across many critical industries. The effect of these shortages were felt acutely within the Hoya Capital Housing Index as data showed that builders have been forced to delay activity despite robust housing demand and historically low inventory.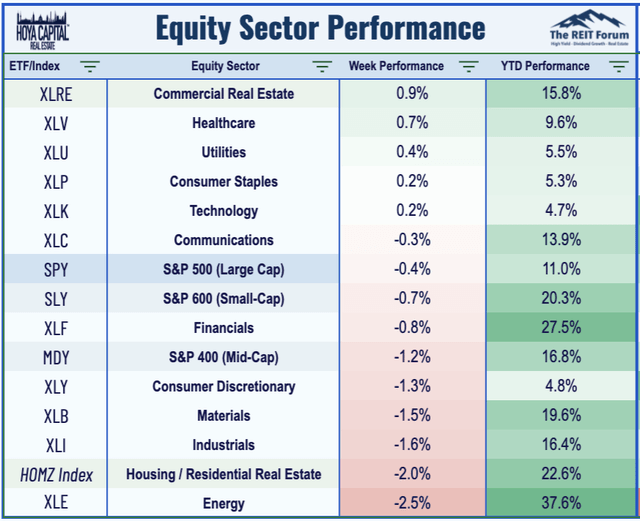 Real Estate Economic Data
Below, we recap the most important macroeconomic data points over this past week affecting the residential and commercial real estate marketplace.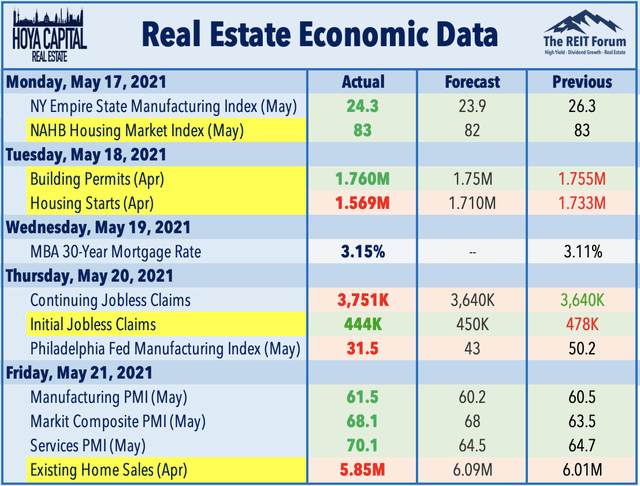 Housing data this week underscored the intensifying shortage across the U.S. housing market as robust demand has clashed with historically low supply to drive a surge in home values. Held back by low inventory levels, Existing Home Sales fell 2.7% from the prior month - the third straight month of sequential declines - but were higher by 33.9% from last year and up 20% year-to-date. Total housing inventory was down 20.5% from one year ago, representing a 2.4-month supply at the current sales pace, down from the 4.0-month supply recorded in April 2020 and near record-low levels. The median existing-home sales price surged 19.1% year-over-year to $341,600.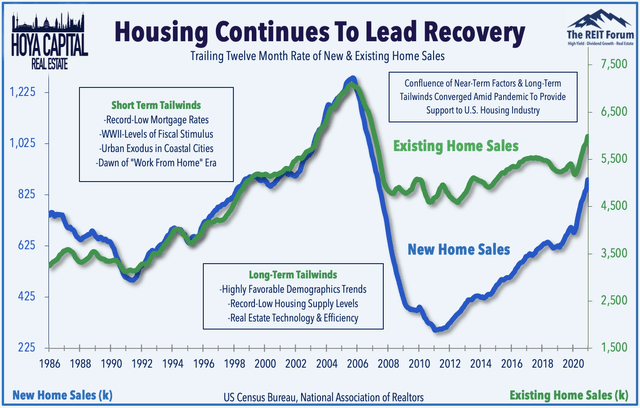 Despite the worsening housing shortage, new home construction in the United States moderated from historically-strong levels, confirming that some builders have been forced to delay incremental projects due to supply chain shortages. We've discussed in our Earnings Recap how homebuilders reported the largest backlog on record in Q1, which was consistent with data this week showing that the number of homes that are permitted but not yet started surged by the most since May of 1972. Overall, housing starts declined 9.5% from the prior month to a seasonally adjusted annual rate of 1.569, but were higher by 67.3% from last April. Building Permits rose 0.3% from the prior month and are higher by 60.9% from last year.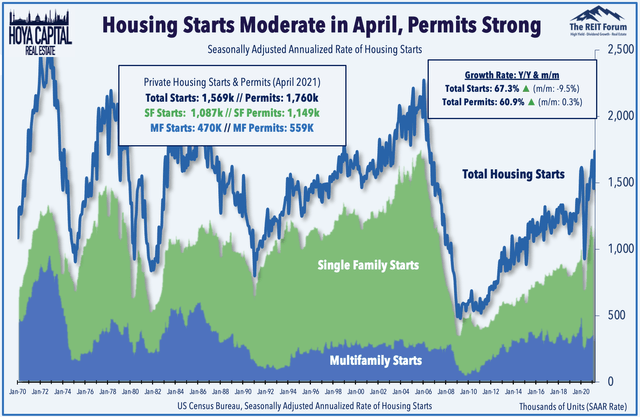 Meanwhile, home improvement retailers Home Depot (HD) and Lowe's (LOW) each finished lower this week despite smashing sales estimates as HD reported a 31.0% surge in comparable-store while LOW saw sales jump 25.9% from a year earlier. Direct beneficiaries from the rise in home values through its correlation with home improvement spending, both company's sales metrics were well ahead of consensus estimates. On its earnings call, Home Depot commented, "the housing environment continues to remain very strong and its only strengthened from last year. The current shortage of new housing clearly is helping to drive improvements in the home values, which is a good thing for spending in the home."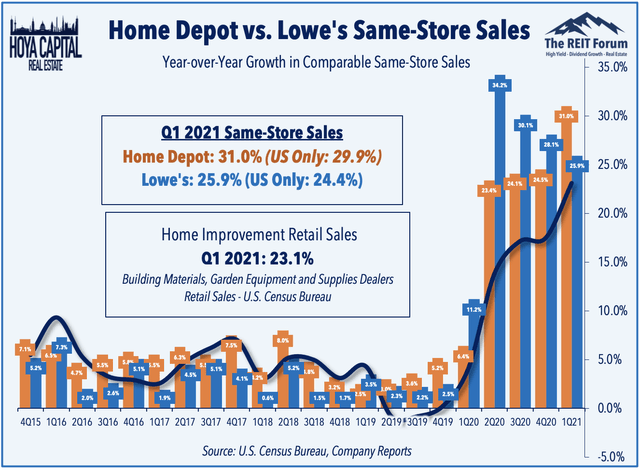 These reports were consistent with Redfin (RDFN) data released this week which showed that a record 50% of homes were sold above their listing price over the past month while inventory levels fell to new all-time lows. Nearly half of listed homes received an offer within one week while the average home sold was on the market for just 17 days. Also this week, the Homebuilder Sentiment Index - a leading indicator of housing activity - remained steady at 83 in May as homebuilders indicated that they are continuing to sell homes as quickly as they can build them. The sub-index for Traffic of Prospective Buyers remained near its highest level on record, offsetting some pressure from concerns over rising costs and constraints on land and lumber.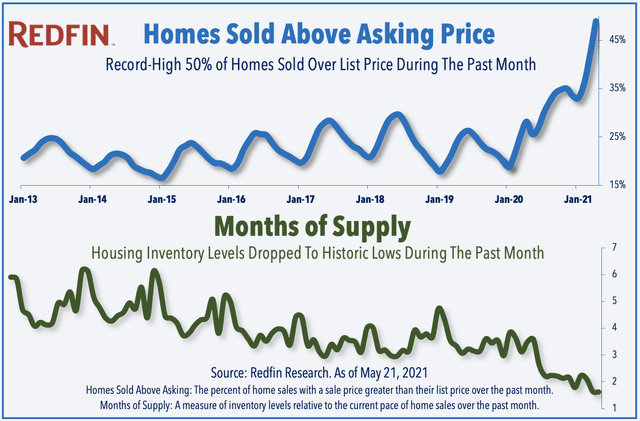 Equity REIT Week In Review
With REIT earnings season now wrapped-up, we're now into REIT dividend declaration season as three REITs raised their payouts this week. Casino REIT Gaming and Leisure Properties (GLPI) boosted its dividend for the second time this year to $0.67/share, a 3.1% increase from its prior dividend. Data center REIT CoreSite Realty (COR) boosted its dividend by 3.3% to $1.27/share. Office REIT Empire State Realty (ESRT) reinstated its dividend at $0.035/share, roughly two-thirds lower than its pre-pandemic dividend rate. So far in 2021, 57 equity REITs and 18 mortgage REITs have increased their dividend which is already above the full-year total from 2020.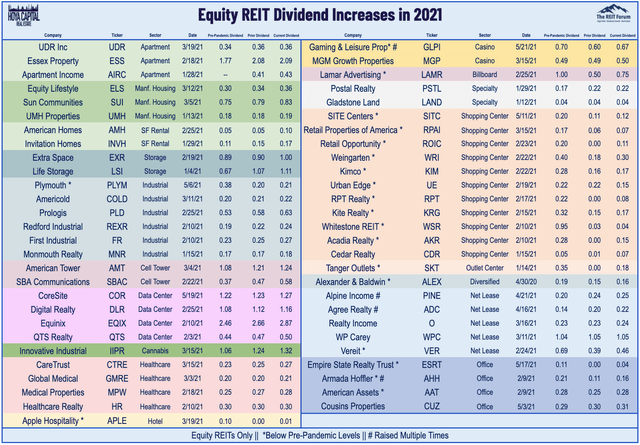 This week, NAREIT published its quarterly T-Tracker data which we'll analyze in full detail next week in our State of the REIT Sector report. From the prior quarter, Dividends Per Share sequentially rose by 6.5% while FFO ("Funds From Operations") sequentially rose by 0.7%. At the property sector level, self-storage REITs led the way in Q1 as same-store NOI growth surged to over 7%. The residential, industrial, and technology sectors were the upside standouts with cell tower, single-family rental and manufactured housing REITs each reporting accelerating NOI growth while retail and hotel REITs continue to drag on the REIT sector averages.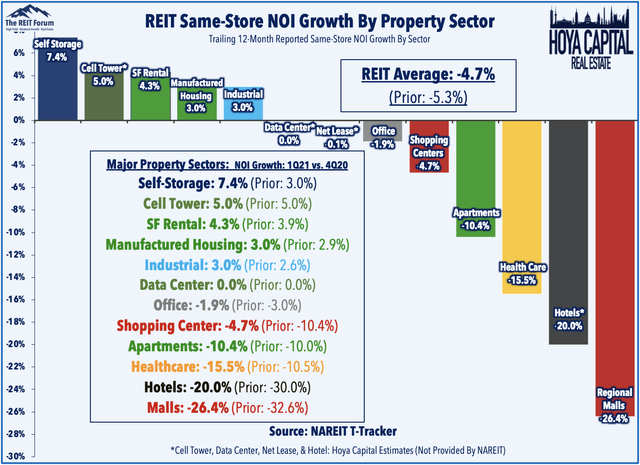 Malls: Bankrupt mall REIT CBL Properties (OTCPK:CBLAQ) rallied more than 10% on the week after reporting Q1 that weren't quite as dismal as feared as rent collection improved to 89% in Q1, up from its trough last year of around 30%. Elsewhere, Washington Prime (WPG) dipped another 4% after being granted its sixth extension to its forbearance agreement with lenders as it seeks to avoid bankruptcy. As discussed in Mall REITs: Only The Strong Shall Survive, while rent collection rates have improved to around 90% across the sector, Q1 results showed that vacancy rates continued to climb while rental rates remain in free-fall. Renewed space was leased at -12.2% lower rates for the low-tier malls while high-productivity REITs reported a -9.2% decline, the worst quarter on record. Outside of Simon Property (SPG) - the lone mall REIT that expects positive FFO growth this year - the mall sector remains in a fight for survival with an uncertain future.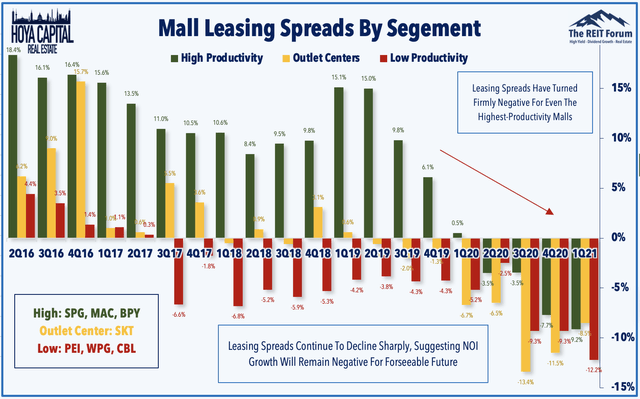 Data Center: Colony Capital (CLNY) gained 2.5% on the week after its affiliate Digital Colony reached a deal to acquire Landmark Infrastructure Partners (LMRK) for $13.00/share in a transaction valuing LMRK at approximately $972M. CLNC - which has undergone a "digital transformation" over the last year by selling its legacy portfolio of healthcare and office assets and investing in technology real estate assets - rallied more than 2% on the news while LMRK jumped about 7%. Last week in our Data Center REIT report, we discussed how we see M&A as a potential catalyst this year and expect these REITs - which have plentiful access to capital - to make major moves as the "animal spirits" come alive across the broader REIT sector.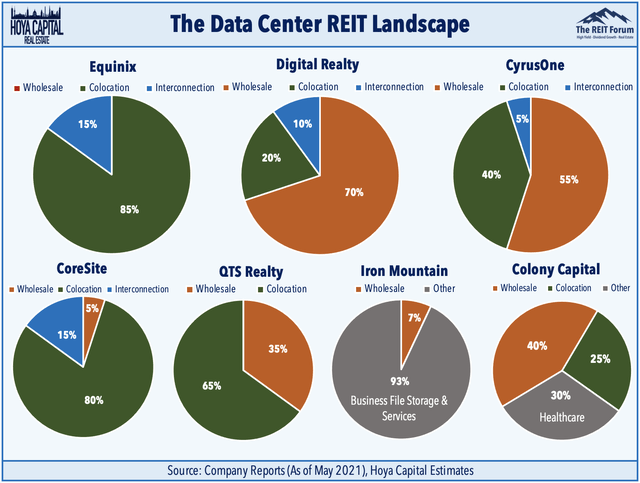 Cell Tower: Cell Tower REITs rallied this week after AT&T (T) struck a deal with Discovery to spin off WarnerMedia and combine them with Discovery's assets into a standalone entity as the second-largest wireless carrier in the U.S. seeks to exit the media business and focus on building out their wireless infrastructure. AT&T would receive $43 billion in the all-stock transaction. Cell Tower REITs are the landlords to the four nationwide cellular network operators in the U.S.: AT&T, Verizon (VZ), T-Mobile (TMUS), and DISH Network (DISH). While this tenant base is highly concentrated, the tower ownership business is even more concentrated, in part because these companies divested many of their towers to redeploy capital into other business lines over the last decade.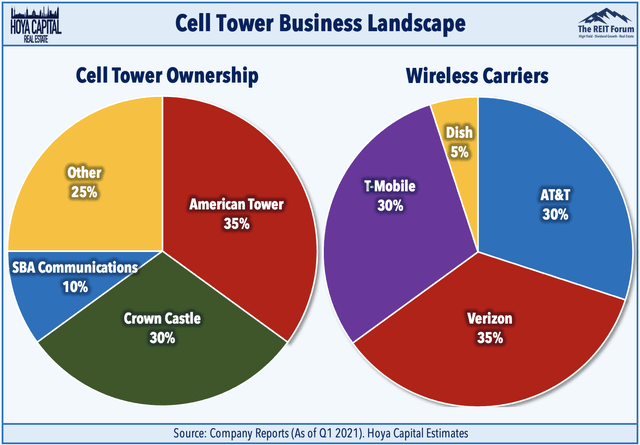 Timber: This week, we published Timber REITs: Lumber Shortage Inflames. Reignited by the red-hot U.S. housing market, timber REITs and lumber producers have "caught fire" since mid-2020 as lumber prices have soared to record highs amid a historic supply shortage. Caught flat-footed by the velocity of the rebound in lumber demand from homebuilding and remodeling activity, sawmills are scrambling to catch-up as producers invest in building immediate and long-term capacity. Recent commentary suggests that bottlenecks may be beginning to ease, which is good news for these REITs and the broader housing industry and Q1 earnings results showed that the vertically-integrated timber REITs are starting to fire on all cylinders.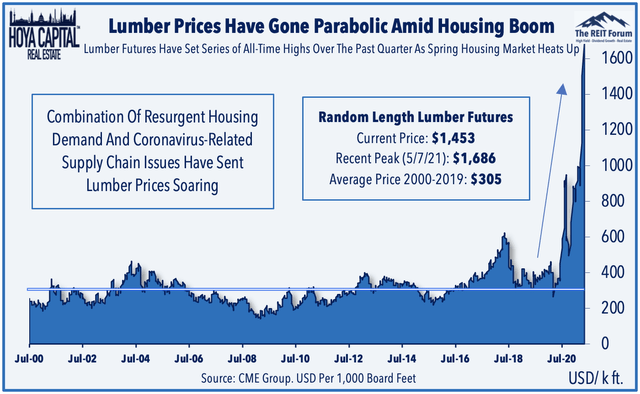 Mortgage REIT Week In Review
Mortgage REITs bounced back this past week after two weeks of declines as residential mREITs finished higher 1.1% while commercial mREITs gained 1.4%. On a relatively slow week of news flow in the mREIT space, ACRES Realty (ACR) was the leader after the multifamily-focused lender launched its new 7.875% Series D Preferred (ACR.PD). Ellington Financial (EFC) was slightly lower after it announced that its estimated book value per common share was $18.21 as of April 30, up five cents from the end of March.
REIT Preferreds & Bonds
The InfraCap REIT Preferred ETF (PFFR) was lower by 0.1% this week and is now higher by 2.9% thus far in 2021. This week, American Homes 4 Rent (AMH) priced a secondary common stock offering of 16.3M common shares to fund its previously announced redemption of its 6.5% Series D Preferred (AMH.PD) and 6.35% Series E Preferred (AMH.PE). Invesco Mortgage (IVR) announced that it intends to redeem all of its 7.75% Series A Preferred (IVR.PA) on June 16th. Finally, Digital Realty (DLR) completed the redemption of its 6.625% Series C Preferred (DLR.PC).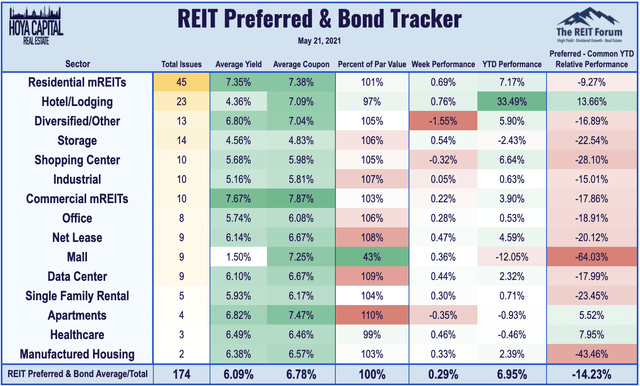 It was an active week in the bond markets as well. Essex Property (ESS) priced $300M of 2.55% notes due 2031. American Tower (AMT) priced nearly $2.5 billion worth of notes due 2027, 2029 and 2033 at 0.450%, 0.875%, and 1.250%, respectively. STORE Capital (STOR) priced $515M of notes in four tranches with interest rates ranging from 2.12% to 3.70% and maturities ranging from 7 to 12 years. Innovative Industrial (IIPR) priced $300M of 5.50% notes 2026. Finally, Xenia Hotels (XHR) priced $500M of 4.875% notes due 2029. This week, NAREIT published its quarterly T-Tracker data which showed that REIT balance sheets have never been stronger with record-low interest expense and record-long maturities.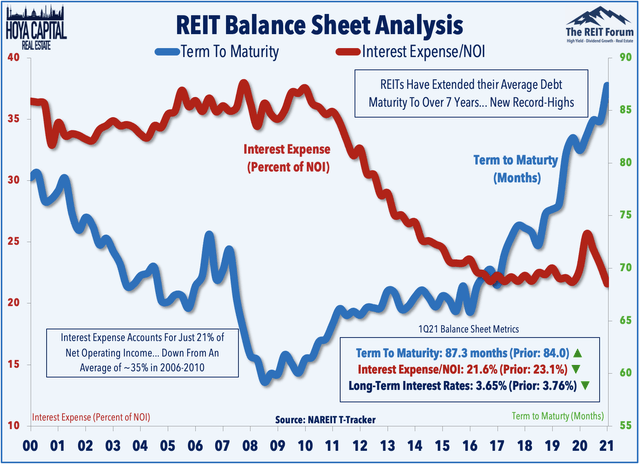 2021 Performance Check-Up & 2020 Review
Through twenty weeks of 2021, Equity REITs are higher by 15.3% while Mortgage REITs have gained 14.8%. This compares with the 11.0% advance on the S&P 500 and the 16.8% gain on the S&P Mid-Cap 400. Eighteen of the nineteen REIT sectors are in positive territory for the year, while on the residential side, seven of the eight sectors in the Hoya Capital Housing Index are higher. At 1.63%, the 10-year Treasury yield has climbed 72 basis points since the start of the year and is 111 basis points above its all-time closing low of 0.52% last August, but 162 basis points below its 2018-peak of 3.25%.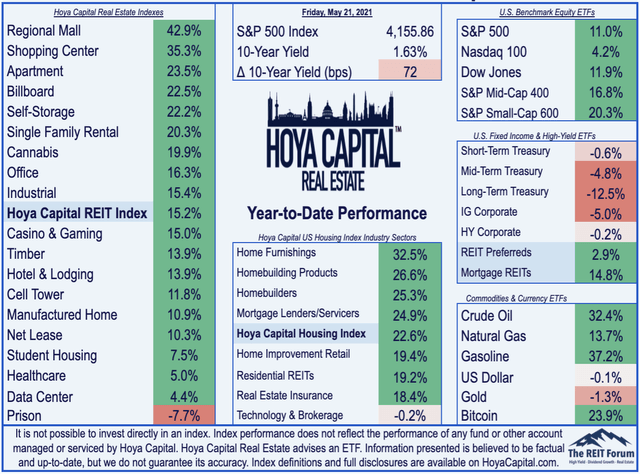 The FTSE NAREIT All Equity REIT Index ended 2020 with total returns of -5.12%. Despite the rough 2020, REITs have been one of the best-performing asset classes since the start of 2010, producing average annual total returns during this time of 11.1%. Interestingly, 2020 was the first year since 2009 that REITs finished in the bottom four of the ten major asset classes, and despite the pullback, still lag only the Small-Cap, Mid-Cap, and Large-Cap equities over this time. REITs have produced far superior total returns to Bonds (AGG), TIPS (TIP), Commodities (DJP), and International (EFA) stocks.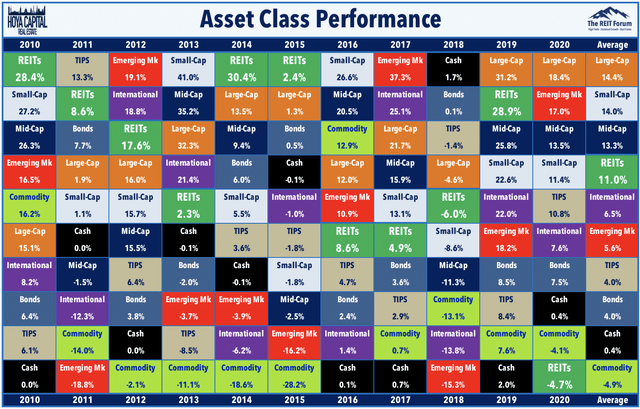 Economic Calendar In The Week Ahead
We have another jam-packed week of economic and housing data in the week ahead. On Tuesday, we'll see New Home Sales for April which are expected to show a modest pull-back after a record start to the year. We'll also see home price data from Case Shiller and the FHFA which is expected to show another month of double-digit annualized price appreciation. On Thursday, we'll see Pending Home Sales for April. On Friday, we'll see the PCE Price Index, the Fed's preferred measure of inflation, as well as Personal Income and Spending data for April. Gear up for another busy week.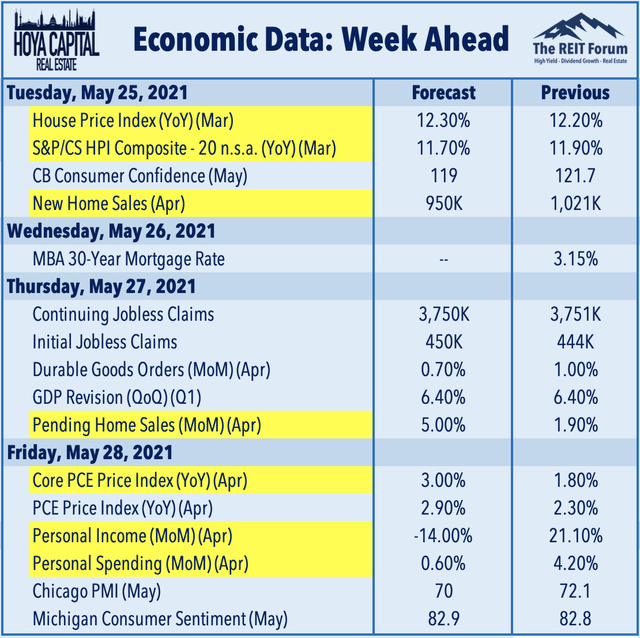 For an in-depth analysis of all real estate sectors, be sure to check out all of our quarterly reports: Apartments, Homebuilders, Manufactured Housing, Student Housing, Single-Family Rentals, Cell Towers, Casinos, Industrial, Data Center, Malls, Healthcare, Net Lease, Shopping Centers, Hotels, Billboards, Office, Storage, Timber, Prisons, Cannabis, High-Yield ETFs & CEFs, REIT Preferreds.
Disclosure: Hoya Capital Real Estate advises an Exchange-Traded Fund listed on the NYSE. In addition to any long positions listed below, Hoya Capital is long all components in the Hoya Capital Housing 100 Index. Index definitions and a complete list of holdings are available on our website.