Just recently, everyone seems to have a minimum of $100k Bitcoin (BTC-USD) in sight for the current Bitcoin bull run. Many enthusiasts and analysts echoed such expectations. However, the current crash changed that perspective in the medium term.
Regardless it is engineered by Elon Musk and news outlets or based on technical analysis, a crash is a crash. Cathie Wood said that Bitcoin is entering a capitulation phase and is a great time to buy, although Bitcoin can move a lot lower as the market gets emotional. If so, when should investors start loading the boat? This is what this article aims to address with evidence.
Therefore, this article is written not to promote FUD but to lay out educated expectations of future price actions based on past events so that you'll know exactly when to buy and be prepared if history repeats itself. We hope that you do not fall into the category of investors with illusion of control bias because optimism does not move the market.
Before going into the technicals and trade, it is important to recap the fundamentals of what will drive Bitcoin up over the long run and to know what is driving Bitcoin down right now.
A Summary of Bitcoin's Fundamentals Based on Modern Monetary Theory
Fundamentals are important because it helps us build convictions and keep our eyes on the price when times are bad. This article discusses this section in more detail.
In short, modern economies are operating on the framework of Modern Monetary Theory that the issuance of currencies is not backed by any assets of scarcity, meaning money can be printed at will (Quantitative Easing). Quantitative Easing (QE) adds to the supply of money, but the tools (interest rates and taxes) to regulate and increase the demand for money are broken.
The Fed shows no sign of slowing down QE and is counting on manipulating consumer behavior ("managing expectations") to avoid inflation to continue QE.
It is not unreasonable to expect inflation amid ongoing QE and strong economic recovery, but global gold ETFs have seen net outflow while Bitcoin trusts and ETFs see AUM gains. Moreover, more companies are adding Bitcoin to their balance sheet to seek safe haven while vehicles such as Bitcoin trusts and Bitcoin ETFs further contribute to industrial adoption.
Cathie Wood said that:
If all corporations in the U.S. were to put 10% of their cash into bitcoin that alone would add $200,000 to the bitcoin price.
These are the fundamentals that will drive Bitcoin up.
What's Driving Bitcoin Down Now?
There are 3 aspects to what's driving Bitcoin down. The 3 aspects are (1) price actions, (2) media narratives and claims, and (3) leverage.
1. Bearish Technicals
The chart below shows us the cyclical nature of Bitcoin and has helped us predict the bull run in 2020. The Bitcoin bear market (marked in red boxes) typically spans over 1 year and takes another 2 years (marked in blue boxes) to recover to the peaks. If a trader is aware of this cycle, the trader might suffer opportunity costs or sold Bitcoin at the bottom of the cycle. A Bitcoin bull market typically lasts for 1 year.
Currently, the price has reached that resistance and has run up for a year since its halving operation in May 2020. The reversal is confirmed with a Head & Shoulders price pattern right at the resistance. This signals the beginning of a bear market. We'll investigate this chart further in the following section.
Chart 1: Critical Support Resistance Guiding Bitcoin's Cycle.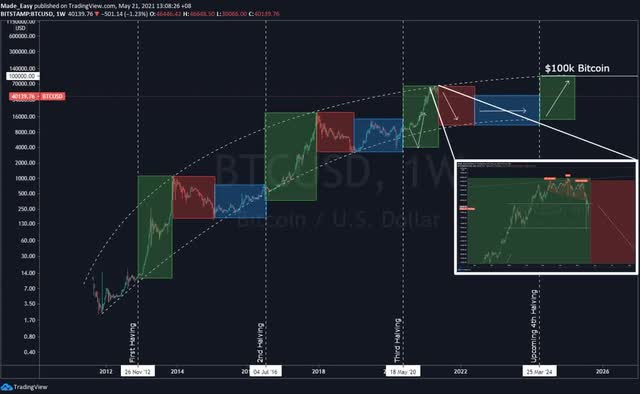 Source: Author, TradingView
The major difference between 2013/2017 and this time and institutional participation. Coinbase (COIN) noted that institutional trading volume has overtaken retails. This is certainly true. Many companies added Bitcoin to their balance sheets, such as Tesla (NASDAQ:TSLA), Square (NYSE:SQ), PayPal (NASDAQ:PYPL), MicroStrategy (NASDAQ:MSTR), Goldman Sachs (NYSE:GS), Standard Chartered (OTCPK:SCBFF), BlackRock (NYSE:BLK), Fidelity, and more. To recap, Cathie Wood said that:
If all corporations in the U.S. were to put 10% of their cash into bitcoin that alone would add $200,000 to the bitcoin price.
Therefore, there is a chance that Bitcoin could break the resistance current resistance level. However, chances are, institutions are also eyeing the same information presented above and are looking to time their entry.
2. Media FUD Narratives and False Claims
Media narratives and claims to Bitcoin may fundamentally wrong, but we should still be aware of their adverse impact on prices.
The most recent news that adversely hit Bitcoin's price is Biden's administration plan for IRS enforcement. The plan is to impose taxation on crypto and require crypto transfers over $10K to be reported to the IRS. At first glance, this is negative news. However, this legitimizes Bitcoin. John Rhodes summarized this well.
Another recent news that is FUD but adversely impacted Bitcoin's price is China's ban on Bitcoin. However, upon closer inspection, China only bans transacting with Bitcoin where holding crypto assets is still allowed. Moreover, China even calls Bitcoin an investment alternative. We think that this move is to ensure that Bitcoin does not interfere with the adoption of the Digital Yuan as the main payment currency.
Other narratives include Bitcoin is corrupted (used for illegitimate activities) and dirty (not environmental friendly). The illegitimate activities are still funded mainly by the dollar, and 90% of dollar notes have traces of cocaine. On the other hand, Cathie Wood argued Bitcoin is speeding the world's transition to renewable energy. There are reports showing Bitcoin's energy consumption is less than half of the banking and gold sectors.
3. Leverage and Volatility
We hypothesize that over-leveraging has caused spikes in volatility. It is not hard to imagine that the 25% drop on 19th May is partly caused by liquidation or triggered stop losses. We regard Bitcoin's $31 support level as the institutional support level because it is the price level Tesla bought its $1.5b Bitcoin.
We can predict that if Bitcoin were to return to those levels, many leveraged traders would have their stop losses triggered, which pull Bitcoin down to $23.
Chart 2: Head & Shoulders Reversal Flashed for Bitcoin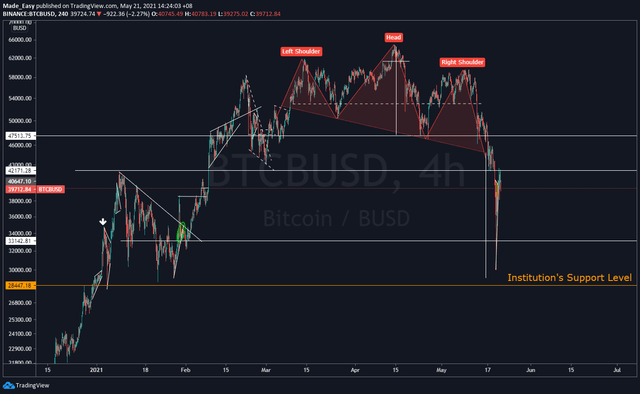 Source: Author, TradingView
An Educated Expectations of Future Price Movements
The chart below drafts double exposure to stack current price movements against the price movements at the peak before the crash in 2013 and 2017. We can observe that the current price is mirroring the patterns from 2013 and 2017. If history were to repeat itself, we should be prepared for the upcoming crash. Let's have a closer look.
Chart 3: Draft of Current Price Movements Stack Against 2013 and 2017 Using Double Exposure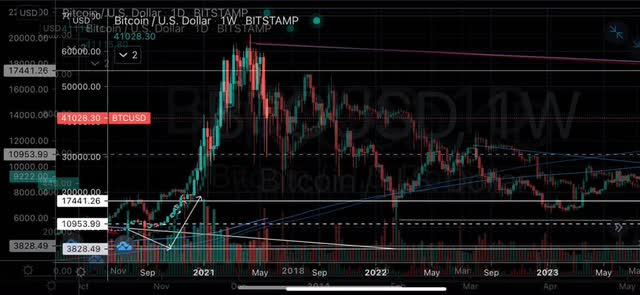 Source: Author, TradingView
A Bitcoin crash after a halving event's massive bull run typical follows this sequence of event:
Reversal pattern flashed at peak (all-time high)
Followed by a 50% drop
Retrace back to 80% from peak
Followed by another to 30% from peak
Eventually bottomed at 15% from peak
The charts below illustrate this for the crash in 2013 and 2017 and project the same price movements for the current price.
Chart 4: Sequence of Events During 2013 Bitcoin Crash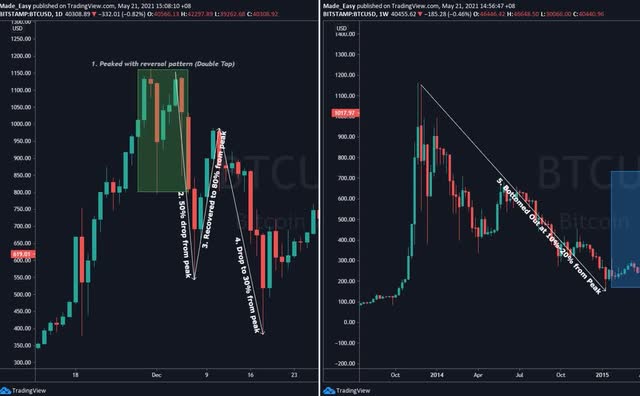 Chart 5: Sequence of Events During 2013 Bitcoin Crash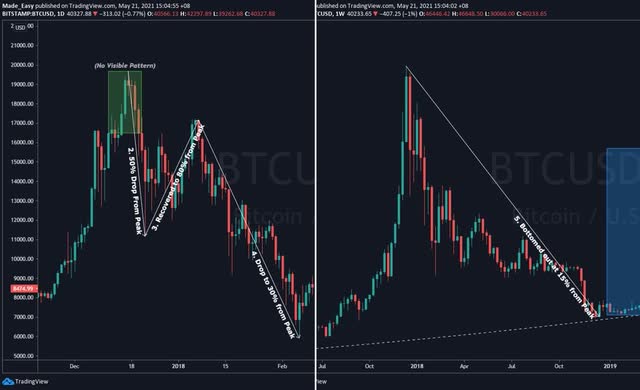 Chart 6: Projected Sequence of Events for Potential 2021 Bitcoin Crash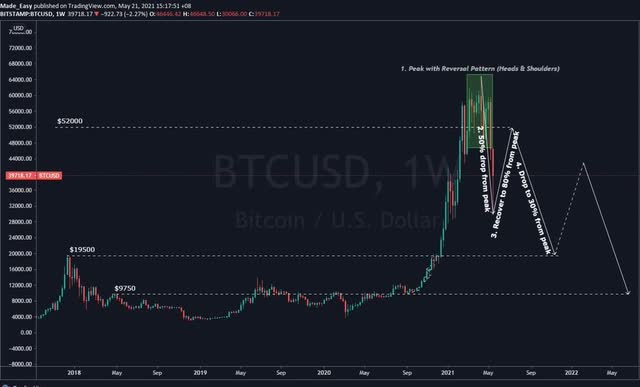 Sources: Author, TradingView
With these expectations in mind, there are a few ways you could trade.
If you're an active trader with high awareness of media narrative and technical analysis, you could try to time the bottoms and tops laid out in the 5 expected sequences of events above.
If you're a passive investor with day jobs and other businesses like us, you could minimize risk by spreading out your purchases to each bottom laid out in the 5 expected sequences of events above. For instance, 25% now ($39,500), 25% at the 50% retracement ($32,500), 25% at the 70% retracement ($19,500), 25% at the 85% retracement ($9,750).
Final Remarks
Fundamentals are important. They help us build convictions and keep our eyes on the prize when times are bad. Knowing the times helps us minimize losses and maximize profit.
While the medium-term outlook for Bitcoin is bearish, it is just a cycle where the next bull run would be a $100k bitcoin. This article briefly discusses the fundamentals/framework that will eventually drive Bitcoin past the $100k mark. We also explained what is driving Bitcoin prices down now. Lastly, we laid out educated expectations of future price actions based on past events so that you'll know exactly when to buy and be prepared if history repeats itself.
We hope that this article can help you manage your expectations, psychological stress, and even your trades better.