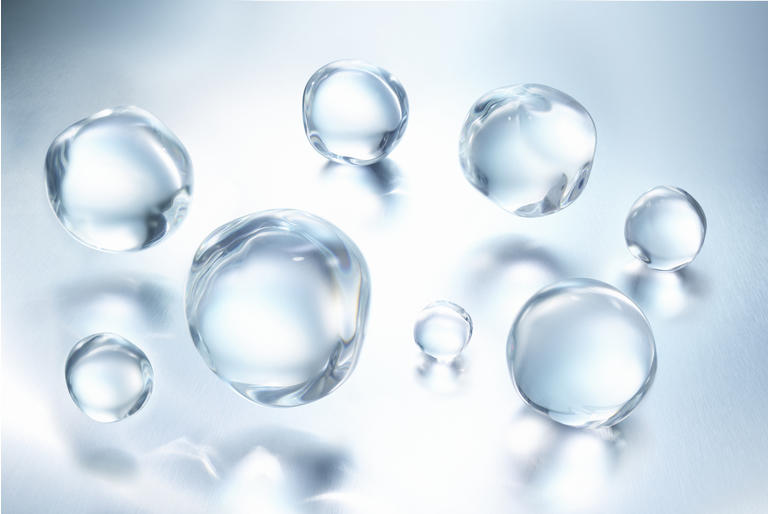 Every so often I write an article not about an individual stock, but about the market. The purpose of such articles is to look at where I believe the market is going, and how I in accordance with this, size and structure my overall investments into the market and various companies.
For the past 4-5 months, we've been hitting all-time highs after all-time highs, while tech has been the real laggard for some time. My portfolio, which has a very reduced weight since a few months back, has appreciated and beaten the tech-heavy Nasdaq and comparable EU indices by a significant margin. Just as an example, the graph shows the comparable development by my portfolio since January 1st, 2021, next to Nasdaq.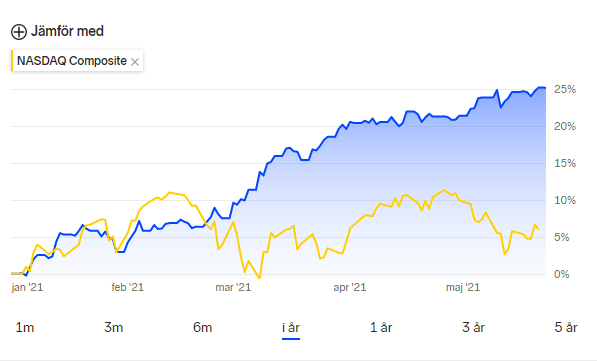 (Source: Nordnet, Portfolio/Index Comparison)
This is of course a too short a time frame to offer any sort of indication as to what you "should" do. Tech has been the best performer for a long time, and even just extending comparisons to 3 years somewhat changes the trend here.
However, there is some truth here, because back around February, I noted distinct overvaluations in tech companies including things like Intel (INTC) and Broadcom (AVGO) as well as national and EU companies like Atea (OTC:ATAZF) and TietoEvry (OTCPK:TCYBY). I went ahead and cut, or completely rotated double or triple-digit profits in these companies, in favor of more undervalued stock, which is my investment approach - buy cheap, sell when it's not cheap.
So, the question is - Where are we going now? Where am I going? What am I investing my money in?
Those are some of the things we are looking at here.
So, first a few influences to the macro, and indicators for where things might be going in the short and long term.
1. EU Macro/PMI and Inflation
When looking at the foreseeable future for my own geography, the EU, I often look at general indicators, such as the PMI, or European Manufacturing Purchasing Managers Index.
This index measures the activity level of purchasing managers in the EU zone, and more specifically the Eurozone. A score of above 50 indicates economic growth, and one below indicates a lack of the same, or decline. The index is differentiated between the industrial and the service sector.
Current numbers show extreme positivity. While the overall direction for the service sector took longer to normalize above 50, the Industrial PMI has been above 50 since late 2020 - and has kept growing.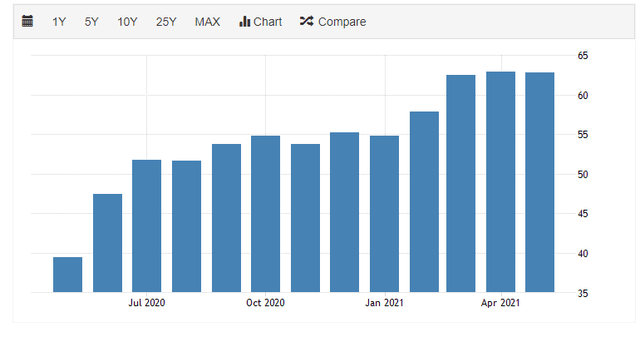 (Source: Trading Economics)
The EU Manufacturing PMI currently is at the highest levels in 63 years, and order sizes in the industry are growing at the highest levels in 15 years. The Service index grew to 55.1 during April. There was some reversal during 2020, only to be crushed by a lack of swift vaccine hopes - but the current hope is that the trend will actually stick around this time. With manufacturing above 60 and service at nearly 57.0 at current levels, the level of confidence investors can feel related to this data and the economic activity seems high. There is, therefore, no sign of a slowdown when we look at numbers or indicators like these.
Not everything's good news, however, there are some challenges here. Reports come that despite solid demand, the supply side is having serious issues fulfilling orders due to supply chain restrictions and lingering COVID-19 effects.
The largest problem for the EU macro is the current variance between demand, and the shipping/supply of goods, as well as employing people with correct qualifications. There are issues in both of these areas, meaning companies want to supply what is demanded, but cannot keep pace with the current demand, which may result in demand going elsewhere. The variance between what customers are demanding and what can be delivered is the highest since the dot-com bubble. (Source: Markit Economics)
Effects from this are clear - increased pricing for goods, as well as increased pricing for services, price increases which no doubt will flow down to consumers as well - at the quickest rate since these analytics began.
It's these variances that also mean that the full effect of an economic euphoria that should follow numbers such as these, hasn't actually materialized. Investors and the market know that despite excellent numbers, there are some dangers and uncertainties lurking below.
Inflation in my home geography is on the rise, though not at levels seen in the US. Current inflation forecasts for Sweden are for a <1.0% inflation at the end of 2021, which is the reason why our FED is keeping interest rates low. The latest numbers, out of late April 2025 is indicating a current (not full-year) inflation of 2.5%, which is only 50 bps above the current National Bank target of 2.3%, and likely to fall to very moderate levels towards the end of the year.
The Swedish perspective is that our National bank wants significant inflation here due to having missed inflation targets for some time. The reason for the sudden growth in inflation is rapidly increasing price levels, from surprisingly low prices due to COVID-19 to begin with.
So, overall EU PMI and macro, inflation, and relevant numbers that I look at aren't indicating a slowdown of the current market as of yet. There are definitely a few worrying factors to keep an eye on, but that's the case in every market.
2. US numbers/Inflation
The latest numbers we have out of US came from April, and the shock hitting the market at a high CPI of 4.2% is part of what spooked the market and caused things to dip down, as a 4.2% was significantly above expectations. The last time we saw US CPI at levels such as that was prior to the financial crisis in 2006-2007.
The immediate effect was of course stock market dip, increasing interest rates, and a stronger USD paired to other currencies. Speculation that the FED needed to act also grew and the market was dipping for quite some time despite overall stabilizations.
The reiterated message from the FED is that they seem unworried about increasing inflation at this particular time, and the increasing rates are a clear sign that the message from the FED is reaching its target audience.
However, where's the threshold for what sort of inflation can be expected? The FED has earlier spoken of accepting rates of inflation "slightly" above the 2% target to compensate for the relative inflation underperformance for some time. This target is currently being exceeded rather significantly, and current expectations (at least out of Sweden and the EU) is pointing to not only a stable development at these high inflation rates but potentially higher, with a CPI-inflation at around or above 5% during this year, putting Core inflation at 3.5% for the remainder of the year.
Normally, such rates would elicit a response from most any central bank, due to the risk of the inflation rates actually sticking around, which leads to higher inflation expectations, which in turn will lead to increased payroll expectations and salary demands.
What to expect from the FOMC here? Well, expectations here are that if these levels remain, the pressure might increase on the FED to act. What's more, there's a ticking clock on when the FOMC and the FED can signal tapering of the purchases of treasuries.
There's also another factor to consider - namely the job market. The message has been lower unemployment overall, but also a reversal for those that have been laid off otherwise "paused" due to COVID-19, and the number here is still 8 million people less in employment compared to pre-pandemic levels, which is nearly the entire population of Sweden. The latest numbers weren't all that promising, with a 266,000 increase, but an increase in overall unemployment to 6.1%. Some of the reason for this, at least that is speculated, is that the appeal of sticking to COVID-19 aid is more beneficial than actually going back to work - which is of course a problem, as companies with desperate demand for people may be forced to pay higher salaries, which could also be connected to expectations for higher inflation.
Adding to an already tricky situation is that U.S president Biden has only received approval for $1,900B out of the $5,500 of post-pandemic aid from Congress.
With the continued threat of inflation, increasing national debt, and risk for an overheating of the US market, there are no doubt a few democrats (as well as many Republicans) who may be wondering if now is the right time to roll out untold levels of stimulus and fiscal policies such as these. All that's needed from a political perspective is that a single democrat starts to teeter here for the plans to at least become more complicated to pass.
Conclusions for the market
So, two quick summaries of where I currently see the most important geographies that I invest in - EU and NA/US. The result of these current trends is apparent to me, and we see it on the market daily as I write this article.
The market is likely to continue to show volatility going forward, and this volatility, under current circumstances, seems likely to increase. While underlying demands and trends are for the moment solid, and the current pace of recovery is aided by increased vaccinations, reopening of the economy, and moving into summer, which even last year was a period of lower COVID-19 activity in most of the world, there are plenty of factors that can derail if not the entire market, certain sectors of the market.
Fears of inflation also have the historical tendency of being particularly negative when it comes to growth stocks, which is one of the reasons we've seen a bit of an investor exodus or a capital outflow from some of the most popular growth stocks, including Tesla (TSLA). There has also been outflow from some of the larger ETFs, such as ARK (ARKK), but the downturn has affected most growth stocks as well as many stocks overall. Tech stocks are particularly sensitive to rising rate expectations because their value rests almost entirely on expectations of future earnings. Any variance or change to the risk-free rate influences the discount level applied to these stocks, and current weighting to these stocks in many funds is at multi-year lows
Stocks that do well in rising interest-rate environments include banks, miners, and energy companies - and these have been rising. These are also stocks that I'm fairly heavily exposed to and continue to increase my exposure to.
In short, if we're talking about a market where inflation fears are a part of the overall picture, investors should watch cyclical sectors where profits should pick back up. These include financials, cyclical consumer stocks, mining stocks, energy stocks, and companies with overall strong pricing power. Consumer staples are, as almost always, well-equipped to handle rising interest rates, as their demand can be considered inelastic, meaning they can simply push along price increases.
Companies at the bottom of the totem pole would be a tech. Another sector to be relatively careful with here would be certain industrials because of recent outperformance. Their control to be able to pass along inflationary cost increases differs due to contract lengths, order books, and this is something to keep in mind when looking at expensive industrials here.
The key point is that inflation increase costs for companies - so companies without the ability to pass along costs through increased pricing, or where valuations rely heavily on discount rates, or forecasted earnings rate, and where no dividends exist, should be carefully considered prior to invest. A rising interest rate also increases the costs of debt and lending, and some companies which work under near-zero profit margins and which have grown into existence during a zero-interest rate environment actually can't survive an environment with rising rates for long.
These are all things to keep in mind for the market, as I see it.
What I invest in
The conclusions in the part above of the article should indicate my investing targets in such an environment. The fact is that during 2020, I grew my investments into tech at a rapid pace, and there was much undervaluation to be had in legacy tech stocks and chip manufacturers. These discounts and these positives, however, have faded, and the sectors to watch today, the sectors that I watch are:
Financials
Healthcare/Pharma
Basic Materials/Energy
Certain Consumer Staples
(Certain) Communications (infrastructure, not content-weighted)
These companies, at least theoretically, are well able to absorb the rising interest rates and inflation and pass along costs in various ways, with plenty of examples both from my own life as well as the market. How often have we not been sent a respectfully-worded letter that our cell phone plan/mobile service plan costs are increasing by 3-5%?
I'm certainly not fearful of the current market, but I believe it fair to say that I'm more careful than I've been in a very long time. At current levels, I hold around $42,000 in pure cash. My initial plan was to have most of this deployed, but the market situation has prevented me from comfortably doing so.
Still, as of my latest articles, I have increased exposure to energy, more pharma, more communications, and some consumer staples - and more investments into these companies continue to be my plan here.
The market, seen from a valuation perspective, is extremely expensive in most respects. In a way, that makes deploying capital all the more important. Any amount of cash you currently hold in the form of cash at zero or substandard interest rate is losing value quite literally as you're watching it.
These are my thoughts and considerations - and what I currently invest in, given the current market situation.
Thoughts and comments are welcome, as is advice.
Thank you for reading.