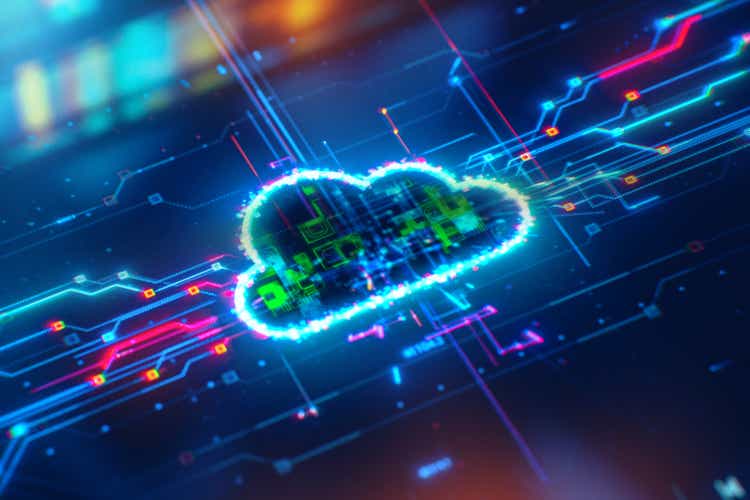 Introduction
Tech has had quite a serious correction in the last few months. Big tech, represented by the Nasdaq (QQQ), was not hit so hard, although it underperformed the S&P 500 (SPY) year-to-date.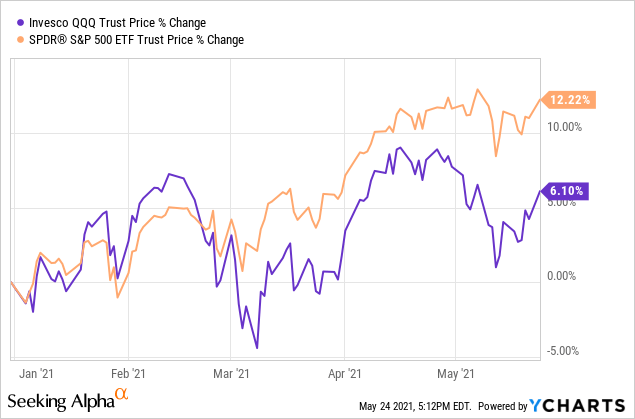 Hit especially hard were high-growth tech stocks, like those in the ETFs of Ark Capital (ARKK) (ARKG) (ARKF) (ARKX) (ARKW) (ARKQ).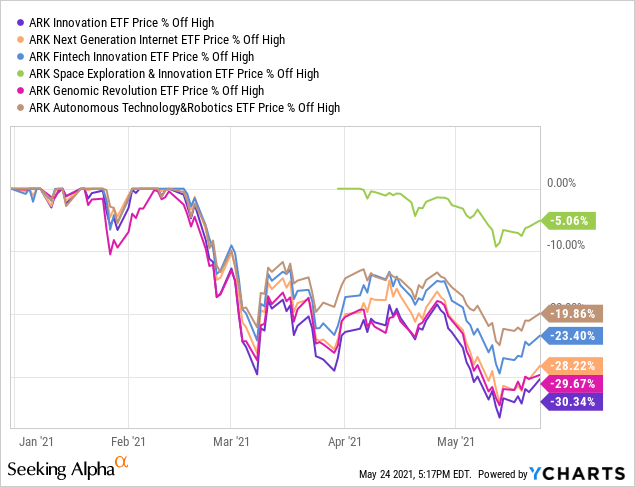 But because the holdings in Ark's ETFs stabilize each other a bit, several individual high-growth stocks are down even more. A company like The Trade Desk (TTD), for example, has always had a volatile stock price, but it was off 50% of its all-time high, even though I think it has huge potential here. Teladoc (TDOC) is another high-growth name that has lost so much, even though I still think fundamentally nothing has changed. Or how about Skillz (SKLZ) another stock that Ark Capital has been buying consistently recently?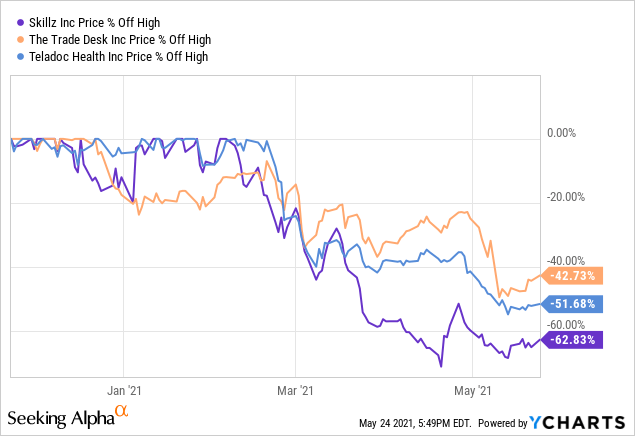 As you can see, there has been a small bump in the stock price very recently. Could it be the start of a turnaround?
People who have read my articles before know that I don't focus on the short term, which doesn't mean that I never have an opinion about it. Sometimes I do, like right now. Beware, this is not a short-term call to trade (I never do that) it's just an opinion. It's important to know that I have based my opinion on facts, but it's still just an opinion. Keep that in mind, not just this time but each time you hear someone say something about short-term stock market moves. It's all just opinion. It's fun to discuss and it could teach you something along the way, but it shouldn't influence your long-term investing goals.
A turnaround point?
The question that I have felt popping in my head in the last few days is: "Could we be at a turnaround point?" Let me explain why, as there are several factors that lead me to this question.
This week, I saw this chart from Bank of America: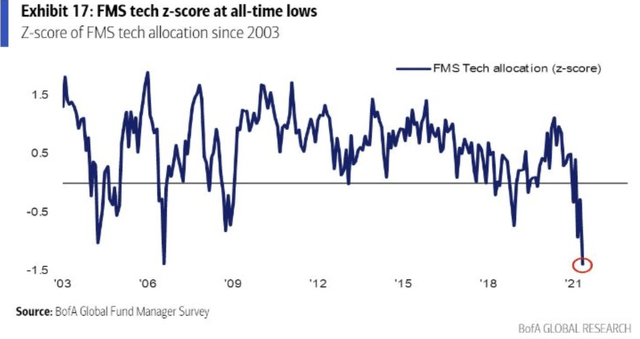 It's a new all-time low, which means that fund managers have never allocated so little of the money they have under management to the tech sector since the start of the data collection in 2003.
That might sound scary, but it's actually really bullish. It doesn't mean technology can't go lower, but the upside is much bigger than the downside at this point, especially when you also look at this graph, which shows that the sentiment for tech is heading in the right direction: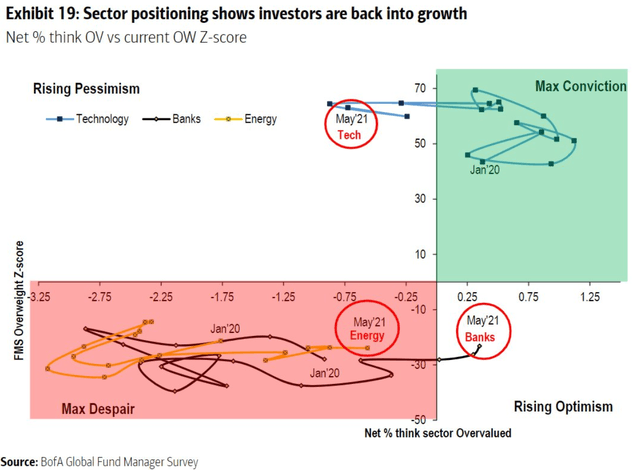 If you look at the tech sector fair value barometer of Morningstar, which always is very conservative, you see that tech is about fairly valued right now, unlike sectors like financials, consumer defensive, and industrials, which are severely overvalued now.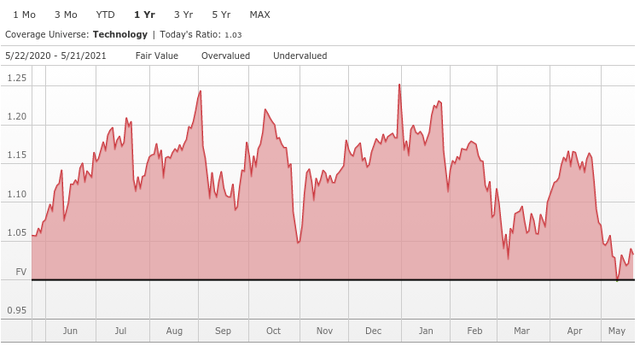 (Source)
Combine that with the overall Fear and Greed barometer, which still shows fear and change might come.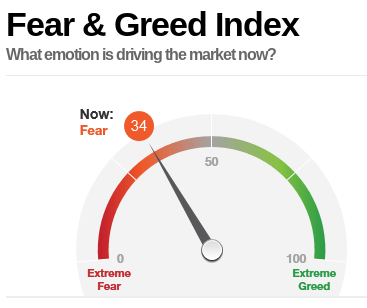 (Source)
After all, volatility works both ways. Most people only talk about volatility when certain stocks go down a lot over a short period of time, but they forget that these stocks also are the ones that go up much faster. My aim is to find stocks with high potential and for me those are stocks that have the potential to go up 10 times and more over the next decade. For those kinds of gains, you need volatility because it can catapult the stock price up, even if there are period of hard drops.
In his great book 100 Baggers, Chris Mayer examined 365 stocks that had gone up 100 times in value or more. Every single one of them, all 365, had experienced crashes of 50%, most of them much more and most of them multiple times. Heck, even Berkshire Hathaway (BRK.A) (BRK.B) has seen three crashes of 50% and more.
I'm always very careful with the kind of graphs that I showed you as they often change rapidly and they are very short-term focused.
Over the long term, stock prices will normally follow the fundamentals of a company. In this case, I think the price drops for some asset classes, especially high growth, were healthy. I already have argued before that this is not like the dotcom bubble at all. But of course, if tech would have continued to go up so much as it had, a bubble could inflate. There's some air out now and that can only be good for long-term investors.
The crash in cryptocurrencies also could mean that the money flows back to growth stocks. Again, this is all speculation and I might be off.
Inflation
Are you still afraid of inflation? I'm not. I have shared my viewpoint with my subscribers for a while now, but I want to get it out to everyone.
Like everyone, I think that inflation over the first year could be quite high because of the bad numbers of last year caused by the pandemic. But I don't believe in high inflation for the long term, probably not even longer than a year.
To explain what I mean, let's go back to the basics.
What causes inflation? Products that get more expensive, of course.
Why do they get more expensive? Because of the higher cost of materials needed and/or higher wages.
The lowest wages have gone up and probably will continue to go up, also because it's what the current US government wants to see. That alone leads a lot of economists to believe there will be inflation or even hyperinflation. No matter how convincing some state this, it's just an informed opinion, nothing more and I happen to disagree with the opinion.
Last week, it was made public that the US economic output is now as high as before the pandemic, but with 8 million fewer workers. What this shows to me is that technology is the cause of a completely underrated deflationary pressure.
Let me give some examples. A job that was done on Fiverr (FVRR) vs. hiring a freelancer or buying something on Amazon (AMZN) vs. in your local store. It's obvious which option is cheaper, I think and more and more people chose for the cheaper option.
The same goes for a lot of technology deployed at workplaces. AI (artificial intelligence) and automation in companies, for example, save companies a lot of time and money. A Zoom meeting with someone a few thousand miles away costs the company an hour of working time instead of a week. Calculate it all together and you see what's happening now and what will even accelerate in the future: All of these technological improvements have a deflationary effect on the economy.
Of course, technology in the working place is not new. Around the year 2010, the first companies started to switch SaaS or software-as-a-service, and the cloud, which makes scaling so much easier than ever before.
As you probably know, the Fed aims for an inflation rate of about 2%. These are the inflation numbers of 1990 to 2020: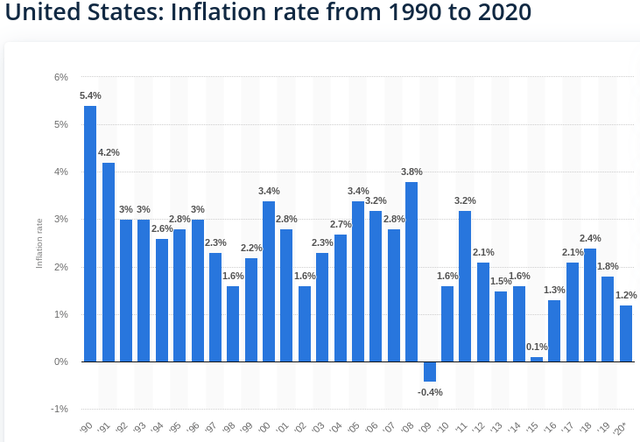 (Source)
As you see, the 2% norm was only reached in four years since 2010, despite the most liberal money policy in the history of the Fed. In the 19 years before the financial crisis, the inflation rate was under 2% just twice.
I think the deflationary role of technology is severely underrated. It seems logical. If a company now wants to grow 10 times in a month, like Zoom (ZM) did last year at the start of the pandemic, it just hires more computing power from AWS, Azure (NASDAQ:MSFT), or another provider. A decade ago, this would have been impossible and two decades ago, such growth would have taken at least a decade of making plans, borrowing money, constructing factories, hiring employees, setting up distribution channels, etc. It was a much costlier process than just renting data center capacity. Therefore, I don't see high long-term inflation any time soon.
Conclusion
I don't often do market predictions over the short term, as they are very speculative and usually based on a certain worldview or limited selection of facts, including this very article.
But while I don't act on short-term-oriented opinions, including my own, I do have one myself. In this article, I tried to show you how I think about the market in high-growth stocks right now and for the foreseeable future.
I would advocate that, just like I do, you don't act on my opinion or anyone else's. Focusing on your long-term goals and avoiding that opinions like this one influence your investing behavior too much will probably make you a much better investor than acting on every single market prediction. But that doesn't mean that thinking about the state of the market can't be fun, right?
In the meantime, keep growing!