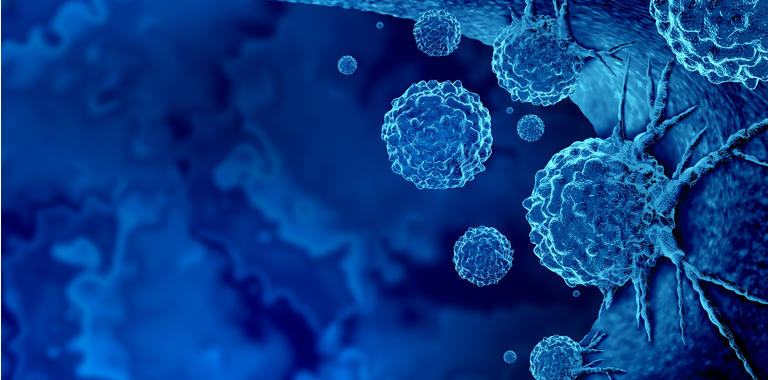 Kronos Bio (NASDAQ:KRON) is a late stage, undercovered, recently IPO'd cancer therapeutics company targeting dysregulated transcription factors and their associated TRNs or transcriptional regulatory networks. Lead indication is AML, or acute myeloid leukemia, and lead drug Entospletinib, a SYK Inhibitor, has successfully completed a phase 1/2 trial and will initiate a phase 3 registrational trial in mid 2021. The molecule was previously known as GS-9973 and belonged to Gilead Sciences (GILD), with whom Kronos has a major collaboration. The molecule has run through at least 14 trials according to the registry.
The current pipeline of the company looks like this: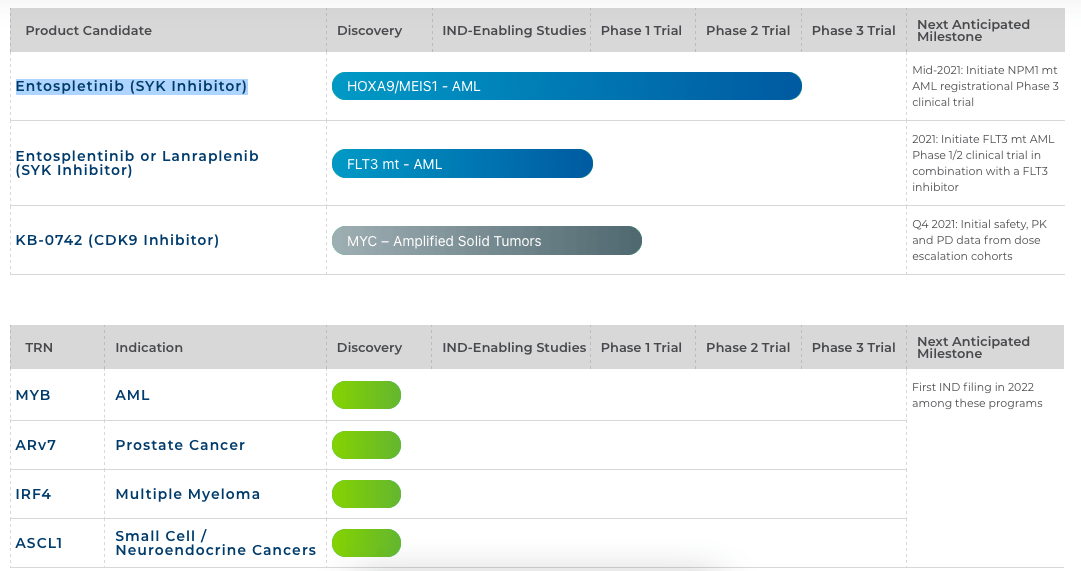 The science
There are more than 500 TRN proteins in the human body which play more than 50 oncogenic roles. Regular TRN is responsible for orchestrating specific gene expressions in healthy cells that control their development and function. Dysregulated TRNs are caused by erroneous transcription factor expression. They are responsible for changing healthy cells into cancerous ones.
Kronos has extensive expertise in computational biology and, using its technology, it maps these oncogenic TRNs and figures out which nodes and their corresponding gene expressions drive cancer. These nodes present attractive therapeutic targets. However, less than 10 transcription factors have been drugged so far. Some of the well-known ones are given below: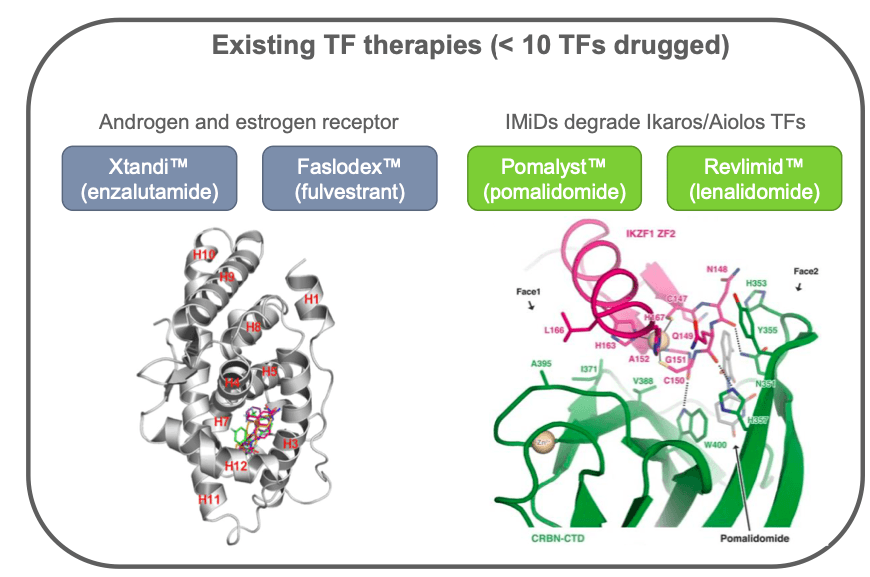 The company provides vast details of its technology, how it identifies target TFs, how it develops therapeutic candidates, and so on. However, we're not going to go into all that right now. Most sciences look good on paper, but very few work in the field. Data, as always, is key, so let's look at what data they have.
Entospletinib trial data
Entospletinib is a selective inhibitor of Spleen Tyrosine Kinase (SYK). The molecule has seven years of data in over 1,300 patients and healthy volunteers. Studies have shown SYK to be a target in biomarker-defined AML patients, like NPM1-mutated AML patients, which is the target of the phase 3 trial with potential for accelerated approval. Pivotal data is expected in the second half of 2023. The trial's primary endpoint will be measurable residual disease (MRD) negative complete response in approximately 180 newly-diagnosed adult NPM1-mutated AML patients.
MRD refers to leukemia cells detectable after treatment, even after a patient has seen a complete response. These may be small in number, however they can multiply, causing relapse and death. MRD negativity is, thus, a higher benchmark for AML trials, and it means "that a treatment has reduced the number of leukemic cells to below the limit of detection by the most sensitive analytical methods."
"MRD has been used as a surrogate endpoint for approvals in other forms of leukemia but not for AML, in part due to the requirement for a unique marker that can be used to track rare residual leukemia cells. In the case of NPM1-mutated AML, the mutated gene itself provides that unique marker," said John Byrd, M.D., D. Warren Brown Chair of Leukemia Research and Distinguished University Professor at The Ohio State University Comprehensive Cancer Center and chief medical officer of the Leukemia & Lymphoma Society's Beat AML Master Trial. "The association between MRD negativity and improved survival in patients with NPM1-mutated AML is well established in the literature. Based on this body of evidence, AML experts around the world recommend monitoring MRD in patients with NPM1 mutation to guide treatment decisions. The best opportunity to achieve long-lasting remission and extend survival is to achieve MRD negativity with the first attempt at treatment."
Professor Byrd was part of the team that conducted the phase 1/2 trial - see here. Data showed:
Results: Fifty-three patients (n = 12, phase Ib and n = 41, phase II) with previously untreated de novo (n = 39) or secondary (n = 14) AML were enrolled (58% male; median age, 60 years) in this study. The composite complete response with entospletinib + 7+3 was 70%. Patients with baseline HOXA9 and MEIS1 expression higher than the median had improved overall survival compared with patients with below median HOXA9 and MEIS1 expression. Common adverse events were cytopenias, febrile neutropenia, and infection. There were no dose-limiting toxicities. Entospletinib-related skin rash and hyperbilirubinemia were also observed.

Conclusions: Entospletinib with intensive chemotherapy was well tolerated in patients with AML. Improved survival was observed in patients with HOXA9/MEIS1 overexpression, contrasting published data demonstrating poor survival in such patients. A randomized study will be necessary to determine whether entospletinib was a mediator of this observation.
As we can see, the 15 patients with NPM1 mutations had a distinctly higher response rate than that of the whole patient population, at 87% and 70%, respectively. Time will tell if this data is impressive enough.
Financials
KRON has a market cap of $1.5bn and cash reserves of $398mn. Kronos was founded by Two River, a well known life sciences company investor. The company has heavy institutional interest.
The company's expertise helped it identify SYK as a critical node in the HOX/MEIS TRN, and in July 2020, it acquired Entospletinib, a SYK inhibitor, from Gilead, which swiftly took the company to late clinical stage. KRON paid Gilead $3mn upfront, and is liable to pay up to $115mn in milestone payments, besides tiered marginal royalties ranging from the very low-teens to high-teens on annual worldwide net sales of ENTO. Clearly, Gilead doesn't think much of Entospletinib. Ento's current patents expire between 2029 and 2037.
About competition, the company 10-K states:
In the case of our lead product candidate, ENTO, there are currently no approved products on the market that address the HOX/MEIS-high or NPM1 mutations subset of AML patients. However, there is an approved SYK inhibitor product, which is marketed by Rigel Pharmaceuticals under the name fostamatinib disodium hexahydrate, for the treatment of chronic immune thrombocytopenia. Presently, we are not aware of this product being developed in AML. ENTO may also compete against product candidates that are currently in clinical development to the extent such product candidates are ultimately approved, including: (i) HMPL-523, a SYK inhibitor being developed by Hutchison Medipharma Ltd. that is in Phase 1 evaluation in hematologic malignancies; (ii) product candidates in early clinical development that target the interaction between MLL and MENIN in MLL-r and AML patients with NPM1 mutations, including (a) SNDX-5613, being developed by Syndax Pharmaceuticals, Inc. in a Phase 1/2 clinical trial as monotherapy in relapsed or refractory AML, and (b) KO-539, being developed by Kura Oncology, Inc. in a Phase 1/2 clinical trial as monotherapy in relapsed or refractory AML; and (c) product candidates that may compete with ENTO by addressing the subset of AML patients with FLT3 mutations are either novel FLT3 inhibitors or are currently in development in combination with FLT3 inhibitors, including (a) crenolanib, a FLT3 inhibitor being developed by AROG, (b) venetoclax, a BCL-2 inhibitor being developed by AbbVie, (c) CPX-351, a liposomal formulation of daunorubicin and cytarabine being developed by Jazz Pharmaceuticals, and (d) CC-90009, a cereblon E3 ligase modulator being developed by Bristol-Myers Squibb.
Bottom line
KRON is a recent IPO with an interesting asset licensed from Gilead. The company has a decent amount of cash and a lead asset with years of research behind it. I'm not entirely impressed with the data so far, and will wait on the sidelines on this one.