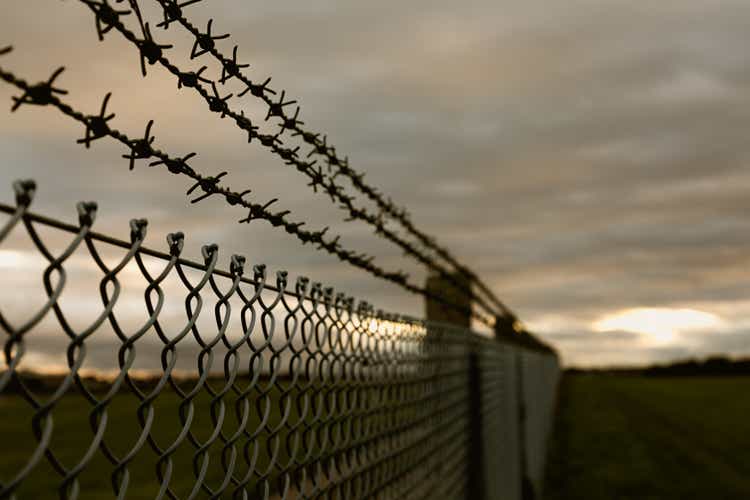 Introduction
If utilized correctly, debt can have a wonderful and transformational effect, but as always, nothing is free, and this naturally accompanies risks with countless stories of companies becoming prisoners to their debt, a fate that ironically awaits the private prison operator GEO Group (NYSE:GEO). Whilst their situation was already dark with their dividends completely suspended, this has now been amplified by Standard & Poor's downgrading their credit rating further into the junk territory and warning of a default, essentially a nicer way of saying bankruptcy. This grim future outlook essentially creates a binary outcome with two main paths forward for investors with high potential rewards being matched by high risks.
How They Reached This Point
Whilst their future outlook is more important for investors, it nevertheless is interesting to revisit how they ended up in such a grim situation since it provides insights that investors can apply to future investments. It may be tempting to attribute most of their current woes to the new Biden administration that ordered the federal government to scale back their usage of private prisons, but to be fair, they were already under threat due to their leverage walking an unsustainable path.
This was a risk that my previous article highlighted and warned against almost exactly one year ago when analyzing their dividends, and whilst their situation has deteriorated even further past just a dividend reduction, the core findings nevertheless still remain valid. There were many moving parts to the situation, but the bottom-line issue was their leverage steadily increasing across the years even before the Biden administration or the Covid-19 pandemic, as the graph included below displays.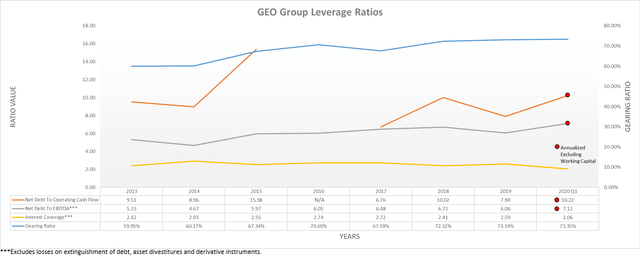 Image Source: Author.
It can be observed that their net debt-to-EBITDA increased from 5.33 and 4.67 during 2013 and 2014, respectively, all the way to 6.06 at the end of 2019, before jumping to 7.12 at the end of the first quarter of 2020 before trouble started with their dividends. This simply indicates that their previous financial operating model was fundamentally unsustainable and naturally spelled trouble with their leverage trending upwards.
Even though investors can debate until the end of time exactly how much leverage is too much, it does not change the fact that it cannot continue increasing perpetually into the future, and thus, the day has now arrived whereby it effectively locks them in a prison of their own making. If they had not driven their leverage to such heights during the years preceding the Biden administration, they would have been far better positioned to handle the potential upcoming financial impact. Although given their net debt-to-EBITDA of 7.12 one year ago before their first dividend reduction, even if the Trump administration had remained in the White House, they would still be walking a dangerous path going forwards, and thus, their potential bankruptcy is not simply due to government policy changes. If interested in a more detailed discussion regarding this financial analysis, please refer to my previously linked article since the purpose of this article is to discuss their future outlook.
The First Path Forwards
When looking towards the future, there are now two main paths forward with the first being the more favorable of the two for their shareholders, which entails them managing to successfully navigate this grim situation without any debt restructuring. The primary and most desirable way for their shareholders would be to utilize their free cash flow to progressively deleverage across the coming years, but given the sheer gravity of the task at hand, this path may not be viable.
They expect to reduce their net debt between at least $125m and $150m during 2021, as per the previously linked dividend suspension announcement. Whilst this certainly helps, sadly, it only just begins to move the needle, considering their current net debt stands at $2.236b. Even if they wished to reduce this by one-third, it would entail a net debt reduction of $745m and, thus, still leave their net debt-to-EBITDA within the high territory at approximately 4.00 based on their financial results for 2020. Although this would only represent a mild degree of deleveraging, it would still take them approximately five years even if they could sustain their estimated $150m of net debt reductions for 2021 further into the future.
This is already a considerable length of time even before considering any upcoming financial impact from the Biden administration phasing out federal use of private prisons, which would obviously throw a spanner in the works. Throughout 2020, they derived 12% and 13% of their total revenues from the Federal government through the Federal Bureau of Prisons and the United States Marshals Service, respectively. Since this amounts to approximately one-quarter of their revenue, the executive order from President Biden stands to have significant financial impacts moving into the medium to long term that obviously impede their ability to deleverage.
It should also be remembered that their status as an REIT also complicates their path towards deleveraging since they have to make minimum dividend payments of at least 90% of net income in order to remain in compliance, which obviously pulls back on their cash available to deleverage. If they keep their REIT status, they avoid paying federal corporate income tax, but at the same time, this means that, if they were to restructure and become a corporation to avoid the minimum dividend commitment, they would pay income tax and, thus, negate a degree of the benefit to deleveraging.
The other option within this path forwards would be to conduct large asset divestitures, but this may not prove too fruitful nor completely resolve their situation. It should firstly be remembered that any large asset divestiture would negatively impact their earnings, and thus, whilst it reduces their debt, the deleveraging target moves since their earnings have also decreased in tandem. Even though this could still work depending upon the exact terms of any possible future divesture, since they would essentially be a forced seller when their industry is out of favor, it would be difficult to imagine them scoring a suitable price and thus resolving their underlying issue.
The Second Path Forwards
The second and sadly scarier path forwards sees them pursuing a form of debt transaction that as Standard & Poor's mentioned could be viewed as a default or a selective default, which could be considered as tantamount to a bankruptcy restructuring whereby debt is exchanged for equity. If this comes to pass, it will hurt their current shareholders even in the best of scenarios, given their current market capitalization of only $644m is dwarfed by their net debt of $2.236b.
The worst part of such a scenario is that it removes the ability for their shareholders to see their investment fully recover even if they retain their shares since their ownership stake would be heavily diluted by the newly issued shares. Whether a possible debt to equity restructuring happens inside or outside of Chapter 11 does not materially change the effective outcome for their shareholders.
Due to the previously discussed gravity of trying to escape their debt prison through deleveraging and the long timeline fraught with further dangers, it is a very real possibility that management will take this faster path to recapitalize their financial position. Considering the issues of having to continue making dividend payments in order to keep their status as an REIT, it increases the probability that they will restructure to a corporation since the prospects of income tax should be less onerous than paying 90% of their net income as dividends. In my view, they will likely seek to convert debt to equity as part of the restructuring package at the same time.
Management Trading Activity
When it comes to these rather tricky make-or-break situations, it can be worthwhile to review the recent trading history of their management who naturally have a greater understanding of their paths forward than any outsiders. Sadly, this does not paint a good picture for their shareholders with there being zero reported buying activity during the last twelve months despite their share price approximately halving, as the table included below displays.

Image Source: Nasdaq.
If their management was confident in their ability to navigate this situation in a profitable manner for shareholders, it would normally be expected to see significant buying activity since they would stand to profit immensely. Whilst I am obviously not privy to their personal financial situations, it still does not change the fact that, objectively speaking, it sends a rather lackluster message when not a single member of management has decided to scoop up any shares during the last year.
Conclusion
Whilst they still might manage to fight their way forwards and escape this debt-induced prison of their own making, it remains incredibly risky for shareholders who should brace for significant dilution from any restructuring. If management had been aggressively buying their own shares during this last painful last twelve months, I would have more hope for a good outcome, but given these dynamics, I believe that a bearish rating is appropriate.
Notes: Unless specified otherwise, all figures in this article were taken from GEO Groups' SEC filings, all calculated figures were performed by the author.