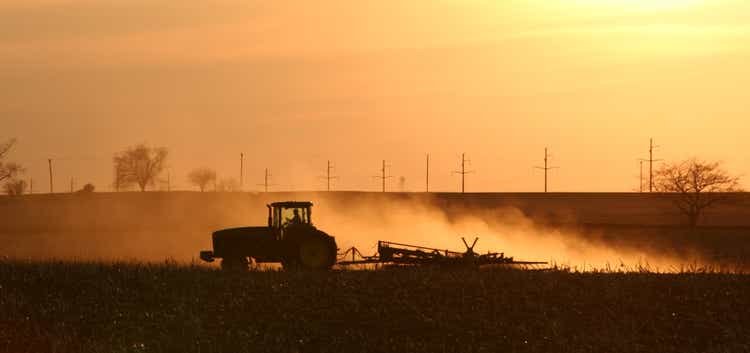 Ideanomics (NASDAQ:IDEX) has started off 2021 on a strong note within its owned businesses, as Timios and WAVE contributed to a positive revenue performance. Treeletrik has a large multi-year order to fill, while Solectrac and Medici Motor Works look to start delivering units this year; another acquisition, of US Hybrid, is likely to be followed by more given the cash position to expand the business portfolio, bringing in new revenue streams.
Q1 Performance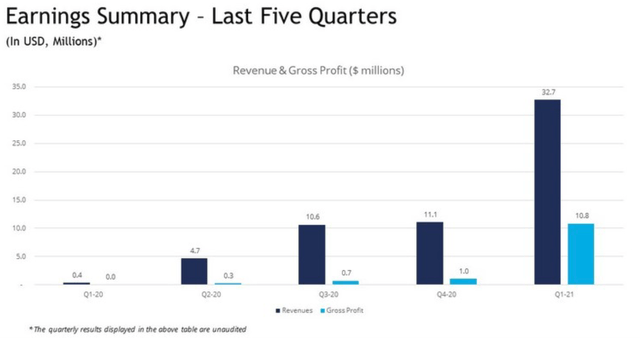 Graphic from Ideanomics
The quarter posted revenues of $32.7 million, with a gross profit margin of 33.1%; however, even with that $10.8 million in gross profit, Ideanomics' operating loss widened by ~37% to $12.9 million. An income tax benefit of $12.9 million meant that the $0.7 million net loss consisted primarily of subsidiary disposal costs (Grapevine) and interest expense of $0.4 million.
Of the revenues generated, Timios accounted for 84.4% at $27.6 million, while WAVE accounted for 5.5% at $1.8 million; Electric Vehicle revenues were 9.2% at $3.0 million. Growth in the acquired businesses is strong, as Timios is setting itself up for a record year with potential to break $100 million in revenues on a red-hot housing tailwind.
Looking deeper, Timios is shaping up to be a vital cornerstone for Ideanomics, generating a significant portion of revenues while also contributing to the bottom line, offsetting growth companies like WAVE and US Hybrid in the Mobility portfolio.
During FY20, Timios generated just over $80 million in revenues, meaning that Q4 saw about $25.7 million in revenues; Q1 showed a high-single digit sequential increase. Margins increased sequentially from Q3 to Q4, with operating margin rising by ~140 bp to 14.4% and net margin by ~120 bp to 11.2%; net income attributable to Timios was $8.96 million for FY20, while free cash flow generation was quite strong. Because of the persisting strong housing tailwind and office location expansion, Timios could see revenues above $100 million this year while margins settle around 15% and 11.5%; this would represent nearly 35% net income growth y/y and the ability to offset some net losses from other segments.
WAVE's Q1 results came in at $1.8 million, so the company could see a slight uptick from the ~$7 million it generated during 2020, given that Ideanomics plans to service the order backlog and introduce the product overseas in locations such as China, with interest in "seaports, airports, and the heavy truck and bus market." More deployment of WAVE to new and existing customers is a positive as the company projects a strong 2022 performance, and intends to develop a charging-as-a-service ("CaaS") model in 2021 ahead of a vehicle-as-a-service and energy-as-a-service during 2022 stemming in part from US Hybrid and Medici Motor Works.
Compared to 2020, Q1's performance has been bolstered by the acquisitions, which have put revenues for 2021 (after just one quarter) higher than the full year last year. However, EV revenues were just $3.0 million for the quarter, while in 2020 the segment generated $19.5 million; this looks to be due to the reorganization of China's operations and possibly some seasonality, as fleet orders can occur at the end of the year, thus creating a larger backlog for MEG in Q4. More revenue across the portfolio and sequential growth from Timios and WAVE so far do bode well for 2021 and beyond.
During the quarter, dilution has continued, as share count has increased by another 20 million, ~5.4%, to 391.1 million. More dilution is expected to continue, given the acquisitive nature of the company and hefty cash balance, to the tune of $356 million on hand at the end of the quarter; the US Hybrid acquisition included $20 million in stock and $30 million in cash, similar to the WAVE acquisition, and future acquisitions could include similar cash and stock terms.
More in Motion
Ideanomics continues to expand its portfolio, which contains many different moving parts from the acquisitions and investments, from Solectrac to Medici Motor Works to Treeletrik and the others. New developments within these reinforce the ability to grow throughout the year.
Solectrac announced the delivery of its first produced Compact Electric Tractor as a donation to the Kōkua Learning Farm in Hawai'i in mid-April; while this is not much of a significant milestone, the company is expecting deliveries to come in throughout the year.
Medici Motor Works could have its vehicles available as early as Q3, with the intent to be available for sale throughout North America by the end of the year. The Medici center will be located in New Jersey, with Ideanomics finalizing the lease for the building this month.
Treeletrik has one of the more exciting timelines for 2021 and 2022, with a substantial order to fill for PT Pasifik Sakti Enjiniring in Indonesia. The 200,000 unit order has a three-year duration, with 10,000 units being supplied during 2021, 90,000 units during 2022, and 100,000 units during 2023. With a unit price of $1372.06, the order value is $274.4 million, and 2021's portion is worth ~$13.7 million. First deliveries of the electric bikes from Malaysia to Indonesia are slated for Q3 (July), but some disruptions of the international shipping and supply chain could bump that to a bit later in the quarter.
However, this is still a smaller part of the overall framework agreement signed in January 2020, prior to the pandemic, which outlined the distributor's "intention to distribute somewhere between 1 million and 1.5 million of their bikes into the Indonesia market in the next few years." While the unit volume looks quite large, it's not even 2% share of bikes in the country, which number just over 100 million. An Indonesian assembly operation, which Ideanomics is planning to set up to facilitate filling the aforementioned 200,000 unit order, will help margins expand as volumes scale.
Treeletrik will be one of the main revenue drivers for Ideanomics through the latter half of 2021 and for the next few years as it works to fill this order and distributor agreement alongside more synergies. Treeletrik's battery-as-a-service is expanding to Thailand and piloting in a couple other unnamed countries soon, and a North American marketing plan is scheduled for later in the year.
WAVE and US Hybrid are two of the smaller pieces at the moment, generating nearly $15 million in revenues combined; however, the two provide interesting outlets individually and collectively within the portfolio.
WAVE is looking to make steps within China, with "meetings with ports, airports and also talking to PetroChina about our gas station conversion project," underway last quarter, but no secure agreements yet. The system is set for a pay-per-mile charging-as-a-service, reducing the capex commitment from commercial operations, which could aid adoption, given that WAVE works by topping off the charge during stops in routes.
US Hybrid develops fuel cell engines and zero-emission powertrains for EV, FCV and hybrid vehicles for the commercial and municipal vehicle market (buses, drayage trucks, monorails, mining trucks, street sweepers). Ideanomics will help US Hybrid to scale its own sales and innovate, while also bringing the technologies to its own vehicles such as Medici's trucks.
These two acquisitions are important from a cross-selling standpoint, as Ideanomics can integrate parts of its portfolio together in a more holistic way - it can sell Medici trucks using US Hybrid components while bundling that together with a WAVE charging system.
With the cash on hand, Ideanomics has enough capital to continue expanding its portfolio, as it is finding the balance between organic growth and "looking for some high-quality accretive acquisitions." The portfolio currently is showing good growth potential across multiple segments and owned businesses, but more additions are likely.
Overall
Even with the revenue growth and financial performance led by acquired businesses, primarily Timios, organic growth through EV - which could primarily be Treeletrik over the next six quarters - looks to be solid as well.
Ideanomics has hovered near the $1.1 billion valuation it has for quite some time, as it continues to dilute through acquisitions, even with growth starting to show. The company does trade at 3.3x cash and 2.8x book, even with a near 10x sales multiple, but given the fact that it is likely to use cash to advance organic growth and acquire and invest in more companies, a shrinking book value could keep valuation limited to the tight band it is in. Global supply/logistics chain risks could arise within segments like Treeletrik, while WAVE and US Hybrid still remain small-scale, and investments to scale up significantly could be costly.
Even with the positive potential arising within multiple different pieces of the portfolio, the near-term stance remains neutral given the risks to potential dilution and decreasing book value.