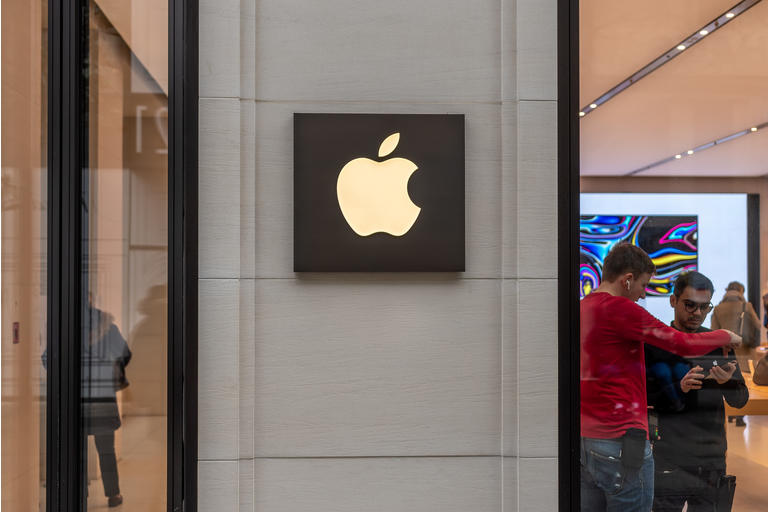 Investment thesis
Many Apple (NASDAQ:AAPL) investors still struggle to see why Apple would enter the (low-margin) car business. Simply put, the car is becoming a computer.
While cars already contain a lot of semiconductors, they still lack high performance compute. This will change as they become autonomous. This will substantially increase the silicon bill of materials (BOM) for silicon in vehicles. Currently, the timeline for this happening is a robotaxi phase starting in the next few years, followed by more widespread adoption of consumer AVs around 2025. Quite recently, the rumors about the Apple Car (and plenty others, even including Foxconn) further validate that this is becoming the next battleground in tech.
This battleground for automotive silicon can also be seen with players such as Intel (INTC), Nvidia (NVDA) and Qualcomm (QCOM) developing basically data centers on wheels.
This transition may be likened to the emergence of the smartphone over a decade ago. This means lessons from this could be learned in advance, which could also be useful to investors. In particular, the development of smartphones has learned that legacy phone makers had to adapt, or they could fall substantially behind in market share, which happened to Nokia (NOK). Hence, as the Apple developments show, those with more affinity to the compute industry may see this as a new opportunity for further growth.
General AV challenges
As the 2024+ timeline indicates, the Apple Car would most likely pertain to a consumer AV, not a robotaxi. For Apple, as a compute company for consumer devices, this makes (most) sense. While robotaxis will be the first mainstream adoption of AVs, their market size, in units, will obviously be substantially smaller than the eventual adoption of consumer AVs.
There are several reasons that AVs will start with a robotaxi phase:
Regulation: it is easier to regulate a fleet.
Geographic scale: up-to-date, global HD maps are a key component to make AVs while, in comparison, robotaxis could operate in a much smaller, geofenced area.
Cost: especially lidars are expensive, with next-gen technologies still in development, making AVs currently cost prohibitive for broad consumer adoption.
Progress in regulation will likely be different for each country. Nevertheless, the industry itself is already working on frameworks for regulation, and China for example has already adopted Intel Mobileye's "RSS" driving policy several years ago. Similar efforts are ongoing globally. With regards to HD maps, the most scalable approach is to build crowdsourced maps by using data gathered by consumer vehicles. Currently, Intel Mobileye is the only one which is pursuing this route, and is already mapping millions of km of road per day. Note that HD means that standard maps such as Google (GOOG) (GOOGL) (or Apple) Maps are not sufficient.
Apple Car
As Seeking Alpha reported in December, based on a Reuters report, Apple targets to go into production of a self-driving EV by 2024, although other reports have pushed this timeline further out. This car could also feature a new breakthrough battery technology by Apple.
A lot of the debate has been around Apple's manufacturing plan. Apple would likely have to outsource production. This is not necessarily different from its iPhones, though. In fact, Foxconn has already announced it would pursue this route. This is for example discussed in this article, which also discusses the threat mentioned of legacy carmakers having to avoid becoming the next Nokia. Another example would be NIO (NIO), which also leverages third-party manufacturing capabilities through a partnership.
Nevertheless, designing a vehicle, as well as developing the self-driving system, are of course two completely separate efforts. Hence, it remains to be seen how broad Apple's scope is. For example, it could simply leverage its expertise in the compute industry - developing its own silicon, sensors, software, etc. - to develop a self-driving system, which would then be integrated with a vehicle from its manufacturing partnership.
The latter possibility arguably would carry the least risk. On the other hand, it would be akin to Apple just developing the silicon of its iPhone, with all other components designed and manufactured by a third-party. Hence, that would be quite a departure from its other products where, as some would say, Apple controls the "full widget."
Secondly, the battery breakthrough, as Reuters reported:
As for the car's battery, Apple plans to use a unique "monocell" design that bulks up the individual cells in the battery and frees up space inside the battery pack by eliminating pouches and modules that hold battery materials, one of the people said.
It was also suggested that the battery could use a different chemistry. In any case, this seems similar to Tesla's (TSLA) plan as unveiled at its fall 2020 Battery Day. A few others, including NIO, have also touted about their battery breakthroughs recently. Given the battery requirements of EVs, innovations in cost, production and cell capacity are required to scale their adoption to large volumes.
What Apple Car is not
One Seeking Alpha author speculated that Apple would create a "full autonomous package." Essentially, this would be the self-driving system (silicon, sensors, software, etc.) that makes a car fully autonomous, similar to how a SoC chip makes the phone a smartphone.
This is also what I have seen suggested elsewhere quite a few times: Apple supposedly would sell its AV system and software to others. This means Apple would effectively become a competitor to Intel Mobileye, Nvidia and Qualcomm.
If AAPL's autonomous software was put in 46.28% of all vehicles based off the 2019 levels that would account for $2.35 billion in revenue based on $3,000 per unit. Let's speculate and say that AAPL was to create a services package for $39.99/MO to complement the autonomous software and 50% of buyers purchased it. In year 1, that would generate $1.88 billion in recurring revenue, which would increase to $3.76 billion in year 2, $5.64 billion in year 3, $7.53 billion in year 4 and $9.41 billion in year 5.
But that is definitely not what Apple would ever do. Apple is not a merchant silicon vendor. Apple only develops its hardware and technology for its own purposes, for its own devices. For example, Apple also does not sell its A-series iPhone chips or M-series Mac chips.
In fact, the author really should have written that article as an investment thesis for Intel - or Nvidia for that matter - about how Intel will generate "tens of billions" of (recurring) revenue in automotive. Intel's Mobileye is the leading provider of ADAS systems, and is likely to extend this position to autonomous driving systems as well.
Hence, without being aware of it, the author really put forward a convincing investment case for Intel - but he put his dollars in the wrong stock.
So obviously, instead, the only way Apple would ever enter the EV/AV market is by productizing a full consumer product. How it will be manufactured is irrelevant; it will be branded as an Apple product.
Market opportunity
In recent years, much of the Apple growth story has shifted from its devices to its services. To that end, an "Apple Car" could provide Apple with a new consumer product in its portfolio to drive meaningful growth.
Initial reactions among investors about Apple potentially entering the automotive business were mixed. However, I would argue there is already an example of a company that has shown that vehicles are a worthy investment opportunity: Tesla.
Tesla's valuation has often been compared to legacy car OEMs, which shows that Tesla has an enormous market cap compared to its unit production count. This suggests Tesla is more valued like tech companies. This, in turn, suggests that investors have caught on to the growth story of EVs, and soon, AVs.
Hence, companies such as Tesla and NIO have already disproven that cars could not add value, even to a company with Apple's valuation. I only foresee investor enthusiasm increasing as autonomous vehicles become more a reality in the market, rather than still something in development. This is something that Apple could very realistically accomplish as one of the world's most valuable brands.
For example, if Apple would add a similar amount as Tesla's valuation to its market cap (because of Apple Car), then that would represent quite a significant boost to Apple's valuation/share price.
Passenger economy
As an extension to the previous section, just like the value of phones (due to broad innovation) increased exponentially as they became smart, similarly cars no doubt will see a similar exponential further increase in value as they also become smart (autonomous).
In particular, this has been termed the "passenger economy." For (autonomous) cars, the (multi-trillion) value they could provide is to free humans from having to drive themselves. This frees up time for other (perhaps more productive or entertaining) activities. Hence, this proves that autonomous cars, simply due to their function, provide a large, economic incentive for their adoption (once the technology becomes viable in the next few years). This will further enable innovation in technology around cars, as for example the infotainment system in cars will likely increase in usefulness.
Hence, this further plays into the strengths of a tech company such as Apple, which also develops its own software. In essence, Apple may see an enormous opportunity to extend its ecosystem into the car, to profit from this "passenger economy."
Competition
It remains to be seen if other consumer tech devices companies will pursue a similar path, such as the launch of a Samsung Car, DJI Car or Xiaomi EV. Instead, outside of traditional OEMs, to date mostly start-ups such as NIO (and Tesla) have invested in autonomous technology, in conjunction with the rise of EVs.
To that end, from the established companies, mostly pure-play semiconductor chip companies have invested in this new, emerging market as of yet. (The likes of Google Waymo and Amazon (AMZN) Zoox are focused on the robotaxi side.) As mentioned, the silicon bill of materials will increase substantially due to the compute and sensor requirements of AVs. Self-driving systems are expected to cost several thousand dollars.
Hence, the business model is to develop an end-to-end self-driving system (including silicon chips, software and sensors), which can be integrated in cars from traditional OEMs. In other words, this is an extension of the current business model in ADAS (legacy driver assistance).
This model (off-the-shelf AV systems) allows any carmaker to adopt self-driving technology. This is exactly what was described in the "What Apple Car is not" section.
This would be similar to how chipmakers such as Intel, Qualcomm and AMD (AMD) allow PC and smartphone vendors to focus on creating the consumer devices (PCs, smartphones) without having to develop all the high-tech silicon and other technologies themselves.
Though, as Apple has already proven across its portfolio, with its own ecosystem from hardware to software to devices, there would likely still be room for differentiation by owning the full stack. Although, keep in mind that the essential function of an AV is to drive safely and autonomous. This remains the same goal for all players (and it also a necessary requirement for being able to commercialize this technology in the first place).
Moreover, history in the smartphone space has shown that some legacy OEMs may be rather slow to adopt and innovate. Hence, big tech companies such as Apple, Amazon, Google, Intel, Nvidia and others entering this market is likely to increase innovation.
As mentioned, this SemiEngineering article dives deeper into the implications of these new entrants in automotive due to the EV/AV revolution.
Risks
The main risk is the technological challenge to build an AV software that is capable of L4/L5 autonomous driving globally. It has to be at least as reliable as humans, but preferably significantly more so, so that it will also make traffic more safe. That is not a trivial task, and recently there has already been some consolidation, delays, and for example some executive changes at Waymo.
In case the AV system would not be ready, Apple could perhaps start with just EVs like Tesla and others.
Investor takeaway
Given the expected cost of a self-driving system, rather than becoming a computer, cars may even become more like data centers on wheels. This plays in the cards of innovative tech companies in the compute industry. Indeed, Intel, Nvidia and Qualcomm have all already announced to be developing self-driving compute platforms, or even full self-driving systems.
Apple, as one of the most vertically integrated companies in the consumer space, has likely seen a similar opportunity to further expand its ecosystem and product portfolio. Apple has obviously pioneered the previous smartphone era. Just like that era brought a lot of innovation, to make broad consumer adoption of AVs a reality, will require for example innovations in sensors and hardware to reduce cost, as well as software expertise to develop a safe AV system.
Since Apple has both, and since this market is expected to become significant in size, overall it makes sense for Apple to pursue AVs, which could become its next major growth driver as the next big frontier in tech.
Although gross margins of vehicles are lower than Apple's devices, Tesla already proves that investors are willing to reward innovation in this area. Hence, Apple entering this space is likely to only further accelerate adoption of this emerging technology. It is expected that such broad adoption of AVs would create a "passenger economy," given the value that freeing up the laborious manual driving process creates.
The main major question would be around manufacturing, and to what extent Apple would expand the scope of designing its self-driving car beyond the self-driving system. As argued here, though, it is highly unlikely Apple would become a merchant vendor of its AV system; Apple is and will remain a consumer electronics company.
In short, Apple's Car effort validates the car as becoming a computer (or even data center) on wheels, and the next major battleground in tech. Being successful in this space is likely to yield solid returns for the company's shareholders.