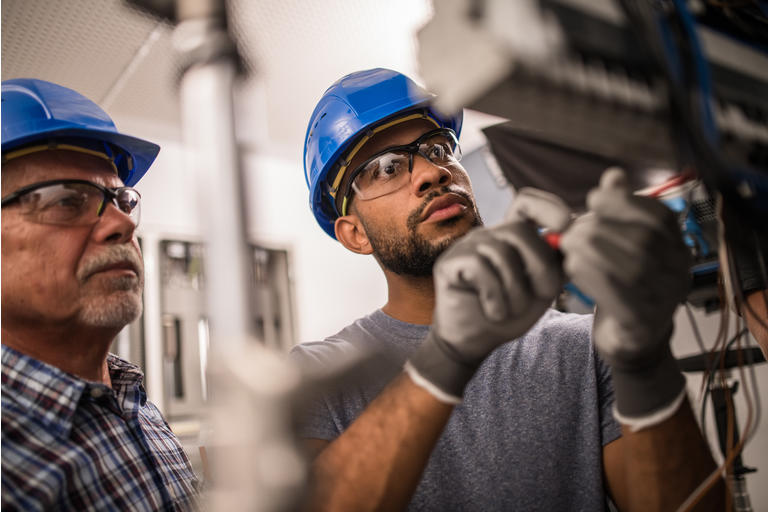 IES Holdings, Inc. (NASDAQ:IESC) has been a truly undercovered "Buy and Build" companies as it has rolled up companies focused on industrial products and infrastructure services. The company has four primary segments:
Infrastructure solutions
IES Communications
Residential
IES Commercial and Industrial
Infrastructure solutions cover electrical and mechanical solutions for customers both domestic and international. Communications involve the provision of mission-critical infrastructure like data centers to large corporations. The Residential group focuses on electrical installations for single-family housing and multi-family apartment complexes. Finally, IES Commercial & Industrial provides electrical design, construction, and maintenance services in various regional markets and nationwide in some instances.

Source: Company Presentation, May 2021
The company presentation on its website goes into substantially more detail on each of these segments so I won't go into further detail here. This article is focused on the strategy the company has undertaken, how it has worked out and what can be expected going forward.
The Strategy
IESC is very straightforward with its strategy, as it outlines it in the company presentation: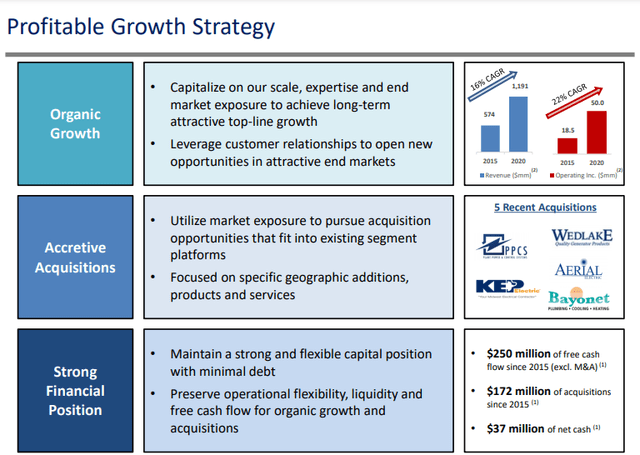 Source: Company Presentation, May 2021
I have followed the company for many years; it was one of my first articles on Seeking Alpha back in 2015. At that point, the company had already embarked on its strategy, and it was just a matter of whether the company could execute (admittedly, my going private idea never happened and is unlikely to).
IESC kicked their strategy into gear with a series of acquisitions: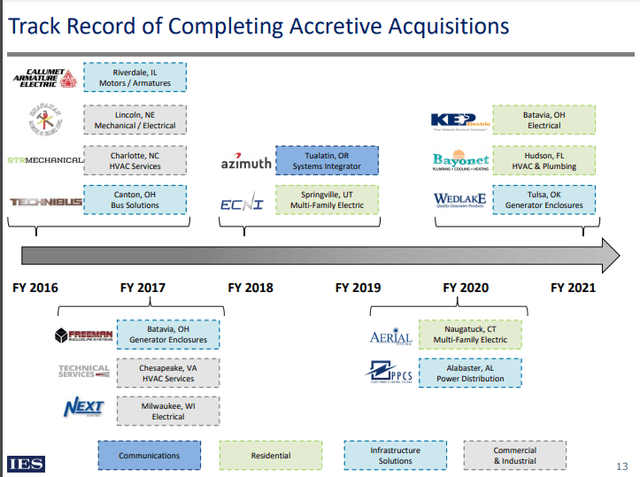 Source: Company Presentation, May 2021
This is a very strong pace of acquisitions for a company with $1.2B in annual revenues. Some companies can have trouble digesting this type of deal flow; however, IESC is not one of those companies. I have included a high level view of its income statement over the last decade below: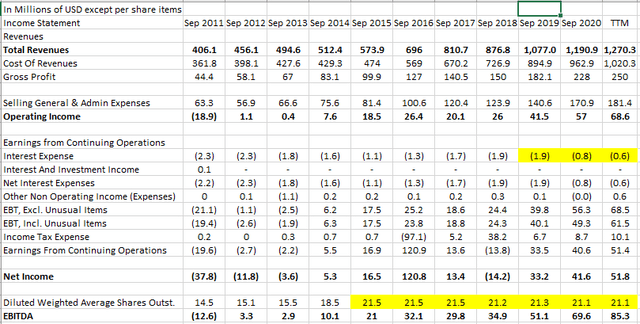 Source: Seeking Alpha/Company Disclosures
You do not get much better trends than this. Sales have continued to increase every year, with gross margins starting to expand as well. Similarly, operating income, Net income and EBITDA have all expanded as the company has grown its business; IESC was able to grow its business profitably even through COVID during the last year.
I really like the capital use by the company; shares outstanding have been essentially flat for six years while it was also simultaneously bringing down its interest expense. A closer look at the balance sheet shows the company has been close to debt free for two years, leaving most of the interest expense tied to the change in the treatment of lease accounting.
The company has basically taken its free cash flow and put it into successfully advancing the business through acquisition without needing to lever up its balance sheet and in fact returning some to shareholders through both debt retirement and a modest share buyback. Some shares are issued as part of compensation, but not in a substantial manner. The current CEO, Jeffrey Gendell, through various entities, owns 11,638,204 shares or 56% of the company through various entities but he has been a long time shareholder of the company.
The stock market has finally started to reward the company with its shares rising substantially in the last year: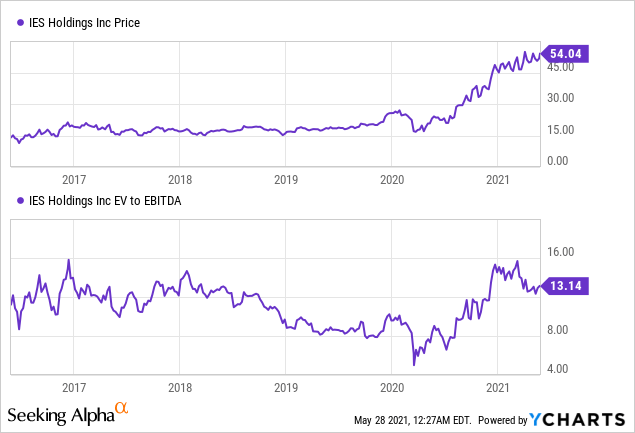 The company trades at a relatively rich EV to EBITDA ratio, but it has traded at this level for some time now, largely reflecting the strong performance of the company for some time as well as for its successful roll-up strategy. The question for investors is, can IESC continue to perform going forward. To do this we need to be comfortable that the company will be able to continue to execute its strategy. I believe so because the company seems to have a pretty good discipline in its acquisitions, with several factors repeating itself throughout their acquisitions:
Branding. By and large, IESC does not attempt to rebrand the companies it acquires, allowing them to continue operating with the brand. The building industry is a more regional business than some who could rely on a national brand, but I believe that IESC's decision to go this way ensures that local contacts and relationships remain intact.
Pricing. IESC never discloses what it pays for its acquisitions, or recent year revenue & earnings, though you can make some educated guesses through the SEC disclosures; most are in the 4-6x EV to EBITDA range. This allows IESC to take advantage of its public company status to arbitrage these private market multiples to improve returns to shareholders.
Demographics. IESC gives the owners of its acquisition target the opportunity to monetize/exit their investments and will work on transition plans to give the seller a way to transition out while ensuring the transition of knowledge to IESC is incentivized. With the aging of the boomer demographic, I believe IESC will continue to have deal flow available to it.
Experience. IESC has clearly had success with this acquisition strategy and likely is a preferred purchaser for many company owners looking to exit. It also ensures that IESC has a good process to integrate companies.
The Takeaway
I believe this sustainable performance by IESC justifies the elevated multiple. The gold standard for this type of business model is Constellation Software (OTCPK:CNSWF). Constellation has had similar levels of success in growing its business so there is precedent for this; however, its industry gets a higher valuation in part due to the higher gross margins and revenue multiples companies are assigned: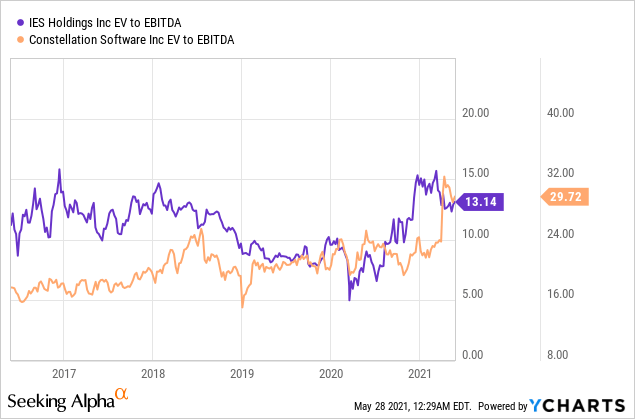 The recent chart shows a nice trend line that it is trading in:

Source: finviz.com
IESC is a proven operator with a competitive advantage in rolling up its industry in a profitable manner. I do not believe it will ever be cheap but like Constellation, it continues to execute and grow.