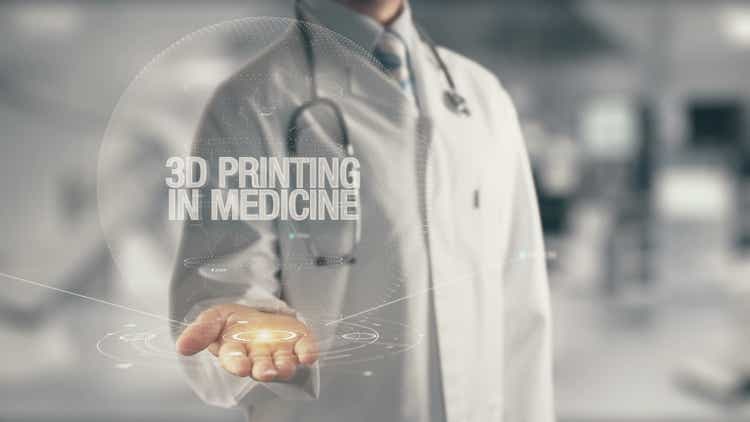 Graphic Source: Organovo Holdings, Inc.
Introduction: What is Organovo Holdings?
Organovo Holdings, Inc. (NASDAQ:ONVO) is an early-stage biotechnology company developing and utilizing highly customized 3D human tissues as dynamic models of health and diseased human biology for internal drug development. Their platform technology is building functional 3D tissues that can mimic tissue composition, architecture, function, disease-states, and more with prominent advances including cell type-specific compartments, prevalent intercellular tight junctions, and the formation of microvascular structures, amongst others. These tissues can then go on to enable critical complex multicellular disease models able to assist to produce more accurately effective drug candidates, particularly for Organovo's new strategy of launching multiple INDs by 2025.
Founded in 2007, Organovo has since collapsed to a minuscule market cap of ~$52.4M (May 2021) while still exploring potential market opportunities including externally-partnered drug discovery, internally-directed drug discovery, and clinical development of new molecular entities or repurposed in-licensed drugs. Organovo's stated primary goal is to establish a pipeline of drug candidates in high-value disease areas and in the near-term launch first-in-human testing of clinical candidates within 3-5 years. The company is certainly beginning a fresh-start and the following report will outline the potential, but also the risk that is certainly present with Organovo.
Products/Pipeline
Organovo is transitioning their short-term offering from a heavily service-based business in 2019 ($2M out of $2.19M in revenues | 9m ended Dec. 2019) to drug candidate development, projecting most likely to enter their own drugs in the clinical process by 2024-2026. Organovo still offers its NovoGen® bioprinting platform for customers to access highly specialized tissues in order to model human biology and disease as well as for in vitro testing services in-house.
The NovoGen Bioprinter® platform has been used to create a wide array of tissues including healthy liver, NASH liver, kidney, intestine, skin, vascular, bone, skeletal muscle, eye, breast, and pancreatic tumors while still being able to mimic cell-type-specific compartments, prevalent intercellular tight junctions, and the formation of microvascular structures, amongst others.
Management/Strategy
Organovo changed its leadership drastically in May 2021 appointing financial expert Jonathan Lieber as President and CFO (no active CEO role). This replacement came after April 2021 when the previous President and CFO Chris Heberlig announced his resignation forcing the company to install their new Inducement Plan, which expects to add ~750K shares of the Company's common stock to recruit employees, a much-needed managerial revamp. The company has outlined several yearly goals that should unlock substantial short-term value if they are able to live up to their ambition:
Disease Model Building by 2021-2022
Target Validation and Selection by 2021-2022
Screening and Lead Compound Selection by 2022-2023
Investigative New Drug Enabling Studies by 2023-2024
Multiple IND Filings with FDA by 2024-2025
The new President/CFO, Mr. Lieber (M.B.A. in finance from Stern) brings ~30 years of finance and executive management experience at emerging and growth-stage life sciences companies. Before Organovo, Mr. Liber was part of the financial advisory company Danforth Advisors, LLC, which was hired to assist in managing the company and plays key roles in strategic CFO advisory and outsourced accounting services to healthcare companies. Mr. Lieber gained valuable skills as an interim CFO for various healthcare companies and served as an MD for the advisory firm. Before that, he was CFO from 2015-2019 at Histogenics Corporation, a cell therapy biotech producing orthopedics products. Before that, he also served as CFO for 1-year at Metamark Genetics, a urology-focused molecular diagnostics company. He also held various other CFO positions and high-level roles at biotechnology/bio-manufacturing companies with some experience in the acquisition sphere as well which may indicate a potential outlet at Organovo. Mr. Lieber also currently serves on the board of Salarius Pharmaceuticals (SLRX).
Risk discussion
Organovo has had a volatile few years peaking in 2013 with the 3D printing hype at $250/share and steadily declining to 1/34 its peak value due to a poor operating business model and inadequate scientific progress on what were ambitious initial goals. After a series of failed merger attempts and a steady decline in progress, Organovo seemed to be at the bottom when Cathie Wood's ARK investment Management stake was disclosed as ~20% and subsequently slashed to ~8.5%. There seem to be quite mixed opinions about the potential of Organovo as a stand-alone company and investors should exercise more caution than normal due to the micro-cap status of this firm and complicated history. Additionally, with so many managerial changes over the past 5-years, it is certainly unstable at best, but the potential does still exist if the company can commercialize a potential therapeutic in 4-6 years.
Financials
Organovo is in a less-than-stellar financial position with cash of $19M (Dec 2020) with a cash burn of -$15M highlighting about 1-years worth of financing (3-Year Avg. Cash Burn: -$22M). Net losses are quite consistent with Organovo averaging -$26.7M over the past three years ending TTM at -$17M. Liabilities remain minuscule at a manageable ~$1M highlighting no serious financial obligations that'll inhibit operations.
Investment thesis
Organovo remains quite risky faltering to 1/34 its peak value and on top of Ark Investment Management slashing its stake from ~20% to ~8.5%. This isn't the end for Organovo though, as its research is on track but in an industry plagued with slow progress for the lure of outsized potential. Organovo is still in a reasonable position now and granted little optimism highlighting a strong entry point. Their plans for the future outline multiple INDs by 2025 whereby the company expects its market cap to expand from ~$52M to >$800M within 5-years (~15x current market cap) offering investors a risky, but sizable upside. This will require an impressive feat by management, but the scientific potential is impressive enough. In summary, the author projects Organovo Holdings, Inc. as a long-term "risky-buy".
Technological platform (expanded): 3D Bioprinting
3D bioprinting is the automated creation of multicellular tissue with in vivo-like architectures through spatially defined deposition (across x, y, and z axes) of cells which enables tissue-specific pattern/compartment development useful for mimicking key aspects of native biology. It offers in vivo-like testing of cellular functions surpassing what is possible in traditional 2D monocultures.
These 3D bioprinted tissues showcase tissue-like density with highly organized cellular features including complex attributes like intercellular tight junctions and microvascular networks. With such biological tissues, one can better understand, after several weeks of culturing, the proper expression and localization of cellular functions such as key metabolic enzymes and key transporters. The subsequent analysis can then be used to better understand acute or chronic drug exposure or known toxins typically associated with later-stage human studies (as compared to trying to mimic human-like studies with typically inefficient animal models). It can be even more specified when using diseased patient cells in bioprinting to recapitulate diseases, particularly those related to genetic conditions. It has further use-cases in screening for drug targets enabling far more efficacious drugs than current processes.
Bioprinting Process: NovoGen Bioprinter®
The process for Organovo's NovoGen Bioprinter® starts with identifying the target tissue's key architectural and compositional elements and then creating the design that will be used for bioprinting (tissue generation). This is followed by inducing bioprocess protocols needed to generate the multi-cellular building blocks ("bio-ink") of the target tissue. The bioprinting process is cell-agnostic, but Organovo still utilizes primary human cells (where possible) to produce true in vivo-like physiology relevant to the particular tests.
The multi-cellular building blocks are then dispensed from their bioprinter in a manner similar to typical 3D printers (layer by layer) while adding the occasional proprietary bio-gels (key IP) needed for temporary support or as a filler when creating channels or void spaces native to the real tissue with tailored outputs useful in various formats including micro-scale tissues contained in standard multi-well tissue culture plates. Various tissues have been created to date including healthy liver, NASH liver, kidney, intestine, skin, vascular, bone, skeletal muscle, eye, breast, and pancreatic tumors.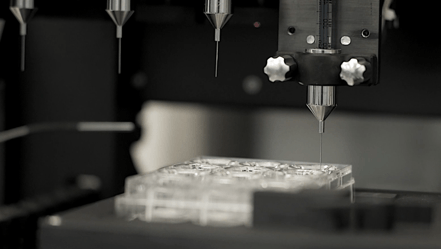 For more information on updates regarding the science and priorities of the bioprinting process and associated therapeutic development, please see either the Company Website or the most recent Investor Presentation (Feb. 2021).
Price target and upcoming catalysts
Organovo seems to be far too early in their strategic plans for a valuation and without an analyst following there doesn't appear to be a clear consensus of upside potential. Organovo did outline in their Feb. 2021 Investor Presentation that they expect to be worth >$800M within 5-years (~15x current market cap), after using comparative analysis with Avidity Biosciences (RNA) who they deem to be in their proximal segment.
This would outline an expected 5-year price target very roughly as $100-$115/share, but quite unlikely for pre-clinical biotechs based on the author's view of typical biotechnology pricing. The outlined price target will likely be driven down by constant follow-on share offerings and its associated dilution over the next few years which should be monitored, but still, the risk level is modest for investors who believe in the potential of Organovo's expertise in 3D bioprinting/organoids.
Conclusion
To conclude, Organovo's expertise is quite promising, but they are still quite early for short-term-minded investors. The real potential behind 3D bioprinting and its associated drug-discovery/development applications remains 3-5 years out, but investors would be wise to continue following Organovo's progress as it aims to present confirmatory data starting anew from a troubling past few years.
In summary, the author projects Organovo Holdings, Inc. (ONVO) as a long-term "risky-buy".