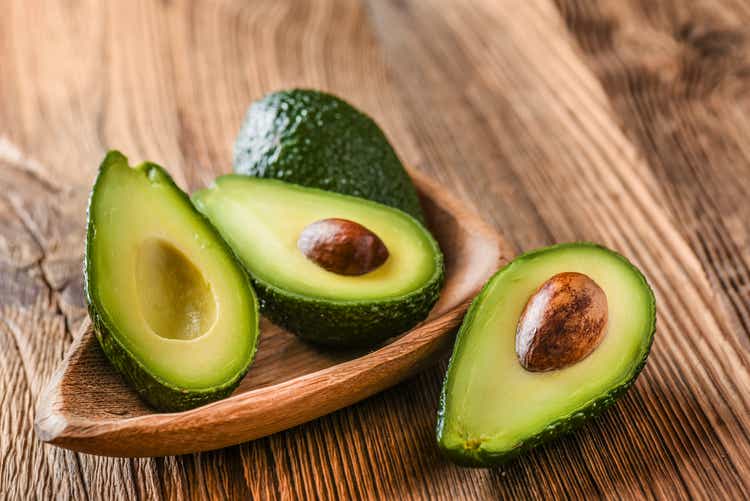 Mission Produce (NASDAQ:AVO) has done relatively well since the company became a listed entity last year. The company is a leading producer and distributor of avocados, a very hot market. Since the company went public in October of last year, shares have done quite well, warranting an update on the investment outlook.
Back To IPO Day
Mission Produce is a key party in the sourcing, production and distribution of fresh avocados to a variety of channels, including retailers, wholesalers and foodservice companies. Besides these functions, other value-added services are provided as well, including ripening, packing and logistics, among others.
Active in the US, Mexico and Peru, the activities start in the latter country where it holds over 10,000 acres of production capacity and in the near 4 decades of its existence, the company has focused heavily on growth, innovation and investments, long before avocados became as popular as they are today. Production in other regions in Mexico and California, as well as relationships with third-party growers, ensure supply across seasons, in fact the entire year.
The company has seen its volumes triple in the decade ahead of the IPO with over half a billion pounds processed in 2019. In comparison, the US market measures 2.6 billion pounds, with solid consumption growth on a per capita basis. With prices hovering between $2 and $3 per pound, the average market opportunity in the US alone is worth over $6 billion, with growth driven because of the status of superfood and focus on healthier food alternatives.
Amidst the secular growth trends boosting the business, the company was set to go public at $15-$17 per share, with pricing finally set at just $12 per share. With a share count of nearly 70 million shares I believed that the equity valuation came in around $833 million, although this excludes a pro-forma net debt count of around $60 million.
With the book year ending in October, the company reported $860 million in sales in 2018, accompanied by very modest operating profits of $19 million. Revenues rose just slightly to $883 million in 2019 as the composition of the revenue mix was highly beneficial due to adverse weather effects, with prices up 18% and volumes down double digits, resulting in a boom in operating profits to $106 million. Based on that profit number I pegged net earnings power at around $80 million, or $1.20 per share, although the results and the 2018 results reveal that cyclicality in the margins.
In the first three quarters of 2020 volumes rose 8%, yet revenues were up just a percent as margins returned to somewhat more normal levels. Operating profits for the first nine months of the year fell from $75 million in the corresponding period of 2019 to $46 million in 2020 and with a run rate of $60 million in operating profits, I pegged net profit potential at $45 million, or $0.65 per share. That means that the compelling 10 times earnings multiple based on 2019s earnings would jump to 18-19 times earnings.
The cyclicality of the margins and certainly political, weather and environmental risks made me a bit cautious despite the secular and solid growth for the end product of course. Despite the market dominance and fact that the company is active across many functions in the process, this is still a business with very modest margins, as the combination of all this made me a bit cautious. I furthermore note that listed fresh produce companies have had a terrible long term track record in terms of shareholder returns, including Chiquita and Fresh Del Monte, among others.
Calavo Growers (CVGW) was mentioned as an interesting comparison, having been around for a long term and having diversified into other premium products as well. Diversification and more stable prepared foods activities make Calavo a bit more predictable and predictable, as valuations were largely similar, at least not deviating sufficient to warrant a real upbeat thesis. This is despite the fact that Mission looked cheap based on 2019 earnings.
What Happened?
After shares traded flat or up slightly from the IPO price during the final month of 2020, shares did see a big rally towards the $20 mark in February of this year, levels at which shares currently still trade.
In January of the year the company reported anxiously awaited fourth quarter results. An 11% decrease in revenues was entirely the result of a 24% decrease in selling prices, with volumes up 16%. Despite this trend, the company managed to squeeze out an adjusted profit number of $0.34 per share, a mere five cent fall compared to the year before. For the year, adjusted earnings fell from $1.19 per share to $0.86 per share which is quite comforting given the price dynamics, as volume trends remain strong.
Give the reliance on avocado and the inherent risks associated to that, the company announced its diversification into mangos in March of this year as the company furthermore announced first quarter results. Revenues were down another 12%, and while volume growth slowed down to 7%, average selling price declines flatted a bit to minus 18%. The strong bottom line results seen in the fourth quarter (at least relative strong performance) were replicated again, as adjusted earnings rose from $0.04 per share in the first quarter of 2020 to $0.11 per share. The company continued to guide for similar price and volume trends in the second quarter.
While these trends are not necessarily very encouraging in the near term, I guess that investors are encouraged by the fact that margins on the bottom line are good enough given the difficult price dynamics, as underlying volume growth remains very healthy.
This positive dynamic has probably been the driver behind the good margin performance as this is comforting as the real commodity like nature of the market is still very evident given the rapid changes in volumes and prices, moving in divergent directions as well of course. Too bad I have been a bit too conservative at the time of the offering and congrats to the early believers, as naturally I have lost long appetite at $20 here given the fundamentals.