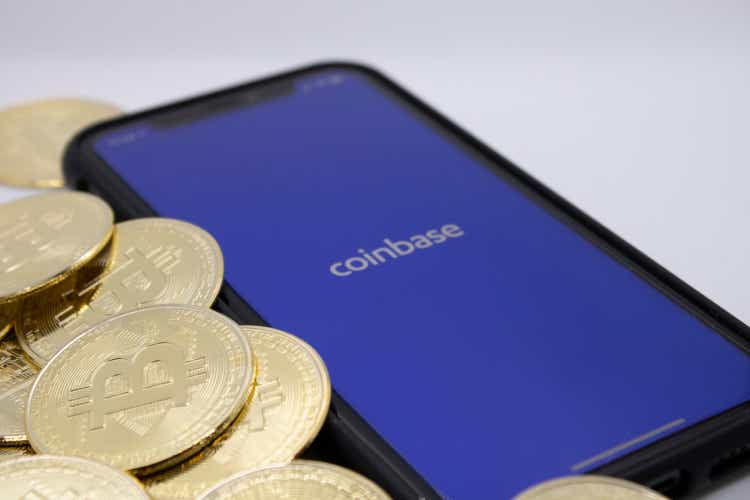 As we detailed in our full investment thesis Forget Bitcoin - 5 Reasons To Buy Coinbase Instead, Coinbase (NASDAQ:COIN) is a leading cryptocurrency infrastructure company that is investing aggressively in cryptocurrency innovation in order to reduce dependency on its no-moat crypto trading fee business.
What are COIN shares worth today? In the following sections, we will attempt to give an estimate.
#1. Qualitative Analysis
In order to provide the proper context for our quantitative assumptions and analysis we will briefly outline our qualitative appraisal of the company here.
Diversified
COIN is not solely dependent on the fate of any single cryptocurrency as it deals in over 100 cryptocurrencies on its platform. Furthermore, it is not confined to simply profiting off of cryptocurrency trading fees.
While it is true that its cryptocurrency trading platform benefits from a large network effect and early-mover status, there is no lasting moat here given that competition is plentiful and growing and the retail investing crowd typically cares more about fees than anything else, making it a highly commoditized service.
COIN's management sees this trend forming and realizes that it cannot maintain its fat 60.2% EBITDA margins forever by simply relying on transaction fees. Therefore it is investing aggressively to diversify into ancillary businesses like cryptocurrency rewards credit card through a partnership with Visa (V), Coinbase Prime (a prime brokerage product for custody, advanced trading, data analytics, and prime services targeting institutional and corporate investors), cybersecurity services tailored to blockchain and cryptocurrency, and loans and deposit accounts. In fact, within 5 years they expect to derive the majority of their revenue from outside of transaction fees.
Profitable
Even though its cryptocurrency transaction business may not have much of a moat and we do not expect its fat margins to be sustainable, it is current wildly profitable as returns on invested capital were a whopping 48.4% over the past twelve months and the company is expected to generate $8.41 in normalized earnings per share this year.
As a result of their profitable business, they have a net cash position and nearly $2 billion in cash on their balance sheet, giving them plenty of dry powder to not only avoid financial distress but also continue to invest opportunistically in growing into ancillary businesses.
Not Directly Correlated to the Bitcoin (BTC-USD) Price
Given that COIN profits from transaction fees and ancillary services, its revenues are not directly tied to the price of Bitcoin or other cryptocurrencies. Instead, they are more closely tied to the volume of transactions and other uses of cryptocurrencies. As a result, they tend to rack up large profits when cryptocurrencies are either on a strong bull run or in a fierce downturn.
Massive Growth Potential
Last, but not least, we expect COIN to grow significantly in the years to come, provided that cryptocurrencies and blockchain technology continue their strong growth trajectory.
Between their strong crypto and software brain trust, their stakes in numerous cryptocurrency and blockchain startups which are developing innovative products and services using the technology, and their massive growth runway from their current 50 million users to an estimated 1 billion potential customers, they could very well enjoy an exponential growth trajectory.
We are particularly bullish on their institutional investor services business potential, which should help them more than offset expected tightening margins in their retail exchange business.
#2. Quantitative Analysis
While all this sounds great, the main question remains: what is COIN worth?
The company is currently appraised by Mr. Market to be worth an Enterprise Value of $50.8 billion and is expected to generate ~$6.3 billion in revenue in 2021 followed by $5.9 billion in 2022. The EBITDA margin is expected to be 47.7% in 2021 and then decline to 39.2% in 2022 on declining revenue and increased competition in the exchange business.
While these estimates are nice, if not useful to some extent, COIN's revenue and profitability are extremely hard to predict in any given year due to the asset-light nature of the business and its heavy dependence on exchange volume in an immature and rapidly evolving asset class.
That said, a few things we are quite confident in are that:
Exchange business margins will compress meaningfully in the years to come.
COIN will continue to diversify rapidly away from its exchange business into ancillary businesses and within the next half decade these alternative sources of revenue should combine to exceed its exchange business revenue.
COIN will remain profitable and a leader in the cryptocurrency/blockchain tech and services space given its financial and personnel resources and sector-leading scale and early-mover advantage.
Blockchain technology is here to stay with many valuable applications and cryptocurrencies of some sort will likely also continue to grow in popularity and acceptance.
Given these assumptions, here are a few possible scenarios and potential corresponding valuations for COIN:
Model #1: "Bear" Case
COIN struggles to deliver on its innovations and misses its target of generating the majority of its revenue outside of its exchange business within 5 years and/or cryptocurrencies run into major regulatory headwinds that lead to weak institutional adoption. As a result, retail investor demand also fizzles out and their exchange business also weakens considerably. In such a combination of scenarios, COIN is clearly dramatically overvalued at present and - while it likely will not go bankrupt given the utility of blockchain technology, their strong balance sheet, and the likelihood that some lingering demand will always exist for cryptocurrencies - investors at today's prices will be set up for dramatic losses.
Model #2: "Bull" Case
COIN's innovations take off as their startup investments reap significant rewards and their institutional business grows exponentially as broad institutional adoption of cryptocurrencies results in strong demand for secure storage and other services and products that COIN is in a highly competitive position to offer.
Furthermore, this strong institutional demand provides rocket fuel to cryptocurrency prices, driving Bitcoin pricing into the hundreds of thousands of dollars and Ethereum (ETH-USD) pricing into the tends of thousands of dollars. Retail demand also then becomes even stronger as more and more participants enter the market and the fear of missing out drives people to put more and more of their wealth into crypto assets. This surge in demand will offset the heavy competition and COIN - as a major player in the exchange business - will see such strong demand that its margins will not compress as much as originally thought and revenue growth will lead to strong profit growth.
In such a scenario, we expect annual exchange revenue to more than triple from 2021 levels by 2026 to hit $18 billion and net profit margins will only decline to ~25% ($4.5 billion in net profit from the exchange business).
Meanwhile, their ancillary businesses will explode to consume 60% of their total revenue by 2026 at $27 billion and profit margins in these lucrative businesses will be ~45% ($12.2 billion in net profit from ancillary businesses). As a result, their total net income in 2026 will be ~$16.7 billion. Given their strength and growth, we assume a 20x multiple for the exchange business and a 35x multiple for the ancillary businesses, giving us a bull case valuation of $517 billion. That would represent a whopping 10x from current levels or a ~160% CAGR over the next half decade from current share prices.
Model #3: "Base" Case
COIN hits its target of generating the majority of its revenue outside of its exchange business within 5 years. We assume that exchange net income margins will decline significantly from their current levels to ~19% and revenue remains flat in that business as growth roughly offsets reduced fees. Meanwhile, however, ancillary businesses enjoy fat 40% net income margins due to COIN's technological advantages, asset-light business models, and economies of scale and revenues from these businesses are roughly 55% of their total revenue. As a result, we estimate 2026 revenue coming in at ~$14 billion and exchange net income at $1.2 billion and ancillary business net income coming in at $3.1 billion.
We would conservatively value the exchange business at 15x net income and the ancillary business at 25x net income, resulting in an estimated value of $95.5 billion, or an 88% increase in valuation over 5 years. This would lead to a CAGR of 13.5% from current share price and make the stock an attractive buy here.
Investor Takeaway
As you can see from our models, valuing COIN is very challenging right now and the potential outcomes range from massive losses in a bear case scenario to enormous gains in a bull scenario. Our base case - based on a mildly bullish outlook for cryptocurrencies and their ancillary business investments, a realistically slightly bearish outlook for their exchange business, and conservative valuation multiple assumptions - indicates that COIN could be an attractive buy at present.
While our current fair value estimate is ~$300 a share and implies meaningful upside from the current share price of ~$240, investors need to acknowledge that this is a highly speculative estimate at this point and that the thesis hinges primarily on their outlook for the growth of institutional cryptocurrency adoption rather than on internal factors at COIN. As a result, we rate COIN a speculative buy.