This article was amended on 6/4/2021 to reflect amended commentary around the TAPS transit time.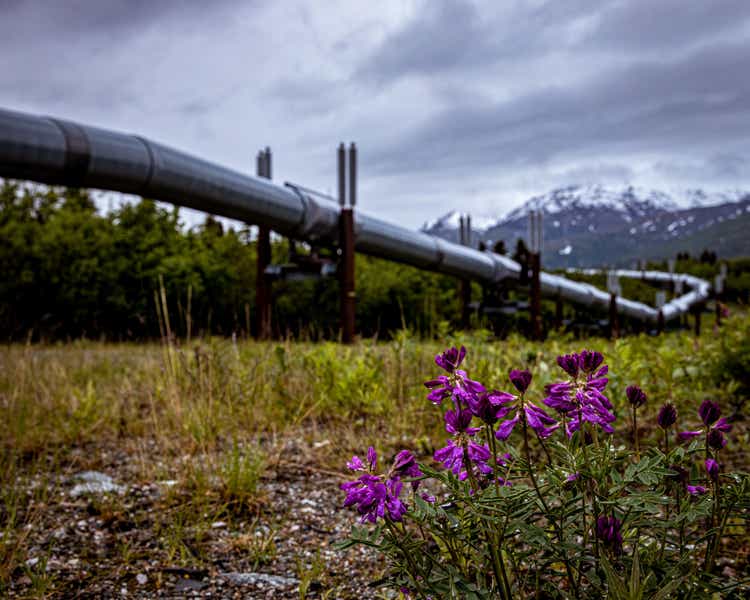 Many energy investors seemed surprised that the Biden administration supported the existing approval for ConocoPhillips (NYSE:COP) to continue development of its massive Willow discovery in Alaska. But anyone who read my Seeking Alpha article COP: Ironically, Biden Could Be Great For The Stock will know I was not surprised in the least. Because despite all the false narratives coming out from the Republican Party that Biden is going to "shut-down fracking" or is against all fossil fuels, the facts show exactly the opposite. Biden is an energy pragmatist. As a result, Biden knows what so many cannot bring themselves to admit: the best energy policy going forward is a mix of all sources and making intelligent trade-offs on the way to a cleaner future.
The Willow Trade Off
The trade-off on the Willow field development in Alaska is fairly straightforward. Let me explain.
Last year, Conoco was the #1 oil producer in Alaska with an average daily production of 198,000 boe/d. Note that in full-year 2019 (i.e. the last full-year of results prior to covid-19 demand destruction), COP earned over $1.5 billion in earnings from its operations in Alaska. Remember, Alaskan production is Brent-based barrels. That means they are priced at a premium as compared to WTI (that premium closed on Friday at $2.40/bbl).
What this all means is that COP is the largest supplier of oil to the Trans-Alaska Pipeline System ("TAPS"). That is a critical consideration due to the fact that since 1989 throughput in TAPS has dropped by ~75% from over 2 million bpd to only ~500,000 bpd today: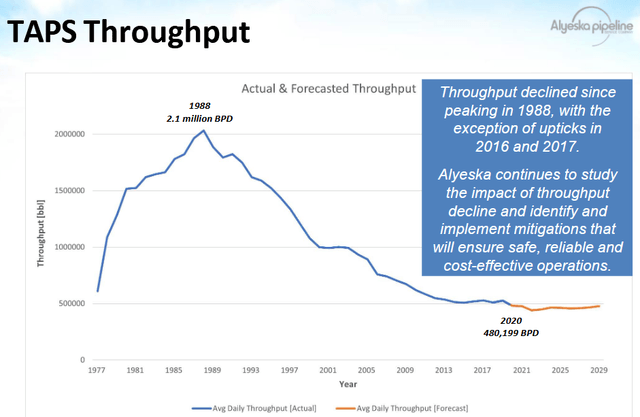 Source: Alyeska Pipeline Company
The result is that the transit time on TAPS has risen to 18-days from the 4.5 days it took back in 1988 for oil to travel the entire length of the 48" 800-mile long pipeline. It also means the pipeline's operator has to jump through hoops to keep the pipe from freezing up in winter and to simply keep operating at all with the oil moving so slowly. That is, and to put it mildly - TAPS is a relatively inefficient pipeline when it runs at such a low capacity as it is today. Slow throughput speeds can encourage cooling during the harsh Alaskan winters and can led to water/oil separation and significant wax build-up in the pipe.
In fact, at volumes below 300,000 bpd, it becomes increasingly difficult to keep TAPS running at all. As the slide below shows, the simple solution to this serious national security problem is to add more oil. And that is exactly what development of Conoco's Willow discovery will do: bring on new production to replace the natural decline rates of the existing fields that currently feed the pipeline.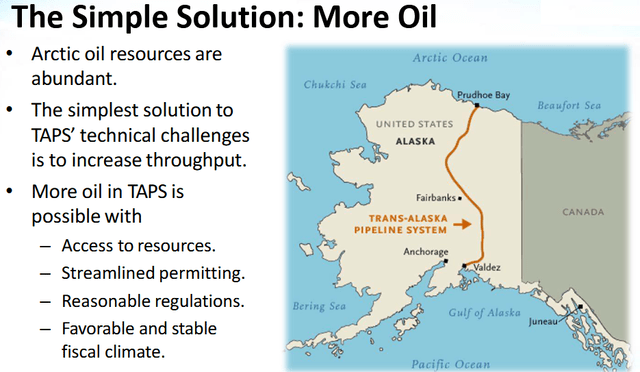 Source: Alyeska Pipeline Company
Biden also understands that the TAPS pipeline is already built and that it would take a very large number L-48 shale wells - drilled over many years - simply to replicate the 100,000 bpd daily production that Willow will provide once fully developed. You see, Willow is a conventional oil reservoir that is expected to take only 5 drilling locations to fully exploit. That being the case, one could make a very good argument that development of the Willow field is much more environmentally friendly than drilling the requisite number of L-48 shale wells that would be required - over a period of many years - simply to duplicate Willow's 100,000 bpd of production.
The Willow Field
COP has a 100% interest in the Willow Field, which is currently estimated to contain 400-750 million boe of recoverable petroleum. I am sure that estimate range will be tightened up as the company completes appraisal well drilling and analysis of the results. But consider this: at the midpoint of the current estimate (i.e. 575 million boe), that means - at 100,000 bpd - Willow will be supplying oil to the TAPS pipeline for an estimated 5,750 days, or 15.75 years.
TAPS
Note that COP also has a 29.61% ownership stake in the TAPS pipeline. Exxon Mobil (XOM) has a 21.28% stake.
That being the case, investors could say that Conoco is making money on Willow coming and going.
Biden - The Energy Pragmatist
So, once again Biden proves he is an energy pragmatist and is the exact opposite of the Republican Party's false characterization of him to be. Yet the facts show that Biden has always been an energy pragmatist. I say that because:
US oil production grew faster during the Obama/Biden administration than it did during either the Bush #2 or Trump administrations.
It was the Obama/Biden administration that lifted the US crude oil export ban in 2016 for the first time in 40 years.
All the current US LNG export terminals operating in the US today were licensed during the Obama/Biden administration.
Summary & Conclusions
The decision by the Biden administration to let Conoco proceed with development of its Willow field in Alaska is not just good for Conoco (it obviously is - and very much so). It is good for the US's national security because it insures that the TAPS oil pipeline will stay in operation for many years to come. And despite the pressure and disappointment coming from environmentalists in his own party, one could make an excellent argument that production from the Willow conventional reservoir is much more environmentally friendly than continuously drilling L-48 shale wells over the next 15 years+ to keep up with the 100,000 of bpd of production that Willow is going to provide.
As I wrote in my last Seeking Alpha article on COP, I continue to be bullish on the company for the rest of this year. That said, as I also pointed out in that piece, COP will likely continue to lag peers like EOG Resources (NYSE:EOG) and Pioneer Natural Resources (PXD) because those companies have given investors a much clearer line of sight into dividend rewards as compared to COP - which has decided to continue its greatly over-emphasize share buybacks as compared to dividends paid directly to ordinary shareholders.
That said, COP currently pays a $1.72/share annual dividend. That is good enough for a 3% yield. The company generated $900 million in FCF in Q1 and had $1 billion in earnings. COP ended the quarter with $6.9 billion in cash and short-term investments. That equates to an estimated $5.30/share in cash based on the 1.3 billion shares outstanding. COP has an A-rated balance sheet and will generate significant more FCF in Q2 than it did in Q1 based on the strength of oil and gas prices. In addition, the $600 million in charges related to the Concho acquisition were a one-time event.
Bottom line: COP is an FCF generating machine with WTI>$60/bbl, and BofA energy analysts agree with me.
The chart below shows how returns for both PXD and EOG have significantly outperformed COP over the past year, as has even the relatively stodgy SPDR Energy ETF (XLE):