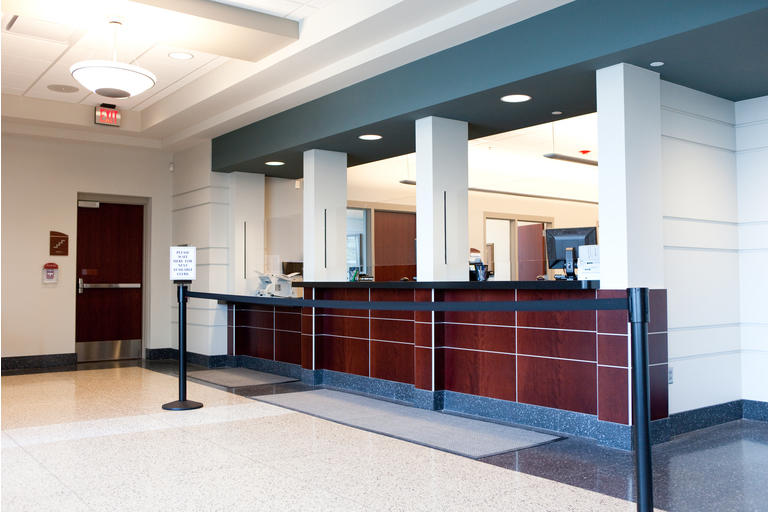 The banking industry continues to flourish and exude stability despite the uncertainties in the market. American River Bankshares (NASDAQ:AMRB) was one of the fortunate ones that turned the pandemic into a catalyst for further growth. Its fundamentals remain solid and intact, giving it more means to sustain its operations and sustain dividend payments. Despite the low interest and mortgage rates, it remains efficient and cautious to ensure high viability and liquidity. With more growth opportunities and potential post-pandemic inflation, it appears prepared, given its prudent management of loans and deposits and other services.
Company Financials
Interest Income and Interest Expense
Founded only in the 1980s, American River Bankshares may not be as large as most banks in the US but already showed its success, setbacks, and recovery over the years. Amidst the several crises that massively hurt its operations, it still proved resilient and durable. Even if it's not included in the 1,000 largest banks in the country, it continued to maneuver its operations with prudence to its recovery and growth.
For the last five years, one could see how it gradually recovered and grew again after the contraction it has been through since the Real Estate Bubble and the Global Financial Crisis. From 2006 to 2013, it rapidly shrank as Interest Income and Interest Expense were both halved. In 2014-2017, growth was stagnant as the bank tried to figure out how to recover and stimulate its growth potential. The process was slow yet continuous as the economy continued to stabilize and improve. Hope sparked in 2018-2019 as the overall operations improved. The interest rates were more stable and desirable for banks. Loans and deposits increased which showed its increased demand. With the prudent management of its resources, matched with the sound macroeconomic condition, its operating size and capacity increased again. Interest income increased to $23-$25 million, and interest expenses moved in the same direction to $1.6-$2.4 million. Given this, net interest income increased from $19 million to $21-$23 million. Likewise, labor-related expenses have increased, showing the bank's gradual growth in size and capacity. With the continuous improvement in the core operations, the operating profit followed the uptrend.
In 2020, things became hard to manage as the pandemic spread and caused disruptions in the market and the whole economy. Despite this, the financial sector continued to thrive with increased activities and cash inflows in the capital markets. The uncertainties in the previous FY highlighted the importance of having insurance, savings, and investments to protect one's family, wealth, and welfare. The cost of getting sick and losing jobs struck many individuals and turned their attention to the companies in the sector. Moreover, the interest rates were almost 0 in 2Q which made housing and commercial loans more attractive. As a result, interest income rose in all quarters while interest expense went in the opposite direction. With the 8% growth in interest income and the reduction in interest expense, net interest income increased by 12% and reached $26 million. Non-interest income and expense remained almost the same, showing stable non-banking transactions and employment in the company. The operating profit changed by 20% and increased from $7.4 million to $9.6 million.
In 1Q 2021, interest and mortgage rates were still, but a gradual uptrend has been observed. It is due to improving macroeconomic conditions as many businesses and employment stabilize and drive the increase in aggregate demand. Interest income reached $7.35 million, higher than the values in 1Q and 4Q 2020 by 9.3% and 2.5%, respectively. More companies will recover and bounce back with the continuous vaccination and potential reopening of the economy in the second half. Business activities will increase which will inject more money into the economy. One must be concerned about the pent-up demand for most products and services getting out of control. The possibility of post-pandemic hyperinflation must not be disregarded. But as long as policymakers have a full grasp of economic changes and transition, things will most likely work for the good of all or majority at the very least. The interest rates will go up but at a gradual and reasonable rate since the economy will still take more time to recover fully. Also, it is prepared in case of a sudden rise in rates, although it has very little possibility. It continues to manage its Loan-to-Deposit Ratio very well while increasing its allowance by 2%. With the impressive 1Q values, hype in the financial market, and a more stable economic condition, AMRB may continue to enjoy and grow further.
The other question is if it can sustain its growth. One should be aware that the bank is still on its way to full recovery and expansion. One may wonder if it will stay the same after the pandemic. The answer may be a yes because the improvement in the core operations has already been apparent in 2018-2019. Also, AMRB is already acquired by a larger and growing bank, namely the Bank of Marin Bancorp. Its ideal Return on Asset ("ROA") and Loan-to-Deposit Ratio of 1.1% and 81%, respectively, guarantee viability, growth, and liquidity. Indeed, it offers more opportunities and potential for the company since it's also a growing and more established one.
Meanwhile, the Linear Trend Analysis estimation adheres to the hopeful outlook. Interest income may increase again to $28 million this FY before increasing again from $30 million to $35 million for the next FYs. The interest expense may follow the uptrend due to higher interest rates in the future. But if the ideal handling of loans and deposits continues, the growth in interest income may offset the changes in interest expense. Hence, it may drive the increase in its net interest expense.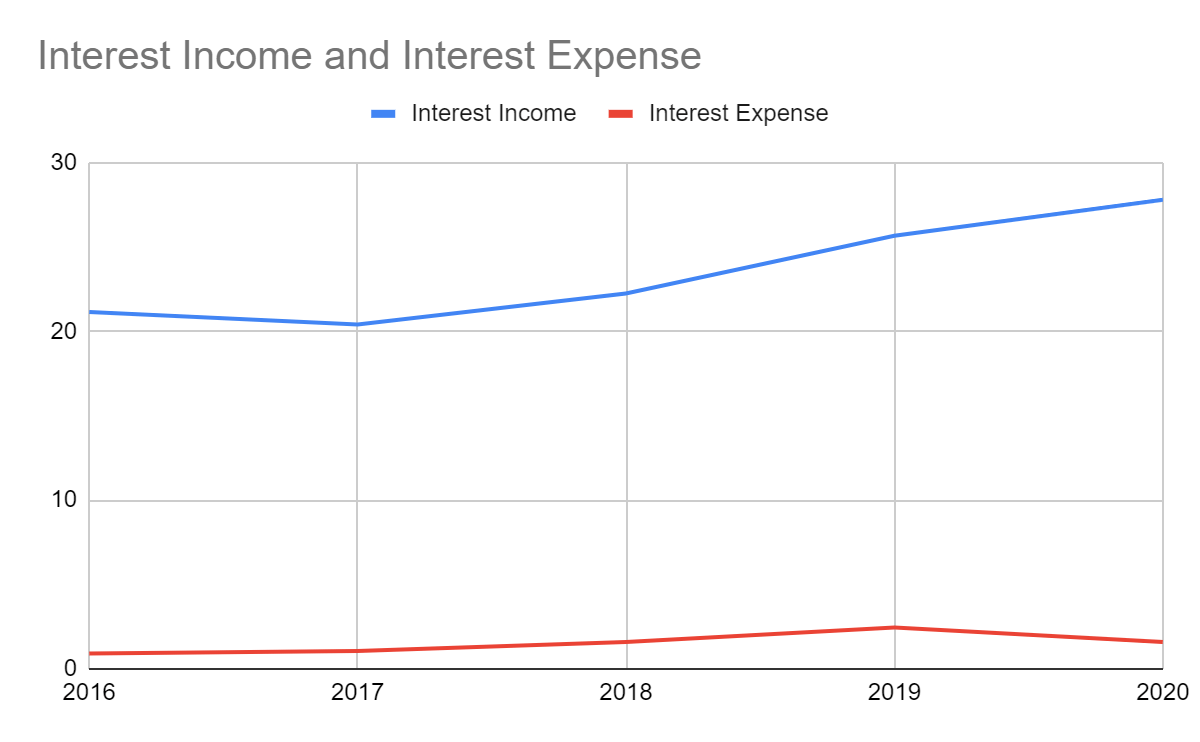 Taken from MarketWatch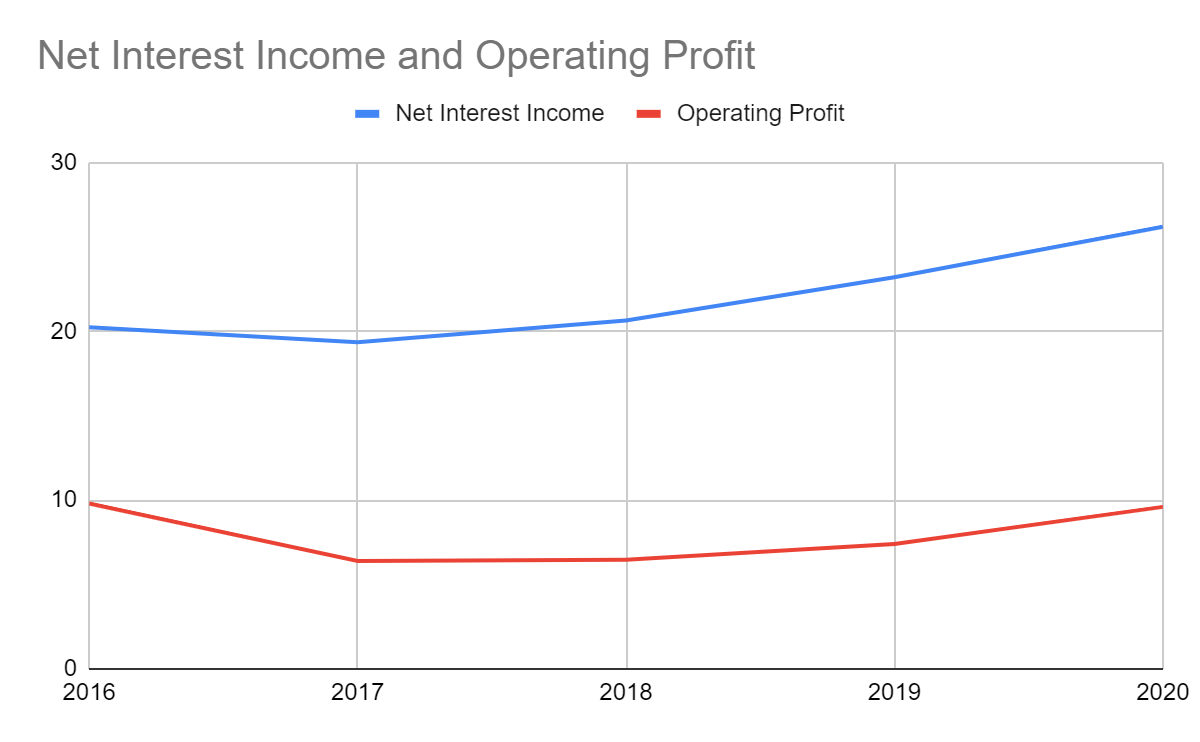 Taken from MarketWatch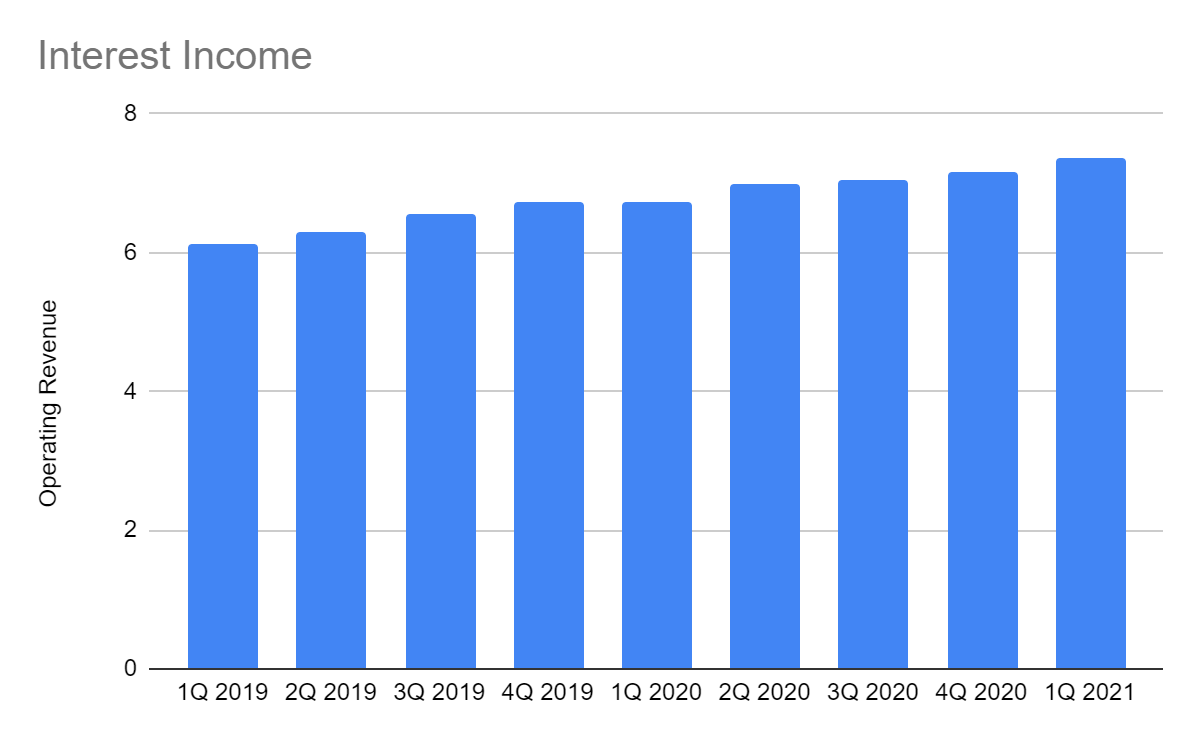 Taken from MarketWatch
Net Income
Aside from expenses related to equipment, the company had no other important accounts in its non-core operations. Since it remained at $1.3-$1.4 million, no sharp changes affected its viability. With that, the value of Profit Before Tax was almost the same as the Operating Income. With regards to tax, the changes were more noticeable but remained proportionate to PBT. Although the change in 2016-2017 was sharper, the general trend remained similar to the core operations. Also, even at the peak of the pandemic, the financials remained stable, and income continued to increase. Net income from 2016 to 2020 has generally increased from $6.4 million to $7.06 million. Given this, one can see that while growth has not been swift and impressive, recovery and financial stability have been evident. Despite its size, the threats of market disruptions in the previous year did not hurt its operations. It even used it as an opportunity to speed up its growth and bounce back. In 1Q 2021, growth has become more apparent as net income amounted to $2.65 million. In just a short span, it already grew by 26% from 4Q 2020 and 85% in 1Q 2020. Given the improving macroeconomic conditions and its current performance, its growth potential remains high. As estimated, the Linear Trend Analysis shows that net income may continue to increase from $6.4 million to $7.9 million for the next FYs. The earnings forecast of The Wall Street Journal and Nasdaq also shows hopeful views as the EPS for 2021 and 2022 may reach $1.45 and $1.40 and $1.45 and $1.44, respectively.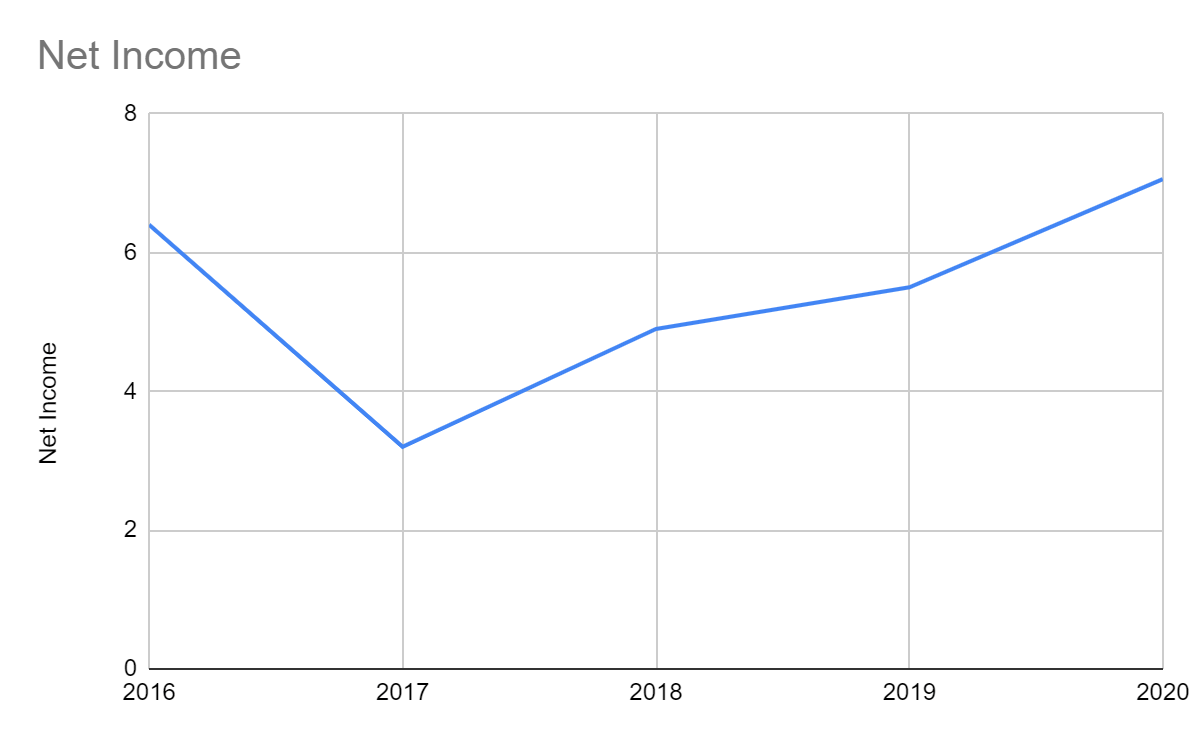 Taken from MarketWatch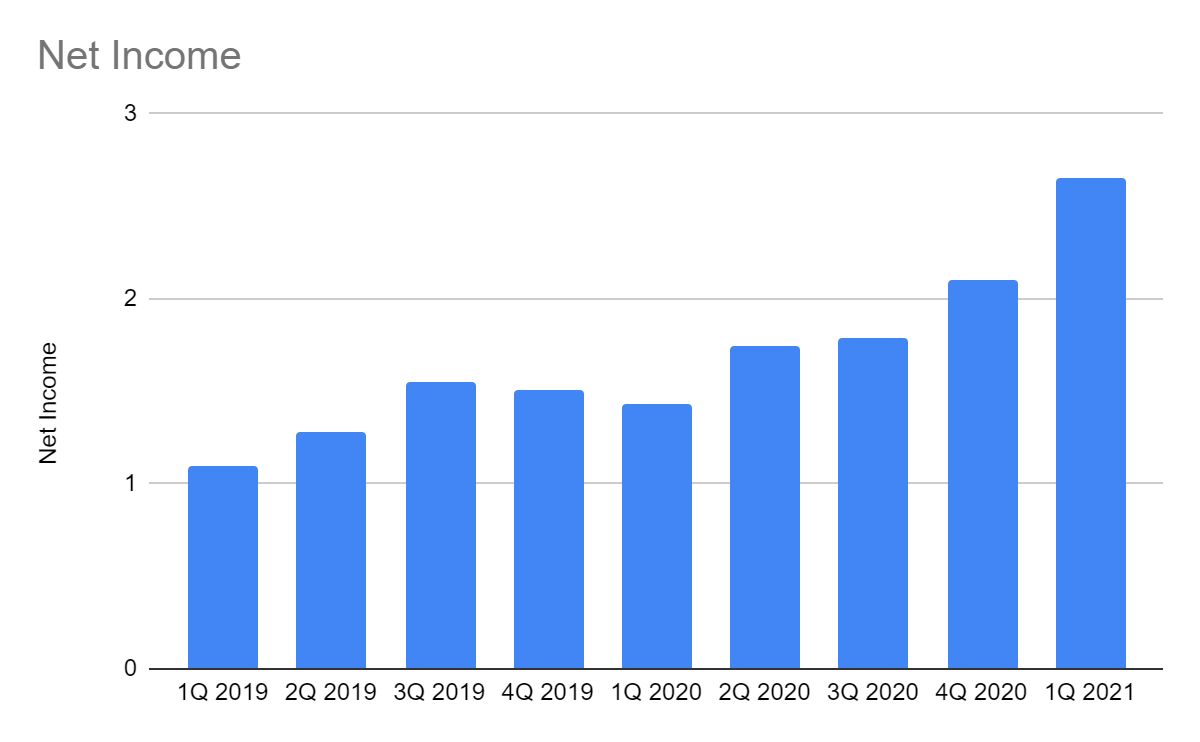 Taken from MarketWatch
Return on Asset and Return on Equity
As a bank with less than $1 billion in assets, AMRB can't be considered a large one yet. Given its nature, its assets are mainly composed of loans, receivables, and cash and cash equivalents. Despite its relatively small size, durability has been proven over the years. After the crises, it continued to accumulate assets, although its revenues and income shrank and did not prosper. But things have become more exciting since 2018 as it started to bounce back. According to Weiss Ratings, it did not reach the ideal Return on Asset ("ROA") of 1.2%, but the improvement and potential growth can't be ignored. From 2017 to 2019, ROA gradually increased from 0.4% to 0.7%. Although growth was still sluggish, it has become more stable and consistent. In 2020, the pandemic did not hamper its improvement and growth potential as its operations continued to expand. With the increased income and assets, ROA rose to 0.8%. From 1Q 2020 to 1Q 2021, one can see that quarterly ROA has been consistently growing. It shows that as the economy continues to stabilize, its growth potential increases. With its M&A with Bank of Marin Bancorp and the opportunities once the economy fully reopens, it may sustain its operations and growth.
Meanwhile, its Return on Equity ("ROE") follows the same trend but has a wide gap with the ROA. It is expected as the bank's main source comes from deposits which comprise most liabilities. Also, given its similar trend, it confirms the consistency in the operations with its sound financial position. To back this up, one can derive its Sustainable Growth Rate ("SGR") using the Retention Ratio of 76% or the percentage left after deducting dividends from income and ROE of 8%. Given the values, the SGR of the company is 6.4%. It means that AMRB can still sustain its operations and grow by that percentage without increasing its financial leverage.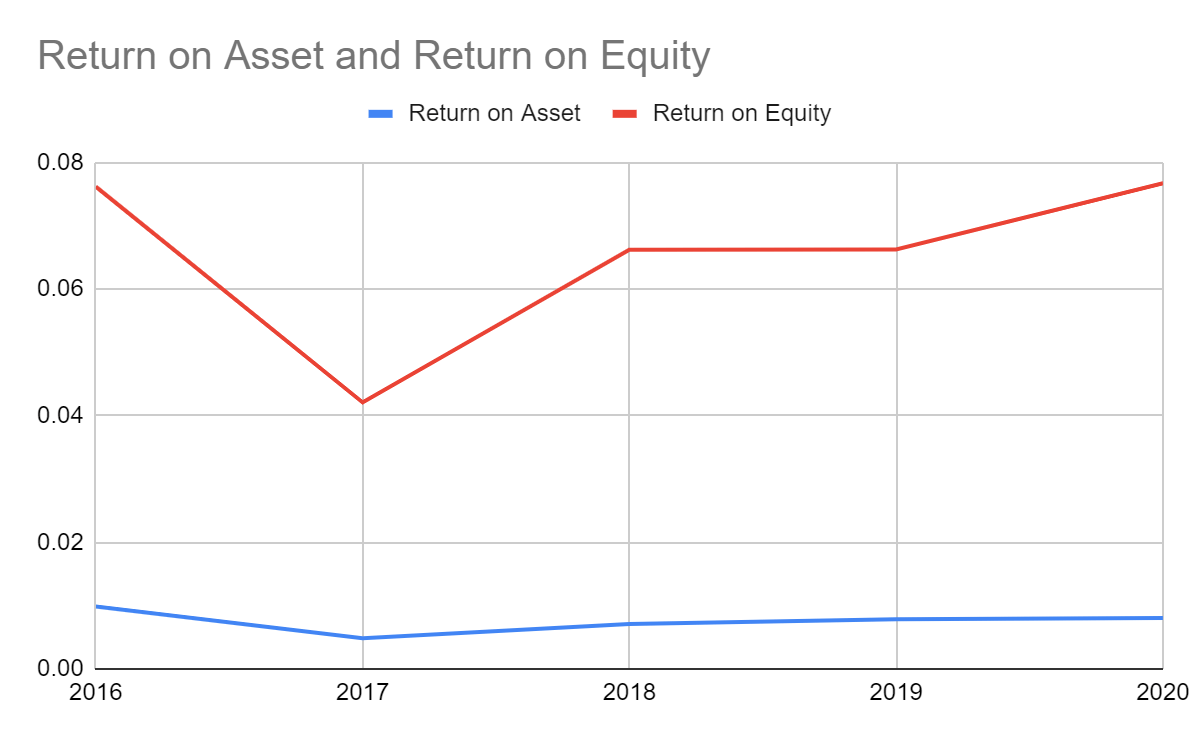 Taken from MarketWatch
Loans, Deposits, Loan-to-Deposit Ratio
Loans and deposits are vital components of a bank's operations. Like its peers, AMRB's loans and deposits composed the majority of its assets and liabilities. For the last five years, it continued to bounce back and expand again as shown by the increased assets, interest, and net income. Given its growing size and improving interest rates, loans and deposits rose from $324 million to $470 million and $540 million to $600 million, respectively. Despite the growth, it remained cautious as Loan-to-Deposit-Ratio remained at 50%-60%. It could be the reason why its growth has been underwhelming. But a bank like AMRB needs to maintain its adequacy and liquidity since it just started its comeback.
In 2020, loans and deposits increased substantially. While it's normal for loans to increase since the cost of borrowing is very low, deposits are quite discouraging due to lower potential income of savings. But due to the circumstances brought upon by the pandemic where housing loans became more attractive and having savings became more important, both moved upward. Despite the overwhelming growth in the industry, most banks like AMRB became more cautious due to the potential inflation and higher interest rates once the economy reopens. It managed the increase in its loans so the ratio decreased from 65% to 63%. Also, loan loss allowance rose from $5.1 million to $6.6 million. Even if collaterals back most loans, it's good to see that it remains cautious and prepared if things don't turn out as expected by economists and analysts. In 1Q 2021, allowance rose again to $6.7 million while the ratio decreased to 60%. Hence, if the reopening of the economy causes a drastic increase in prices and interest rates, AMRB will be prepared for the possibility of unpaid borrowings and collaterals' fair value lower than the principal. Indeed, it maintains high liquidity and shows high growth potential. If it becomes more confident in increasing its lending, growth may speed up. But as long as the bank remains adequate and liquid, its capacity to adjust and grow further remains promising.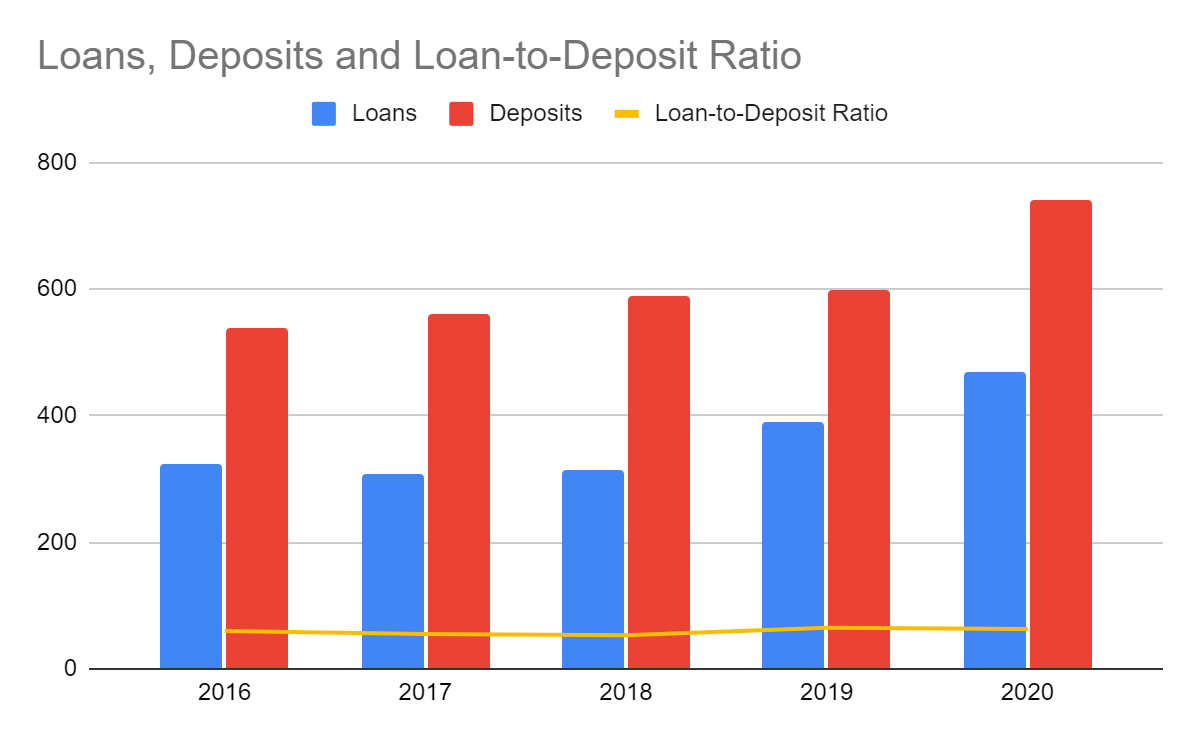 Taken from MarketWatch
What's in Store for the Investors?
Dividends Per Share
The impact of the previous crises became more apparent when AMRB stopped its dividend payments in 2009. But as it started to make a comeback and grow again in 2017, it distributed dividends again at $0.20 per share. Although the values were relatively lower, it has become consistent. It gradually increased from $0.20 in 2018 to $0.22 in 2019. In 2020, as revenues and income sped up, dividends rose to $0.28, giving a 24% growth rate. Currently, it has already made two payouts at $0.07 each quarter. If the quarterly values do not change, the annual value will stay at $0.28 per share. But using the Dividend Growth Model, dividends may increase to $0.32 per share this FY.
Moreover, its income and Free Cash Flow ("FCF") supports the increase in dividend payments of the company. The Dividend Payout Ratio remains relatively low at 28% on average. It could still increase the values it has distributed, but it seemed to focus more on reestablishing itself and fortifying its growth. Its dividends did not reach half of their values. In 1Q 2021, the ratio became even lower at 16%. Hence, it shows that AMRB is capable and has adequate means to sustain its operations, expand further, and cover its dividend payments. But it may still have to increase its dividends to attract more investors.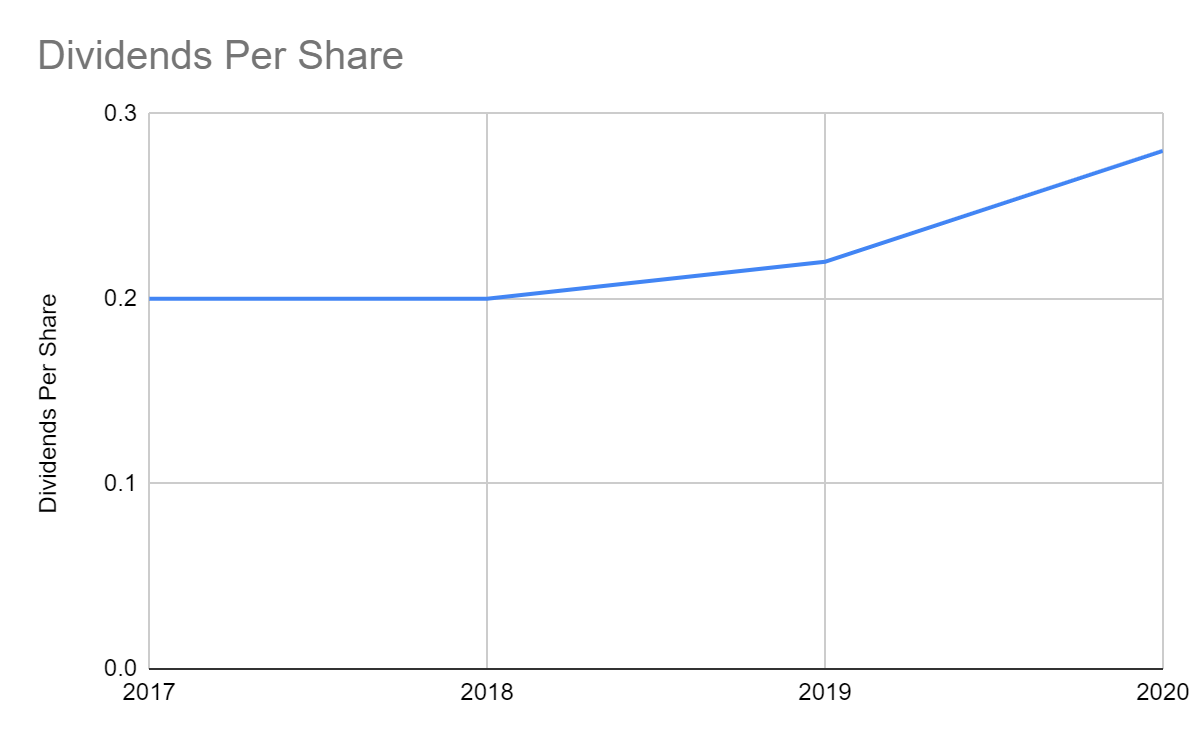 Taken from Nasdaq: Dividend History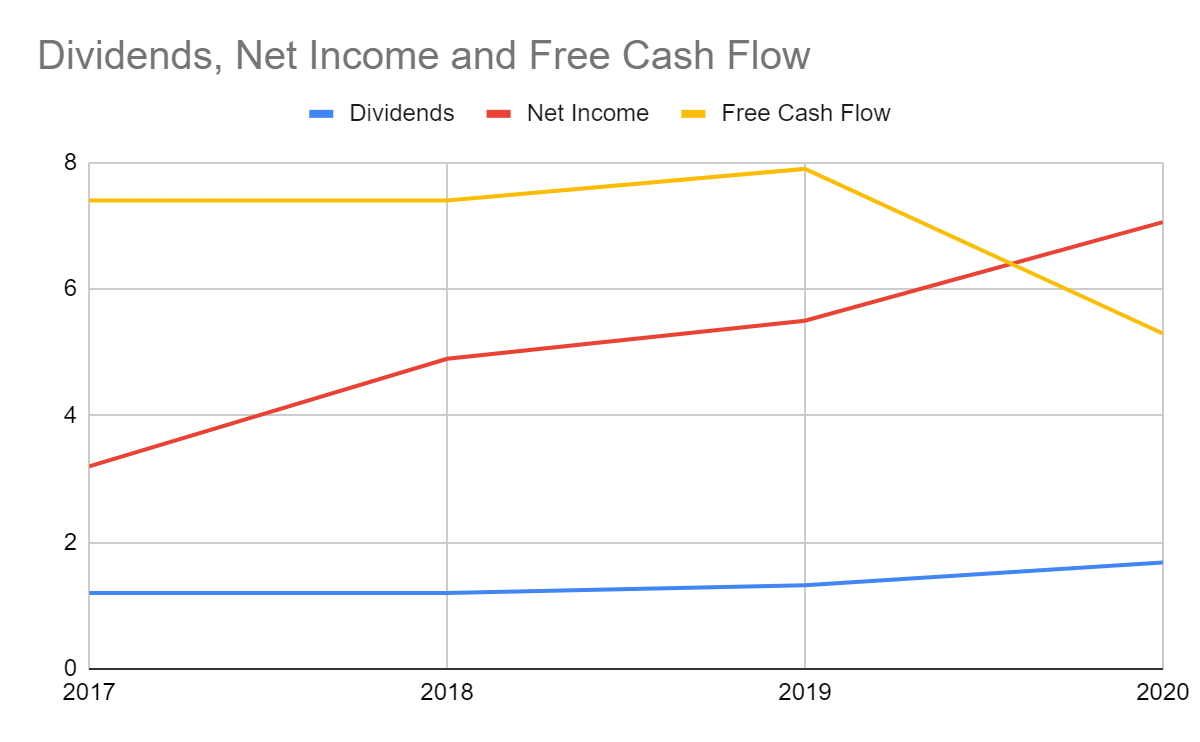 Taken from MarketWatch and Nasdaq: Dividend History
Stock Price
After the gradual recovery of the stock price in 2016-2019, it had a freefall in the first quarter of FY 2020 and hit bottom at $7.77. Since then, the price started to increase slightly and had a neutral to upward trend for the next few months. The uptrend became more evident in November and sped up in February. It reached its new all-year high at $20.10 last April 29. Currently, the stock price is set at $19.26 and shows a neutral pattern. Although it is slightly in a downtrend, the bullish pattern remains evident, especially in the YTD, six-month, and one-year trends. Using the PE Ratio of 13.69, the price appears low as investors have to spend $13.69 only for every potential gain. The PB Ratio of 1.28 and the PEG Ratio of 0.86 also show its potential undervaluation. Likewise, the Dividend Discount Model adheres to this observation as the derived value amounted to $21.65. Given this, a long position seems attractive and may bring potential gains. Nevertheless, reading more press releases will give more ideas, especially since another company has just acquired it. Industry and economic news will also help to come up with a more precise investment decision.
Potential Growth Catalysts
The Reopening of the Economy and M&A with Bank of Marin Bancorp
The reopening of the economy will play a vital role in the recovery of most companies in the US. While AMRB remains thriving despite the restrictions, a more stable economy with a gradual increase in interest rates and growth in the labor market will help. The only concern is the post-pandemic inflation driven by pent-up demand for most products and services. It may cause higher interest rates to stabilize the economy and encourage savings. Interest on loans and deposits may increase which may push interest income and expense upward. The potential problem is when the borrowers can no longer pay borrowings. Although most loans are asset-based or collateralized, there are times that the value of the collateral does not match the principal amount. But given the current performance of AMRB, it may be able to thwart or at least cushion the unfavorable effects. Also, it maintains high liquidity and allowance on loans which will give an advantage. Of course, prices and interest rates will have to go up, but as long as the policymakers remain keen on macroeconomic changes, things will remain manageable. Moreover, its M&A with Bank of Marin Bancorp will help it sustain its operations and growth, especially since more opportunities are expected in the second half.
Conclusion
American River Bankshares has shown gradual recovery and growth for the last five years. It continued to foster and show its potential amidst the pandemic. With its expanding operations and stable financial position, its viability and liquidity remain promising. It maintains adequate income and FCF to increase its operations and cover its financial obligations. Although the future becomes more uncertain, given the M&As, the fact that the acquiring company is larger and more established reassures its capacity to sustain it.
Moreover, the stock price remains bullish and undervalued as shown by four price models. Since it seems that it's been in a neutral trend for almost a month now, it will be better to wait for a few days or weeks before making a move. Given its sound fundamentals and growth potential once the economy reopens, the price may eventually go with the uptrend. Meanwhile, dividend payments remain consistent, but growth remains sluggish. Hence, it's not an optimal choice for dividend stock investors. But with its sound fundamentals, it guarantees security and stability to its investors.