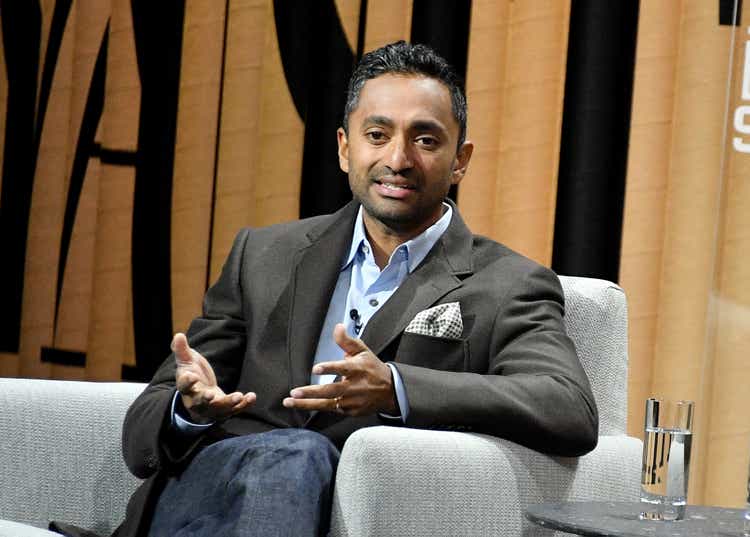 One of the things I have known my entire life is that I have an innate capability for making money. - Chamath Palihapitiya
I get apprehensive when a person is elevated to some kind of hero status in the world of business and investing. It happens in business with top CEOs and in finance with whoever has been outperforming over the past few years. With CEOs it has been shown a long time ago that magazine covers and awards are the bat-signal to get out. In money management, a similar dynamic is at work. Today's superstar is Cathie Wood, although she gets surprisingly little adulating press. Maybe that's sexism or perhaps because she's running what many observers view as a potentially dangerous strategy at ARK Innovation ETF (ARKK).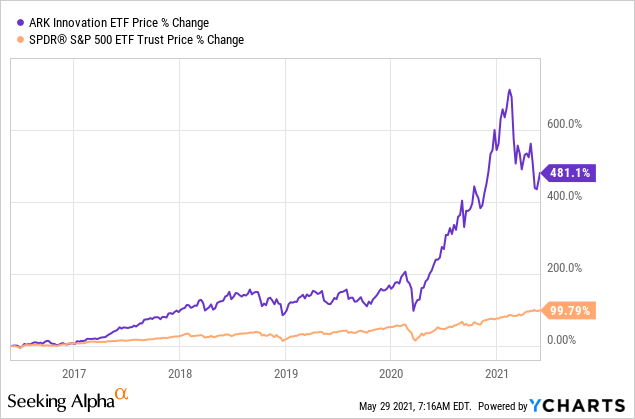 I do know that I'm inclined to agree with the latter assessment. At times I short an ARK fund on the premise that if it goes, it could go down really hard. But that's a topic for another day.
A few years ago, Bill Ackman of Pershing Square Tontine Holdings (PSTH) and Pershing Square Holdings (OTCPK:PSHZF), was riding high on big wins. One being Valeant (what's Valeant you say?), it's called Bausch Health (BHC) these days and it offers a sweet bond coupon. I wrote about it last in November. It is a surprisingly unpopular name these days.
There's a famous superstar fund group that got wrecked when the bubble ended from the '90s called Janus Henderson Group (JHG). Perhaps recognizing what he must have been going through the group later took in bond king Bill Gross when he left Pimco after a period of less than stellar performance and lots of turmoil at the firm.
Invariably, with maybe one exception, heroes fall from their pedestal and turn out to be mere mortals. As much as I distrust idolization, I love my fellow mortals. I've written how Bill Ackman maybe isn't the devil incarnated here after his fall from grace but before he found his mojo back. Lo' and behold these days he's a crowd favorite again and increasingly back in the spotlight through media appearances.
Chamath Palihapitiya
Last year investor Chamath Palihapitiya had been riding high. Making a billion here and a billion there can get to you. With Golden State slumping hard, and a pandemic restricting other activities, he was probably throwing himself at work more and appearing in the media at every opportunity. He argued on CNBC: zombie companies like the airlines should not be bailed out. I have to say I've been surprised how governments, globally, were tumbling over themselves to save domestic airlines specifically. He also railed against hedge funds and that's always a popular theme.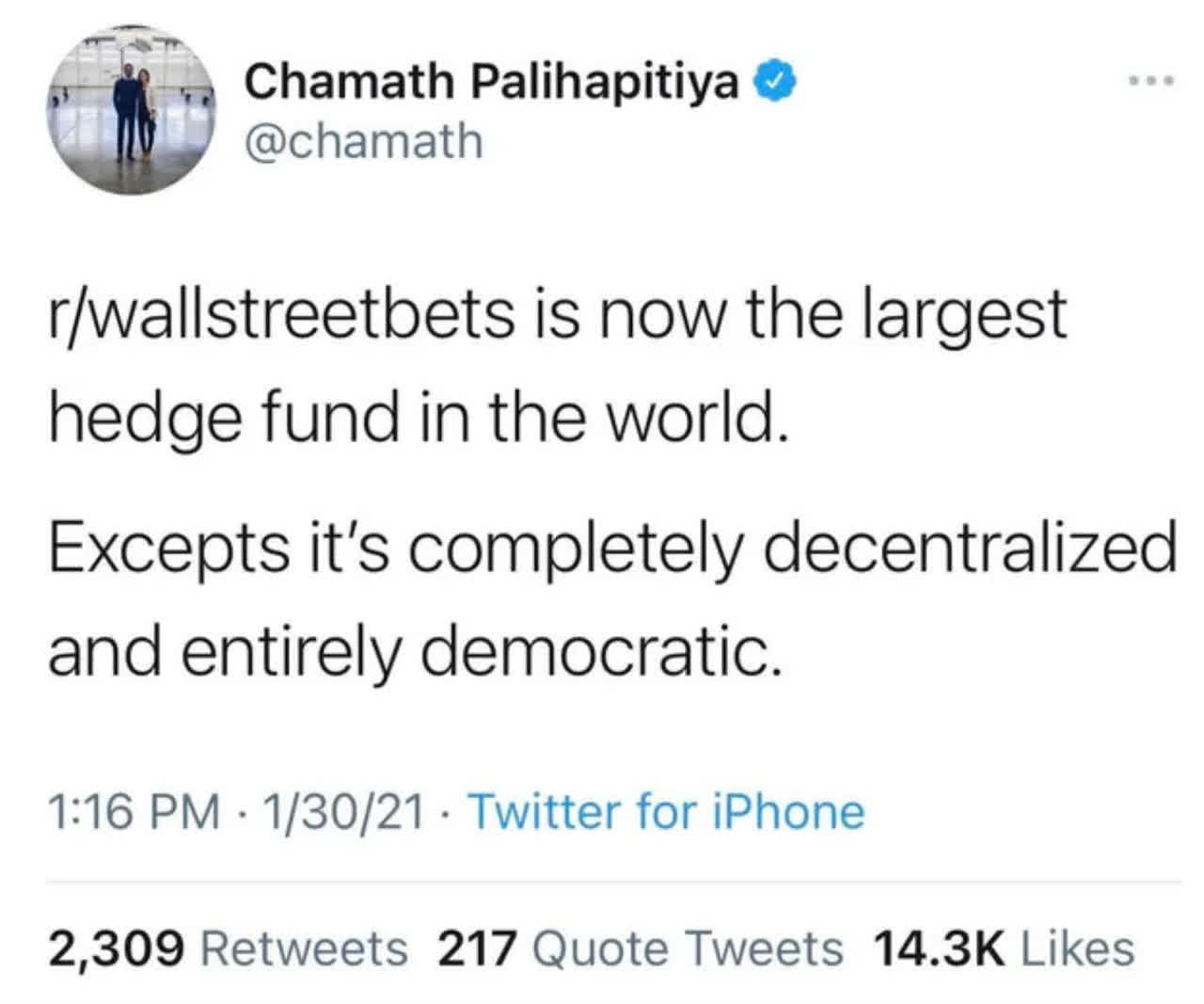 Source: Twitter
The interview was watched 10 million times according to CNBC and Palihapitiya took on the mantle as the Champion of the regular guy. I think he is fairly popular among the Robinhood/WSB crowd and this culminated in his tweet supporting GameStop: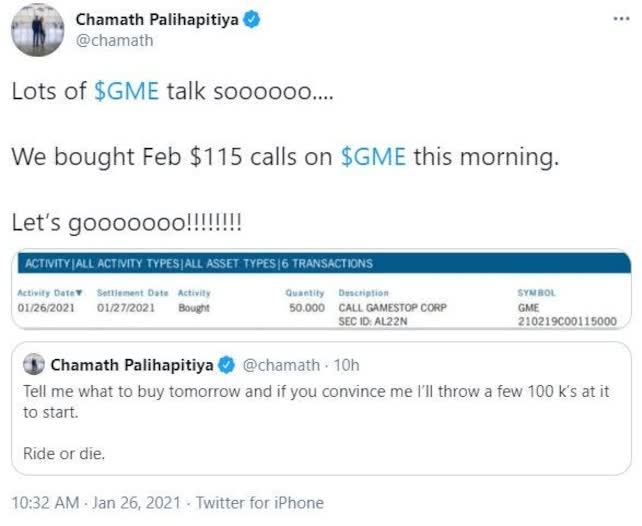 Source: Twitter
On WSB people will post their actual trading stub to prove their YOLOs. Chamath at that time solicited which stock to bet on but at that time, you didn't need a crystal ball to figure people would tell him to buy GameStop.
Value investors
He also called value investors "morons" after appearing at the Sohn Conference and touting Tesla (TSLA) converts in 2017 and Amazon (AMZN) in 2016 and getting a lot of flak for these picks.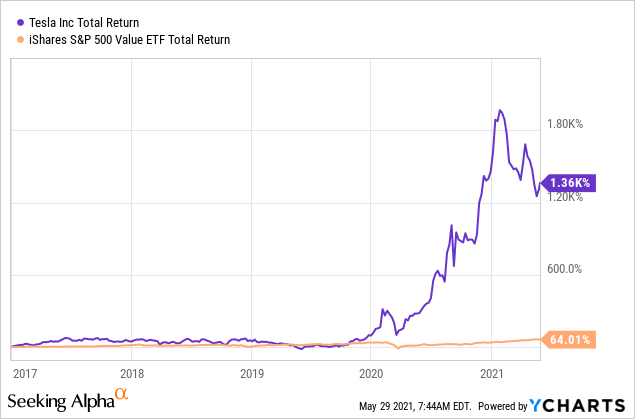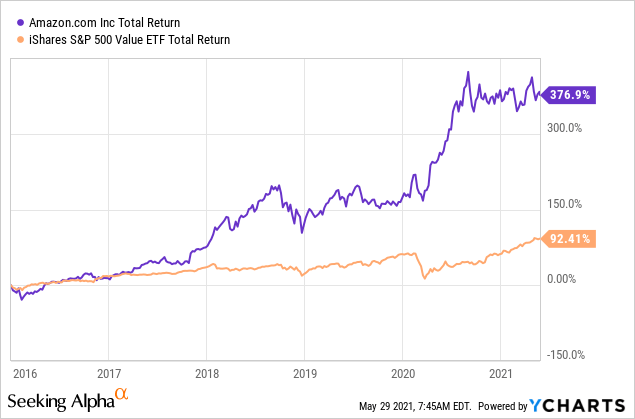 I consider myself a value investor or at least to have originated my approach there and, although it's not a very nice way to talk about anyone, there have been aspects of my value investing ways that I'm not proud of. Speaking for myself only here; there have definitely been occasions over the past decade where I didn't do enough work to break through the value investing gospel and think for myself.
Amazon is a perfect example. Most value investors don't have to feel bad about missing Amazon. I don't dispute great fundamental analysis could have helped you identify Amazon as a banger somewhere between '99 and today. But you have to allocate your research time a little bit efficiently based on only superficial information and Amazon rarely looked decent on that basis.
It's interesting though that if you screen for fundamental value superficially to decide where to allocate time; you're effectively setting yourself up to just invest in stocks that are attractive; both superficially and on a deeper level. But because they are superficially attractive on a fundamental basis you may be getting a lot more competition in these names.
The reason I consider missing Amazon one of my past mistakes goes a little bit deeper. In the past, I owned a few so-called affiliate websites. These were websites that contained higher quality product information and generated revenue by linking visitors to these products. For example, my top page ranked number 1 or number 2 in Google on a keyword related to anniversary gift-giving. That page had a lot of gift ideas for a spouse on it. Everyone knows these lists with gift ideas as magazines have been running them for ages before the internet even existed.
Anyway, that page generated a lot of revenue by having links to the products or services put forward as ideas. The affiliate model means you get a percentage of a sale (for example 10%) to a certain customer if you forwarded that customer to the merchant's website. Almost universally it doesn't have to be a sale of a specific product you link to but it could be anything on the website. Typically merchants will give you the sale if the customer makes the buy anytime in the 30 days after you send them over.
Most of the products I'd link to Amazon because that was really convenient due to their supportive tools(didn't register as a clue). But after a while, I almost always linked to Amazon.
Amazon's terms for affiliates are very unattractive on a superficial level. I think it's against their terms of service to state them exactly but assume that they pay about 60% or less of what another website could offer and they give you about 3% of the time window to get a sale out of the visitors you forward.
After a while, I wanted to send everyone to Amazon. I didn't because I wanted to link to a few different and unique retailers. Some gifts were almost never purchased. Still, I think visitors appreciated the page more because of some of these unique ideas. The reason I wanted to link everyone to Amazon was because the visitors purchased "something" on Amazon with amazing frequency. It wasn't necessarily often the product I'd linked to but it generated revenue above and beyond other partners even though they offered much worse terms.
In a way, I had very good inside insight into Amazon because of a small side-business and that should have triggered me. I never did look at it seriously because at some level I've been a sheep on that one.
Amazon wasn't exactly a favorite in value investing circles as Palihapitiya experienced. Although there were definitely value-minded investors like Bill Miller who identified it early on.
I figured, given I don't have to invest in massive size, I could do much better buying extremely cheap and obscure companies. Some of these things have done fine, some didn't. I've definitely evolved my thinking and no longer systematically fade the mega-caps completely. If only for the diversification benefits I should have bet more on the group. If I was going to do it anyway, it should have been on mega-caps where I have an edge; Amazon could have qualified.
SPACs
These days Palihapitiya is no longer running a venture capital firm but heads a number of SPACs or special acquisition companies (go here if you want to read a primer on these) and here's my guide on how to invest in SPACs in practice. My guide is slightly outdated in the sense the SPAC market flipped into a bear market and it's ice cold now. That changes how I implement some of the approaches but the opportunities have only gotten better in my humble opinion. This is now my single most important area of interest.
After Palihapitiya got involved with GameStop (GME) and tweeted he would donate profits to charity things quickly soured for him. These days Palihapitiya is no longer running a venture capital firm but instead heads a number of these SPACs. His job is to find deals that other investors find attractive as well and where they want to ride alongside him. Being a popular figure with the Robinhood (RH) crowd does not hurt in the SPAC promotor line of work. Palihapitiya's best-known SPAC launch is probably Virgin Galactic (SPCE) where he worked with Richard Branson(a famous businessman). Currently, Palihapitiya heads three SPACs that have not completed a business combination called; Social Capital Hedosophia Holdings Corp. IV (IPOD), Social Capital Hedosophia Holdings Corp. V (IPOE) and Social Capital Hedosophia Holdings Corp. VI (NYSE:IPOF).
Palihapitiya is the one who raises awareness to the Social Capital Hedosophia brand but behind the curtains Ian Osborne is an extremely well-connected tech investor that backs him up. Osborne is originally from the U.K. and about as diplomatic as Palihapitiya is audacious. He may also be the one who figures out whether the investments work out fundamentally as this doesn't appear to capture Palihapitiya's interest or attention.
I've laid out the backstory above to get to this point as the Hedosophia SPACs are trading at prices where I'm quite interested: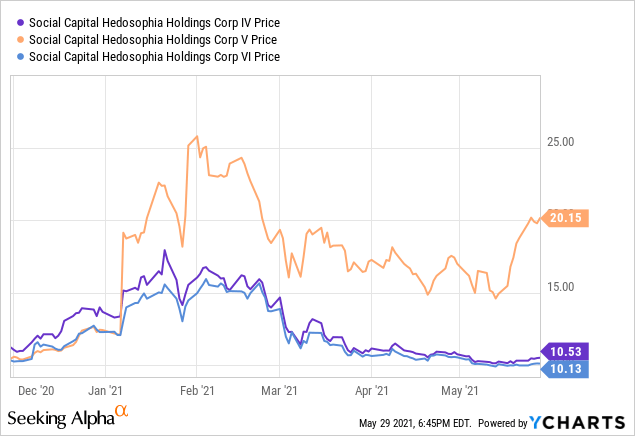 IPOF
In this article, I'd like to specifically zero in on Social Capital Hedosophia Holdings VI or IPOF. This is currently the most attractive among the Social Capital series that are in the pre-announcement phase.
Its ticker designates it as it being the furthest down the alphabet and last in line in to get assigned a deal. However, previously IPOE announced a deal before IPOD. IPOD is still without a deal. IPOF raised $1.15 billion which will allow the team to come up with a huge deal. If they bring in a PIPE the SPAC can bring a $6-$10 billion+ market cap company to the public markets. The SPACs are so different in size; I'm not sure it makes sense to read too much in the alphabetic order of the series of SPACs.
The market also tends to get more excited about the really big tech companies coming to the public markets and less enthusiastic about some of the smaller fish.
The primary reason I'm most interested in IPOF is that it is much more attractive from a dummy value investor's perspective. It is trading at $10.13. Because the redemption value allows me to redeem at $10, if I hate the deal, Social Capital comes up with. IPOD is only $10.54. At first glance, the difference appears small. However, because a SPAC investment can be redeemed at $10 the capital at risk here is either $0.13 or $0.54. If you compare in that way, the difference is huge. I'm not saying that's how you should always look at it but in my humble opinion, it's an important frame to look at these things.
I view a deep slump below $10 as quite unlikely. In terms of what I view as at-risk capital, the IPOD vehicle trades at a 400%+ to the IPOE version...
Except for setting up an options strategy, I like the common shares of IPOF best. The unit appears a bit rich vis-a-vis the warrant. The warrant isn't egregiously expensive but there are many more attractive warrants among SPACs looking for a deal (7 attractive examples here).
In the past, IPOF shares have traded around $15 without a specific strong deal rumor. They got there on the strength of the reputation of Palihapitiya, because he found interesting things and supported them with his connections, capital raising, and promotional skills (these skills are not unimportant; at times I wish I had spent more time developing these).
There is very little downside in a SPAC until a business combination concludes (thanks to the redemption feature). An option position that I find quite attractive is to buy the shares and write calls at the $10 strike on them for the January 22' expiration at $1.40 apiece. Or the December expiration at $1.22 apiece.
The downside of these positions is that a deal could be announced soon. That deal could lead to a despaccing event 3-4 months later. Suddenly you are holding a position with no further upside. Yet if it breaks below $8.90 it starts losing a lot of money. On balance, I'm leaning towards selling the December calls against shares most but other positions aren't terrible. I've also sold some puts in the past.
What I like least is to buy the warrants at the current price near $1.84. They could do really well but it's not a standout value within the SPAC universe. Given the quality of the sponsor here (thinking about deal flow, track record, and ability to attract media attention) the shares of IPOF do stand out as solid values within pre-deal SPACs. At this price, even if the Social Capital and Hedosophia team somehow doesn't find a deal in the next 17 months the downside is limited. If a deal is announced there is the opportunity for a big win. I didn't believe the narrative anything Palihapitiya touched would turn into gold. On the flipside, I do think the Social Hedosophia team has demonstrated the ability to get deals done that attract attention in a big way. But it's early to say how good they will turn out in the long run.