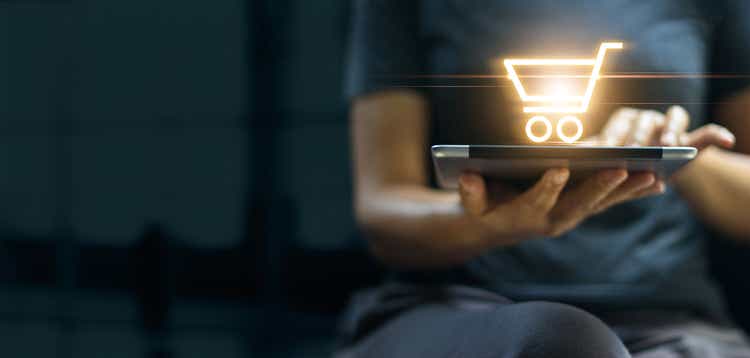 Chinese equities: The pressure remains
A little over a month ago, we chose Alibaba (BABA) as our top Consumer Discretionary pick moving forward into the year. Simply summed up, amongst the extended valuations in the sector, Alibaba's robust growth both in its top and the bottom line was (and is) too hard to ignore at its current depressed valuation, despite the risks and volatility surrounding Chinese equities.
Since then, shares have exchanged hands at even lower prices, but we remain strong believers in Alibaba's and China's long-term potential in general and don't worry too much for now.
The funny thing is that both the CCP (domestically) and the US (internationally) are giving Chinese stocks trading in the US a hard time. Obviously, the two parties have different reasons and mindsets, but for us (investors), the outcome is similar - lower stock prices.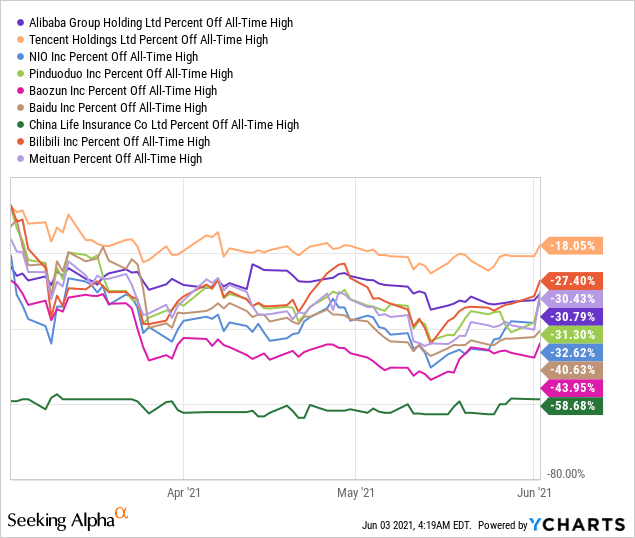 Can this pressure last a while longer? Yes, it can.
Can Chinese stocks lose more value (as a result)? Yes, they can.
Do we still see these stocks as a superb long-term purchase? Yes, we do.
Lately, we've sold/hedged most of our (direct) holdings - either by selling straight (e.g., OTCPK:TCEHY) or by selling covered calls (e.g., JD (NASDAQ:JD), Baozun (NASDAQ:BZUN), BABA.) This year we have been primarily active in buying Chinese stocks (usually not straight rather) by selling PUTs.
This doesn't only give us an extra margin of safety, but it allows us to set our own entry price based on our estimates (similar to a price target, but the other way round.)
In this article, we want to focus on Pinduoduo (NASDAQ:PDD), another one of our bullish Chinese positions, though one we have only recently added to our portfolios.
A hyper-growth story at a discount
Besides the typical pressure that Chinese equities face during this time, the Shanghai Consumer Council recently summoned Pinduoduo to urge the e-commerce giant to address problems regarding product quality, fake products, forced order cancellations, non-deliveries, and a price war over new user acquisition. Consequently, shares took another hit which we were happy to once again take advantage of.
But first, let's briefly discuss why Pinduoduo is greatly undervalued, considering its growth prospects.
In its most recent quarterly results, Pinduoduo delivered another spectacular report, posting revenue growth of 267% YoY to $3.38B, $180M ahead of estimates. The company is firing in all cylinders, growing its active buyers and MAUs (monthly active users) at explosive rates.
The fact that active buyers grew by 31% on an LTM basis is utterly impressive, considering that 628.2 million people were already using Pinduoduo during this time last year.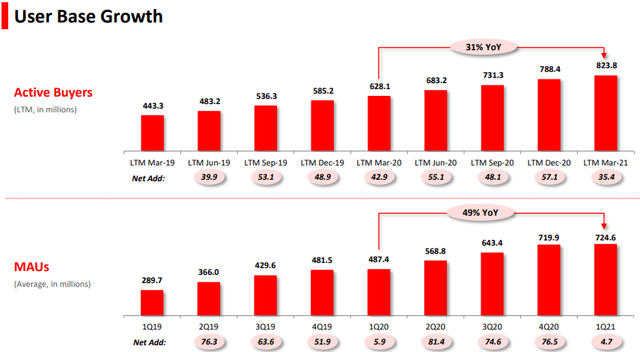 Source: Q1 presentation
At its current growth rates, even if we were to assume a substantial deceleration, Pinduoduo would likely remain a hyper-growth stock for years to come. Investors often praise the American FAANMG club for their growth prospects, yet their growth can hardly compare to some of their Chinese counterparts, including Pinduoduo.
To examine the company's revenue growth prospects, let's take a look at the graph below, from which we can note two main points. Firstly, that analyst estimates indicate revenue growth of 33% and 34% in the coming years. However, this makes little to no sense based on the company's revenue growth trajectory. For context, Pinduoduo's 5-year sales growth CAGR is 112%. The second thing to note, which proves our skepticism towards these estimates simultaneously, is that analysts have been hiking their estimates multiple times within a very short period of time, dissolving their accuracy.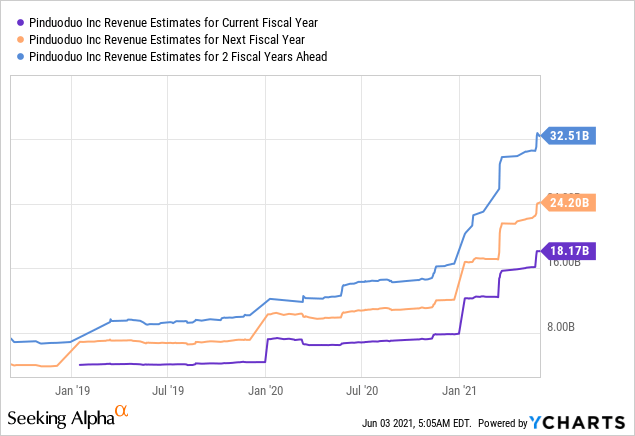 We believe that not only is Pinduoduo's dip over the past few months an excellent opportunity, but also the fact that the market is likely pricing the stock based on (what they seem to be ultra-soft) analyst estimates makes PDD's investment case even more attractive, considering the long term (mispricing) potential.
As you can see from the stock's forward P/S estimates (which are based on estimates which, as we mentioned, are not given credit), Pinduoduo is incredibly cheap. Even if we were to assume revenue growth of around 34%, (which we see as an ultra-soft estimate), a forward P/S of 9.64 would still make no sense.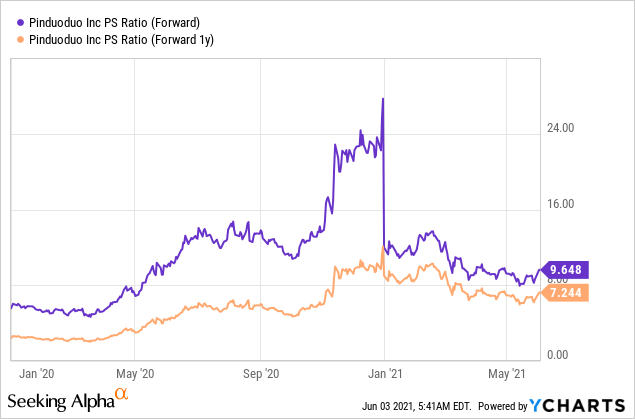 At its current growth rates, that ratio could easily be double its current one. It would most likely be the case anyway if the company was based in the U.S.
However, let's not be overly optimistic and estimate what the company could be worth today by assuming quite prudent, in our view, growth metrics. As you can see, we have embedded a swiftly decelerating revenues trajectory in the medium term (despite lacking evidence of such a potential growth deceleration.) We have also assumed an operating margin that gradually continues its currently expanding path, expecting it to "terminally" land at around 20% in the long term.

Source: Alpha Spread
We have also forecasted a minimal to no CAPEX going forward, as has been the case historically due to the company's business model. Below you can see our estimated future cash flows and their present value.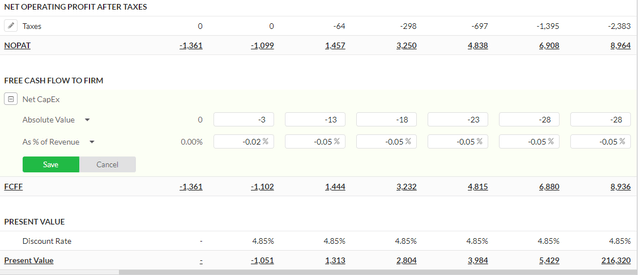 Source: Alpha Spread
Plugging everything together along with Pinduoduo's current stock price, we come out with an intrinsic value per share of $191.1, implying an upside of 36.6% from its current levels.
From another perspective, Pinduoduo's operating margin would have to be at around 9% in the long-term for its current price to be justified ceteris paribus, which we find quite unrealistic.

Source: Alpha Spread
How we are playing Pinduoduo
While we genuinely believe that the stock is undervalued, as we mentioned at the beginning of the article, we recognize the possibility that the stock can easily slide lower. Hence, we are increasing our margin of safety and reverse-setting our PT (setting our own entry price) in case that the stock keeps moving lower by selling PUTs.
You can see our open PUTs and when we issued their respective trading alerts in the table below:
We continue to target net prices of <$115 and as high strikes as possible. We've also used the low 120-strike, not because we've changed our strategy, rather because we've decided to take what the market gives, and PDD for <$100 is a true bargain.
We might end up making less on this option, monetary-wise, if PDD rises to even (as low as) $150, but the annualized yield is tempting enough not to pass on these options too (against the relatively low risk we see at this <$100 level.)
The stock, even now, is still trading above the maximum net price that we might pay, even if all PUT options that we've sold will get assigned to us. We're willing to sell higher strikes (than market price) as long as the net price we're getting (upon assignment) would be <-$115.
We intend to keep showing the stock love, and we will continue to build this (future) position. When we become shareholders, it would be for an average price that would be <$110, for a stock that we see 50% upside to (from <$110), at the very minimum.
Below you can see the possible scenarios out of selling our latest PUT options (included in the table above), for which we issued a trading alert on May 10th.
SELL (to open) PDD 01/21/2022 125.00 PUT @ $23.50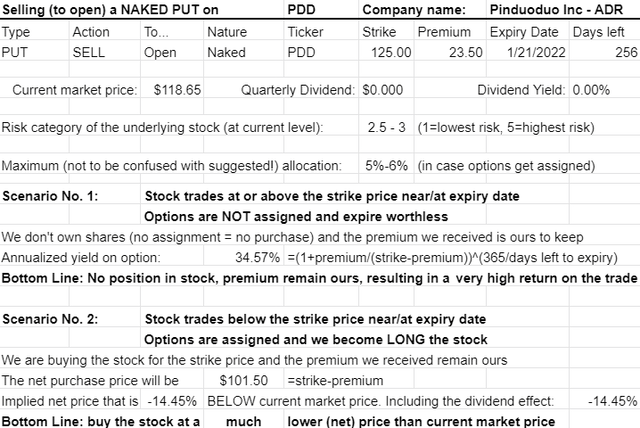 Source: Author
SELL (to open) PDD 01/21/2022 130.00 PUT @ $27.00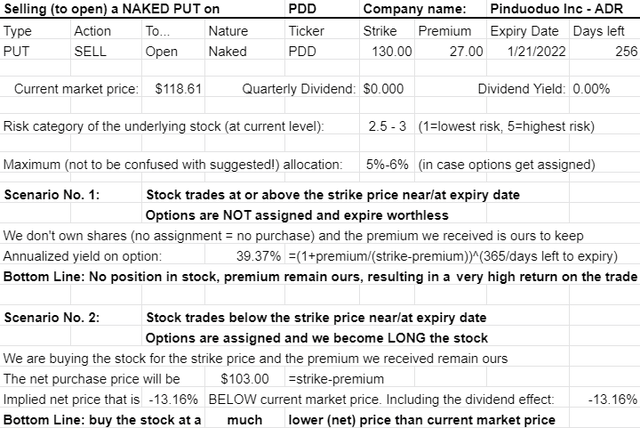 Source: Author
SELL (to open) PDD 01/21/2022 145.00 PUT @ $37.60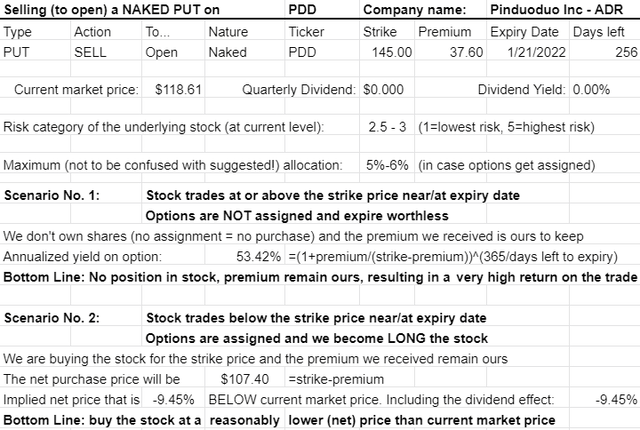 Source: Author
Looking for similar ideas? Wheel of FORTUNE is a one-stop-shop, covering all asset-classes (common stocks, preferred shares, bonds, options, commodities, ETFs, and CEFs), across all sectors/industries, through single trading-ideas and model-managed portfolios.

The extremely-wide scope of the service allows us to cater all types (of investors) and (investment) needs/goals, making WoF a true one-service-fits-all.
Join Wheel of FORTUNE to Increase Your Portion!