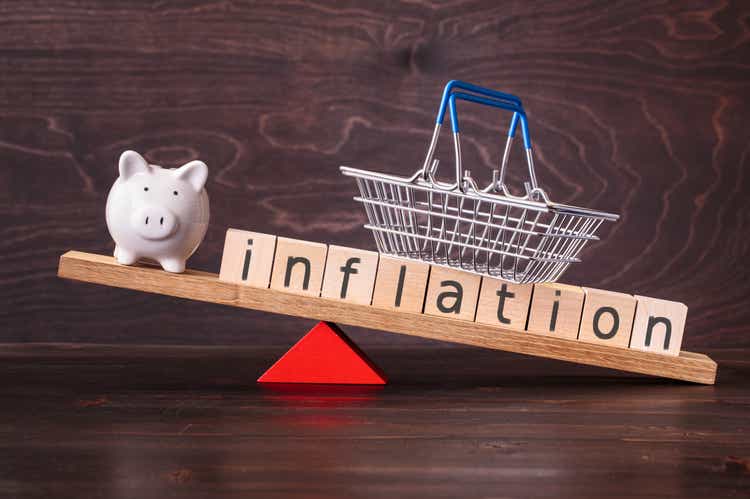 Dr. Ben Bernanke, senior advisor to PIMCO, and Joachim Fels, global economic advisor, discuss what's a concern – and what isn't – with regard to rising short-term inflation.
Joachim Fels: We are looking for a spike, but not a spiral in inflation. In the next few months, we are likely to see a pretty strong surge in inflation rates and year over year inflation.
One reason for that is base effects. We had pretty dramatic price declines in the affected sectors last March and April when the pandemic hit. And these price declines were rolled out of the 12-month window. So these are the base effects. Secondly, we've had quite a run-up in commodity prices, particularly in energy prices. And this will obviously affect headline inflation; has already started to affect headline inflation. And we'll likely see more of this in the next couple of months.
Thirdly, there are some supply bottlenecks in important sectors of the economy that will have some impact on prices also downstream. And then finally, in those sectors that will be reopening, you're likely to see price adjustments upwards as activity ramps up and demand ramps up in those sectors. So think airfares, think room rates and hotels, et cetera. So all of this explains why inflation rates over the next several months are likely to rise very significantly.
For example, here in the US, we see headline CPI inflation reaching around 3.5%. So this would be roughly double the current rate, 1.7%. And we think that peak will probably be reached around May of this year.
Tina Adatia: Thank you, Joachim, and that inflation uncertainty is something that we want to talk about in a little bit more detail. So thank you Joachim for sharing PIMCO's view on this. And at this point, I'd like to turn to you, Dr. Bernanke. Is there a risk that we'll end up with unexpectedly high inflation, and sort of in other words, kind of what's the risks that policy is just too easy then?
Ben Bernanke: Now I do think, as Joachim said, that there will be some near term inflation in 2021 for the reasons he'd mentioned, including base effects, commodity spending, opening up, et cetera. And I think it will create some anxiety at times in markets. However, my sense is my best guess is that inflation will remain well within the Fed's goals. Remember inflation is roughly 1.5%. The Fed would like to see it at least for a time as high as 2.5%. So it would like to see higher inflation. It's not resisting that. And I think there are a number of reasons why we would not expect to see inflation reach levels that are really uncomfortable for the Fed. And let me just mention a few.
First, I think the amount of slack in the economy is probably greater than conventional estimates, like the 3% CBO estimate, really suggest you've got participation rates. That is the number of people who are actually working or looking for work, which are similar today to what they were immediately at the beginning of the great recession or the beginning of the recovery from the great recession. So that's suggested, but there's a bigger gap there than maybe some think. Secondly, the monetary and fiscal stimulus we're getting is not expected to continue year after year. The big $1.9 trillion program will be mostly exhausted over the next year.
By next year, at some point fiscal policy will be taking a step back. Monetary policy will probably be taking a step back. So we don't expect a long-term persistent overshoot of the economy's potential that would create sustained inflationary pressures.
You mentioned the infrastructure, by the way, just to emphasize the headline number is very big, like $2 trillion, but this is something that is intended to happen over 10 years, not in next to the next year and be partly paid for by taxes.
The third point is I think that while there's a lot of money out there, including not only the fiscal stimulus, but the accumulated savings, a lot of it will be saved. People will be saving it or paying down debts, paying back their rent, states and local governments will be replenishing their rainy day funds.
Higher income, middle-income people who are receiving those $1,400 checks will put a lot of it into the bank. So I would not expect to see all of that money being immediately spent, particularly since it's going to take some time before people get used to going out and spending and shopping and working in the normal way as the economy opens up.
I should mention the fact that of course the US economy is growing strongly, but many other parts of the world are not growing as strongly for various reasons. So some of the demand that we're seeing in the US will spill over into a trade deficit, will be supportive of our trading partners, rather than creating demand at home.
And then finally, and very importantly is the Fed. I think that inflation expectations are not perfectly anchored. Inflation may adjust some, but overall the Fed does have a lot of credibility and it's laid out pretty clearly how it's going to respond to higher inflation.
And so overall, while I do think that inflation will pick up some I just want to remind everybody that that's what the Fed is aiming for, and that by achieving a modestly higher inflation rate, we can both avoid the risks of a Japan trap-type situation and perhaps get a hotter labor market that will give more people opportunities for work and for careers.
Disclosure
Important Notice
Please note that the following contains the opinions of the manager as of the date noted and may not have been updated to reflect real time market developments. All opinions are subject to change without notice.
The continued long term impact of COVID-19 on credit markets and global economic activity remains uncertain as events such as development of treatments, government actions, and other economic factors evolve. The views expressed are as of the date recorded, and may not reflect recent market developments.
All investments contain risk and may lose value.
Forecasts, estimates and certain information contained herein are based upon proprietary research and should not be interpreted as investment advice, as an offer or solicitation, nor as the purchase or sale of any financial instrument. Forecasts and estimates have certain inherent limitations, and unlike an actual performance record, do not reflect actual trading, liquidity constraints, fees, and/or other costs. In addition, references to future results should not be construed as an estimate or promise of results that a client portfolio may achieve.
Statements concerning financial market trends or portfolio strategies are based on current market conditions, which will fluctuate. There is no guarantee that these investment strategies will work under all market conditions or are appropriate for all investors and each investor should evaluate their ability to invest for the long term, especially during periods of downturn in the market. Outlook and strategies are subject to change without notice.
This material contains the opinions of the manager and such opinions are subject to change without notice. This material has been distributed for informational purposes only and should not be considered as investment advice or a recommendation of any particular security, strategy or investment product. Information contained herein has been obtained from sources believed to be reliable, but not guaranteed.
PIMCO as a general matter provides services to qualified institutions, financial intermediaries and institutional investors. Individual investors should contact their own financial professional to determine the most appropriate investment options for their financial situation. This is not an offer to any person in any jurisdiction where unlawful or unauthorized. | Pacific Investment Management Company LLC, 650 Newport Center Drive, Newport Beach, CA 92660 is regulated by the United States Securities and Exchange Commission. | PIMCO Europe Ltd (Company No. 2604517) is authorised and regulated by the Financial Conduct Authority (12 Endeavour Square, London E20 1JN) in the UK. The services provided by PIMCO Europe Ltd are not available to retail investors, who should not rely on this communication but contact their financial adviser. | PIMCO Europe GmbH (Company No. 192083, Seidlstr. 24-24a, 80335 Munich, Germany), PIMCO Europe GmbH Italian Branch (Company No. 10005170963), PIMCO Europe GmbH Spanish Branch (N.I.F. W2765338E) and PIMCO Europe GmbH Irish Branch (Company No. 909462) are authorised and regulated by the German Federal Financial Supervisory Authority (BaFin) (Marie- Curie-Str. 24-28, 60439 Frankfurt am Main) in Germany in accordance with Section 32 of the German Banking Act (KWG). The Italian Branch, Irish Branch and Spanish Branch are additionally supervised by: (1) Italian Branch: the Commissione Nazionale per le Società e la Borsa (CONSOB) in accordance with Article 27 of the Italian Consolidated Financial Act; (2) Irish Branch: the Central Bank of Ireland in accordance with Regulation 43 of the European Union (Markets in Financial Instruments) Regulations 2017, as amended; and (3) Spanish Branch: the Comisión Nacional del Mercado de Valores (CNMV) in accordance with obligations stipulated in articles 168 and 203 to 224, as well as obligations contained in Tile V, Section I of the Law on the Securities Market (LSM) and in articles 111, 114 and 117 of Royal Decree 217/2008, respectively. The services provided by PIMCO Europe GmbH are available only to professional clients as defined in Section 67 para. 2 German Securities Trading Act (WpHG). They are not available to individual investors, who should not rely on this communication. | PIMCO (Schweiz) GmbH (registered in Switzerland, Company No. CH-020.4.038.582-2) . The services provided by PIMCO (Schweiz) GmbH are not available to retail investors, who should not rely on this communication but contact their financial adviser.| PIMCO Asia Pte Ltd (Registration No. 199804652K) is regulated by the Monetary Authority of Singapore as a holder of a capital markets services licence and an exempt financial adviser. The asset management services and investment products are not available to persons where provision of such services and products is unauthorised. | PIMCO Asia Limited is licensed by the Securities and Futures Commission for Types 1, 4 and 9 regulated activities under the Securities and Futures Ordinance. PIMCO Asia Limited is registered as a cross-border discretionary investment manager with the Financial Supervisory Commission of Korea (Registration No. 08-02-307). The asset management services and investment products are not available to persons where provision of such services and products is unauthorised. | PIMCO Investment Management (Shanghai) Limited Unit 3638-39, Phase II Shanghai IFC, 8 Century Avenue, Pilot Free Trade Zone, Shanghai, 200120, China (Unified social credit code: 91310115MA1K41MU72) is registered with Asset Management Association of China as Private Fund Manager (Registration No. P1071502, Type: Other) | PIMCO Australia Pty Ltd ABN 54 084 280 508, AFSL 246862. This publication has been prepared without taking into account the objectives, financial situation or needs of investors. Before making an investment decision, investors should obtain professional advice and consider whether the information contained herein is appropriate having regard to their objectives, financial situation and needs. | PIMCO Japan Ltd, Financial Instruments Business Registration Number is Director of Kanto Local Finance Bureau (Financial Instruments Firm) No. 382. PIMCO Japan Ltd is a member of Japan Investment Advisers Association and The Investment Trusts Association, Japan. All investments contain risk. There is no guarantee that the principal amount of the investment will be preserved, or that a certain return will be realized; the investment could suffer a loss. All profits and losses incur to the investor. The amounts, maximum amounts and calculation methodologies of each type of fee and expense and their total amounts will vary depending on the investment strategy, the status of investment performance, period of management and outstanding balance of assets and thus such fees and expenses cannot be set forth herein. | PIMCO Taiwan Limited is managed and operated independently. The reference number of business license of the company approved by the competent authority is (109) Jin Guan Tou Gu Xin Zi No. 027. 40F., No.68, Sec. 5, Zhongxiao E. Rd., Xinyi Dist., Taipei City 110, Taiwan (R.O.C.). Tel: +886 2 8729-5500.| PIMCO Canada Corp. (199 Bay Street, Suite 2050, Commerce Court Station, P.O. Box 363, Toronto, ON, M5L 1G2) services and products may only be available in certain provinces or territories of Canada and only through dealers authorized for that purpose. | PIMCO Latin America Av. Brigadeiro Faria Lima 3477, Torre A, 5° andar São Paulo, Brazil 04538-133. | No part of this publication may be reproduced in any form, or referred to in any other publication, without express written permission. PIMCO is a trademark of Allianz Asset Management of America L.P. in the United States and throughout the world. ©2021, PIMCO.
CMR2021-0422-1617493
Editor's Note: The summary bullets for this article were chosen by Seeking Alpha editors.