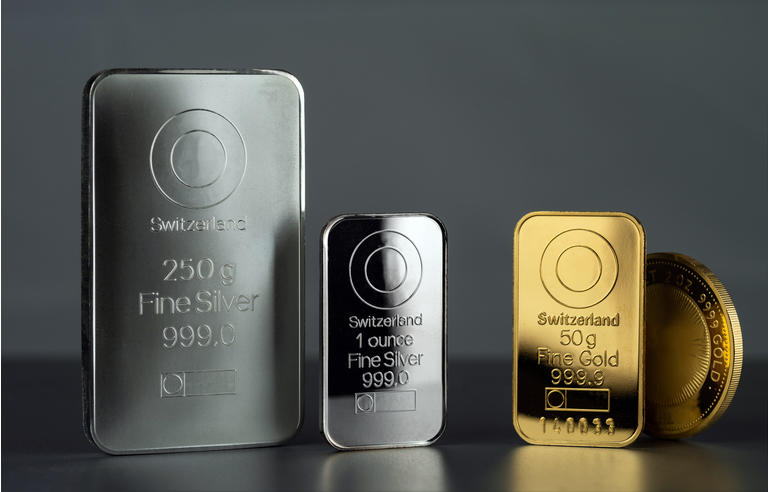 Main Thesis/Background
The purpose of this article is to discuss the Sprott Physical Gold and Silver Trust (NYSEARCA:CEF) as an investment option at its current market price. As my readers know, gold is a commodity I have used for a while as an equity hedge. After seeing some weakness late last year and early this year, I again pushed this concept as a smart investment ploy for 2021. However, rather than adding to my gold-only holding, the iShares Gold Trust ETF (IAU) position, I branched out into a fund with both gold and silver exposure. This fund, CEF, had multiple attributes I found attractive a few months ago. In hindsight, the timing of that bullishness was well placed, with CEF soaring by double-digits: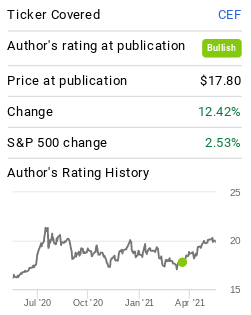 Source: Seeking Alpha
Looking ahead, I continue to see a bullish trajectory for this fund, so I am looking to add to my position, rather than take profits here. Specifically, gold and silver have seen a boost on a weaker dollar, and spending plans out of Washington are more than likely to continue to weaken the dollar. Further, silver is an important component for green energy initiatives, such as solar panels and electric vehicles. This demand should help support higher prices. Finally, CEF still trades at a (albeit small) discounted price to NAV, and its tax advantages are superior to alternative ETFs.
Why Keep Buying? Discount Still Present
My first point takes a look at CEF's valuation, which is one of the key reasons why I bought into CEF to begin with. Specifically, rather than buying gold and silver at NAV through passive ETFs, CEF is a closed-end unit trust that can often be bought below its NAV. Back in April, when I first picked up CEF, the fund was sporting a 4% discount. This was a very attractive level and, clearly, buying in at that time worked out handsomely. The good news is, CEF is still offering a market price that allows investors to buy-in at a discount. The bad news is this discount has narrowed considerably. To illustrate, the two graphics below show CEF's discount in mid-April and now, respectively:

Source: Sprott
Ultimately, this supports a slightly less bullish stance than before. However, I believe in the underlying fundamental story for both gold and silver, so I view any discount now as a buying opportunity. That said, I would not expect similar returns over the next few months that we have recently experienced, so readers can use this discount narrowing as support for managing their expectations to some degree going forward.
Infrastructure Talks/Global Re-Openings Continue To Boost Silver's Price
Dipping deeper, I want to emphasize a second reason why I like CEF as a way to play the commodities space. As my readers know, gold has been a standard hedge of mine but, moving into 2021, I found it advantageous to take on a more diversified approach of both gold and silver. CEF offered an easy way to do this, and I have certainly been happy with the results.
That said, why did I want silver exposure, in lieu of just adding to my gold position? Primarily, it is because while both gold and silver act as an inflation hedge, silver is typically a bigger beneficiary from improving economic conditions. While gold is the most famous store of value/inflation hedge for commodity investors, there are a myriad of other ways to play precious metals. Silver is one of the next most common assets you will find in retail investor's portfolios, and often for some of the same reasons as gold. However, it has the added benefit of utility for many components and final products, with demand for silver rising as industrial production and activity increase. What this means is - it can act as an inflation hedge, but it can also pass the benefits of an improving economy to investors as well.
To understand why, consider that silver is integral in many common-place products, such as electronics, jewelry, coins. Additionally, the metal has both industrial and technological applications, with computers, phones, vehicles, and many appliances utilizing silver. In fact, if we look at where the demand for silver is coming from in 2021 so far, we see that just over 50% of the demand for silver was industrial, as illustrated below: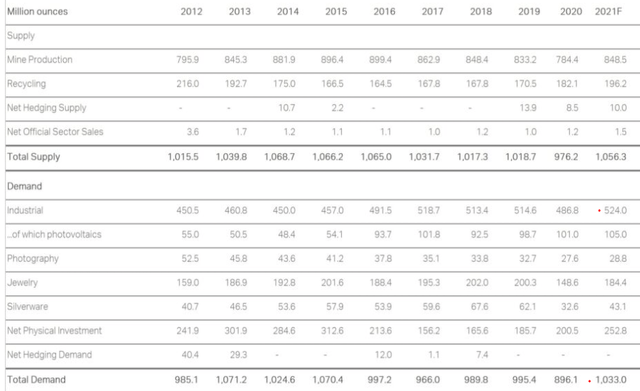 Source: The Silver Institute
My take on this is that silver's demand is rising because of speculation, but also practical application. This resource is needed for production, and demand is rising. This tells me at the very least, silver's current price is well supported. Will it move aggressively higher from here? Not necessarily. But it could, and I view this demand story as a credible reason for why I do not anticipate a sharp decline in price.
Further, I noted in my April review how I have a multi-year bull thesis for silver because of the ongoing push for solar panel installations across the country. With the Biden administration placing a larger emphasis on "green" energy and other more environmentally-friendly initiatives, I see solar driving additional demand for silver.
Bitcoin/Cryptocurrencies Are Much More Volatile
Taking a more macro-view of the alternative currency market, I think a discussion around cryptocurrencies and gold/silver is warranted. To repeat, I use both gold and silver primarily as equity and inflation hedges. If I can make an impressive gain with them, all the better. But my approach to this asset class is to lower my portfolio volatility and to provide some protection against equity swings. Over the past few years, many gold and silver investors have no doubt been turning to Bitcoin, and other popular cryptocurrencies for similar, albeit perhaps more speculative, reasons. These cryptocurrencies are used as a store of value, are seeing increased adoption levels, and are growing substantially in popularity. As a result, readers may be thinking of moving into this space, at the expense of more traditional commodity funds like CEF.
To be fair, I do have a small position in Bitcoin, but it is a very minor portion of my portfolio, and that will not be changing any time soon. Also, I do not want readers to get the impression I am saying these investments are "bad", and gold and silver are "good". Rather, I want readers to understand the reasons behind investing in these assets are probably different, so the two can complement, not replace, each other. For example, I highlighted a desire to lower my portfolio's volatility as a key reason for a gold and silver position. If I had swapped these assets out with Bitcoin or Ether, the desired result would not likely have been met. Of course, a more volatile asset provides more opportunities for trading and potentially larger gains, but that is not my objective for commodity investing. Importantly, over the past month, I would have been severely disappointed had I moved entirely into cryptocurrencies and that had been my objective. To see why, consider the percentage move in CEF, IAU, Bitcoin, and Ether over the past month:

Source: Google Finance
As you can see, there were sharp swings down for both of those currencies, while CEF and IAU have slight gains by comparison. So, for the volatility-minded, CEF is probably the smarter play.
Further, it is important to recognize this volatility in an asset like Bitcoin is not unusual. I did not just cherry-pick last month and draw a conclusion. When we look back at Bitcoin's history, we see the asset has had major price declines off all-time highs, meaning last month's move was not really an anomaly: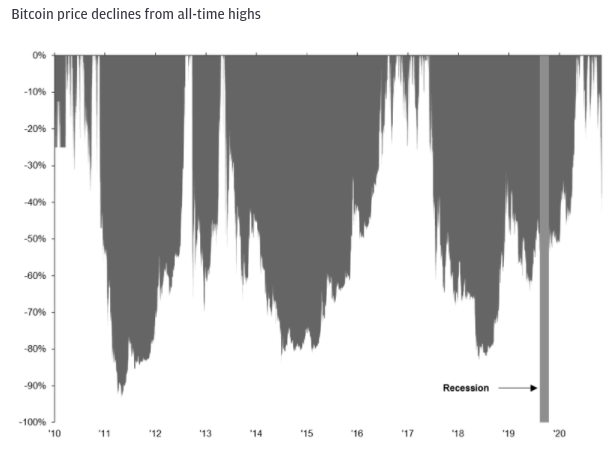 Source: JPMorgan Asset Management
To summarize, graphics like this give plenty of support to the idea of holding on to gold, silver, and other more time-tested metals. While hedges like Bitcoin can, and do, have plenty of merit, they are also very volatile. Whether that is appropriate for any individual investor is up for them to decide, but this volatility tells me precious metals have not been replaced as a portfolio staple yet.
Traders May Prefer The Tax Advantage
Another positive point that bears repeating is the potential for tax advantages through buying CEF. Again, this was discussed in my last review, so I will shorten the discussion here. Simply, when compared to popular gold ETFs, such as IAU and/or the SPDR Gold Trust ETF (GLD), Sprott Physical Bullion Trusts, including CEF and others, have the ability to reduce taxes owed. This is a result of their classification as Passive Foreign Investment Corporations by the IRS. As long as the investor fills out the required paperwork, capital gains will be taxed at a lower rate than the collectibles rate:

Source: Sprott
For clarity, this distinction exists because gold and other metals are considered "collectibles", according to the IRS. Importantly, the IRS treats investment in a precious metals ETF the same as an investment in the metal itself. This means an investment in funds like IAU or GLD would be considered an investment in collectibles. Obviously, the rate of tax depends on one's overall income, but readers should note the maximum long-term capital gains rate on collectibles is higher than the top capital gains rate for CEF. This makes CEF an attractive choice for taxable accounts.
Some Counter-Points To Consider
Through this review I had laid out a bullish stance on gold, silver, and CEF by extension. However, I would be remiss if I did not discuss a potential drawback of buying now. Clearly, as CEF's total return illustrated, this fund has been on a tremendous run, led by consistent short-term gains in both gold and silver. However, both of these metals have seen their ups and downs over the past year, so investors do need to prepare themselves for the potential for weakness in coming months.
One reason why has to do with current economic metrics. While an uptick in economic activity and inflation can be good for both gold and silver, an economy that is growing too fast can be detrimental to these investments. This is because if inflation comes in at sustainably high levels, the Fed, and other central banks, may be forced to raise interest rates sooner than expected. As rates and yields rise, gold often moves lower, as the two are negatively correlated, generally speaking. At the moment, the Fed seemed convinced that inflation is "transitory", but there are economic metrics that show a heating up of the economy. For example, recent readings of industrial production have come in above expectations, and sit at levels not seen in years: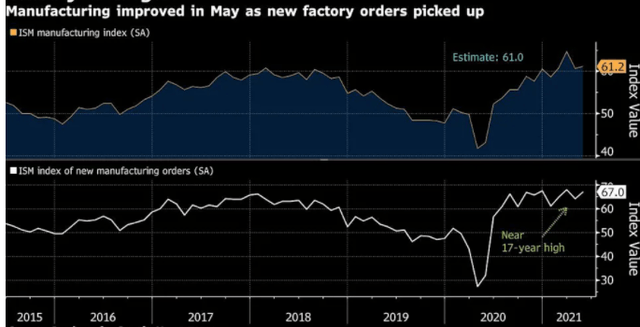 Source: Yahoo Finance
Time will tell if these measures, and others like them, continue to push higher, but for the time being investors should be preparing for yields to move higher. After moving aggressively at the beginning of the year, the 10-year has cooled off a bit, and that is not a trend I expect to last:

Source: St. Louis Fed
Of course, a growing economy and a rising 10-year yield are generally "good", economically speaking. But for precious metals, they can pressure returns.
Further, investors should consider that gold has been having a very strong short-term move. After struggling to start the year, May saw one of the biggest percentage gains since last summer, illustrated below: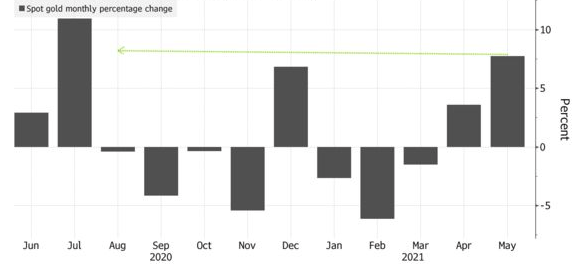 Source: Bloomberg
My point here is that gold's strength could be getting a bit ahead of itself and, when we couple that with the potential pick-up of inflation, investors need to make sure they stay within their risk tolerance going forward. I do like CEF for now, but I am not blind to the risks facing the fund, and neither should my readers be.
Bottom Line
The first half of 2021 was about keeping my portfolio balanced, and the second half will be the same. I have branched into silver, Bitcoin, emerging markets, developed stocks in Canada and Europe, as well as small-cap domestics. With these positions built, one I want to add to in the short term is precious metals. With gold moving higher and silver also having a strong year, I like CEF as a play on this space. The fund has a discount to NAV, preferential tax treatment, and plenty of bullish momentum. Gold's use as a hedge remains important, and I like the silver exposure as a play on the economic recovery. Therefore, I continue to hold CEF and will look to add to it in the weeks and months ahead, and I would encourage readers to give this idea some thought at this time.