Consumer discretionary and retail-related exchange traded funds are making a robust rebound as the improving labor market helped bring retail sales to a five month high.
SPDR Consumer Discretionary Select Sector Fund (NYSEARCA:XLY) is up 14.4% year-to-date and SPDR S&P Retail ETF (NYSEARCA:XRT) is 17.5% higher year-to-date.
The Commerce Department revealed that retail sales increased a better-than-expected 1.1% in February following a 0.6% rise in January, with sales improving in 11 of 13 categories, including auto dealers and clothing stores, reported Shobhana Chandra for Bloomberg.

"There are a number of factors that are helping release this pent-up demand," Don Johnson, vice president of GM's U.S. sales, said in the report. "They include stronger employment, good credit availability, and both of those are leading to improving consumer sentiment."
The sales numbers look promising as employment growth is expanding at a six-month streak, despite any potentially dampening affects from higher energy prices.
Consumers are "unfazed by higher gas prices," Jonathan Basile, an economist at Credit Suisse, said in the report. "This is a pleasant surprise on the overall picture for the economy. For the Fed, it's steady as she goes. They will be encouraged, but there is still a long way to go."
However, economists are wary about a potential hit to GDP if gas prices rise too quickly. For instance, the $1.26 per gallon increase from September 2010 through May 2011 diminished GDP growth to 0.4% in the first quarter and 1.3% in the second, reported Tim Mullaney for USA Today.
John Lonski, chief capital markets economist at Moody's Analytics, cautions that if gas goes above $4 and holds, or if Iran closes the Strait of Hormuz, consumers will feel the pain. IHS U.S. chief economist Nigel Gault calculates that for every $10 increase in crude translates to 24 cents a gallon on gas and a 0.2% drop in GDP.
SPDR S&P Retail ETF
Click to enlarge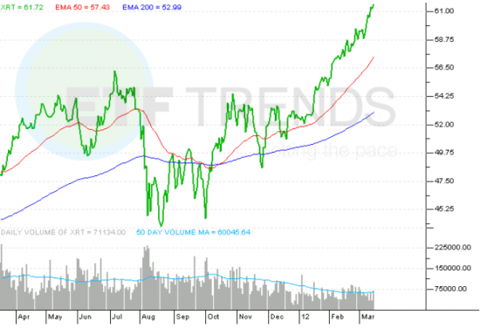 Max Chen contributed to this article.
Disclosure: I am long XRT.
Additional disclosure: Tom's clients own XRT.