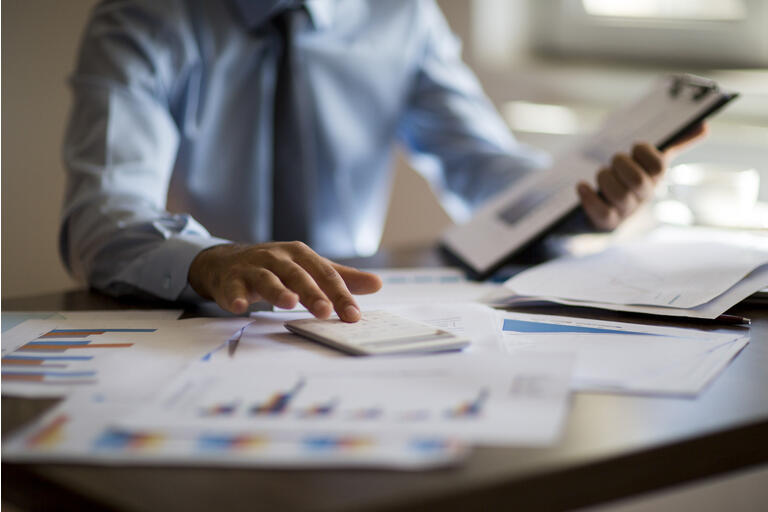 Are BDCs a Good Fit for Your Portfolio?
Let's begin by stating a simple truth: There's no investment that's absolutely perfect. Every asset has some kind of drawback. The key is finding investments that match your own time preferences, risk-reward ratio, and other financial goals.
For investors who seek a diversified source of income, growth, and margin of safety, BDCs (BIZD) represent an interesting opportunity. While they've become more popular as of late, we're still able to find value in this area of the market.
What is a BDC?
Business Development Companies pay out 90% of their taxable income to shareholders. This makes them a popular option for income-oriented investors.
BDCs often make the majority of their income by lending money out to other businesses. To put it as simply as possible, you can think of their business model in the following terms:
Acquiring funding and capital at cost X

Lending or reinvesting it for a return of Y

Aiming to earn a profit on the spread in between X and Y: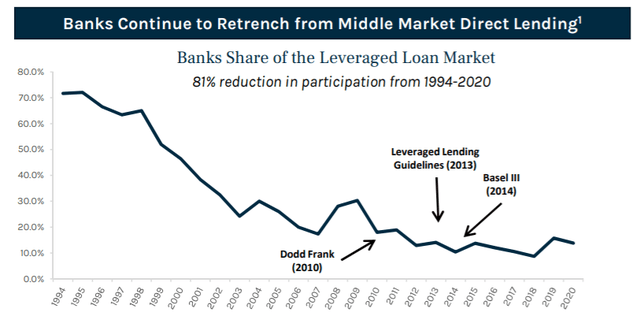 Source: Ares Capital (NASDAQ:ARCC)
So why are we bullish on BDCs currently? A number of key reasons:
Attractive Yields: This sounds simple, yet finding a high yielding, safe, stable investment is becoming increasingly rare in today's environment. The ~8% yield offered by many BDCs starts to look a lot more attractive when compared to other sectors like utilities (XLU) and REITs (VNQ) paying ~3% or the S&P 500 (SPY) that's yielding only 1.3%.

Good Long-Term Outlook: Many businesses are hungry for loans in today's environment, and BDCs are positioned to fill unique lending niches that banks cannot. If banking rules and regulations continue to increase, it will likely only drive more demand for BDCs.

Plenty of Upside Potential: Compared to the 10-year Treasury (IEF), BDCs are offering historically lucrative yield spreads, which may result in upside as yield spreads normalize. So not only do you have an asset ripe for upside growth, you are also generating impressive yields along the way: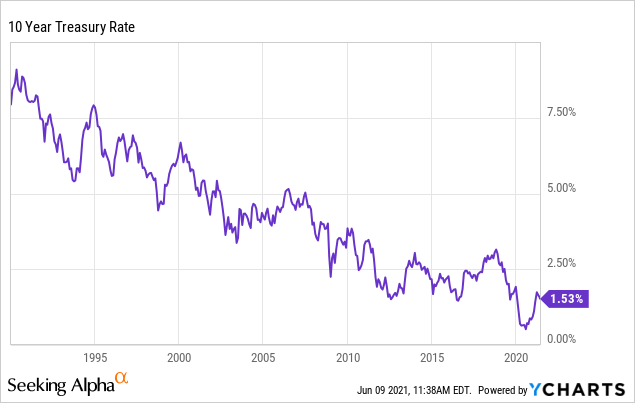 With all these converging bullish factors, we're continuing to invest in BDCs in our High Yield Investor portfolio.
That said, there are many times when high yields are a red flag and investors are quick to overlook a poor balance sheet or a conflicted management. Unfortunately, many BDCs are in exactly this situation, so we actively avoid the majority of the sector.
With the advice below, we hope to help steer you away from some of these yield traps in the BDC world. We'll sum up with an example of exactly the type of BDC we seek to avoid, and another that we would invest in at the right price.
1. Watch Out for Excessive "Empire Building"
In the BDC sector, one of the most important phenomena to avoid is that of "empire building." Empire building is when companies seek to grow at an excessive rate that ultimately doesn't benefit their shareholders.
Many investors think growth of all kinds is always a good thing. However, a problem arises when management keeps raising capital to grow the portfolio, to the point where it leads to share dilution and flatlined or reduced cash flows per share.
Unfortunately, management teams are often incentivized to do this because they receive higher AUM fees. It also simply looks prestigious from a superficial level to be managing more assets.
This is why you want to pay close attention to the management strategy of BDCs, and frankly any investment.
2. Avoid Over-Leveraged Companies
Like many things in life, leverage can be used responsibly or irresponsibly.
In years of good overall market performance, levered companies often achieve greater returns.
But the opposite also is true: It can come back to bite you in the bad years.
Too often, levered companies outperform briefly only to lose all of their gains when we enter recessionary times.
For this reason, we advise investors to pay close attention to how much leverage a BDC is taking on. You don't want to ride a levered company all the way up and then all the way back down again.
3. Avoid the "Jacks of All Trades"
In business, oftentimes being in a specialized niche is what gives you an edge over competitors.
For this reason, we tend to avoid BDCs that don't have a clear specialty or specific advantage. These "jack of all trades" BDCs try to operate in too many sectors, or pursue too many investments.
Without a niche or specialty, most BDCs don't have a competitive advantage and will probably produce less than stellar returns.
Here's a BDC We Wouldn't Invest In
Now that you know the three things to watch out for when evaluating BDC, let's put it into practice.
At first sight, Prospect Capital (PSEC) might seem like a great choice for a BDC. It's traded at a low valuation historically, as well as a high yield (8+%). But it has managed to lose 40% of its value since going public in 2004: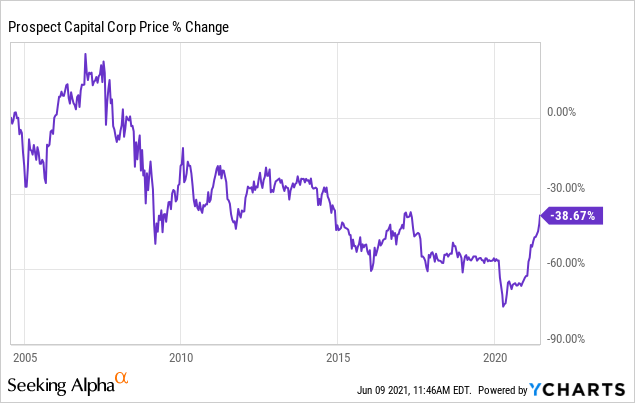 This poor performance results from PSEC being overleveraged, poorly managed, and a jack of all trades.
The company also has consistently diluted its investors. We can see share counts have increased while value per share has fallen off steeply: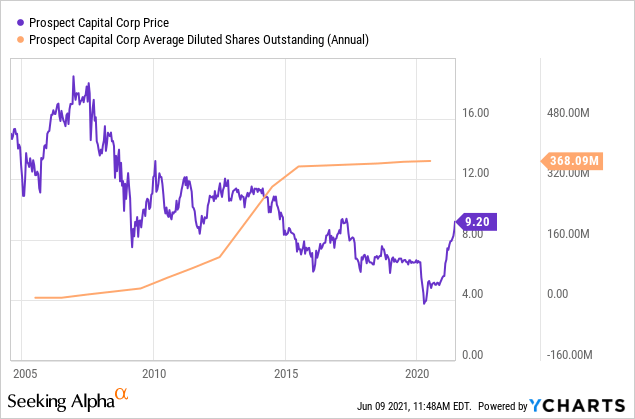 This is a perfect example of why you have to know what to look out for in the BDC space. PSEC appears to be a great deal with its 8% yield, but unfortunately, the stock is priced at a high yield for a reason.
Remember: It's better to pay a fair price for a great company than to pay a great price for a bad company. We're happy to pay a slight premium for better management, financials, and growth prospects.
A BDC We'd Buy At the Right Price
Hercules Capital (HTGC) has a very specific focus: Technology and pharmaceutical companies.
This BDC also has a management team that rewards shareholders and a balance sheet with much more reasonable debt levels.
However, HTGC is rarely the cheapest BDC on the market from a valuation perspective. But perhaps the premium is deserved. After all, it achieved a 150% higher return than PSEC in the last decade: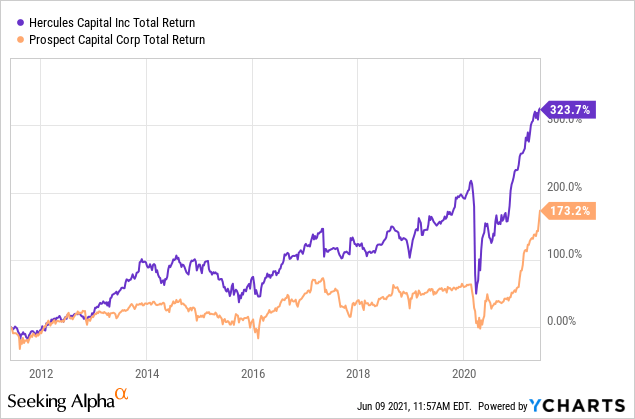 It's also outperformed the BDC market more broadly, as we can see in this comparison with its peers: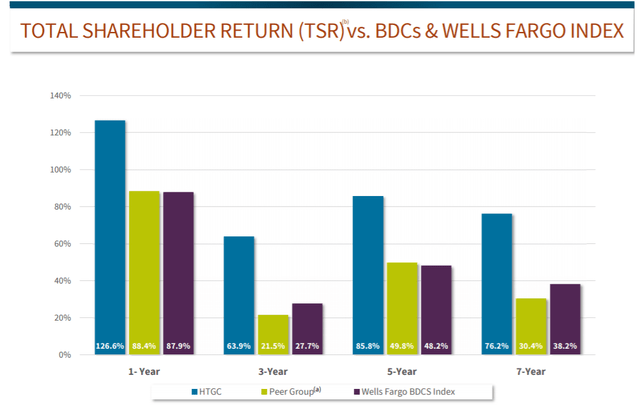 HTGC has a lower yield and a higher valuation than some of its competitors, but it's still a premier player in the BDC space. Sometimes you simply have to pay a premium for future outperformance.
Bottom Line: Be Very Selective About Your BDCs
Unfortunately, high-yield, low-valuation BDCs tend to be on sale for a reason:
Misaligned management teams

Too much debt on the balance sheet

High risk assets or industries

Too generalized, lacking specialization
That's why the High Yield Investor portfolio only has exposure to the best-of-breed BDCs: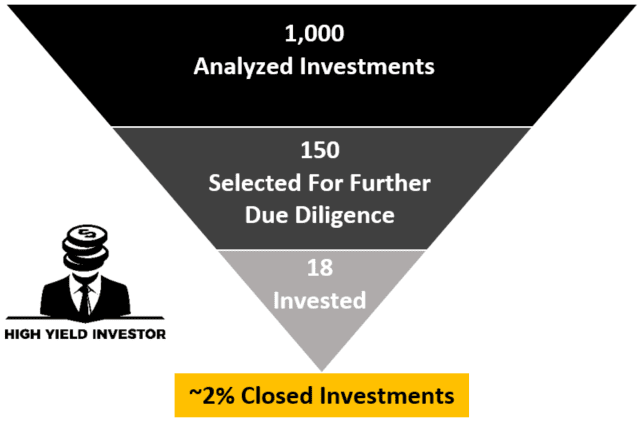 In the world of BDCs, it can take a while to find the perfect mix of value, growth prospects, good management, and of course, a nice yield. But those high quality BDCs are out there, and if you can find them, their returns will improve the results of your portfolio substantially: