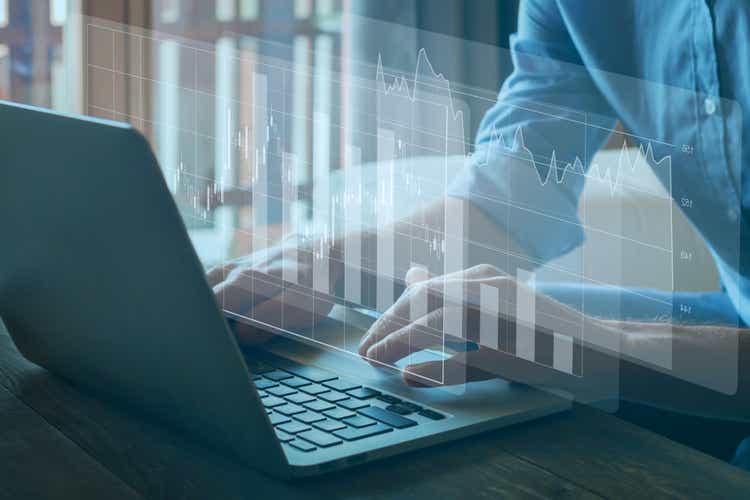 Written by Nick Ackerman, co-produced by Stanford Chemist
Adams Diversified Equity Fund (NYSE:ADX) is one of the oldest closed-end funds there are in existence today. Formerly this fund was called The Adams Express Company. The initial inception date of 1929 is rather misleading. That is when it was converted to a CEF. In fact, the company goes back to 1840 when it started out as an express company.
Alvin Adams, an enterprising business man starts a new company with little more than "two men, a boy and a wheelbarrow". The primary business was the carrying of small parcels, bank drafts and other valuables between Boston, Worcester, Norwich, New London and New York City utilizing steamboats and railroads. The business routes expanded rapidly and at the start of the gold rush, a new trans-continental business venture was started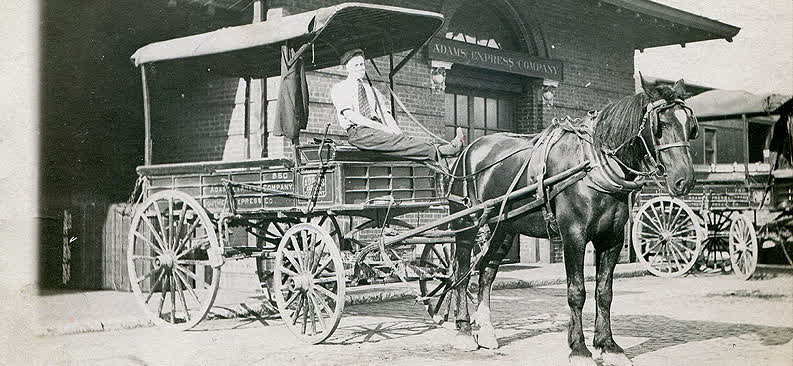 (Source - Adams Funds)
So you can imagine that it has been quite the history that this fund has taken - first starting as something completely unrelated that transformed into an investment portfolio. This came to a head in 1929, along with the Adams Natural Resources Fund (PEO) at the same time.
Eighty-six principal U.S. railroads formed a new monopoly company, Railway Express Agency, by purchasing shares of AREC held by Adams Express, American Express and Wells Fargo. With the cash from AREC, Adams Express had amassed a significant investment portfolio and emerged as a closed-end investment company. Total assets at the end of 1929 were $72 million. Petroleum & Resources Corporation (initially named Petroleum Corporation of America, today's Adams Natural Resources Fund) also began as a closed-end investment company listed on the NYSE and is a non-controlled affiliate of Adams Diversified Equity Fund today.
I'm a fan of history so could keep going into this further. However, that isn't the main goal of Seeking Alpha. Now that the brief history lesson is done, we can move onto why I own this fund.
The Basics
Their investment objective is simply; "long-term capital appreciation." The investment policy is quite straightforward as well. They intend to meet this objective by "investing primarily in large U.S. companies." This makes it quite comparable to the S&P 500 ETF (SPY). Their returns are comparable as well, as we will highlight below.
The fund is quite large with over $2.5 billion in total managed assets. A considerably higher amount than when we previously touched on the fund in the later part of 2020. Of course, the significant rally the overall market has been on has been helping propel this fund higher. Unlike many other equity funds, this fund doesn't utilize any leverage either. That can make it relatively less volatile during times of panic - it will more just follow along with the market more broadly.
Another interesting point is the expense ratio of this fund is one of the lowest at 0.6% in the CEF space. This has also declined from when we previously covered the fund. However, this could be argued that even this is too high because of the simple approach of the fund. That being said, the managers aren't just sitting back and collecting the fees. Portfolio turnover for the last year came to 58.7% - which is fairly active.
Performance - Attractive Discount
On a YTD basis, the fund has been able to keep up with the S&P 500 total returns. Both on a price and NAV basis. Below is a chart comparing ADX and SPY as the S&P 50 proxy.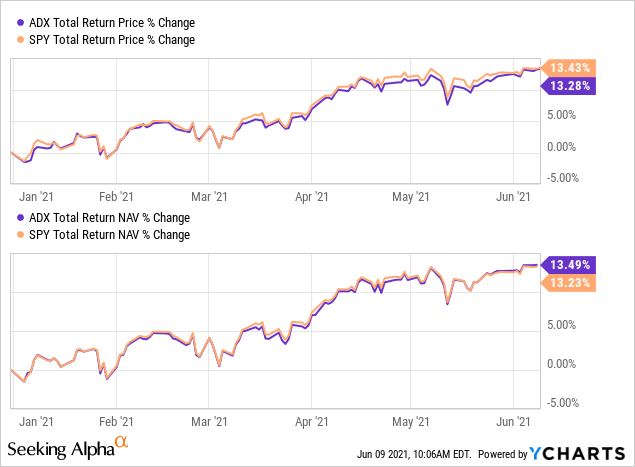 However, pulling out the returns over the past decade and you start to see ADX slip on a total NAV return basis. This is important because eventually, the price returns should mirror the NAV returns at some point.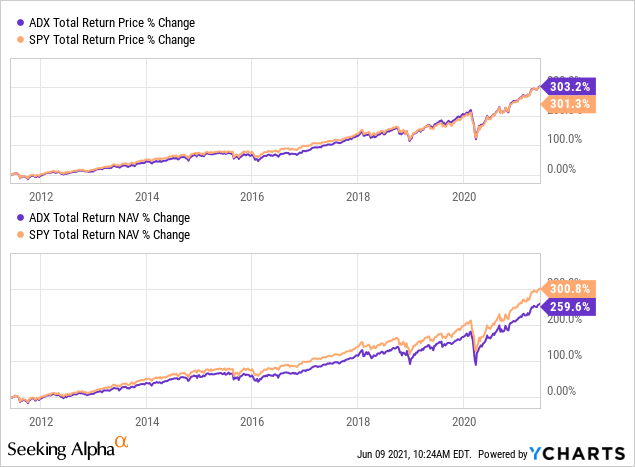 This could be a combination of the higher expense ratio and not mirror the portfolio exactly. Where a CEF can really shine is by buying at a discount as we frequently discuss. Below is the fund's discount chart going back to 2002. I'd go back further, but the data on chart providers isn't accurate after a certain point.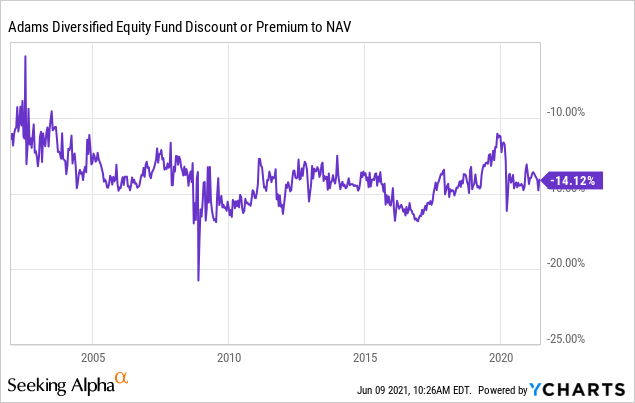 What we see is that the fund trades at an almost perpetual discount. Even in this environment where we are seeing fund discounts at the narrowest in years. This leaves ADX with a relatively lower 1-year z-score at this time. The current discount of 13.77% works out to a 1-year z-score of 0.65. While that means it isn't a screaming buy today, it is relatively attractive.
One area that I wish they were more aggressive is in reducing this discount. Unfortunately, with little activist ownership, there likely isn't going to be any big push into reducing this any further than what they are doing now. What they are doing now is purchasing small amounts of shares.

(Source - Fidelity)
The repurchases weren't even enough to cover the value of the shares issued for distribution reinvestment. For example, last year they repurchased around $1.573 million - but issued $39.31 million. The year before that was a little better on the repurchase front with $12.84 million. However, they issued even more at $54.47 million.

(Source - Annual Report)
Distribution - Minimum 6% Distribution
The fund pays a small quarterly distribution of $0.05 per share, then pays out a large year-end special to meet their target. This amount changes from year to year based on realized gains for the year. For the prior year, it worked out to a distribution rate of 6.8%. In 2019, it was meaningfully higher at 9.6%. The highest for the last decade came in 2018 when they distributed what equated to a 12.9% distribution.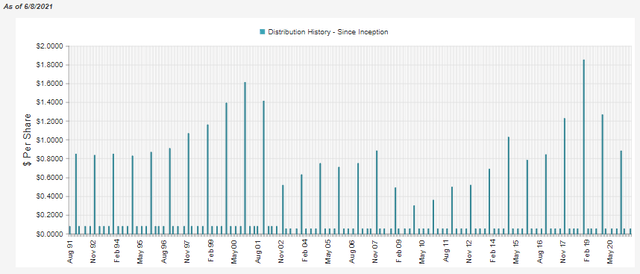 (Source - CEFConnect)
However, what we can see is a general trend that in the years with a recession, the year-end is lower. Years that have a significant market rally, we see are higher - which makes sense.
Similar to most other equity funds, the distribution will largely be composed of capital appreciation and not solely from net investment income [NII]. This is frequently the case because dividends that the fund collects minus the expenses of the fund are often well below what a fund is paying.
Below is the breakdown of the earnings for the fund in 2020 and 2019. We can see that NII was quite steady throughout the whole year, the deciding factor for how much to pay out extra at the end of the year came down to the gains.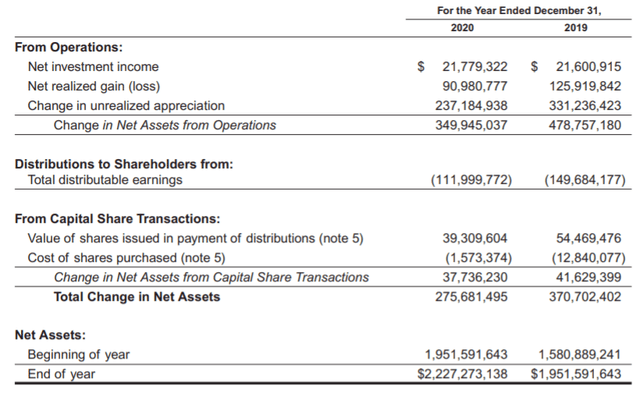 (Source - Annual Report)
With fewer moving parts to this fund, the tax character should frequently line up with the fund's underlying earnings. Which is exactly what we saw in 2020 and 2019.
For tax purposes, distributions paid by the Fund during the years ended December 31, 2020 and December 31, 2019 were classified as ordinary income of $20,660,825 and $23,238,400, respectively, and long-term capital gain of $91,333,875 and $126,415,026, respectively.
Holdings - Large-Cap U.S. Focused Portfolio
Once we dig in through the holdings, you will begin to see just how plain this fund is. They focus mostly on large-cap companies that are based in the U.S. Of course, that means they performed well over the last decade. I believe they can perform well again over the next decade too. Despite my focus on wanting to add more international focus to my own personal portfolio at this time.
The tech allocation that ADX is overweight also helped provide excellent returns. Over the recent years, tech has really taken off. In 2020 especially, though in 2021 value has been the favored area to invest in so far.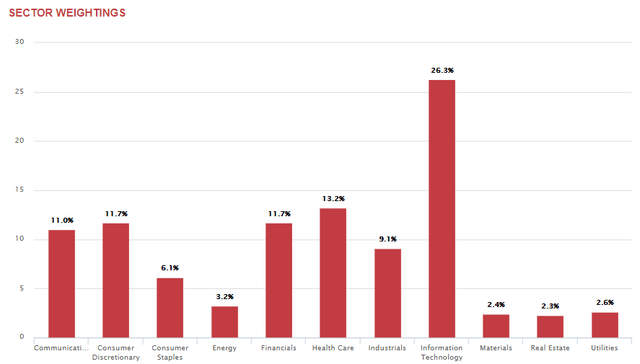 (Source - Fund Website)
The largest changes in sector allocations from when we previously visited the fund include a reduction in tech and utilities. Instead, increases were shown in financials, healthcare and industrials. The portfolio is quite active with higher turnover, as mentioned above - however, this is also consistent with the reversal in fortunes of moves into value from growth. Meaning it is harder to tell exactly what active management is, or just passive changes due to normal market gyrations.
Consistent with the statement above about large-cap names, we can see exactly that below with the ten largest equity positions in the portfolio.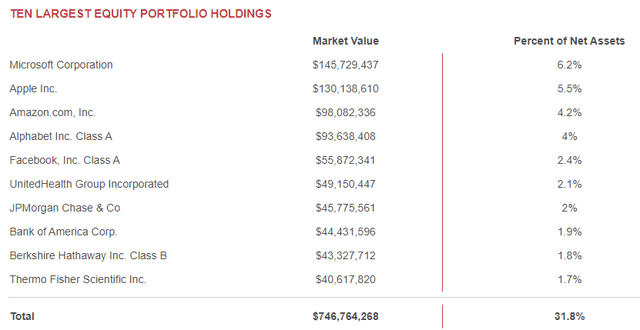 (Source - Fund Website)
From the above, we can see that it isn't a complete mirror of SPY. For reference, Apple (AAPL) and Microsoft (MSFT) are at allocations of 5.59% and 5.32%, respectively. Additionally, UnitedHealth Group (UNH), Bank of America (NYSE:BAC) and Thermo Fisher Scientific Inc. (TMO) are represented in ADX's top ten. These are positions not found in the top ten for SPY. One place they didn't go as heavily is Tesla (TSLA). Though make no mistake, it still represented about $24.446 million of their portfolio as of March 31st, 2021. Less now that the stock has declined since that period of time.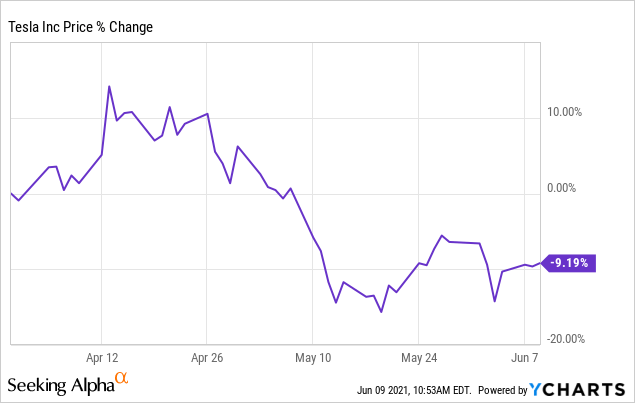 Overall, the portfolio hadn't changed all that much since we last touched on the fund. Positions that are no longer allocated to the top ten include Visa (V), Home Depot (HD) and Mastercard (NYSE:MA). Instead, replaced by; BAC, Berkshire Hathaway Class B (BRK.B) and JPMorgan (JPM). Which are all fairly common large-cap names that are well known. In fact, I own several of these discussed directly; MSFT, UNH, HD, MA and JPM.
The portfolio overall seems well-diversified, it comes close to mirroring the S&P 500 and SPY itself in terms of sector. However, with only 104 positions last reported at the end of 3/31/2021 - under the hood is quite a bit different. Interestingly enough, the overall returns are still close to SPY despite the significant difference in the number of positions.
Conclusion
One might be wondering why I own this fund and not just own SPY. It simply comes down to the more passive nature of investing in ADX versus SPY. They do the year-end selling for me and I get the "bonus" from them at the end of the year. Just simply for holding the shares, which is more attractive to me than deciding when to sell a position in SPY to harvest the gains. Similar to any investment, it comes down to personal choices. The objectives and goals of each investor.
The history aspect of the fund also gets me a bit. Owning one of the oldest CEFs - the oldest I know of - is enticing to me.
Additionally, I'll already have a position should any activist decide they want to shake things up with the fund. Most activist actions are against fixed-income funds, I presume this is due to the more stable nature of fixed-income relative to equities. A campaign to get what an activist wants can take months or years before it is carried out. Thus, they would be in a position of holding a more volatile asset. The size of ADX is also a factor, it would tie up a meaningful amount of capital to gain control of the fund due to the size.