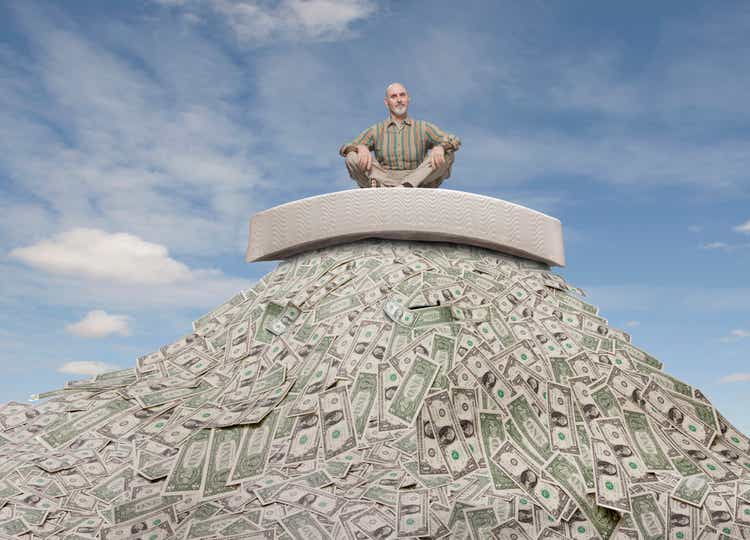 Co-produced with Beyond Saving
Today we are taking a closer look at a pick that has been exceptional for us. Iron Mountain (NYSE:IRM) is a stock we were adding left and right when the prices were low and the yield was 8-10%. The stock has returned +100% since it was first added to the HDO portfolio.
We remember the days when the question everyone asked was "can they sustain the dividend?" - "Is there a risk of a cut?"
We had confidence that the dividend was secure because of IRM's substantial cash flow combined with how secure their core business is. Today, our thesis has been tested under the harshest conditions and IRM passed with flying colors. COVID barely slowed them down, their dividend remains well-covered and better yet, management has continued to make smart decisions to drive future growth.
Today, we are faced with a different question, one we love receiving: "I am up x% on IRM, is it time to sell?" This is the question we asked ourselves as we did a fresh assessment of IRM. We can take profits now, do a little gloating, and have a very successful trade. Yet when we look at IRM, we still see a fantastic company at a compelling valuation. IRM is not overpriced - their share price is up because they are delivering tangible results.
This is a winner we want to let run because its momentum is just getting started. We will see the price continue to go up through AFFO growth and an improving valuation. Additionally, by late 2022, we expect the dividend will start growing at a material rate of 5-10%/year.
Wake Up and Smell The Cash Flow!
Is there anything better than the smell of cash flow in the morning? As income investors, we are always on the hunt for companies that are currently producing or will be producing plenty of excess cash flow and have the willingness to distribute it to investors.
One such company that we identified is Iron Mountain (IRM), currently yielding 5.3%. On January 14, 2021, we highlighted IRM as our best pick for 2021 in the following report posted on Seeking Alpha:
Best REIT Pick Of The Year: 8.8% Yield Iron Mountain
The market finally woke up and smelled the cash flow, pushing IRM's price well over $40. IRM is up over 50% year-to-date!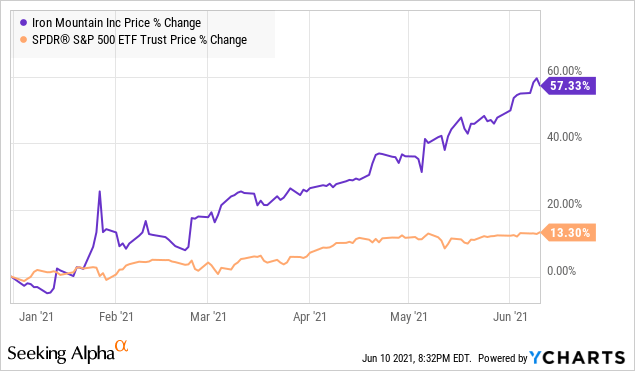 Does IRM have more room to run?
When you follow the smell of cash flow - Yes! It does. Today, we break down IRM's business and explain why shareholders are set to be rewarded by another 25% upside, plus significant dividend hikes. IRM remains a strong buy as part of our high yield "model portfolio."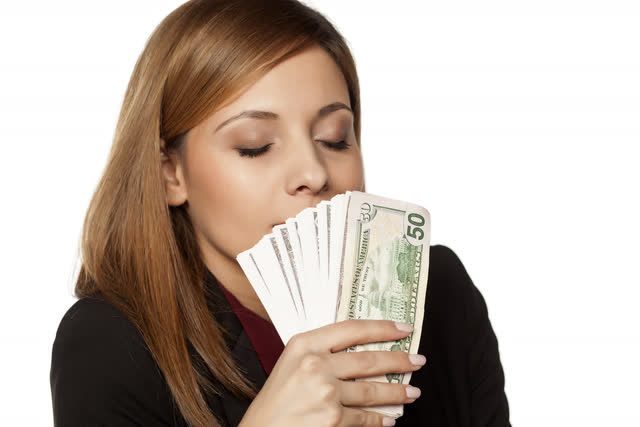 Source: Dreamstime
Three Segments
IRM's business can be broken into three separate segments:
Physical Data Storage
Services
Digital Data Storage
Physical Storage
Physical storage is IRM's bread and butter. IRM currently stores over 710 million cubic feet around the world. That is a lot of paper! Though it is worth noting that IRM stores more than just paper, IRM provides safe storage and transportation for fine arts, media, antiquities and one-of-a-kind items like the unreleased music of Prince. In other words, if you have something that is valuable that you want to be secure and preserved, IRM can help.
For IRM, this business is a cash cow that is consistently growing.

Source: IRM Q1 2021 Supplement
Currently, the storage segment accounts for over 60% of revenue and over 80% of profits for IRM. This is a very stable business, where IRM has no real peers. They have been very successful at consolidating the sector in the U.S., buying out their competition. As a result, IRM counts 95% of Fortune 1000 businesses as their customers.
In recent years, IRM has expanded and has been taking their expertise overseas. IRM is now in 56 countries across 6 continents, their experience and size advantage being easily transferable across borders.
The best part is the stability. This segment enjoys a 98% retention ratio, and the average time for a box to be stored is 15 years. Even as data becomes increasingly digital, IRM's physical storage business will remain robust. The cost to store data frequently being substantially cheaper than digitizing or even destroying it.
Services
IRM's "Services" segment covers a broad range of activities that generally support the storage side of the business.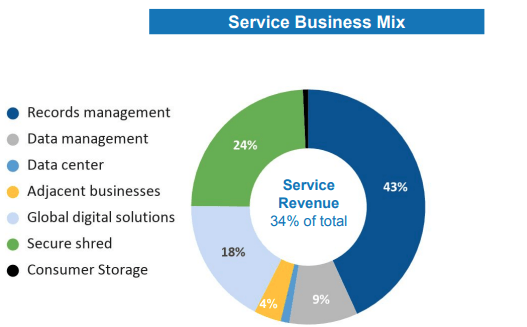 Source: IRM Q2 Presentation
These services include things like retrieving, tracking, managing, shredding and digitizing data. Unsurprisingly, the "services" segment was the hardest hit by COVID, with their shredding services among the most impacted. Businesses that were struggling with the reality of COVID simply did not put a high priority on deciding what old papers could be shredded.
While the service segment was impacted negatively by COVID, it was perhaps a "blessing in disguise" as IRM took full advantage of the downtime to make some major changes in how they do things.
For example, IRM used to guarantee delivery of physical documents within 24 hours. A very expensive service to offer, but one that gave them an important competitive edge. In the modern world, having physical copies that quickly is unnecessary. During COVID, IRM made the change in their services to only offer digital copies within 24 hours.
These modernizations have resulted in substantial cost savings while having minimal impact on the customer experience. It is worth noting that IRM really wins either way. During the pandemic, IRM saw retention improve and their storage business remained strong as customers decided to pay rent instead of shredding documents. This helped make up for the decline in service revenue. If customers decide to stop storing and digitize and destroy documents, IRM is the company that already possesses them and is the logical choice to pay to do the work.
Digital
There is absolutely no secret that data is becoming increasingly digital. Computers have changed how we do everything. We dispute the idea that we will live to see a time when all data is solely digital.
There are numerous reasons for companies to maintain physical copies of crucial records, not the least of which is the inherent risk of any digital data that is connected to a network as the recent Colonial Pipeline hacker attack demonstrates. Yet clearly, there are a lot of advantages to having digital data.
IRM is uniquely suited to provide their customers with both worlds. With a well-earned reputation in securing and storing physical data, IRM has spent the past 3 years developing their digital services.
Over the past 3 years, IRM's digital segment has grown from nothing to 10% of their EBITDA. And that growth is just getting started with IRM having started construction that will increase their leasable capacity by 36%.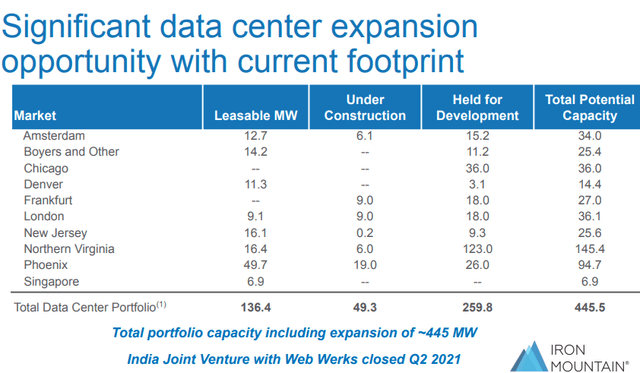 Source: IRM Q2 Presentation
IRM has the potential to triple their current capacity with their current holdings. This segment is becoming increasingly relevant for IRM and their ability to leverage their long-standing consumer relationships and integrate the digital and physical worlds is allowing them to carve out their niche in this competitive sector.
IRM's digital segment will provide double-digit growth for many years.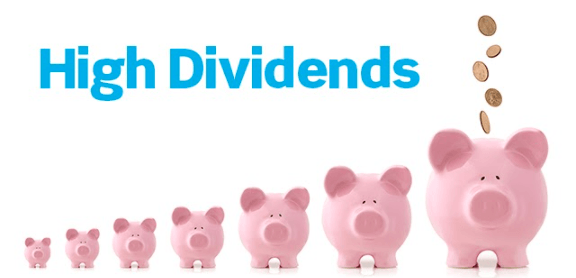 Source: Dreamstime
Project Summit
Tying everything together, IRM used 2020 to execute on "Project Summit," a comprehensive review of IRM's structure, practices, and procedures. Having gone from a primarily U.S. company to being truly global, IRM had bought out a lot of smaller competitors along the way. As a result, the inefficiencies built up as some jobs were duplicated, some jobs were unnecessary and some of their practices could be made more efficient thanks to new technology.
So IRM identified various cost-saving throughout their organization.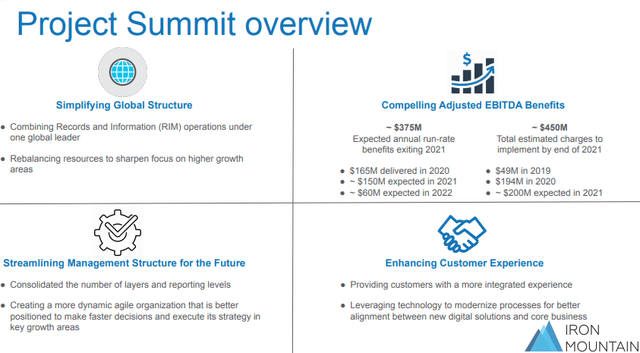 Source: IRM Q2 Presentation
Whenever a management team comes out talking about how much they will save, we always take it with more than a few grains of salt. We are used to receiving promises of "synergies" that never quite seem to appear. We were pleasantly surprised when IRM not only delivered but actually exceeded their original goals in 2020.
IRM did not spend 2020 sitting on their laurels waiting for COVID to pass, they actively trimmed their organization, modernized their practices, and molded IRM into a better, more efficient company. This is perhaps the largest reason why IRM's price has taken off in early 2021.
Going Forward
The metric we prefer to use to measure IRM is "AFFO" (Adjusted Funds From Operations). This is the metric IRM uses to base their dividend decisions on because it removes non-cash charges like depreciation and amortization, while including the impact of recurring capital expenditures. It is the best measure of their ability to pay a dividend, so as income investors, it is a particularly important one to us. IRM has stated their goal is to have a dividend payout in the "low to mid-60s" as a percentage of AFFO.
For 2021, the current guidance is for AFFO of $3.335 at the midpoint. This means that IRM is currently priced at approximately 13x AFFO. "Pure" digital REITs generally trade at 20x+. We expect IRM will continue to trade at a lower valuation. Considering that IRM is now growing AFFO by 8-10%/year, its valuation should be in the 13-15x range.
Our outlook over the next year is for IRM to have AFFO growth of approximately 9% and their valuation to ease up to about 15x AFFO/share. That means their share price should be $54.50, approximately 20% upside from today's prices. This is on top of receiving a 5.3% yield.
We expect meaningful dividend growth to resume in late 2022. For 2021, IRM might provide a token increase simply to keep their dividend raising streak going. But assuming 8-10% AFFO growth, it will be 2022 before IRM has achieved their target payout ratio, and from that point, we can expect dividend growth to closely match AFFO growth.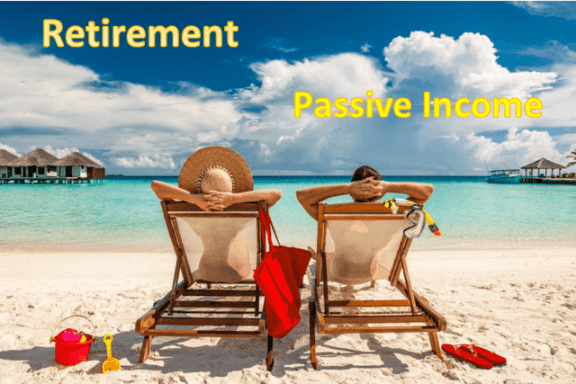 Source: Istock
Conclusion
The market was slow to react to the very positive changes they were making in their business. IRM's core physical storage business is a cash cow that provides reliable and steady growth.
Their efforts to improve the efficiency of their services segment have paid off handsomely, with IRM saving hundreds of millions annually thanks to their 2020 efforts. Really demonstrating that a penny saved is a penny earned!
Finally, the initial results of their digital efforts have been very positive. With digital now making up 10% of their EBITDA, with plenty of room to grow. As digital makes up a larger portion of IRM's earnings, we can expect their valuation to improve, and the rate of growth for their AFFO to accelerate.
The bottom line is that IRM's current price is not the result of over-enthusiasm and dreams of future potential that might or might not appear. It is a direct result of material improvements to their cash flow driving strong earnings and ensuring their dividend is secure.
A few years ago, many were asking if IRM could sustain its dividend, and IRM has proven that it absolutely can. In fact, IRM is likely to start raising their dividend when they achieve their target payout goals late next year.
Investors today can look forward to another 20% upside in share price, combined with collecting a 5.3% dividend yield while they wait for material dividend growth to resume.
When you wake up and "smell the cash flow," it is probably IRM - they have a ton of it!